The time Mike Trout won a HR derby left-handed
And there was much joy in Millville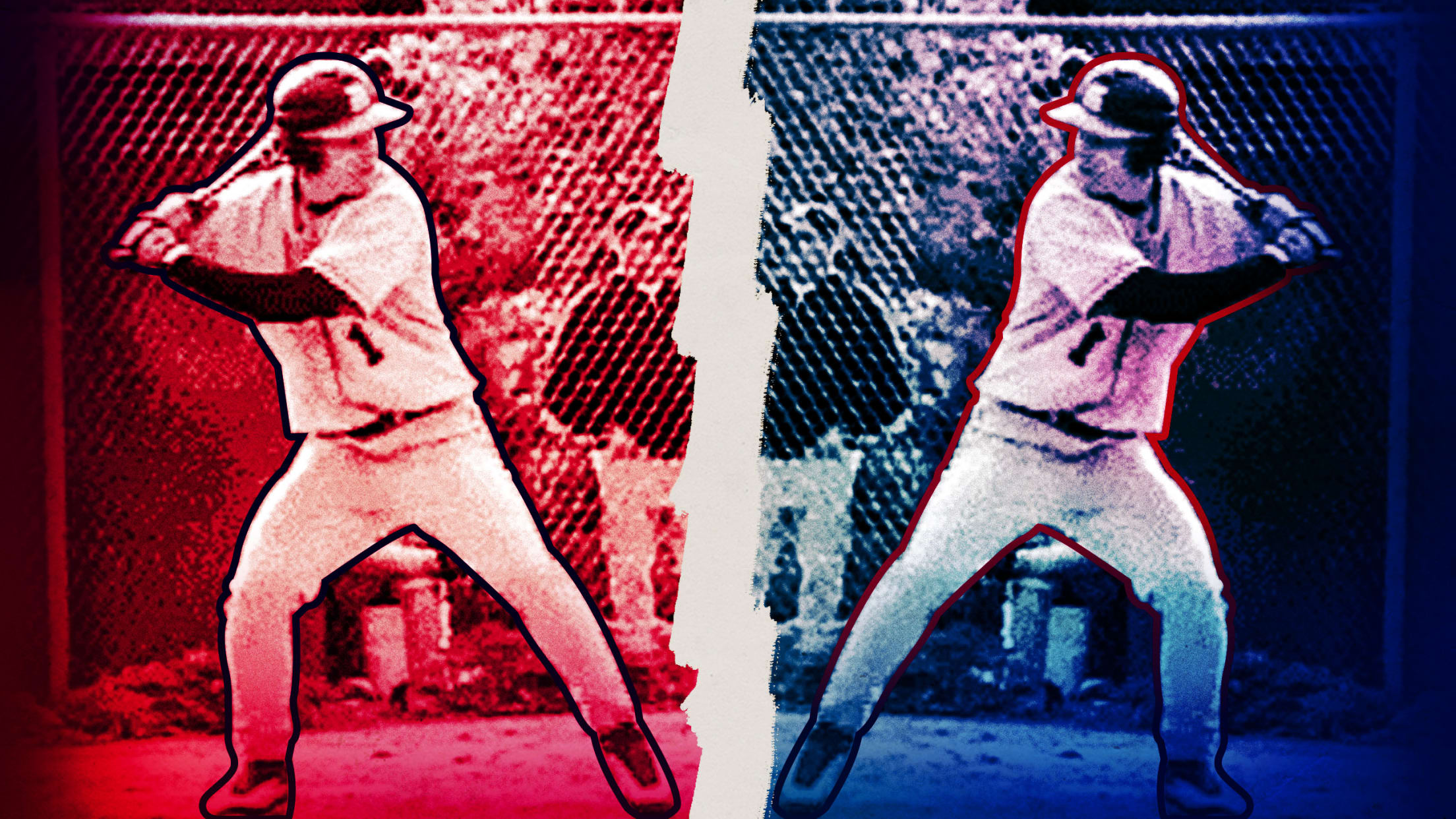 Art via Tom Forget
The baseball greats, they all have them: Stories from before they were stars, unbelievable on-the-field feats that blur the line between truth and fiction. Bryce Harper's 570-foot dinger onto a highway, Mickey Mantle's 600-foot home run at USC, Billy Wagner -- a natural right-hander -- learning to throw 100 mph
The baseball greats, they all have them: Stories from before they were stars, unbelievable on-the-field feats that blur the line between truth and fiction.
Bryce Harper's 570-foot dinger onto a highway, Mickey Mantle's 600-foot home run at USC, Billy Wagner -- a natural right-hander -- learning to throw 100 mph left-handed, 18-year-old Manny Ramirez hitting a one-handed homer 400 feet away onto some old New York City handball courts.
But today, we wanted to investigate a tale about the current greatest player on the planet: Michael Nelson Trout. Specifically, the time he won his New Jersey high school team home run derby left-handed.
Here's the story from those who were there.
"We had this tradition every year, this senior-run home run derby," Millville Senior High School baseball coach Roy Hallenbeck said. "This year, [Mike's teammates] were not having it. They weren't gonna let him bat right-handed. It'd be ridiculous."
"Yeah, I was a participant in the home run derby, unfortunately," former Millville Senior High School teammate Daron Moore said. "So that year, that was the year that Trout broke the New Jersey home run record. We came up with a rule that he either had to bat righty with a wooden bat or bat lefty. We ended up making him bat lefty."
It was, at the time, a very smart plan. Trout was a superstar during his senior year in 2009. He hit 18 home runs, batted .531 and drove in 45 runs. He was hitting it out of Yankee Stadium with a wooden bat. Scouts from all 30 teams visited the tiny South Jersey town to catch a glimpse of the Millville Meteor.
"I think I've got another Mickey Mantle here," former Angels scout Greg Morhardt said at the time.
"I talked to scouts more often than I talked to my wife," Hallenbeck admitted.
Unfortunately for his teammates, Trout did have some experience hitting from the opposite side.
"It's hard to believe, but back then [scouts] had questions and they were like, 'with his speed, can he hit from the other side? Like drag bunt?'" Hallenbeck said. "I would say a couple times a week, he would flip it over and take left-handed BP for the scouts."
Here's the video of @MikeTrout taking batting practice in high school (first righty, then lefty!) that we talked about on @EWPod today. pic.twitter.com/4lh7I0WfvU

— Ben Lindbergh (@BenLindbergh) January 5, 2017
But could he actually make solid contact from the left side?
"[Scouts] felt if there were questions about his bat playing or whatever, they could check the box that he would develop into a quality switch-hitter," Hallenbeck said.
"Yeah, um, he could still swing a bat lefty pretty damn good," Moore laughed.
So they were off, with Trout, well, sort of playing at a disadvantage. Of course, it didn't matter. The future MVP, who Hallenbeck said, "will beat you in any way he can," beat all of his teammates from the left side of the batter's box.
"I mean, everybody wanted to beat him and this was our time to do it," Moore said. "We have the advantage, he has to bat lefty. He's not completely comfortable. And Trout did what Trout does. He showed why he's better than everyone."
According to Moore, Trout hit 6 or 7 home runs and that was enough. Millville's field plays pretty true as far as high school fields go -- about 305-310 feet down both lines. But there's also a 12-foot high fence that players had to clear. That's far for a 17-year-old swinging with the opposite turn of his body -- something only a select few could do. Maybe that's why the school eventually named the ballpark after him?
Millville high school baseball field, former home of Mike Trout. pic.twitter.com/eMH90k3Qsn

— Christopher D. Long (@octonion) December 27, 2016
[Trout winning left-handed] was a typical, 'You gotta be kidding me.'" Hallenbeck recalls. "Mike is a humble kid. He's everything that he seems to be. But amongst friends, he's an absolute killer. He didn't let that go. He was all over those guys about that."
"I'm not sure if there was a bat flip, but Trout definitely let us know. He let us know," Moore says. "He was on a different level than everybody else."
Trout put it simply:
"They didn't want me to hit righty, because they thought I'd win too easily. So I just hit lefty. And I won that, too."
Matt Monagan is a writer for MLB.com. In his spare time, he travels and searches Twitter for Wily Mo Peña news.