White Sox recognize top prospects for May
Kopech named Pitcher of the Month; Adolfo takes player honors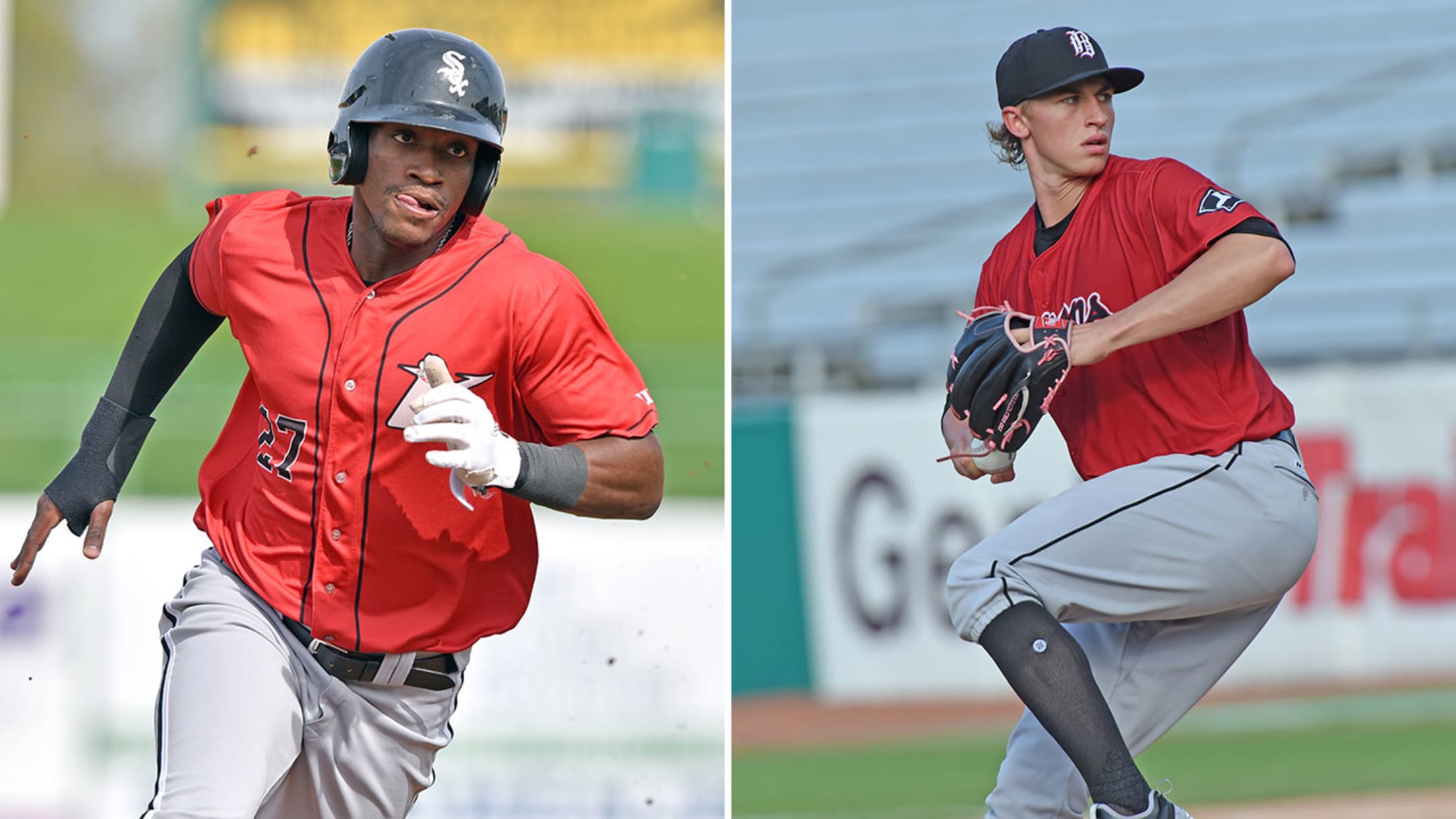 This year, Micker Adolfo has a .296/.349/.459 line with Class A Kannapolis, while Michael Kopech has a 2.38 ERA and 12.7 K/9 in Double-A Birmingham. (MiLB.com)
DETROIT -- Micker Adolfo and Michael Kopech earned the White Sox May Player and Pitcher of the Month Awards, respectively, through their outstanding performances.But it's the development behind the statistics that stands out for these two young talents.Kopech, 21, still has the 100-mph fastball at the top of his repertoire
DETROIT -- Micker Adolfo and Michael Kopech earned the White Sox May Player and Pitcher of the Month Awards, respectively, through their outstanding performances.
But it's the development behind the statistics that stands out for these two young talents.
Kopech, 21, still has the 100-mph fastball at the top of his repertoire that has made him the White Sox' No. 2 prospect, but also has improved his changeup and mixed in a sinker while at Double-A Birmingham.
"The changeup is getting there," said Kopech, who struck out 47, walked 17 and posted a 2.31 ERA over 35 innings pitched in May. "I hate to sound like I'm patting myself on the back, but it's almost unnecessary to throw it at some points. I have to remind myself to use it.
"I've given up a couple home runs on changeups this year just because I'm speeding guys' bats up. It has become a better pitch, but I have to be smart about when I'm using it and to whom I'm using it. It's something that experience is going to kind of take over and I'll get it down even more but I'm comfortable throwing it now.
"My sinker -- it's not necessarily a fourth pitch, it's pretty much another fastball. But at the same time, it's disruption of timing, too," Kopech said. "The two-pitch thing, I think, is out the window, but I've been excited about progressing my changeup."
Adolfo, 20, continues to follow a set offensive approach he spoke with MLB.com about back in Spring Training. The right-handed-hitting outfielder hit .333 with two home runs, 11 doubles and 17 RBIs for Class A Kannapolis in May.
"Staying middle to right field, that approach, it really helps me stay on the ball a lot longer," Adolofo said. "So that approach really helps me from kind of being too quick and thinking I have to pull everything. I'm really trying to trust my hands a lot more and that's really helped me."
Who else stood out in the Sox system? Here is a look.
Dane Dunning, Class A Advanced Winston-Salem: Dunning bounced back in his first outing back from a seven-game suspension, giving up a pair of runs over 6 2/3 innings while picking up his second win on Wednesday. He's 4-0 this season with a 2.31 ERA in nine starts between Winston-Salem and Kannapolis. Dunning is ranked the club's No. 11 prospect.
Reynaldo Lopez, Triple-A Charlotte: Lopez, acquired this offseason in the trade that sent Adam Eaton to Washington, put together one of his best starts of the season on Wednesday in holding Syracuse to one run on five hits while striking out six in six frames. The White Sox' No. 5 prospect has given up three or fewer earned runs in nine of his past 10 starts at the Triple-A level.
Cody Asche, Charlotte: Asche has more than enough big league experience to no longer be considered a prospect, but the 26-year-old outfielder has been notable for his standout performance with Charlotte. He's been strong over his past 10 games, going 14-for-29 and slugging four homers to go with 14 RBIs. Asche hit .105/.177/.175 with a homer and four RBIs in 19 games with the big league club this year.
Also of note in the Sox system:
• Charlotte second baseman Yoan Moncada -- the top-ranked prospect in baseball and another major cog of the Chris Sale deal -- is still working his way back after going on the disabled list with a wrist injury. He's 3-for-22 with an RBI since his return, striking out eight times.
• Defending International League Player of the Week and White Sox No. 4 prospect Lucas Giolito couldn't match the seven-inning no-hitter he threw in his last outing for Charlotte, scattering eight hits and two runs over four innings.