Garver: Defense 'best it's been' vs. Yankees
Twins' first-rounders on display; Astudillo ends spring without strikeout, walk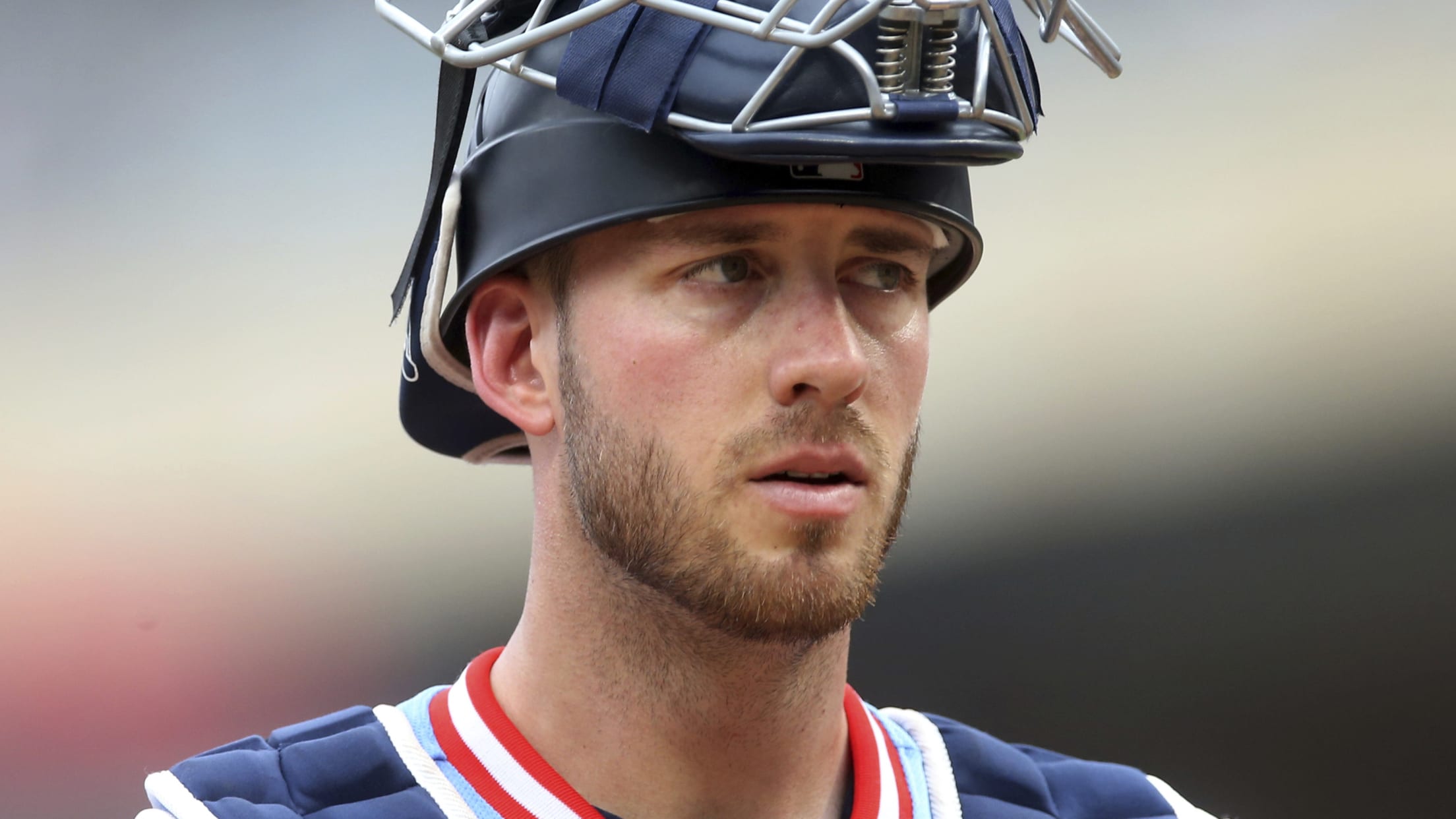 FORT MYERS, Fla. -- Mitch Garver didn't mince words as he sat in front of his locker in the Hammond Stadium home clubhouse, describing what he called the best defensive game of his career in every element of the game -- throwing, blocking and receiving. Garver felt he successfully presented
FORT MYERS, Fla. -- Mitch Garver didn't mince words as he sat in front of his locker in the Hammond Stadium home clubhouse, describing what he called the best defensive game of his career in every element of the game -- throwing, blocking and receiving. Garver felt he successfully presented several strikes at the edges of the zone and threw out two potential base-stealers in the Twins' 5-3 loss to the Yankees on Sunday.
"Everything that we had broken down and tried to create for the season, today was the best it's been," Garver said. "Everything came together. My whole career. That's it. That's the best I've caught the ball."
Garver has worked diligently with Minor League catching coordinator Tanner Swanson to develop the defensive side of his game after both external and internal data had cast a negative light on his work behind the plate in 2018, his first season in the Major Leagues.
"He's certainly paid a lot of attention to [his defense]," manager Rocco Baldelli said. "You can see the work he's put in manifesting itself during these games. We're really happy with where we sit with him right now defensively, and I think he should be pretty proud of the work he's put in."
The 28-year-old Garver, expected to break camp as the Twins' backup catcher, ranked second worst among Major League backstops last season with -16 Defensive Runs Saved, according to FanGraphs, and also ranked in the bottom 10 in Baseball Prospectus' framing and throwing metrics.
Garver hadn't yet gotten his "receiving score" from Sunday's game, but he was particularly proud of his ability to control the Yankees' running game, because some of the stances he assumes behind the plate to optimize his receiving ability involves going down to one knee. Both times he threw out runners -- one at second, one at third -- he set up behind the plate with one knee on the ground.
When he threw out Clint Frazier at second base to complete the fifth inning, Garver said his pop time was measured at 1.83 seconds -- a stark improvement from the 2.08 average that ranked him tied for 58th out of 67 qualified catchers in the Major Leagues last season, according to Statcast.
And Garver still doesn't think his progress is complete.
"There is no limit right now, because we haven't found it," Garver said. "We haven't plateaued. It's been getting better up until this point. We haven't plateaued yet. So I'm going to keep pushing the limits until we find that."
Twins showcase first-round picks
The Twins' starting lineup on Sunday featured the club's last three first-round Draft selections -- Alex Kirilloff, Royce Lewis and Trevor Larnach -- giving fans in attendance an extended look at the young talent that could play important roles in the future of the organization.
"We wanted to try to get these guys out there together, get them to run around a little bit," Baldelli said. "It's fun for everyone to get a chance to see them do that. ... These guys not only have the physical ability, but when you spend time around them, you realize that they have the types of heads on their shoulders that you would think that they could play this game for a long time and handle themselves very well."
Kirilloff, selected 15th overall in the 2016 Draft, started at designated hitter and was 0-for-4 with a pair of deep flyouts. Larnach, the 20th selection in the '18 Draft, made his first Major League start of the spring in right field and went 0-for-4 with three strikeouts. He had homered in an earlier appearance as a reserve on the Major League side.
Lewis, the first overall selection in the 2017 Draft, also made his first start on the Major League side and hit a sharp double to left-center off Yankees starter James Paxton. Lewis, the No. 5 prospect in MLB Pipeline's Top 100, also made a difficult defensive play in the sixth, when he was shifted to the right of second base but ranged across the bag and threw to first for the out.
"He had plenty of arm strength to play shortstop and make all the plays and make them on the move," Baldelli said. "He can do these sorts of things. This is what I think a lot of us were excited to see for an entire spring, much of the spring. It's nice to actually see it."
Astudillo's impressive stat line
Willians Astudillo had a busy Sunday, playing both left field and third base, losing his helmet as he rounded third base to score on a double, sliding headfirst into first base to beat out a grounder and going 2-for-5 at the plate to complete the Twins' Grapefruit League schedule without any walks or strikeouts.
"I don't think anyone can relate to what he is doing in the batter's box," Baldelli said. "His skill set is one of a kind. There's literally no one I've ever seen that does what he does with the bat in his hands."
Astudillo's unique bat control and contact ability have been in full display during the spring, and he has recently shown the ability to beat the infield shift by poking the ball into right field. He has only 81 strikeouts and 85 walks in 2,265 career at-bats in the Minor Leagues.
"No one [is] surprised about it one bit," Baldelli said. "That's the fact that's nuts. We're all sitting here like, 'Of course he didn't walk or strike out the entire spring.'"
Twins tidbits
• Non-roster pitcher Ryne Harper continued his strong spring with another scoreless inning on Sunday, giving him 14 strikeouts, no walks and no earned runs allowed in 11 innings across 10 spring appearances. The right-hander has built a case for claiming the open spot on the Twins' 40-man roster created when Michael Reed was traded to the Giants on Saturday.
"He can spin the ball at different speeds," Baldelli said. "He has a great feel for what he's doing out there in that regard. In my opinion, that's something that good Major League pitchers do. It has been really fun to watch. He's done nothing but perform from the beginning of camp until now."
• The Twins announced a record attendance of 9,467 at Hammond Stadium on Sunday, breaking the old record of 9,298 set on March 22, 2014, also against the Yankees.
Up next
Jake Odorizzi is lined up for his final start before the regular season when he takes the mound at 12:05 p.m. CT on Monday for a scrimmage against the Rochester Red Wings, the Triple-A affiliate of the Twins. Though the Twins haven't yet announced their pitching plans for the regular season, that could line up Odorizzi to start the second game of the series against the Indians on regular rest. Trevor May, Trevor Hildenberger and Mike Morin are also scheduled to pitch.