Reliever Harris likely to begin season on DL
Cardinals expect righty will be diagnosed with compression syndrome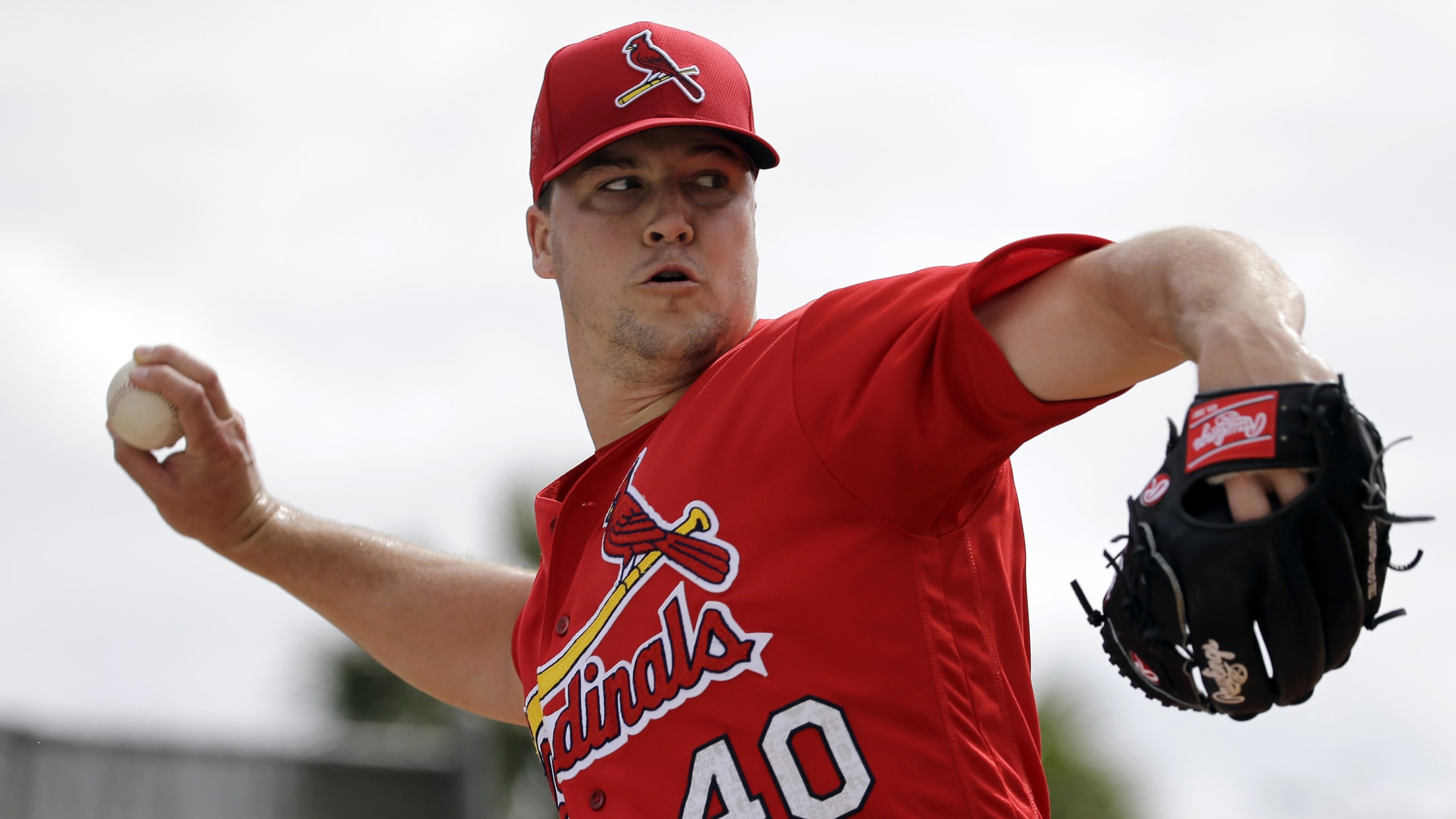 Mitch Harris will likely take two weeks off before he resumes a throwing program. (AP) (Jeff Roberson/AP)
JUPITER, Fla. -- Reliever Mitch Harris will undergo a nerve stem test Friday that the Cardinals anticipate will confirm a diagnosis of compression syndrome.That's not all bad news for Harris, who has been seeing doctors and undergoing various exams for weeks to determine why he lacked finish on his pitches
JUPITER, Fla. -- Reliever Mitch Harris will undergo a nerve stem test Friday that the Cardinals anticipate will confirm a diagnosis of compression syndrome.
That's not all bad news for Harris, who has been seeing doctors and undergoing various exams for weeks to determine why he lacked finish on his pitches and felt soreness -- "borderline pain," he described it -- while throwing. His visit to a local specialist Wednesday produced this diagnosis, which identifies increased pressure within a muscle compartment of an arm or leg.
• Spring:Tickets | Ballpark | 40-man roster | NRIs
General manager John Mozeliak said that if Friday's test results come back as expected, Harris would likely receive an injection and take two weeks off before resuming a throwing program.
"It's nice to get some positive news knowing that it's nothing serious and [to know] the direction of where we're heading next," Harris said. "Small hiccup. I've managed a few obstacles in my career so far, so I think I can manage this one a little bit."
Harris, a Navy Lieutenant who made his Major League debut last April, came into camp as a long shot to crack the Opening Day bullpen. Now, it's almost assured that he'll open the season on the big league disabled list. He'll remain in Florida to work in extended spring training when the Cardinals break camp next week.
Harris had undergone multiple MRIs this spring to rule out structural issues with his shoulder and elbow. Tests on his neck also came back negative. Still, Harris pressed for an answer, knowing that he hadn't been recovering properly since throwing live batting practice during the second week of Spring Training.
His only Grapefruit League appearance came March 10, when Harris allowed two runs on three hits over 1 1/3 innings against the Mets.
"I knew that my stuff was not as sharp as I wanted it to be, and that was the fact that I didn't have the last little bit on my pitches," said Harris, who posted a 3.67 ERA in 26 appearances for the Cardinals last year. "I could push through the pain and the discomfort of getting through the bullpen [sessions] and getting through the game, but it was after I really noticed that it was not a bounce back. It was still there the next day. It was almost as if I had thrown six or seven innings, and I had only thrown one. That was the confusion."
The Cardinals do not believe Harris' medical issue is related to the mechanical adjustments he made over the offseason to stay more square in his delivery. Nevertheless, that is work Harris looks forward to revisiting once he's cleared to pitch again.
"I feel much better knowing this is a shorter time period and knowing that we can really push once we know for a fact what this is," Harris said. "I'm excited to finally be able to start some treatment and to get back to throwing."