Harris close to Grapefruit League clearance
Cards righty calls procedure 'career-saver' after avoiding Tommy John surgery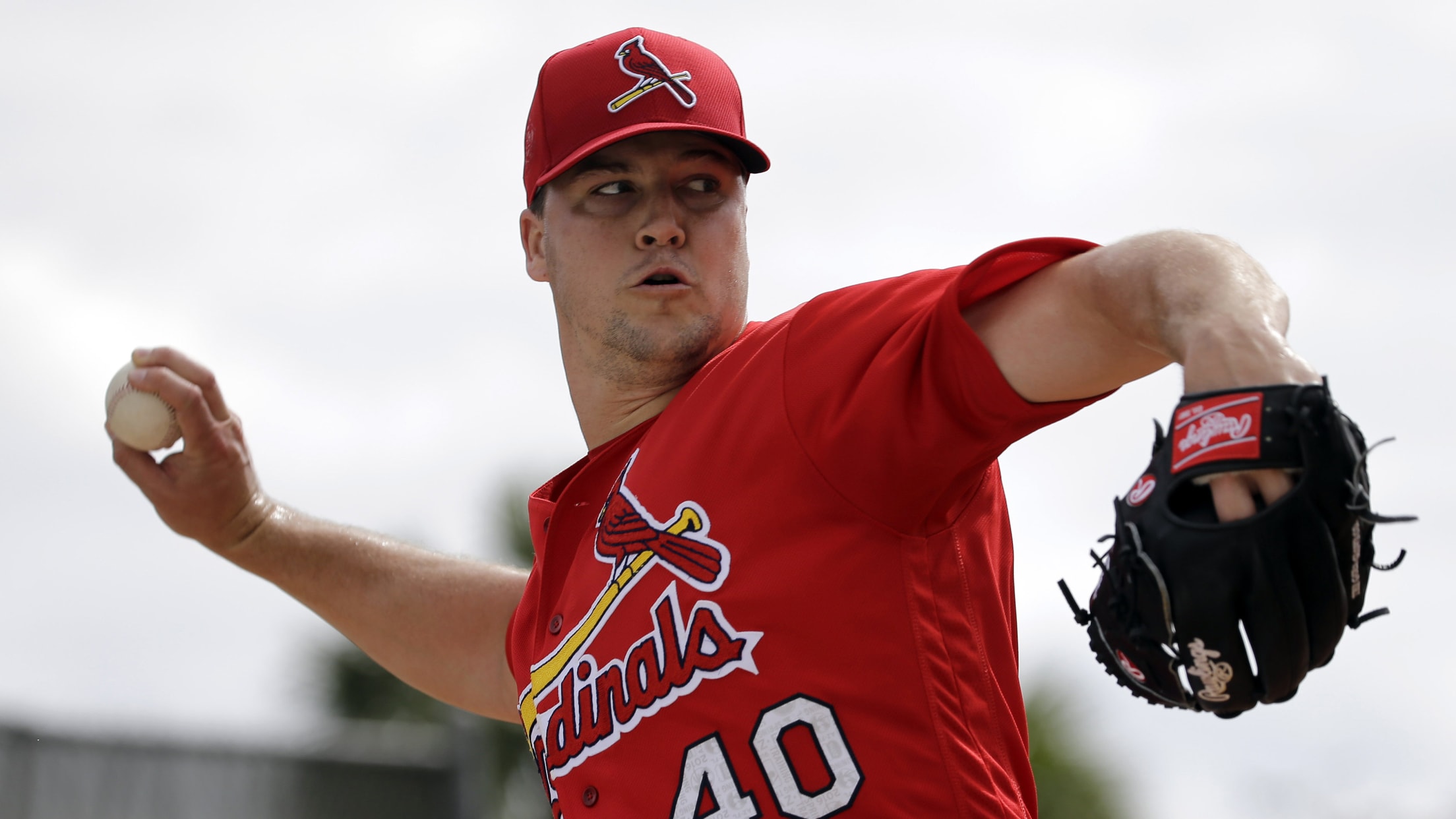 Mitch Harris underwent a ligament repair instead of the common ligament replacement. (AP) (Jeff Roberson/AP)
JUPITER, Fla. -- It's been eight months since Navy Lieutenant-turned-Major League pitcher Mitch Harris went on to an operating table, expecting to undergo Tommy John surgery. He awoke to learn that his elbow had been repaired differently, and now Harris realizes how critical that was.Instead of laboring through the normal
JUPITER, Fla. -- It's been eight months since Navy Lieutenant-turned-Major League pitcher Mitch Harris went on to an operating table, expecting to undergo Tommy John surgery. He awoke to learn that his elbow had been repaired differently, and now Harris realizes how critical that was.
Instead of laboring through the normal year-plus recovery that comes after Tommy John surgery, Harris took the mound Monday morning to throw a session of live batting practice. If he recovers well, Harris will be cleared to pitch in Grapefruit League play this week.
"I look at this surgery as a career-saver, for sure," Harris said. "My view on it is you never know what could have happened if I had had Tommy John. I'm pumped timing-wise because to be able to come in [to camp] and show that I'm healthy and hopefully that I can contribute as soon as possible."
Harris and former Cards reliever Michael Maness were the first players with big league experience to undergo this procedure, which was essentially a ligament repair instead of the ligament replacement that has become so commonplace. The biggest benefit has been a shortened recovery time, and that might have saved Harris' 2017 season.
He missed all of '16 due to injury and was taken off the Cardinals' 40-man roster over the winter. Harris, 31, previously had his career delayed by his service in the U.S. Navy. Another year missed due to injury could have put him too far behind to catch back up.
As it is, Harris is hopeful that he'll be ready to join one of the Cardinals' affiliates when camp breaks to begin working his way back into consideration for a Major League roster spot.
"Just the feel that I have [on my pitches], I feel more confident now than I did at the end of '15," said Harris, who made 26 appearances for the Cards that season. "I think mechanically I'm better. The release point, everything is consistent. I'm excited to finally get out there and face some hitters in games and really see where I'm at."
Worth noting
• Several former Cardinals arrived as guest instructors Monday. Joining Ozzie Smith, who has been here since last week, were Jason Isringhausen, Ryan Ludwick and Orlando Palmeiro. These instructors are in town primarily to work with the Minor Leaguers participating in the organization's Spring Training Early Program.
• Bench coach David Bell served as the Cards' manager for Monday's home game against Washington, while Mike Matheny traveled to Fort Myers, Fla., to guide the club's other split-squad game against the Red Sox. Bell, who has been on St. Louis' coaching staff since 2014, is the son of longtime former Major League player and manager Buddy Bell. David Bell, who aspires to be a big league skipper, interviewed for the D-backs' managerial opening last fall.