On the move? The 2018 All-Trade-Rumor Team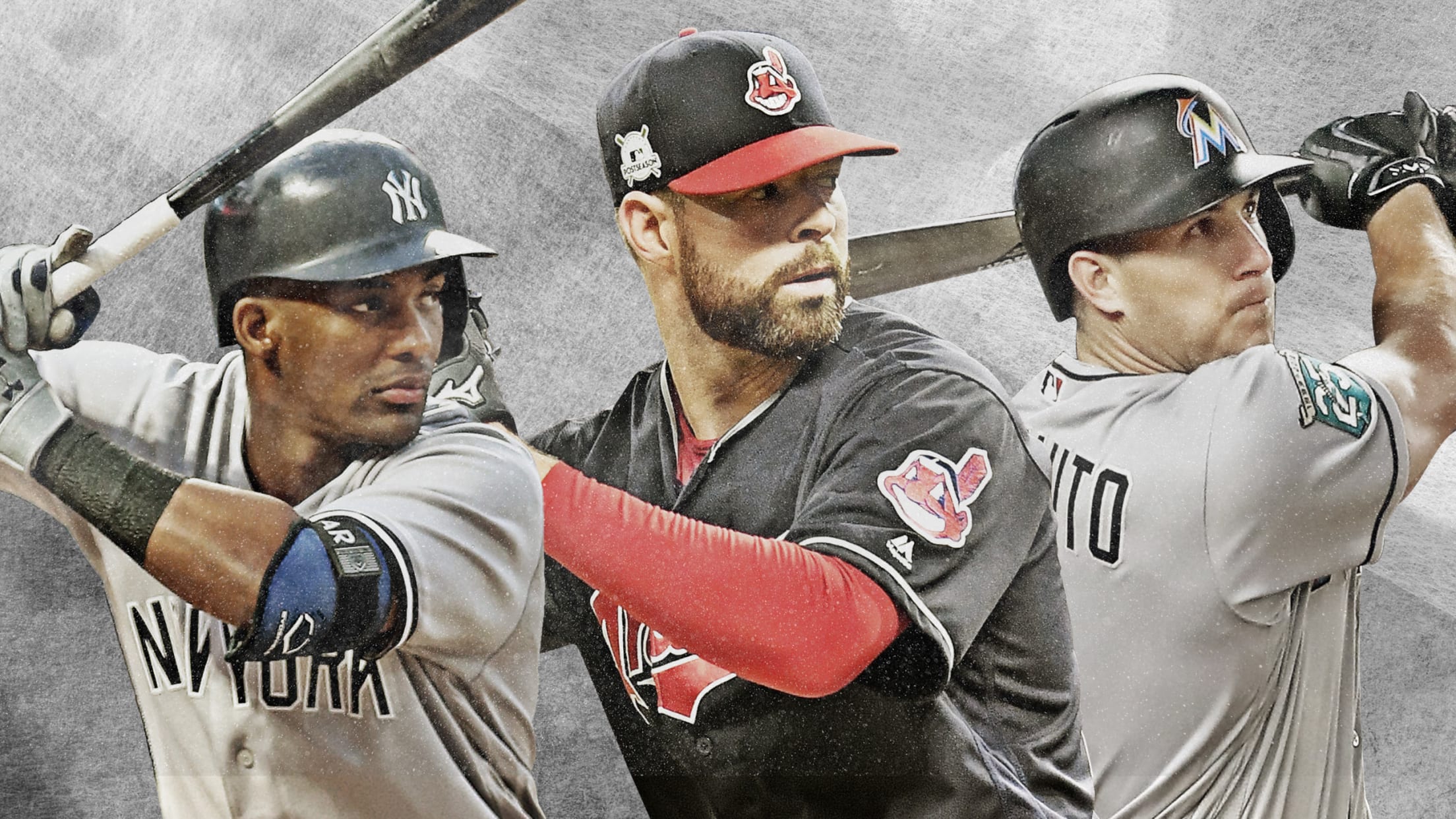 Manny Machadovisited potential suitors this week, while Bryce Harper is contemplating his future after meeting with teams last week in Las Vegas. The free-agent market remains chock full of talent, but that doesn't mean there aren't plenty of notable players up for grabs on the trade market as well.We've already
Manny Machadovisited potential suitors this week, while Bryce Harper is contemplating his future after meeting with teams last week in Las Vegas. The free-agent market remains chock full of talent, but that doesn't mean there aren't plenty of notable players up for grabs on the trade market as well.
We've already seen players including James Paxton, Robinson Cano, Edwin Diaz, Carlos Santana, Edwin Encarnacion, Jean Segura, Yan Gomes and Yasiel Puig traded this offseason, but general managers around the league are working tirelessly to put their clubs in better positions for 2019 and beyond.
Who might be next? For the second consecutive year, MLB.com has put together an "All-Trade-Rumor Team," one position at a time, looking at the key players whose names continue to be bandied about on the Hot Stove rumor mill.
C: J.T. Realmuto, Marlins
Realmuto's name continues to be the most popular one on the trade market, with a half-dozen teams or more attached to the All-Star catcher at one point or another. The Mets' signing of Wilson Ramos takes them out of the mix, but the Dodgers remain a potential match. The Yankees and Astros also can't be counted out.
Buzz factor: High. Ever since the Marlins unloaded their All-Star outfield of Giancarlo Stanton, Christian Yelich and Marcell Ozuna last offseason, it's been a matter of when, not if, Miami would trade Realmuto. It's going to happen at some point.
1B: Brandon Belt, Giants
Now that Jose Abreu appears to be off the trade market, Belt becomes the first baseman most likely to be moved. Since his All-Star season in 2016, Belt has missed 108 games over the past two years, his on-base percentage falling from .394 to .355 to .342 in the process. Still, Belt is a solid fielder with the ability to get on base at a decent rate and hit the ball out of the park.
Buzz factor: Low. The Giants are one of the more curious teams as new president of baseball operations Farhan Zaidi continues to evaluate his club. Madison Bumgarner isn't expected to be moved, but Belt -- who is owed $48 million over the next three seasons -- could be one of the first longtime Giants to be sent elsewhere.
2B: Scooter Gennett, Reds
Reports of Gennett's availability during the Winter Meetings made the second baseman one of the hottest topics for a day or two. Gennett, who is arbitration-eligible for one more year, will be headed for free agency next offseason unless the Reds can sign him to an extension. Reds president of baseball operations Dick Williams said recently he didn't expect those extension talks to take place soon, though a deal remains an option.
Buzz factor: Low. With so many free-agent second basemen available, teams in need at the position are more likely to address it in that manner rather than forking over prospects for Gennett. If no extension gets done, he'll be a prime trade candidate this summer.
SS: Nick Ahmed, D-backs
The D-backs have already started tearing apart their roster, trading Paul Goldschmidt to the Cardinals while watching Patrick Corbin and (presumably) A.J. Pollock leave as free agents. The Padres and Pirates have been rumored to have interest in Ahmed, who won his first National League Gold Glove Award in 2018. The 28-year-old's offensive numbers are underwhelming, but for a team looking for defense at the position, he's an intriguing option.
Buzz factor: Medium. Arizona is clearly in rebuilding mode, and while the club would love to unload Zack Greinke's sizeable contract, Ahmed and his two years of club control figure to be a prime trade chip.
3B: Miguel Andujar, Yankees
The runner-up in this year's American League Rookie of the Year Award vote, Andujar is part of the Yankees' young core. But his name has surfaced in various rumors this winter, including the three-team deal with the Mets and Marlins that sent the baseball world into a temporary frenzy during the Winter Meetings. Andujar's defense at third base has been heavily scrutinized, and his value may never be higher than it is now, with five years of club control remaining.
Buzz factor: Low-to-medium. The chances of an Andujar trade were higher before the Yankees re-signed J.A. Happ, but if the Yanks sign Machado, the prospect of Andujar getting traded will increase significantly. With Didi Gregorius out until midsummer, it's more likely Andujar could be dangled as trade bait in July -- even if the Yankees sign Machado.
OF: Nicholas Castellanos, Tigers
The Tigers have a pair of virtually untradeable contracts in Jose Cabrera ($154 million through 2023) and Jordan Zimmermann ($50 million through 2020), leaving Castellanos as the most appealing trade chip as Detroit continues to rebuild. The right fielder posted an .854 OPS with 23 home runs and 46 doubles last season, and with only one year of arbitration eligibility remaining before free agency, the 26-year-old seems destined to be in a new uniform before Opening Day.
Buzz factor: High. The Braves, Mets and Dodgers are among the teams that have been attached to Castellanos, who may very well be the best available outfielder other than Harper on either the free-agent or trade market.
OF: Kyle Schwarber, Cubs
Teams continue to check in with the Cubs about Schwarber, the young slugger who turns 26 in March. Schwarber had 26 home runs and an .823 OPS in 137 games last season, though some scouts view him as a future designated hitter rather than a long-term left fielder.
Buzz factor: Low. Chicago has told teams Schwarber isn't available, as he's entering his first year of arbitration and remains a solid power bat at a low-cost value. At some point that may change, but for now, a team would likely need to knock the Cubs' socks off to pry Schwarber away.
OF: Corey Dickerson, Pirates
Francisco Cervelli is the most likely trade candidate for the Pirates, though Dickerson could also find himself heading out of Pittsburgh. Both players are entering their final year before free agency, and with the addition of Lonnie Chisenhall and some top outfield prospects moving through the system, Dickerson could prove to be expendable if the Pirates can land a prospect or two in return.
Buzz factor: Low -- for now. The NL Gold Glove Award winner had a terrific season in his first year with the Pirates. Pittsburgh already traded Ivan Nova, another player headed for free agency next season, so you can't rule it out, but Dickerson figures to be a part of the Pirates' lineup -- at least until midsummer, when he could become a hot July trade candidate.
DH: Edwin Encarnacion, Mariners
Encarnacion has already been traded once this offseason, going from the Indians to the Mariners on the final day of the Winter Meetings. Of course, being on Seattle's roster is the equivalent to being on the trade block given GM Jerry Dipoto's history, so Encarnacion -- who has one year and $20 million left on his contract -- could very well wind up elsewhere before Spring Training.
Buzz factor: High. From the moment the Mariners acquired Encarnacion, the speculation began as to where he would wind up. Seattle is in rebuilding (reimagining?) mode, so it's hard to believe he'll stay with the Mariners. The Rays were among the teams that were initially mentioned, but Seattle would likely have to pick up a significant portion of his salary to make that happen.
SP: Corey Kluber, Indians
The two-time AL Cy Young Award winner has been on the trade block all winter, as the Indians look to move either Kluber or Trevor Bauer in an effort to cut payroll. Kluber is owed $34.5 million over the next two seasons -- with an $18 million club option for 2021 -- but given that he's finished in the top three in four of the past five AL Cy Young Award votes, that's hardly a prohibitive price for most teams.
Buzz factor: High. Either Kluber or Bauer figure to be dealt before the season, though Cleveland would still be considered to be the favorites in the AL Central. Kluber's track record and three seasons of control make him the more likely pitcher to bring back a bigger haul, though Bauer -- who has two years of arbitration-eligibility remaining before free agency -- is nearly five years younger and heading into his prime.
RP: Archie Bradley, D-backs
Will Smith of the Giants may have been the best reliever rumored to be on the move during the Winter Meetings, but given Arizona's moves so far this winter, it wouldn't be surprising to see Bradley get dealt. Top relievers with multiple years of club control are trade gold for rebuilding clubs (see Diaz, for instance), giving the D-backs a chance to bring back a top prospect or two from a team not wanting to spend big on the free-agent market.
Buzz factor: Medium. It's unclear which team would be most interested, but nearly every contender needs bullpen help, so there should be no shortage of suitors. Could Arizona try to attach Bradley to Greinke in an attempt to deal the starter and his sizeable contract?
Mark Feinsand, an executive reporter, originally joined MLB.com as a reporter in 2001.