MLBPAA celebrates its history at its birthplace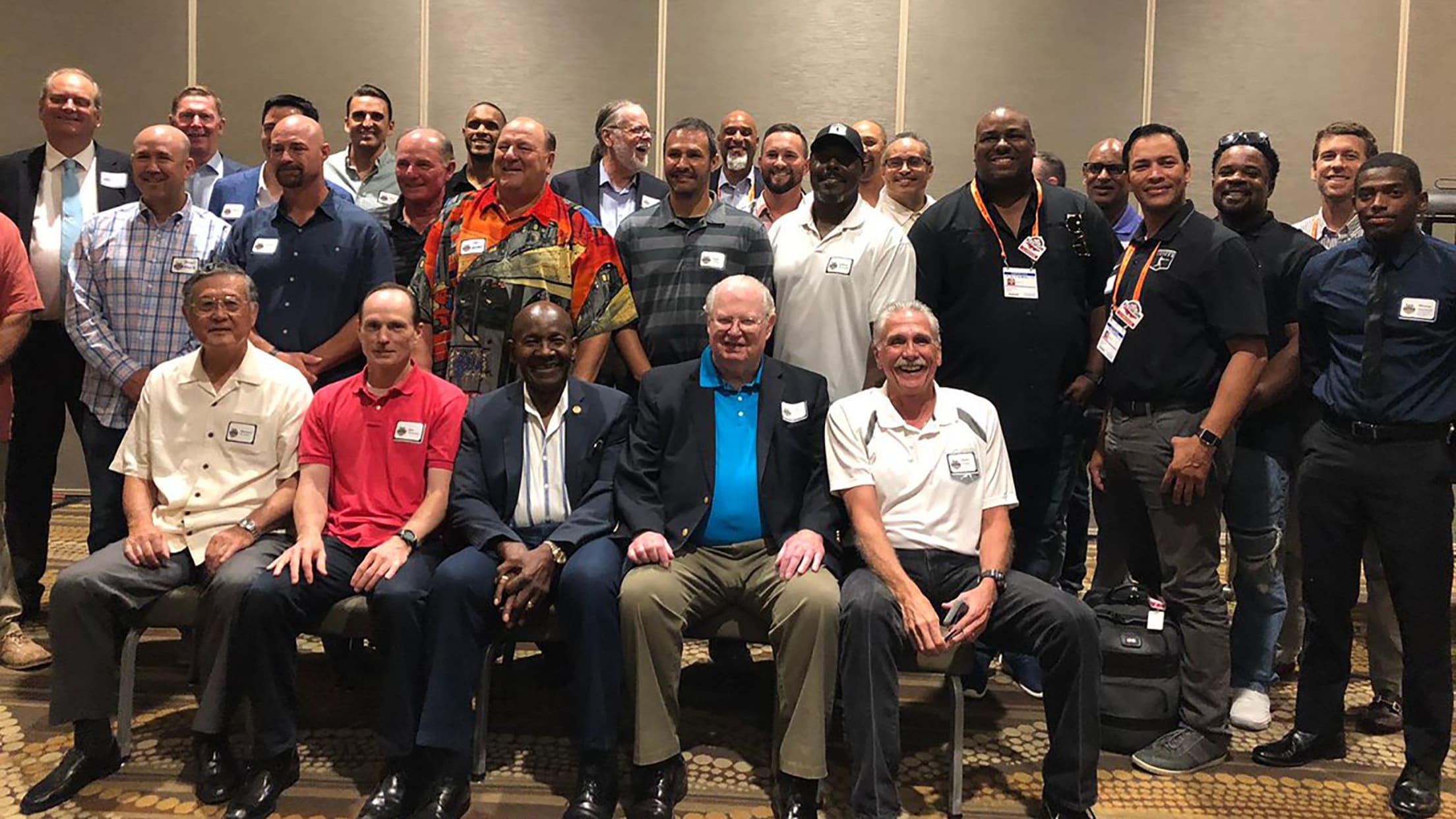 WASHINGTON, D.C. -- On Sunday evening, inside a first-floor ballroom right in the heart of the nation's capital at the Renaissance Hotel, several dozen former players and their families convened for an event put on by the Major League Baseball Players Alumni Association.Waiters with hors d'oeuvres matriculated around the room
WASHINGTON, D.C. -- On Sunday evening, inside a first-floor ballroom right in the heart of the nation's capital at the Renaissance Hotel, several dozen former players and their families convened for an event put on by the Major League Baseball Players Alumni Association.
Waiters with hors d'oeuvres matriculated around the room during the social hour. Dan Foster, the chief executive of MLBPAA, eventually stood before the gathering and told a captive audience about the growth of the alumni association and the services it provides. Then, Tony Clark, executive director of the MLB players' union and the first former player to serve in that capacity, addressed some of the primary issues facing the game today, such as the legalization of sports betting, pace of play and competitive balance.
There was already a buzz in town because the 89th MLB All-Star Game was just two days away at Nationals Park, marking the first time D.C. had hosted the Midsummer Classic since 1969.
A scene like this was unimaginable on Feb. 17, 1982, when the Major League Baseball Players Alumni Association was founded in this very city. The Washington Senators had pulled up stakes for a second time in '71. There was no hometown baseball team.
"When we first started this, we didn't have the money to buy stamps," said Fred Valentine, a former Major League outfielder for the Senators and Baltimore Orioles and one of 17 original members when the Alumni Association first started. "We didn't have any means or any idea of how to do this. We just knew that this was needed."
Valentine, the Senators' MVP in 1966, and Jim Hannan, who pitched in Washington from 1962-70, were honored at Sunday's alumni event for their longtime service and contributions.
Hannan, another original member, now serves as the Chairman of the Board of Directors for MLBPAA.
"We all have the common bond of playing in the big leagues," he said. "We knew what we had to endure. We knew what we had to do to succeed. It's just great to see how far we have come. Now we are established. We are recognized, whether it's by the Commissioner's Office or (Major League Baseball)."
The idea for MLBPAA was born when its founder, Chuck Hinton, a former Senator, returned from a Washington Redskins alumni golf event.
"Chuck said, 'Well, the NFL has an alumni association. Why don't we have one?'" Hannan said. "We said, 'I don't know.' Then, he said, 'Well, I think we should start one.'"
So, a small group of former players for the Senators started meeting every two weeks, and it gradually grew from there.
Now, the MLBPAA serves roughly 9,000 members. Its puts on 185 free baseball clinics and 31 coaching clinics each year around the world. Sunday's event at the Washington Renaissance was one of 20 Alumni Day events MLBPAA will host this year.
"It's just great to see all of this growth that has taken place," Valentine said.
Both Valentine and Hannan are delighted to see the All-Star Game back in Washington. One of Hannan's vivid memories of the 1969 game is Frank Howard, a former teammate on the Senators, launching a home run into the upper deck at RFK Stadium.
"This [All-Star Game] means that baseball is fully and truly back here in the nation's capital," Hannan said. "This is the nation's capital. A lot of bad things come out of here. A lot of good things, too. We are glad to have it back."
Greg Swatek is a contributor to MLB.com.