MLB announces 2018 Honorary Bat Girls
Each team's honoree has shown amazing commitment to fighting breast cancer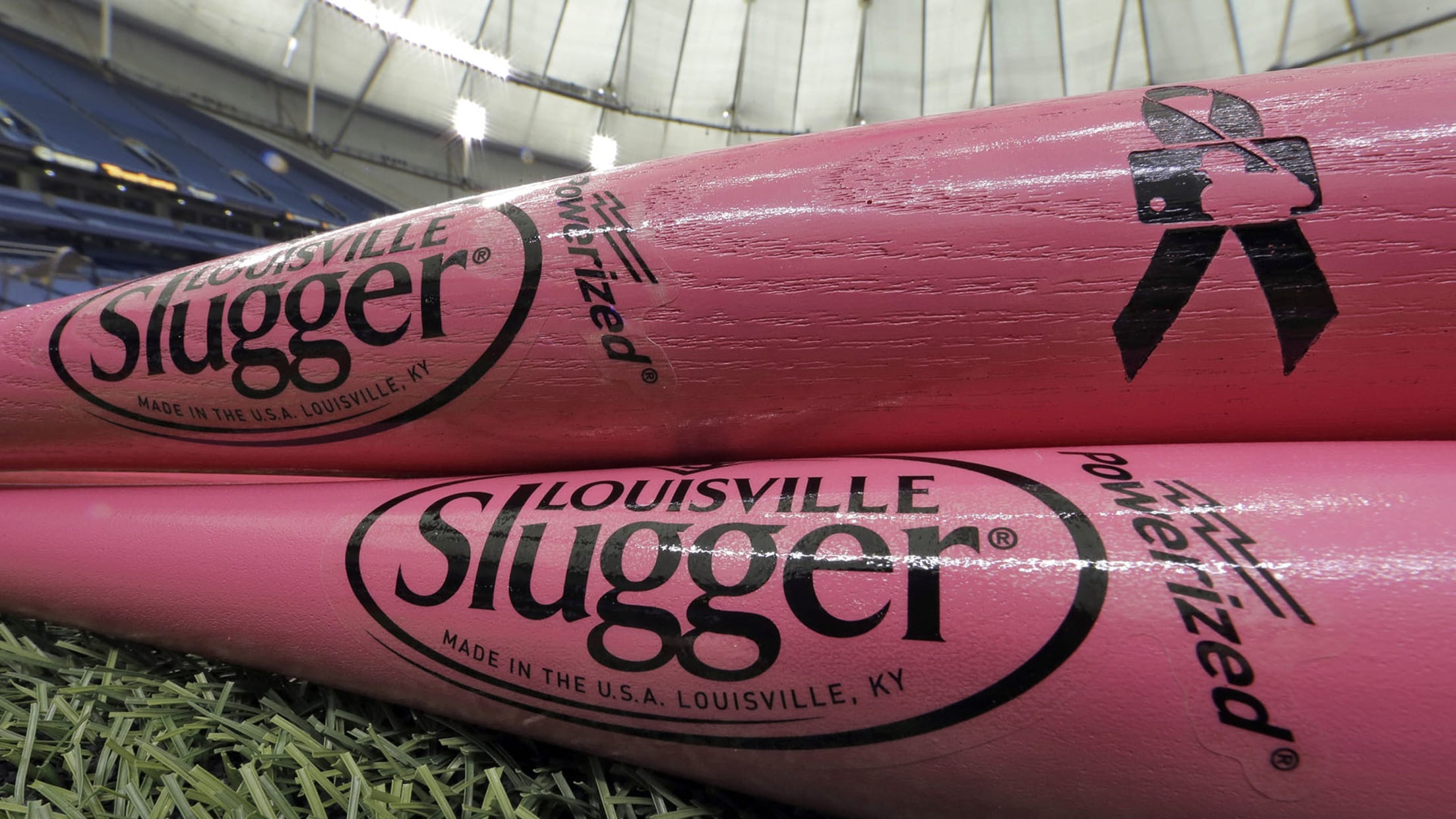 Major League Baseball announced the Honorary Bat Girls for each of the 30 clubs on Wednesday as part of the annual "Going To Bat Against Breast Cancer" initiative. It is traditionally commemorated across MLB on Mother's Day, and this was the first year in which each team was able to
Major League Baseball announced the Honorary Bat Girls for each of the 30 clubs on Wednesday as part of the annual "Going To Bat Against Breast Cancer" initiative. It is traditionally commemorated across MLB on Mother's Day, and this was the first year in which each team was able to select its own honoree, each of whom has shown an extraordinary commitment to battling breast cancer.
Going to Bat Against Breast Cancer is supported by MLB charitable partners Stand Up To Cancer and Susan G. Komen. Since 2006, players have swung pink bats, worn pink ribbon decals and sported pink wristbands as part of the initiative, which is intended to raise awareness and -- through donations and auction proceeds -- funds to fight breast cancer.
MLB will again donate its licensed uniform royalties from Mother's Day apparel to Susan G. Komen and Stand Up To Cancer. Players will also continue to have the opportunity to use pink bats during Mother's Day games, and Louisville Slugger, the Official Bat of Major League Baseball, will donate proceeds from the sales of their pink bats -- which will be stamped with the MLB breast-cancer awareness logo -- to Susan G. Komen and Stand Up To Cancer.
Each club's honoree will be recognized prior to games on Mother's Day, which is Sunday. Clubs playing on the road will select another game before which their honoree will be recognized. Each honoree's story of fighting breast cancer can be found at HonoraryBatGirl.com. The tremendous courage shown by these women is underscored by the challenges they have overcome and the diversity in their backgrounds and stories.
There's Tigers honoree Michelle Lynn Rathbun, who was diagnosed with Stage 3 breast cancer at age 37 -- 11 months after her husband died of a heart attack -- and endured 11 surgeries, 10 rounds of chemotherapy and seven weeks of radiation, determined that her children would not become orphans. As a breast-cancer survivor, just like her grandmother, Rathbun now mentors others who have been diagnosed with breast cancer, helping them advocate for their medical treatment and showing them that there is life after treatment.
Rays honoree Willie Mae Footman, the grandmother of Rays outfielder Mallex Smith, is a beloved leader in her community, spending 30 years teaching for Leon County schools, while at the same time working for the Tallahassee Parks and Recreation Department and the Girl Scouts. Upon being diagnosed with Stage 2 breast cancer, she was proactive in her fight, staying one step ahead throughout the process, and she's now eight years cancer-free.
Dodgers honoree Carla Cammack is a 20-year survivor of Stage 3 breast cancer, and she was at the bedside of her dearest friend, Nanci, who passed away following a seven-year battle with Stage 4 breast cancer. Carla promised Nanci she'd use her example to inspire others in their own battle. In fulfilling that promise, Carla has continued to volunteer with Susan G. Komen, speaking on behalf of the organization to individuals and large groups, as well as in television and radio interviews, to raise awareness. She has served on the Komen board of directors and as race chair for Race for the Cure. Cammack has raised more than $300,000 in personal pledge donations, and she's Komen's all-time leading fundraiser.
Mets honoree Deborah Cavolo is a breast-cancer survivor who experienced firsthand the need for comfort and compassion in recovery from treatment, and she co-founded the Breast Cancer Comfort Foundation, which has delivered approximately 1,600 comfort baskets to the offices of oncology surgeons, reconstruction plastic surgeons and cancer centers on Long Island and in Queens.
Blue Jays honoree Kim MacDonald is an award-winning broadcaster who has been with Canada's Weather Network for 20 years. She was diagnosed with breast cancer in December 2016, and she underwent chemotherapy and 25 rounds of radiation. MacDonald decided that, being in the public eye, she would document her battle through her blog, social media posts and weekly radio interviews. She had her hair shaved off live on Facebook shortly after undergoing her second round of chemotherapy. Kim's cancer is in full remission, and she has since become a spokesperson for Breast Cancer Society of Canada.
These are just some of the inspiring stories that will be told this Mother's Day at ballparks across the country, raising awareness and bringing inspiration in the fight against breast cancer. More information is available at HonoraryBatGirl.com.