Here are 9 perfect free-agent fits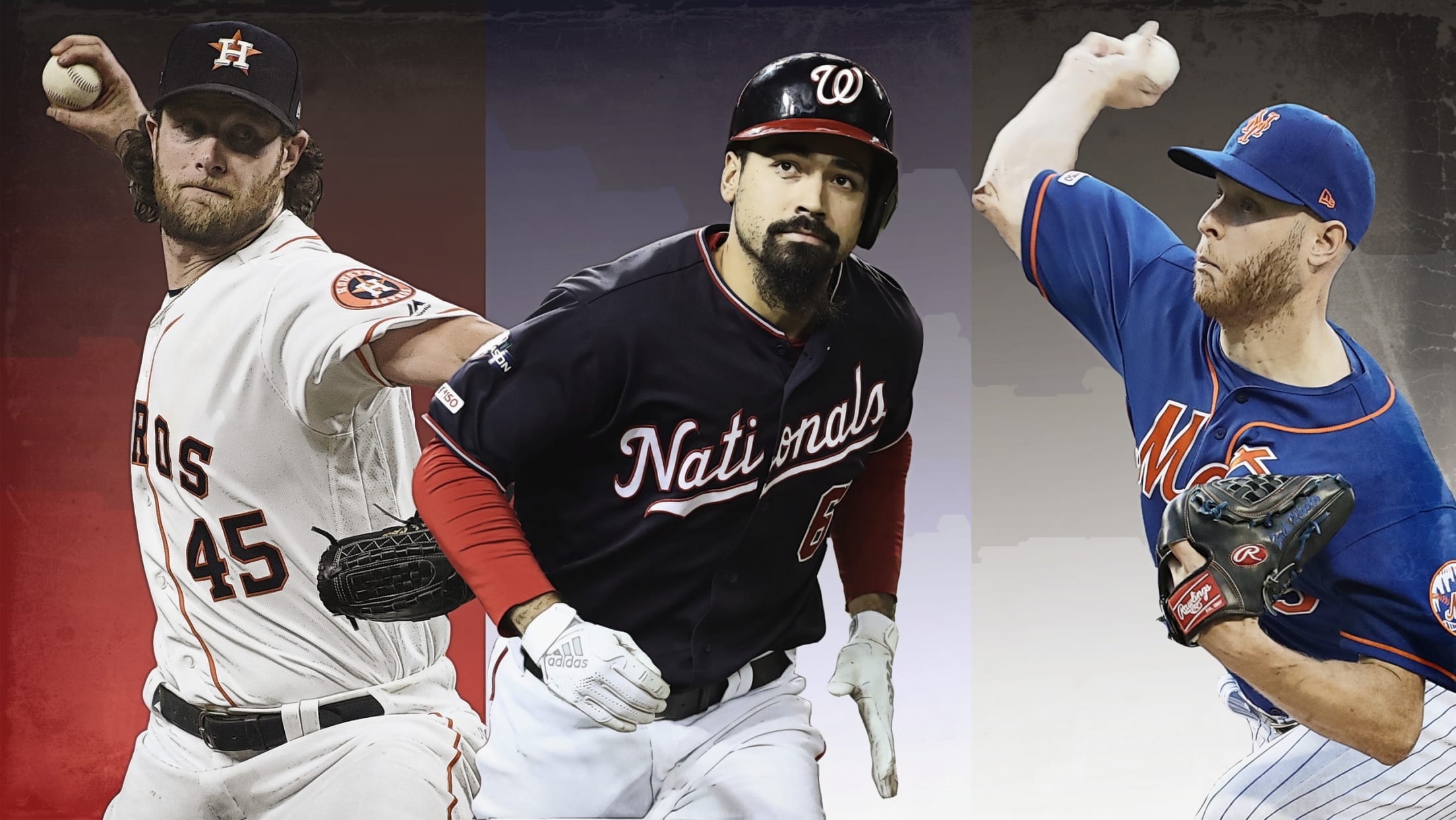 We love free agency because of the endless possibilities, and doesn't that cut to the core of the Hot Stove season? Fans, players and executives spend plenty of time wondering what their teams might look like with, say, Gerrit Cole plugged into the top of the rotation and Anthony Rendon
We love free agency because of the endless possibilities, and doesn't that cut to the core of the Hot Stove season? Fans, players and executives spend plenty of time wondering what their teams might look like with, say, Gerrit Cole plugged into the top of the rotation and Anthony Rendon in the middle of the lineup.
That's why some of us enjoy a long, methodical offseason. As long as there are unsigned impact players, we can dream of that one acquisition swinging the balance of power in an instant.
Some moves just make sense for a potential perfect fit. Also, one big move could trigger others. With that in mind, we've decided to help things along with nine perfect fits for free agents.
1) Gerrit Cole to the Angels
We're occasionally guilty of overselling a certain angle. Not in this case. This is as close to perfect as a free-agent marriage can get. The Southern California native (from Orange County, no less) has hit free agency at a time when his hometown team desperately needs pitching and is apparently willing to pay for it. Given that all three SoCal teams -- the Dodgers, Padres and Angels -- may all make a run at Cole, this pursuit of 212 innings and 326 strikeouts isn't likely to be a long one.
2 and 3) Stephen Strasburg and Anthony Rendon to the Nationals
Who wants this sweet story to end? Other than, say, the Padres, Dodgers and Rangers, who may pursue one or both of the Nationals stars. Both Strasburg and Rendon appear to be comfortable in Washington and inclined to remain part of the only organization they've ever known. But they've also earned the right to shop around and consider other offers. The Nationals have met with agent Scott Boras, who represents both, and are hopeful of keeping both.
4) Cole Hamels to the Phillies
Hamels remains hugely popular in Philadelphia as a key member of the Phillies teams that won five straight National League East titles from 2007-11. Now in the twilight of his career, Hamels' return to the Phillies seems logical. Oh, and the Phillies are hoping to add at least one starting pitcher this offseason. The biggest question is how much the Phillies think the 35-year-old lefty has left in the tank.
5) Yasmani Grandal to the Astros
The Astros will attempt to trade for a veteran starting pitcher to replace Cole in their rotation, and that would allow them to upgrade the lone problem area of baseball's deepest lineup through free agency. Grandal's 5.2 Wins Above Replacement (per FanGraphs) was second among MLB catchers in 2019, trailing only J.T. Realmuto (5.7). And Grandal is an elite pitch framer, which could help make up for the potential loss of Cole via free agency.
6) Zack Wheeler to the Yankees
Sure, Wheeler grew up in Georgia rooting for Chipper Jones and the Braves. But he has come to love New York after seven seasons with the Mets, including the last two in which he was healthy and produced an 8.9 WAR (per FanGraphs). Cole may be the Yankees' first choice, but Wheeler would be a nearly perfect fit. Wheeler will have plenty of other options, but none may be as appealing as being part of a franchise that has been to the postseason 21 times in the last 25 seasons.
7) Josh Donaldson to the Rangers
Rangers general manager Jon Daniels might as well have been wearing a Donaldson jersey this week when he said past grievances wouldn't factor into a free-agent pursuit. That was a reference to when the Rangers and Blue Jays had one of baseball's most heated rivalries while Donaldson was Toronto's superstar. While Daniels will pursue Rendon (a Texas native), the Rangers would be thrilled to fill their biggest position-player need with Donaldson's attitude and production.
8) Madison Bumgarner to the Braves
The Braves filled one need on Thursday by signing free-agent left-hander Will Smith. Now, general manager Alex Anthopoulos will focus on acquiring a veteran starting pitcher in Atlanta's quest of a third straight NL East title. Bumgarner would check lots of boxes in his quest to reestablish himself as a top-of-the-rotation presence.
9) Hyun-Jin Ryu to the Padres
GM A.J. Preller's lengthy offseason to-do list begins with a proven arm at the top of a young rotation, and with the Dodgers seemingly ready to let Ryu walk, the timing appears right. Ryu led the Majors with a 2.32 ERA this past season, and over the last two years, his 2.21 ERA is the second lowest in baseball, trailing only two-time NL Cy Young Award winner Jacob deGrom's 2.05 mark.