MLB's most popular jerseys revealed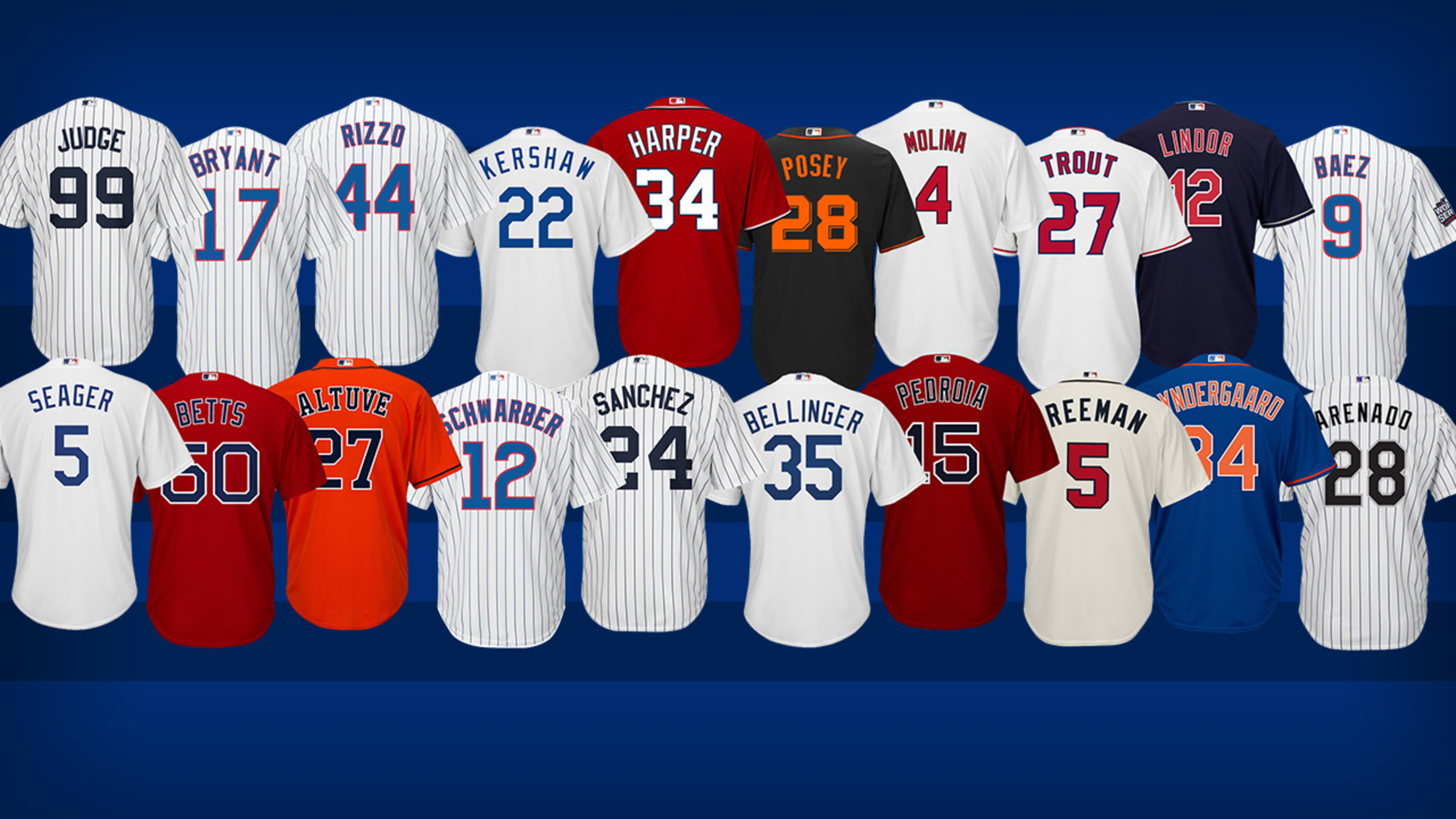 Aaron Judge has the highest number in all of Major League Baseball, and this time we are talking about total sales of his No. 99 Yankees jersey.MLB and the MLB Players Association jointly announced the latest Most Popular Jerseys rankings on Tuesday, and the rookie slugger topped the list to
Aaron Judge has the highest number in all of Major League Baseball, and this time we are talking about total sales of his No. 99 Yankees jersey.
MLB and the MLB Players Association jointly announced the latest Most Popular Jerseys rankings on Tuesday, and the rookie slugger topped the list to add another distinction to an historic first full year. The list is based on sales of Majestic jerseys from MLBShop.com since Opening Day.
It marks the first time an outfielder has taken the honor, and only the second time a rookie has finished an MLB season with the most popular jersey. Cubs third baseman Kristopher Bryant, whose jersey is the second-most popular of 2017, also had the top-seller of '16 and '15 (his rookie campaign). MLB and the MLBPA have released these rankings since '10.
Judge set the rookie home run record in 2017, won the T-Mobile Home Run Derby, led American League All-Star voting, earned his own robed fan section at Yankee Stadium, and pushed the Yankees into the postseason as a bona fide AL MVP Award candidate.
His "ALL RISE" nickname, which he wore on his back for the inaugural Players Weekend in August, resulted in a fair number of those jersey sales. Judge joins Derek Jeter (six times) and Mariano Rivera (once) as Yankees who have topped a Most Popular Jerseys ranking.
"I'm just really appreciative," Judge said of his fan support.
Seven of the top 10 and 15 of the top 20 players on the current list will participate in the postseason, which gets underway on Tuesday at 8 p.m ET, when Judge's Yankees host the Twins in the AL Wild Card Game.
Following Judge and Bryant on the list, in order, are Anthony Rizzo of the Cubs, Clayton Kershaw of the Dodgers and Bryce Harper of the Nationals.
The average age of the top 10 players is 27. Players representing 13 clubs make up the top 20, which is comprised of 10 infielders, five outfielders, three catchers and two pitchers. Four members of the defending World Series champion Cubs made the top 14, and the Dodgers(104-58) also had three in the top 20 while building the Majors' best regular season record.
Here is the full list:
1. Aaron Judge, Yankees

Kris Bryant, Cubs

Anthony Rizzo, Cubs

Clayton Kershaw, Dodgers

Bryce Harper, Nationals

Buster Posey, Giants

Yadier Molina, Cardinals

Michael Trout, Angels

Francisco Lindor, Indians

Javier Baez, Cubs

Corey Seager, Dodgers

Mookie Betts, Red Sox

Jose Altuve, Astros

Kyle Schwarber, Cubs

Gary Sanchez, Yankees

Cody Bellinger, Dodgers

Dustin Pedroia, Red Sox

Freddie Freeman, Braves

Noah Syndergaard, Mets

Nolan Arenado, Rockies
Jersey leaders through the years
MLB and the MLBPA issued the first official Most Popular Jerseys rankings in 2011, based on sales for all of '10. Since then, lists have been announced at fairly regular intervals. Here is a history of the top-ranked jerseys and the timing of release, formerly dominated by a certain No. 2 in the Bronx.
2017 Postseason: Aaron Judge
2017 Opening Day: Kris Bryant
2016 All-Star Week: David Ortiz
2015 Postseason: Kris Bryant
2015 All-Star Week: Madison Bumgarner
2014 Postseason: Derek Jeter
2014 All-Star Week: Derek Jeter
2014 Opening Day: David Ortiz
2013 Postseason: Mariano Rivera
2013 All-Star Week: Derek Jeter
2012 Postseason: Derek Jeter
2012 Opening Day: Derek Jeter
2011 Opening Day: Derek Jeter
Mark Newman is enterprise editor of MLB.com and a baseball writer since 1990. Follow him on Twitter @Marathoner and read and join other baseball fans on his MLB.com/blogs hub.