MLB, NTT to collaborate on 'Ultra Reality Viewing'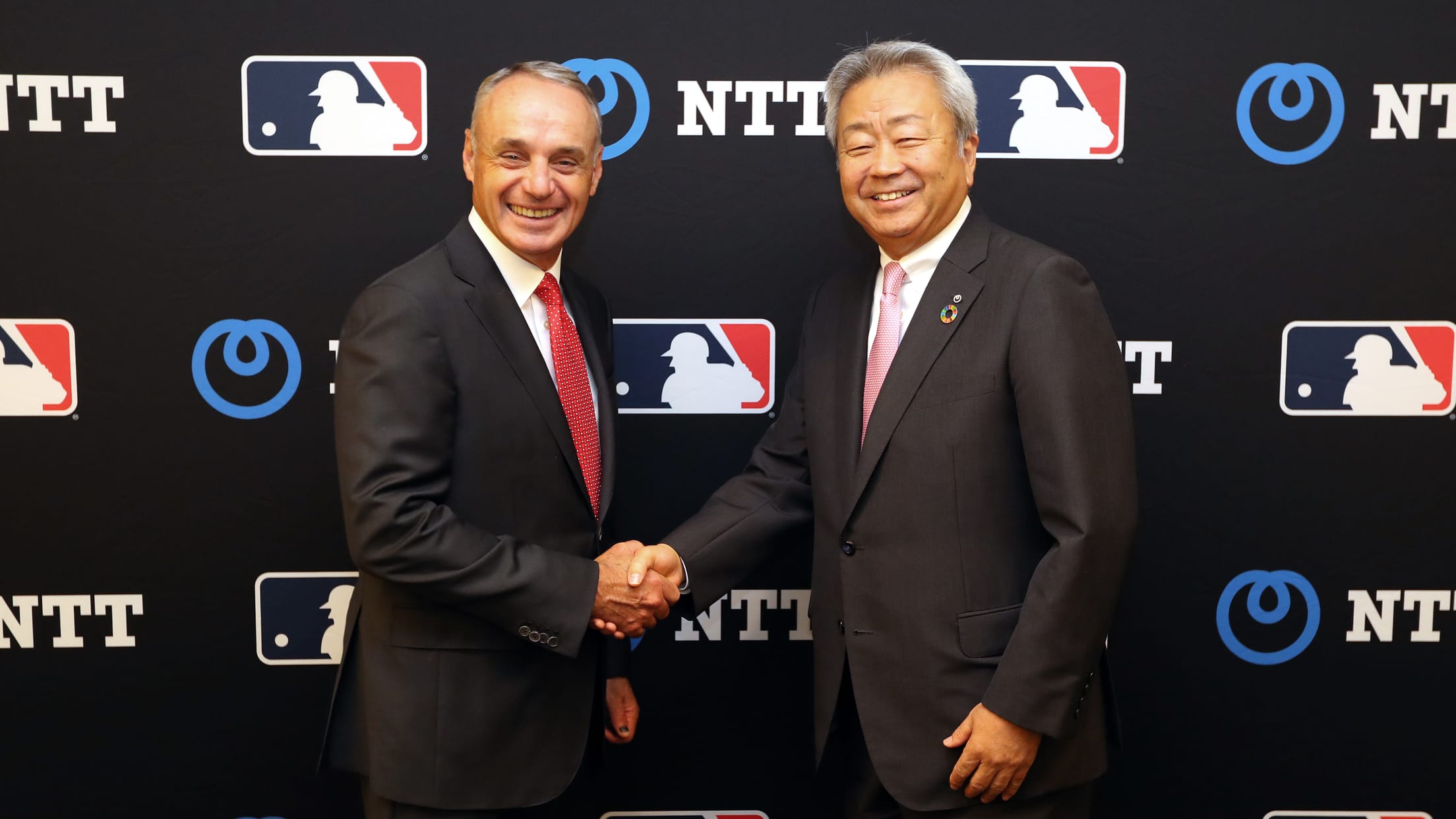 NEW YORK -- Major League Baseball announced a multi-year partnership with Japan-based global technology company NTT on Wednesday, with the goal of using NTT's advanced technology platforms to "create new experiences for baseball fans." MLB commissioner Rob Manfred and NTT president and CEO Jun Sawada made the announcement from MLB
NEW YORK -- Major League Baseball announced a multi-year partnership with Japan-based global technology company NTT on Wednesday, with the goal of using NTT's advanced technology platforms to "create new experiences for baseball fans."
MLB commissioner Rob Manfred and NTT president and CEO Jun Sawada made the announcement from MLB headquarters in New York.
The highlight of the collaboration will be MLB using NTT's "Ultra Reality Viewing," which uses real-time super-high-definition video so sports fans watching a game feel like they're experiencing it live at the stadium or on the field.
"All of us at Major League Baseball could not be more excited about the three-year agreement that we've reached with NTT," Manfred said Wednesday. "We've worked very hard to make our sport available on platforms that are new, that are innovative, that reach a younger audience. We think that the partnership with NTT provides us with an opportunity to add an additional platform, and to reach more people."
URV takes multiple 4K camera images and combines them into a super-wide image, broadcasting super-HD surround video and sound in a way that can't be captured by normal cameras -- for example, showing a complete view of players moving around the field or capturing the full size of a large stadium. That creates the enhanced, ballpark-style experience for viewers of a sporting event, what NTT calls an "ultra-high sense of presence."
What does that mean for baseball fans? Right now, MLB and NTT are planning a prototype URV experience at select upcoming games, potentially in October. Details will be announced at a later date.
Wednesday's event included an introductory video to URV, demonstrating the technology's applications. In Japan, URV has been used for soccer games as well as with Kabuki, the traditional Japanese theater. In the U.S., NTT says, it hopes to use URV to re-create the experience of watching a dynamic MLB game for viewers.
"[URV] is a very new type, a new generation, of public viewing technology. Viewers can enjoy [games] as if they were in their stadiums," Sawada said. "This is the type of technology solution we'll contribute to the extending of the fan experience -- especially for a new, younger generation of viewers. For the future with MLB, I would like to extend our partnership to other technology areas.
Manfred noted MLB's history of leadership in sports technology, going back to the first online streaming of a Major League Baseball game in 2002. He said he thinks the partnership with NTT will help MLB maintain its reputation as a leader in that area.
As part of the partnership with MLB, NTT also becomes the title sponsor of the MLB Network Ballpark Cam, in addition to being named the Official MLB Fan Experience Partner for Ultra Reality Viewing.
MLB Network's Ballpark Cam -- now the NTT Ballpark Cam -- is installed in all 30 MLB stadiums. It captures pregame and postgame on-field footage and live on-camera interviews for MLB Network studio shows, plus live baseball game content.
NTT is the first Japan-based information technology company to be named an official MLB partner in the U.S. -- part of MLB's continued efforts to grow baseball around the world.
"This has been a huge year for us in terms of our efforts to internationalize the game," Manfred said. "We opened in Tokyo. We played in London. We were in Mexico twice for regular-season series. And it's about more than just playing games outside the United States. It's about business relationships and sponsors and partners that are international in scope, and obviously NTT fits that bill for us as well. We couldn't be more excited to get going on this relationship."