MLB celebrates inclusion at NYC Pride March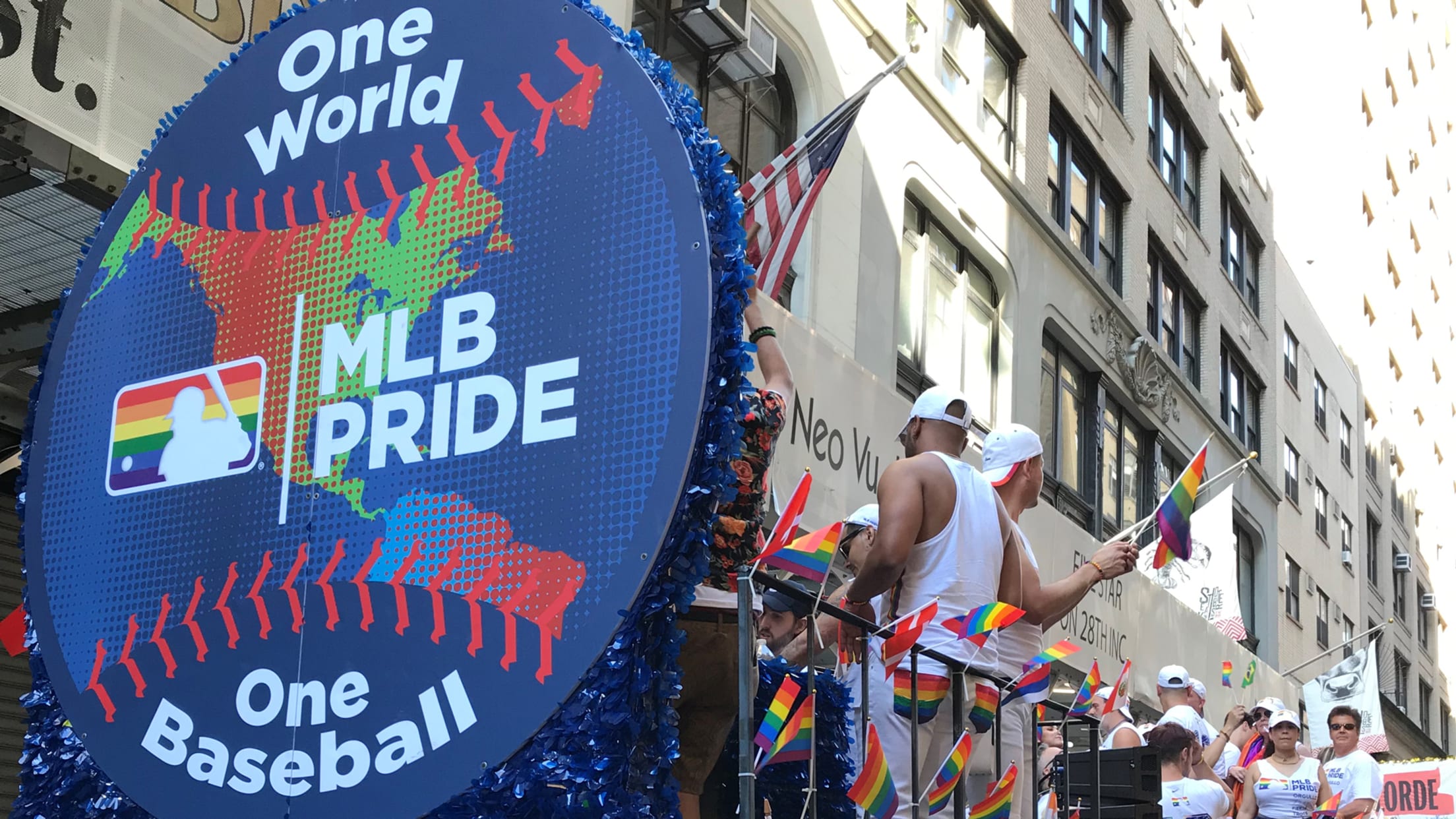 NEW YORK -- On Sunday -- the final day of Pride Month, the 50th anniversary of the Stonewall uprising and WorldPride 2019 -- Major League Baseball took part in the 50th annual Pride March. In a return appearance, more than 250 employees and their families from Major League Baseball and
NEW YORK -- On Sunday -- the final day of Pride Month, the 50th anniversary of the Stonewall uprising and WorldPride 2019 -- Major League Baseball took part in the 50th annual Pride March.
In a return appearance, more than 250 employees and their families from Major League Baseball and MLB Network signed up to be a part of MLB's message of acceptance and equality toward the LGBT community.
"Today is really a celebration of all the work we've been doing behind the scenes while no one's watching," said Billy Bean, MLB vice president and special assistant to the Commissioner. "We have a chance to participate in our community, which I think you can never underestimate the value of, but also, baseball has great influence on a lot of people. A lot of people love and care about our sport, and I think this is a chance for us to share our values.
"We want everyone who loves baseball to feel welcome when they walk through those turnstiles. And whether they want to work in baseball, be a player or come watch a game or follow on their phone, whatever it is, we want everyone to feel represented, and not only accepted, but loved as one family."
With WorldPride as the backdrop, MLB designed its float emblem to be a baseball that doubled as a globe, fit with rainbow-colored continents and the words, "One world, one baseball." Along the side of the float, that same tagline appeared in various languages, including French, German and Portuguese. Miniature flags of a wide variety of countries, such as China, Mexico, Italy, Australia, Israel and Brazil were interspersed with the rainbow flags around the railings of the float.
The float came equipped with a DJ, who blared music for the participants and passersby alike to dance along to as they made their way through the parade route from 29th Street at Fifth Avenue, down to 8th Street in Greenwich Village and back around to 26th Street and Seventh Avenue. Though he also played more established songs, his playlist was heavy on Latin-infused pop and dance tracks -- crowd favorites included old classic "Gasolina" and contemporary hit "Taki Taki."
Coincidentally, the weekend also saw the Yankees and Red Sox play in the London Series, the first regular-season MLB games in Europe, the significance of which struck a chord with several attendees of the march.
"[MLB] has been making this a world stage, so to speak," said Dale Scott, an out former MLB umpire. "They are making great strides, great efforts, not only to let everyone know here in the United States that it's all-inclusive, but everybody around the world. Baseball's so diverse, a lot of different nations are involved. …They tied it all in, so it's really exciting."
This growing awareness is an upward trend for the league, both at the national and local level. According to Erik Braverman, senior vice president of marketing, communications and broadcasting for the Dodgers, Bean and the Commissioner's Office have been working closely with the 30 clubs to put more emphasis on diversity and inclusion efforts directly related to the LGBT community.
"We've been able to take this initiative and target a demographic that had long been forgotten about," Braverman said. "The LGBT community represents so much of our population, but also, they're baseball fans. … Many years ago, if you said a day like this could have existed, I wouldn't have thought it possible. To be a part of this is really special."
For the march organizers, seeing their fellow colleagues donning international-style, rainbow-covered MLB PRIDE T-shirts and handing out bracelets, stickers and stress baseballs to the crowd made it clear that the company is shifting the culture in the right direction.
"The culture is where we try to focus on changing the way we talk about each other, what we put on social media," said Bean, a former Major Leaguer who came out after his playing career ended. "It's our responsibility to give our players resources. They're young, they're great at baseball, they're thrust into the bright lights in big cities all across the country. And for me, as a former player, I want to provide them with education and information that will allow them to be the best ambassadors that we could ever hope for, because the fans are gonna listen to what they say and what they do. Ultimately, every player is going to decide for themselves if they want to participate or not."
Added MLB Network studio host Brian Kenny: "I think a lot of our ballplayers and ex-ballplayers, they don't have awareness of this. And once they become aware, they'd be happy to be allies."
For now, it's enough to take solace in the fact that baseball has already come a long way, a refrain repeated by many of the MLB representatives Sunday. In a way, they already crossed a proverbial home plate. Among them was MLB chief diversity and inclusion officer Renée Tirado. Tirado attended Pride marches during her youth and helped spearhead MLB's participation in the march beginning last year.
"[It's] just a testament to having a champion at that level who takes the message from you," Tirado said. "We're supposed to be here, we're meant to be here and we will continue on with this legacy."
Bean, who was named MLB's first ambassador for inclusion in 2014, saw Sunday as a culmination of the strides the league has made to become a more inclusive place for people from all backgrounds, but especially those from underrepresented groups.
"It's something that means a lot to me," Bean said. "From deep inside my heart, it really resonates from the struggles that I went through as a player, feeling like we weren't available to share those messages. I alienated myself from my friends, my teammates, and today we're shouting out to the whole world that we're all here, one love, and I'm just so proud and honored to be a part of Major League Baseball."