Here is the Prospect Team of the Year
Though Luis Robert is an outfielder and MacKenzie Gore is a left-handed pitcher, they have a lot in common. They both were highly touted prospects who commanded lavish bonuses in 2017, but injuries waylaid them during their first full professional season. Finally healthy in 2019, they dominated. Robert, who signed
Though Luis Robert is an outfielder and MacKenzie Gore is a left-handed pitcher, they have a lot in common. They both were highly touted prospects who commanded lavish bonuses in 2017, but injuries waylaid them during their first full professional season. Finally healthy in 2019, they dominated.
Robert, who signed for $26 million after defecting from Cuba and cost the White Sox a matching amount in penalty tax, went homerless in 50 games a year ago after damaging ligaments in his left thumb. Gore signed for $6.7 million with the Padres as the No. 3 pick in the Draft but repeated blisters issues limited him to 60 2/3 innings and prevented him from building any momentum in 2018.
They affirmed themselves as two of baseball's best prospects this summer, with Robert winning MLB Pipeline Hitter of the Year accolades and Gore capturing Pitcher of the Year accolades. They highlight our annual Prospect Team of the Year, which recognizes the top performers in the Minors.
Pipeline Hitter & Pitcher of the Year Awards
Seventeen of the 24 players on the first- and second-team units come from West division teams -- 10 from the National League West and seven from the American League West. The NL Central accounts for three players, the AL Central two and the two East divisions have just one player each. The Padres and D-backs lead all teams with four representatives each.
Eight of the nine hitters on the first team -- and 14 of 18 overall -- took advantage of the Major League balls used at the Triple-A level.
To be eligible for the Prospect Team of the Year, players must have spent at least half of the season in the Minors and made our organization Top 30 Prospects rankings at some point.
First Team
C: Luis Campusano (Padres No. 8 prospect)
A+: .325/.396/.509, 110 G, 15 HR, 63 R, 81 RBI
The first catcher selected (second round) in the 2017 Draft, Campusano broke out as one of baseball's best offensive prospects at his position this season while also making defensive improvements. The co-MVP of the California League, he led the Class A Advanced circuit in hitting and ranked second in slugging, OPS (.905), doubles (31) and RBI and third in on-base percentage.
1B: Jared Walsh (Angels No. 22 prospect)
AAA: .325/.423/.686, 98 G, 36 HR, 90 R, 86 RBI
Walsh ranked second in the Minors in slugging and OPS (1.109) and third in homers. A $3,000 senior sign as a 39th-rounder out of Georgia in 2015, he's also one of a growing number of two-way players in professional baseball and logged a 4.15 ERA in 13 appearances in Triple-A.
Jared Walsh has only played 98 games in @MiLB this season, but he's still making history.

The #Angels prospect has two homers tonight, bringing him to 36 this season -- tying the @SaltLakeBees franchise record.@Angels Top 30: https://t.co/hCcSMaApu4pic.twitter.com/qKnhT2vLBR

— MLB Pipeline (@MLBPipeline) August 31, 2019
2B: Josh Rojas (Diamondbacks No. 29 prospect)
AA/AAA: .332/.418/.606, 105 G, 23 HR, 89 R, 83 RBI, 33 SB
Another senior sign, Rojas turned pro for $1,000 as a 26th-rounder from Hawaii in 2017 and didn't do much offensively until this year, when he played six different positions and went from the Astros to the Diamondbacks in the Zack Greinke trade in July. He and fellow PTOY honorees Robert and Kyle Tucker are the only Minor Leaguers who produced 20 homers and 30 steals in 2019.
3B: Ty France, Padres (graduated from Top 30)
AAA: .399/.477/.770, 76 G, 27 HR, 83 R, 89 RBI
The Triple-A Pacific Coast League MVP, France didn't come to the plate often enough to officially qualify for Minor League leadership. But the 34th-rounder in 2015 from San Diego State -- where his coach was Tony Gwynn -- led all players who had as many as his 348 plate appearances in batting, slugging and OPS
SS: Gavin Lux (Dodgers No. 1 prospect/MLB No. 9)
AA/AAA: .347/.421/.607, 113 G, 26 HR, 99 R, 76 RBI, 10 SB
After leading Minor League shortstops in all three slash stats in 2018, Lux fell .001 short in on-base percentage of doing the same this season. The 20th overall pick in the 2016 Draft became the first middle infielder aged 21 or younger to log a 1.000 OPS in the upper levels of the Minors since Gregg Jefferies in 1987. He's also the only repeater from 2018's PTOY first team, with 2019 first-teamer Kyle Tucker making the second team a year ago and Roberto Ramos earning second-team honors in both seasons.
Gavin Lux keeps mashing.

After going 0-for-3 last night and nearly dropping under the .400 line, the #Dodgers' prospect is 2-for-3 tonight with a homer, his 26th of the year, to get his Triple-A slash line to .404/.489/.750.pic.twitter.com/p63Ki6Sn3t

— MLB Pipeline (@MLBPipeline) August 28, 2019
OF: Dylan Carlson (Cardinals No. 2 prospect/MLB No. 49)
AA/AAA: .292/.372/.542, 126 G, 26 HR, 95 R, 68 RBI, 20 SB
Somewhat of a surprise first-round pick (33rd overall) in 2016, Carlson steadily improved throughout his pro career before exploding this season. He won Texas League MVP honors after leading the Double-A circuit in slugging (.518) and ranking second in OPS (.882), runs (81), homers (21) and extra-base hits (51) -- then put up even better rate stats during three weeks in Triple-A. He's the Cardinals' first 20-20 Minor Leaguer since Terry Evans and Tyler Greene in 2006.
OF: Trent Grisham (Brewers No. 6 prospect)
AA/AAA: .300/.407/.603, 97 G, 26 HR, 71 R, 71 RBI, 12 SB
Grisham looked like a failed first-round pick (15th overall, 2015) when he hit .228/.356/.344 with 17 homers in his first three years in full-season ball. Swing adjustments helped him hit his way from Double-A to Milwaukee, and he burst out (.381/.471/.776, 13 HR) during a 34-game stay in Triple-A. He was one of just seven full-season batting qualifiers to reach the .300/.400/.600 threshold.
OF: Luis Robert (White Sox No. 1 prospect/MLB No. 5)
A+/AA/AAA: .328/.376/.624, 122 G, 32 HR, 108 R, 92 RBI, 36 SB
Robert and Tucker are the Minors' first 30-30 players since Joc Pederson in 2014, and at age 21, Robert is the youngest since Chin-Feng Chen in 1999. He also paced the Minor Leagues with 314 total bases -- becoming the first 30-30-300 player since Jose Cardenal in 1961 -- and also ranked second in runs and extra-base hits (74).
Luis Robert (@whitesox) and Kyle Tucker (@astros) both join the @MiLB 30/30 club.

It's the first time two players accomplished the feat in the same season since 1981, when the @Braves' Brad Komminsk & @Orioles' Willie Royster both hit 30 homers and stole 30 bases. pic.twitter.com/9RAfKk4AmR

— MLB Pipeline (@MLBPipeline) August 25, 2019
DH: Kevin Cron (Diamondbacks No. 26 prospect)
R/AAA: .329/.446/.777, 84 G, 39 HR, 82 R, 107 RBI
The third member of his family (father Chris, brother C.J.) to reach the big leagues, Cron topped the Minors with 39 homers despite playing in just 84 games, a pace that would translate into 65 long balls over a full 140-game season. The 14th-rounder from Texas Christian in 2014 also placed first in slugging and OPS (1.223) and second in on-base percentage and RBI.
LHP: MacKenzie Gore (Padres No. 1 prospect/MLB No. 3)
A+/AA: 9-2, 1.69 ERA, 101 IP, 135 SO, .164 AVG, 0.83 WHIP
While he fell a few innings shy of qualifying for the official Minor League lead, Gore led all pitchers with at least 100 innings in ERA and WHIP, ranked second in opponent average and fifth in strikeout percentage (36). He allowed one run or fewer in 17 of his 20 starts, including 13 straight from late April through mid-July.
RHP: Joe Ryan (Rays No. 16 prospect)
A/A+/AA: 9-4, 1.96 ERA, 123 2/3 IP, 183 SO, .173 AVG, 0.84 WHIP
An unheralded seventh-round pick from NCAA Division II Cal State Stanislaus in 2018, Ryan ranked first in the Minors in WHIP (0.84) and strikeout percentage (38%) and second in strikeouts (183) and strikeout rate (13.3 per nine innings) during his first full pro season. He permitted just 11 earned runs in his final 15 starts of the season, fanning 117 in 81 frames over that span.
RP: Demarcus Evans, Rangers (not on current Top 30)
A+/AA: 6-0, 0.90 ERA, 12 SV, 60 IP, 100 SO, .119 AVG, 1.03 WHIP
Evans led all Minor League relievers (minimum 50 innings) by averaging 16.6 strikeouts per nine innings in 2018 and was even more dominant this season, ranking first in opponent average and third in ERA. A 25th-rounder in the 2015 Draft, he limited opponents to a .119/.266/.175 line, surrendered just one extra-base hit to a left-hander all year and permitted just one run in his final 24 appearances.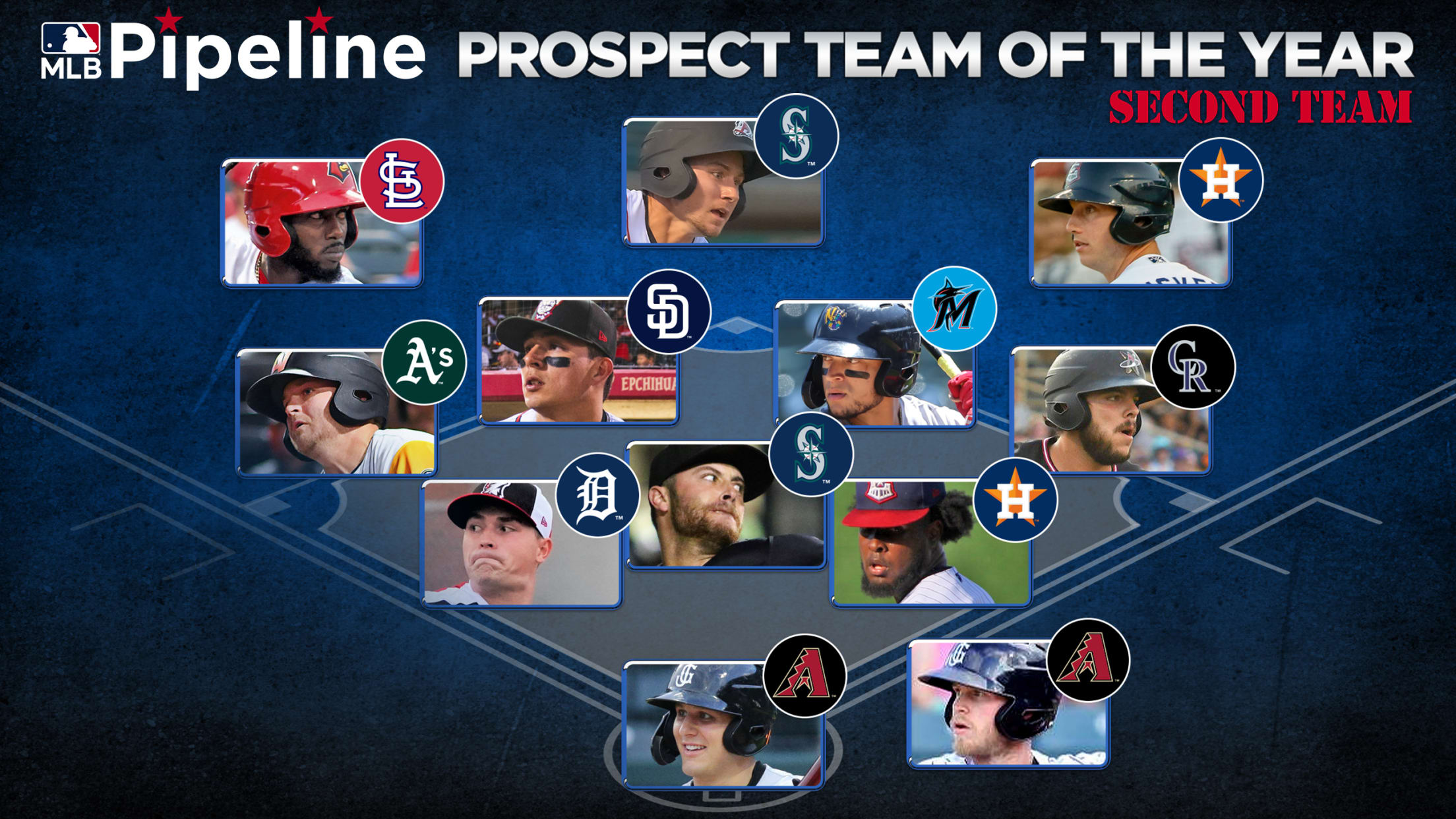 Second Team
C: Daulton Varsho (Diamondbacks No. 5 prospect)
AA: .301/.378/.520, 108 G, 18 HR, 85 R, 58 RBI, 21 SB
1B: Roberto Ramos (Rockies No. 28 prospect)
AAA: .309/.400/.580, 127 G, 30 HR, 77 R, 105 RBI
2B: Isan Diaz (Marlins No. 5 prospect/MLB No. 82)
AAA: .305/.395/.578, 102 G, 26 HR, 89 R, 70 RBI
3B: Sheldon Neuse (Athletics No. 8 prospect)
AAA: .317/.389/.550, 126 G, 27 HR, 99 R, 102 RBI
SS: Luis Urias, Padres (graduated from Top 30/Top 100)
AAA: .315/.398/.600, 73 G, 19 HR, 62 R, 50 RBI
OF: Randy Arozarena (Cardinals No. 10 prospect)
AA/AAA: .344/.431/.571, 92 G, 15 HR, 65 R, 53 RBI, 17 SB
OF: Jarred Kelenic (Mariners No. 1 prospect/MLB No. 22)
A/A+/AA: .291/.364/.540, 117 G, 23 HR, 80 R, 68 RBI, 20 SB
OF: Kyle Tucker (Astros No. 1 prospect/MLB No. 12)
AAA: .266/.354/.555, 125 G, 34 HR, 92 R, 97 RBI, 30 SB
DH: Seth Beer (Diamondbacks No. 4 prospect/MLB No. 96)
A+/AA: .289/.388/.516, 122 G, 26 HR, 72 R, 103 RBI
LHP: Tarik Skubal (Tigers No. 4 prospect/MLB No. 97)
A+/AA, 6-8, 2.42 ERA, 122 2/3 IP, 179 SO, .196 AVG, 1.01 WHIP
RHP: Cristian Javier (Astros No. 10 prospect)
AAA: 8-3, 1.74 ERA, 113 2/3 IP, 170 SO, .130 AVG, 0.97 WHIP
RP: Sam Delaplane, Mariners (not on current Top 30)
A+/AA: 6-3, 2.23 ERA, 7 SV, 68 2/3 IP, 120 SO, .152 AVG, 0.84 WHIP