The real MVPs: Players pay tribute to their moms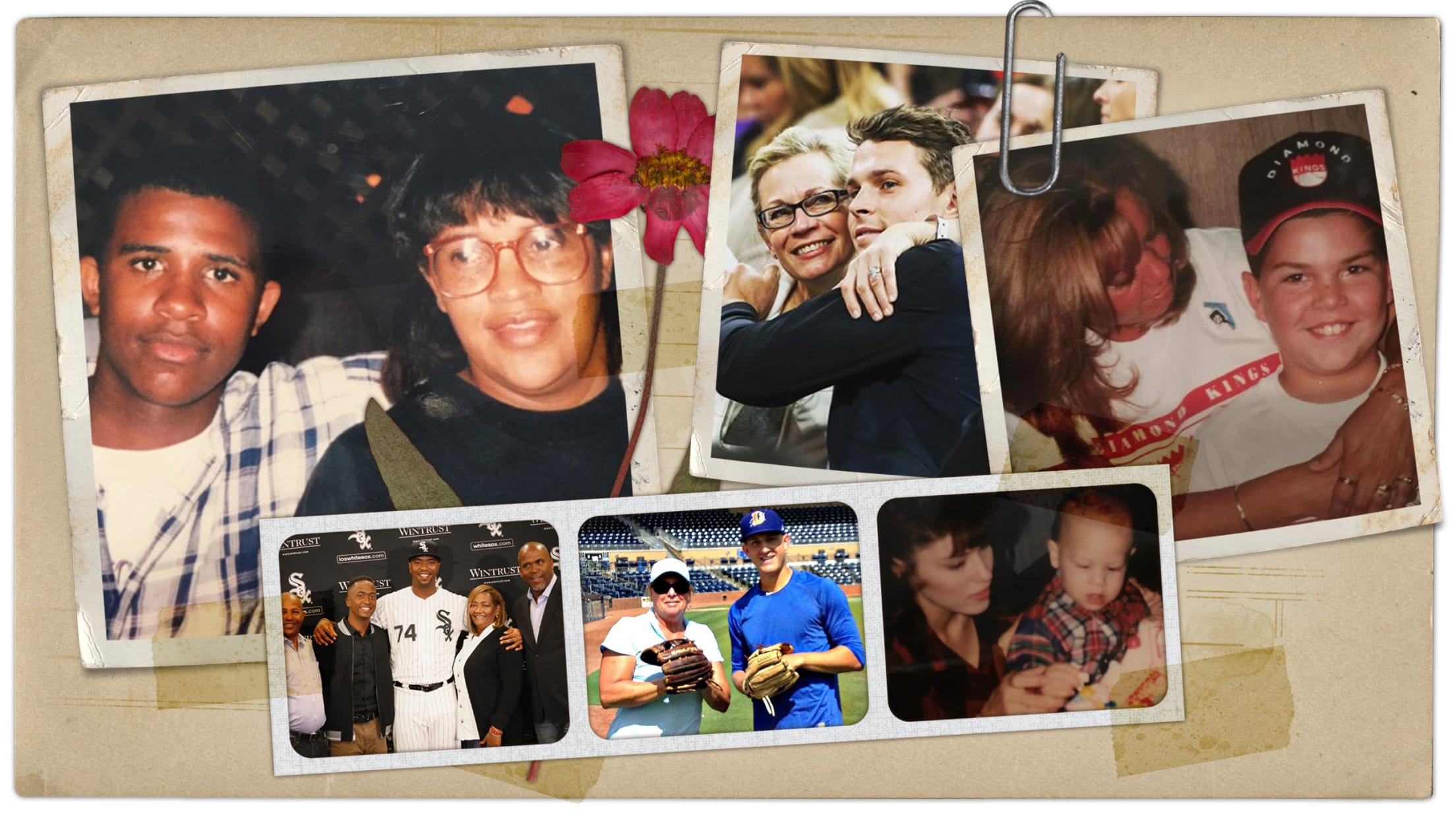 Mother's Day is a time for all of us to reflect on how much the mothers and grandmothers in our lives help us along the way, and that's definitely true for Major Leaguers. Be it through travel, financial investment, encouragement or consolation, so many baseball moms have arguably made as
Mother's Day is a time for all of us to reflect on how much the mothers and grandmothers in our lives help us along the way, and that's definitely true for Major Leaguers. Be it through travel, financial investment, encouragement or consolation, so many baseball moms have arguably made as many sacrifices as their sons to get them to where they are today.
For this Mother's Day, each MLB.com beat writer asked their team's players to share a favorite memory of their moms to celebrate their special day. Below is a selection of the best memories they received.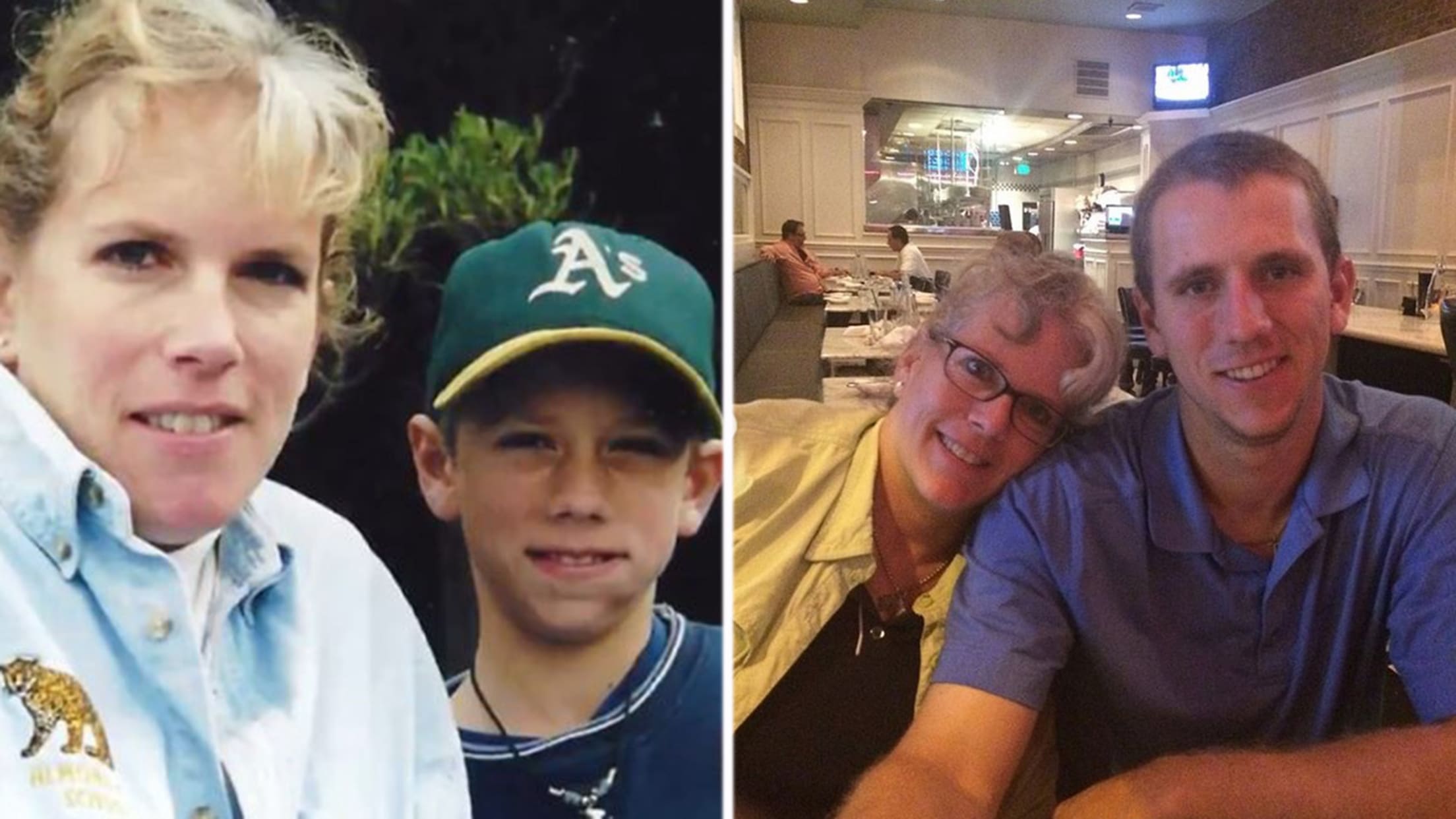 Photo courtesy of Stephen Piscotty's Instagram (@spiscotty)
Stephen Piscotty, Athletics
Days off are rare in baseball, so whenever one comes up, players make sure to cherish it. The A's most recent day off had an extra-special meaning for Stephen Piscotty.
The off-day fell on May 6, which happened to be the one-year anniversary of the passing of his mother, Gretchen, after a long battle with ALS. With the A's in town getting set for a six-game homestand, the day off afforded Piscotty the opportunity to get together with his two brothers, Austin and Nicholas, and his father, Mike.
Paying tribute to Gretchen, the Piscottys decided to go for a hike on a backside trail of Lake Del Valle in Livermore. It was Gretchen's favorite hike, and being only about a 20-minute drive from their childhood home in Pleasanton, one she often took after dropping off Stephen and his brothers at school.
"I think she felt like she was free to not have to worry about us for a little while," Piscotty said. "She would go and celebrate by doing that hike, and that's a special place for us now."
His mother never leaves his thoughts, but with the recent anniversary, Piscotty has found himself thinking about her even more than usual. That will likely continue through Sunday, when he takes the field at the Coliseum on Mother's Day.
It will be the first Mother's Day Piscotty will play in since Gretchen's passing. He did not play last year as he spent a few days away from the team, preparing for her celebration of life, which took place the day after Mother's Day. Piscotty has thought about this day for a while now, but he has no idea what he'll be feeling once he takes the field.
"I don't entirely know," Piscotty said. "Not sure if it will be emotional or not." More >
-- Martin Gallegos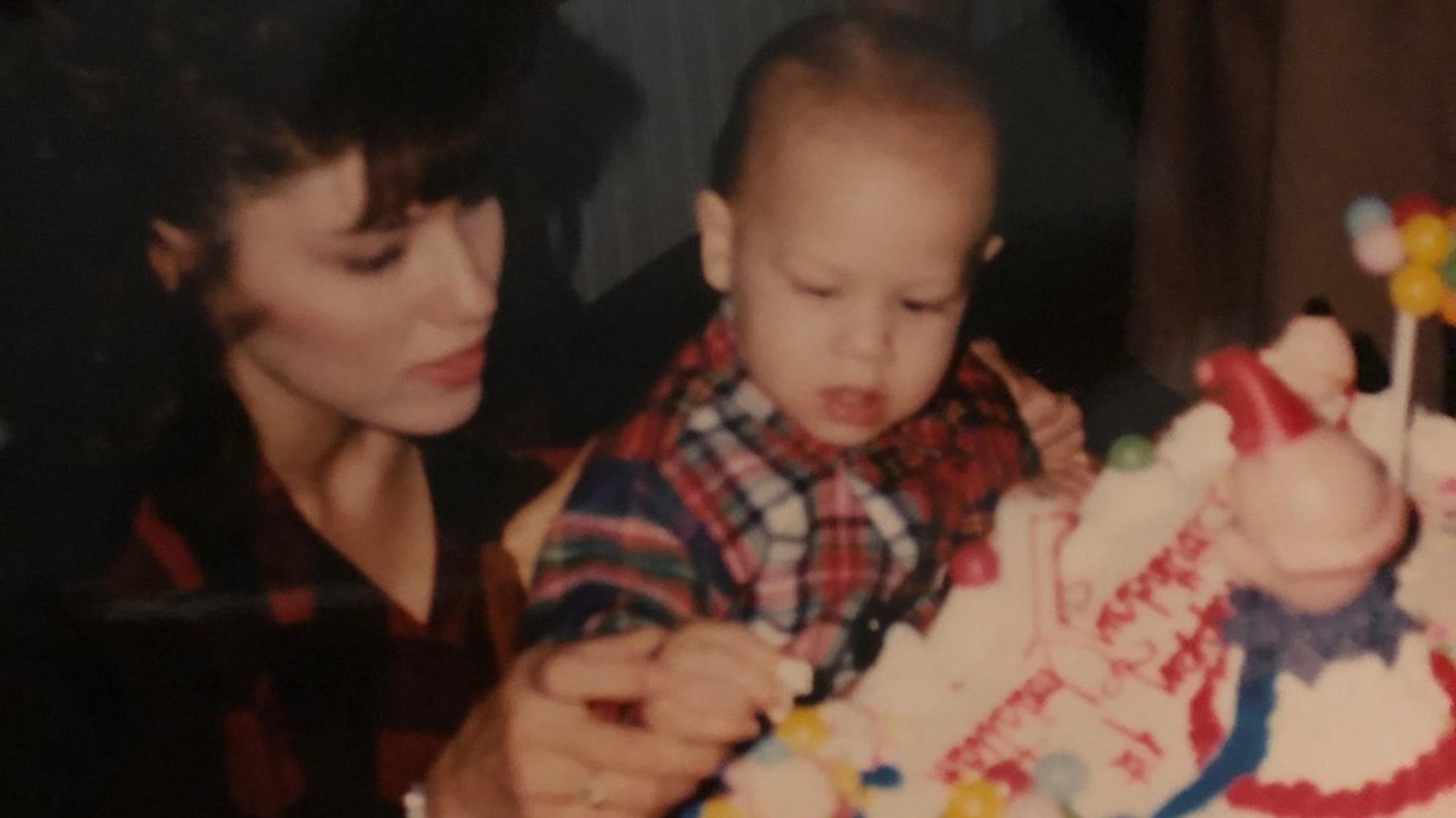 Photo courtesy of Christian Yelich
Christian Yelich, Brewers
The touching tribute he penned for The Players' Tribune was probably gift enough. But Yelich went one step further this week and got his mom, Alecia, a goldendoodle puppy for Mother's Day.
"She played a big part in keeping [his career] going," said Christian Yelich. "If she didn't, who knows where I would be right now. Definitely not all this stuff.
"It's a good lesson about what can happen if you stick with something. It doesn't all come easy. I'm thankful that she made me finish out my commitment, basically. That's the biggest message: Don't quit. I think about it sometimes, and I don't know what I would be doing if I didn't get in that car."
He told the full story in his essay, about the time he nearly gave up baseball as a 7-year-old after getting hit by pitches three or four games in a row. He decided right there at first base that he was done with baseball, and when it came time to leave home for the next game, Alecia Yelich found her son in his room, arms folded, his uniform sitting on his dresser.
She convinced him to play.
"That's a true story," Yelich said. "I was pretty much over the whole baseball thing at that point. I was going to go play football or basketball. I was out. After that, everything changed for some reason, and here we are, talking to you guys."
So which Mother's Day present did she seem to like more?
"She was more fired up about the puppy than the article," Yelich said with a laugh.
-- Adam McCalvy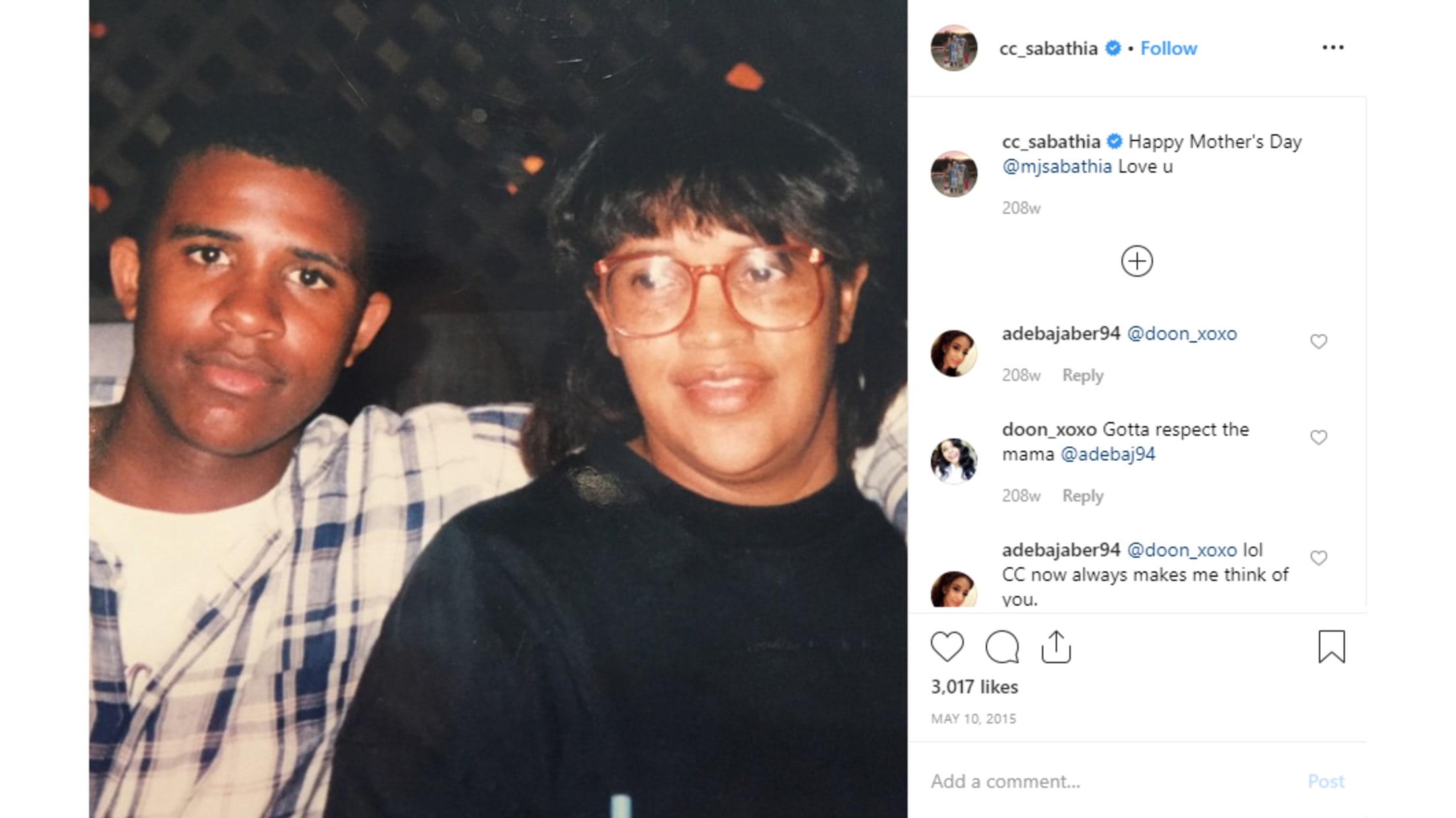 Photo courtesy of CC Sabathia's Instagram (@cc_sabathia)
CC Sabathia, Yankees
Over the course of his lengthy big league career, CC Sabathia has worked with 19 catchers, a group that includes recognizable names Victor Martinez, Brian McCann, Jorge Posada, Russell Martin and Gary Sanchez.
They all contributed to Sabathia's success in various ways, but none of his catchers had a greater impact than his first regular one – his mother, Margie, who helped teach Sabathia how to attack the strike zone in the backyard of their Vallejo, Calif. home.
"She'd put the catcher's gear on when I was younger," Sabathia said. "She probably caught me from the time I was 7 or 8 until the time I was 13. In the backyard, my dad [Corky] had built me a mound, but he was always off working. It would be just me and her, and she would put on full gear. I'd get up there and throw games."
A former fast-pitch softball player, Margie attended all of Sabathia's Little League games and demanded that he display good sportsmanship. As a pitcher, he'd sometimes cry after giving up a hit, believing that he was supposed to get everybody out. Margie swiftly made it clear that would not fly in her home.
"She always made sure that I didn't get a big head," Sabathia said. "I hated to lose; I was very competitive and always thought I was doing it right. That was something she had to work out of me."
Their battery arrangement continued until one afternoon when a teenage Sabathia reared back and let his impressive heater fly.
"We were back there and I kind of threw one hard. It caught her in the palm and that was it," Sabathia said, with a laugh.
Her catching duties may be complete, but Margie remains her son's biggest fan and frequently attends his starts, both at Yankee Stadium and on the road. She is also active with the North Vallejo Little League and Sabathia's PitCCh In Foundation, which is preparing to host its second softball event at Yankee Stadium on Thursday.
"My mom meant everything, being there every day and explaining to me about staying humble and working hard, and doing the right thing," Sabathia said. "She was always there. She would always do whatever she could to make sure I had a great childhood."
-- Bryan Hoch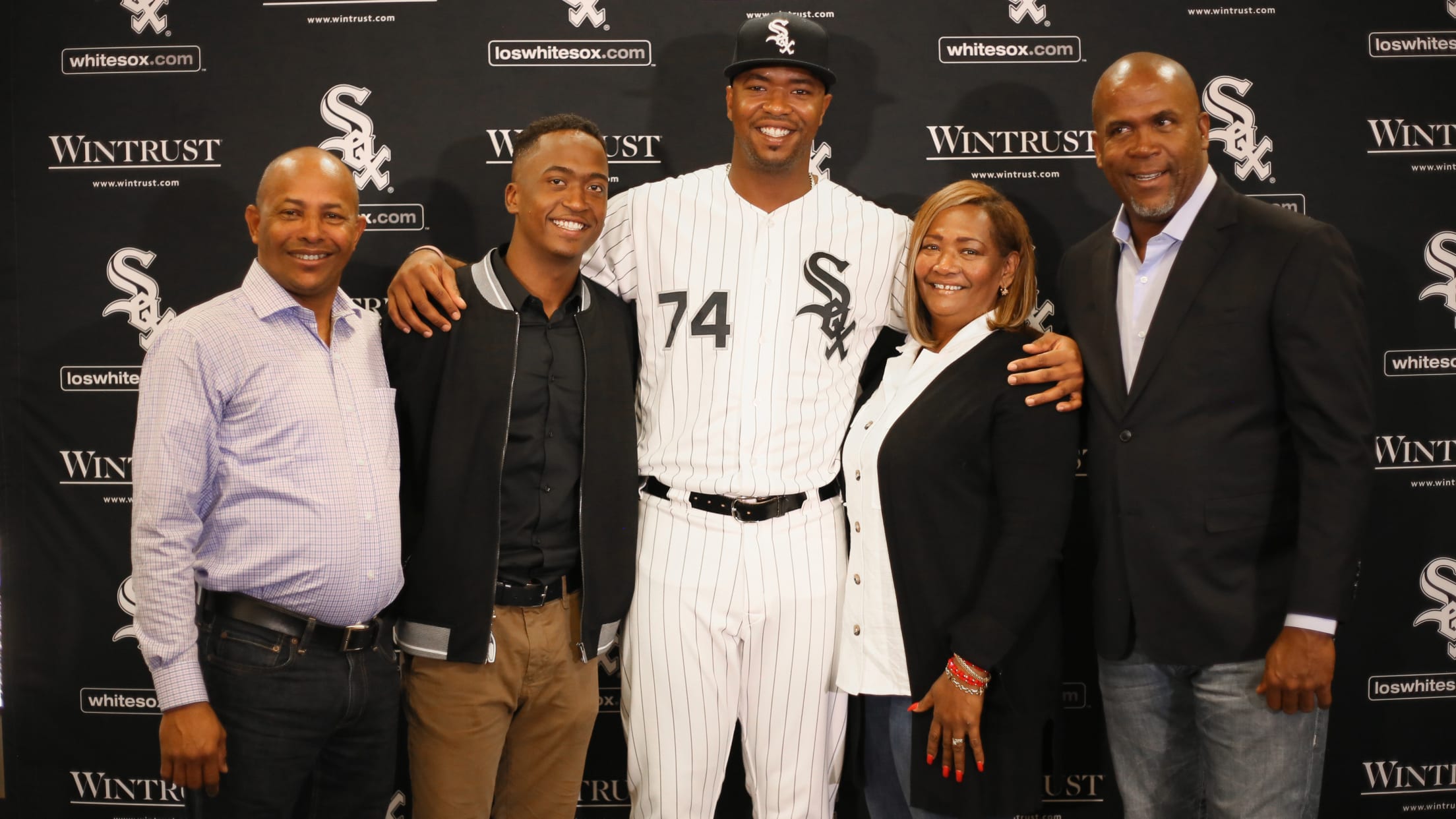 Photo courtesy of Nicholas Quay / White Sox
Eloy Jiménez, White Sox
Jimenez's mother, Adalaida, has preached over the years how her son "needs to be the No. 1 always." So, when he gets into an occasional slump, she reminds Jimenez to know who he is, keep playing hard and work like he is the best.
She also is a very proud mother who was present when Jimenez signed his six-year, $43 million contract with the White Sox during Spring Training in Arizona and was there in the stands this season at his first Major League game in Kansas City. But even when she's not in attendance, her spirit and love shine through.
"It was in the Futures Game, 2016," Jimenez said. "She was watching the game at home on TV and my brother took a video of her, and when I hit a home run, she started crying and screaming. When I saw that, I started crying, too."
Jimenez also has paid special tribute to his mom on the field, pointing out one moment in particular when he was part of the Cubs organization.
"When it was Mother's Day in the Dominican in 2016, that day we played against Toronto in Single-A," Jimenez recalled. "Before that game, I told her, 'Mom, I'm going to hit a home run for you.' In that game, I hit a walk-off homer. She started crying again."
-- Scott Merkin
Gracias mi Dios por escuchar nuestras oraciones hoy podemos decir que mi madre esta #FreeCancer 🙏🏾🙏🏾🙏🏾 Thank you my God for listening to our prayers, today we can say that my mother is #FreeCancer 🙏🏾🙏🏾🙏🏾 pic.twitter.com/LRElYJygC8

— Edwin Diaz (@SugarDiaz39) April 27, 2019
Edwin Díaz, Mets
For nearly a year, Edwin Diaz was nervous, frightful, afraid of what might happen to his mother -- never more so than the day last month when Beatriz Laboy Mendez went to the doctor for a checkup. Diagnosed with cancer last summer, Laboy Mendez had been fighting the disease since that time. Finally, Diaz called her after the doctor's appointment and listened as she relayed the news he most wanted to hear.
Diaz's mom was cancer-free.
"I was really happy," Diaz said. "My family feels proud about that."
Growing up in Puerto Rico, Diaz said, his mom meant everything to him and his brothers. To honor her on Mother's Day, he is using a custom-made pink glove featuring her name, as well as that of his grandmother Iris, his sister Miriam and his wife Nashaly Mercado. On one side of the glove, the stitched name "Beatriz" holds a place of honor.
"She means everything because she worked hard," Diaz said. "She did a lot of things for me and my family. She did everything for us."
-- Anthony DiComo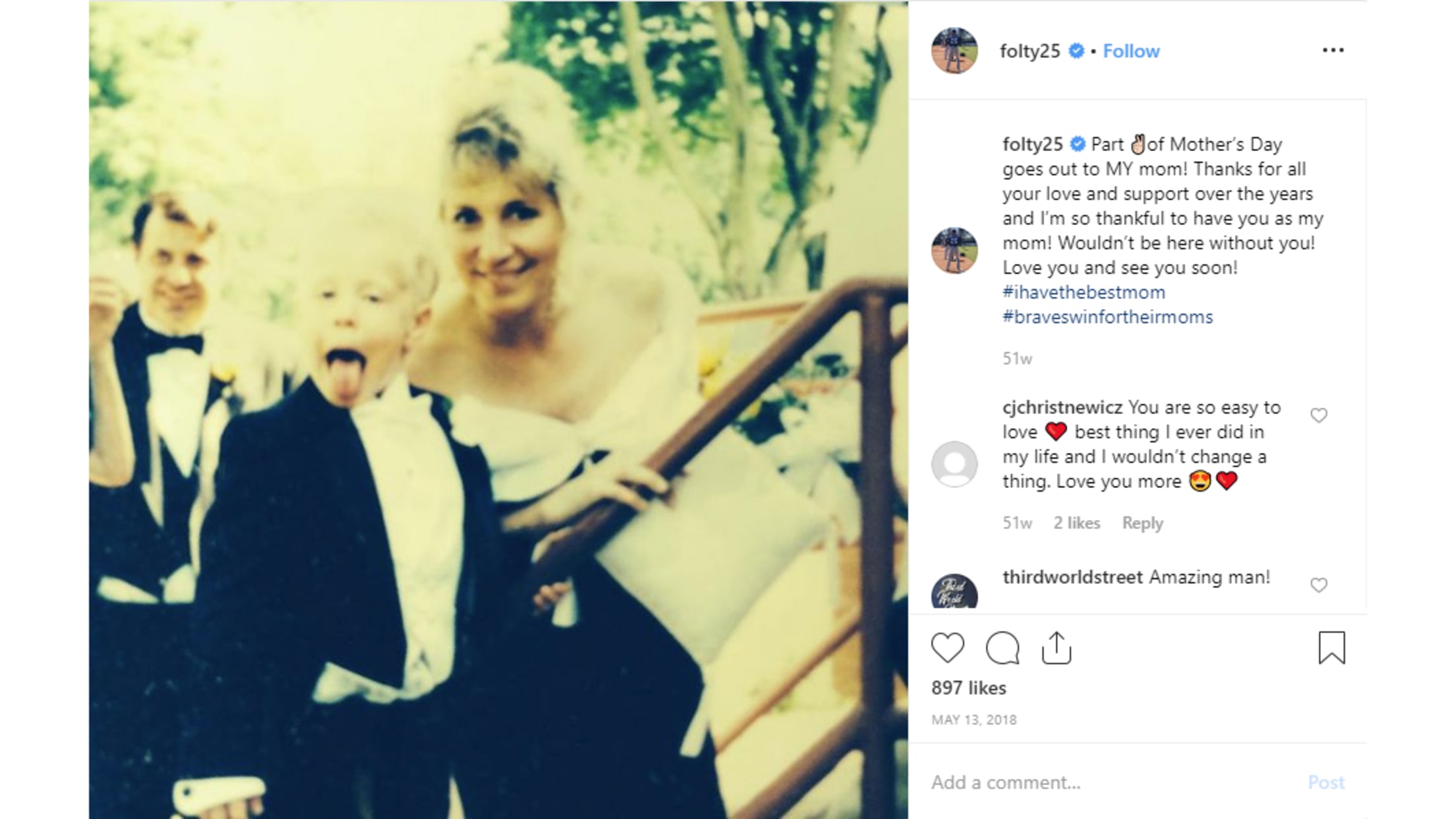 Photo courtesy of Mike Foltynewicz's Instagram (@folty25)
Mike Foltynewicz, Braves
Foltynewicz wouldn't be an All-Star Major League pitcher if it weren't for his mom, Cindy.
The Braves right-hander got support from both his parents while playing Little League and growing up in Minooka, Ill., about an hour outside of Chicago. However, it was Foltynewicz's mom who coached his teams, including in the early coach-pitch days.
"She was out there beaning me a couple times," Foltynewicz said with a laugh. "She was out there getting the fields ready before the games and helping rake. If it was a rain delay or something, she'd be helping, getting the dirt out. She worked at a farm and supply company, too, so she'd always get the good dirt, always help out all the baseball fields. My dad was just the guy who went out to right field, coached from right field, and my mom, she got her nose dirty."
Foltynewicz said it's been special for his mom to see her only child pitch in the big leagues.
"Any chance they get, they're always coming out to see me," he said.
-- Jake Rill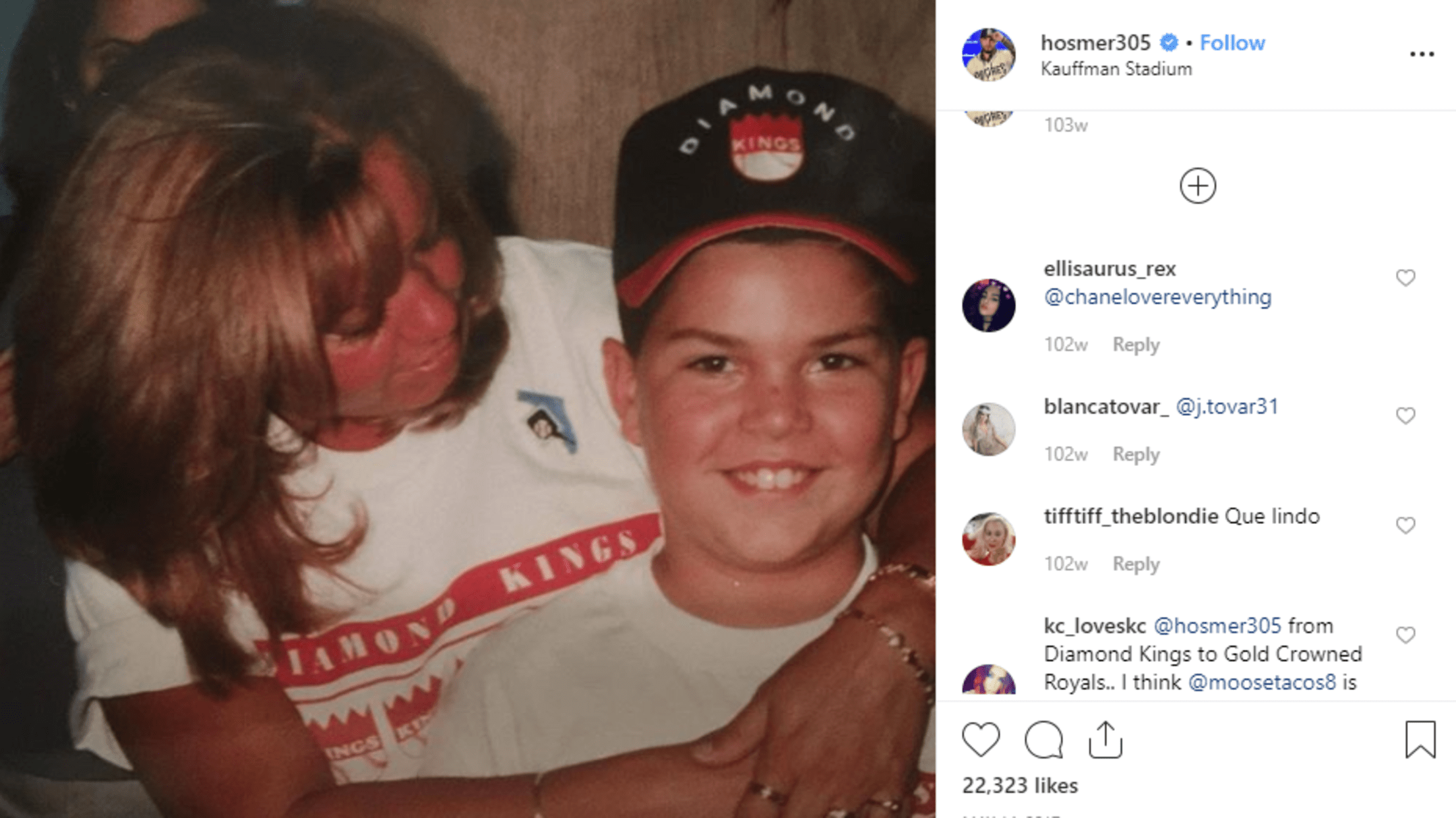 Photo courtesy of Eric Hosmer's Instagram (@hosmer305)
Eric Hosmer, Padres
Hosmer had already ordered his mother, Ileana, a pink baseball bat as a Mother's Day gift in early May 2011. Shortly thereafter, with the Triple-A Omaha Storm Chasers playing in Albuquerque, he was told he'd be headed to the big leagues. Ileana got the first call.
"I told her to bring the pink bat to Kansas City," Hosmer said. "Because I was going to the big leagues. We got pretty emotional after that."
Hosmer's family met him in Kansas City on Mother's Day weekend for his big league debut, which came on Friday, May 6. He notched his first career hit a day later, and he went 2-for-4 with a double on Mother's Day.
"Giving her that phone call, it was pretty emotional," Hosmer said. "For it to be something that you'd worked toward for so long, you call her and tell her that, and it's a pretty special feeling."
-- AJ Cassavell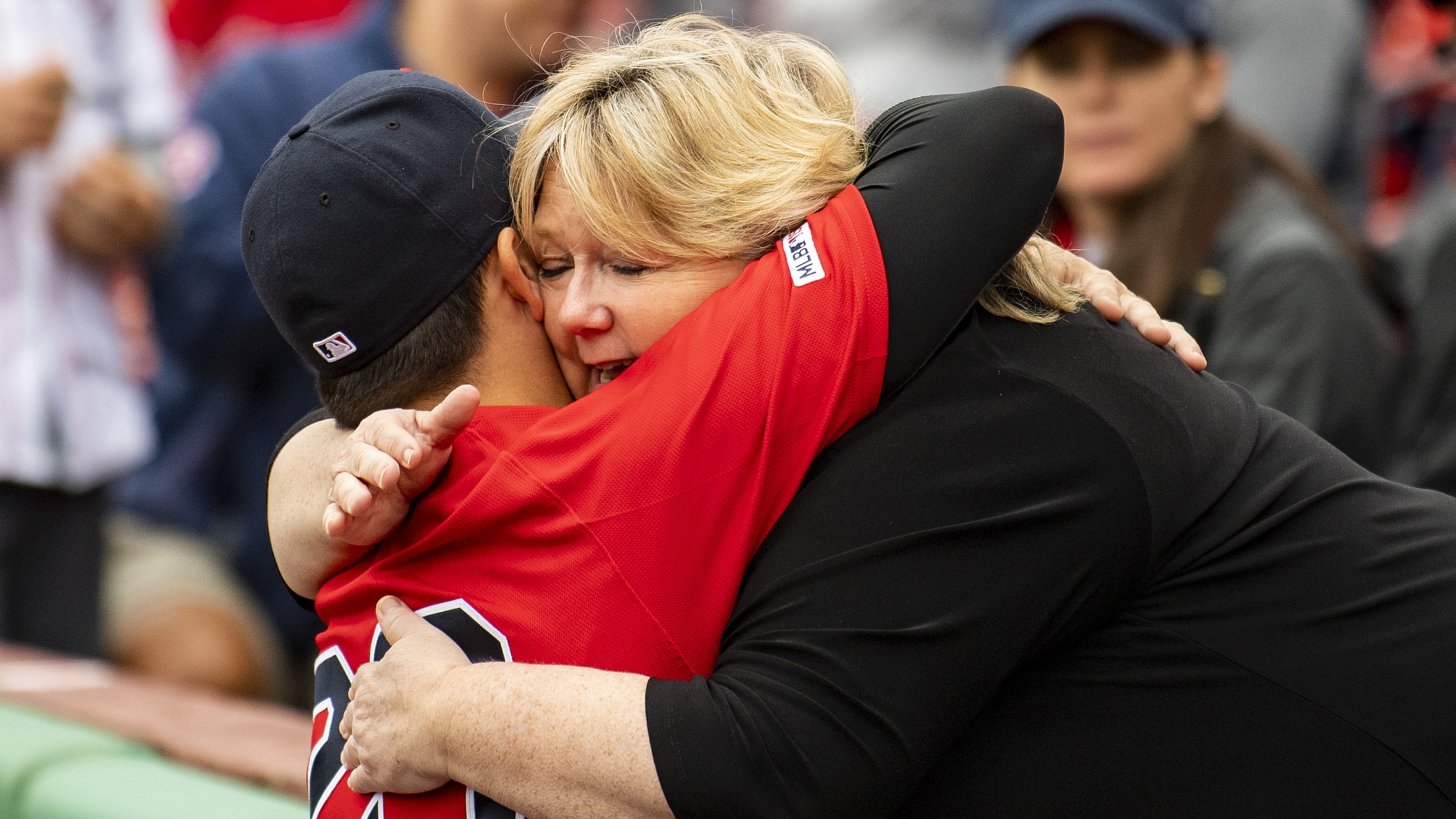 Photo courtesy of Billie Weiss / Red Sox
Michael Chavis, Red Sox
When Michael Chavis smashed his first Major League homer on April 23 against the Tigers, the camera swiftly panned to his loving mother, Dorothy Nugent, who was going crazy in her seat behind home plate at Fenway Park.
Chavis was not surprised when he saw the reaction. His mother has always been there for him. In fact, Chavis can say with total conviction that he wouldn't have been able to reach his dream of playing in the Majors without the support of his mom.
"There's a lot that sticks out about my mom," Chavis said. "The biggest thing is, I grew up pretty poor, honestly, and my mom not only picked up a second job, but worked overtime in her first job every single night so she could pay for me to play baseball.
"Like everybody knows, travel ball is not cheap, especially in Georgia. At the time I didn't know or even appreciate it. In fact, I wasn't aware of it. I remember being upset just because she wasn't home a lot. We would get in arguments about that kind of stuff. And then, as I grew up, I realized I was a spoiled brat by not realizing it was happening and not being more appreciative of it. I mean, I look at it now, I owe her the world. I literally do."
When Chavis talks about his mom, he sort of shakes his head at how utterly dedicated she continues to be.
"She's unbelievable," Chavis said. "She missed my two-homer game in Chicago and she was incredibly upset and apologizing to me for missing it. I was like, 'How were we supposed to know that was going to happen, Mom?' She was like, 'I should have been there.' I was like, 'No, you didn't need to be.' That's just how she is. She's so genuine."
-- Ian Browne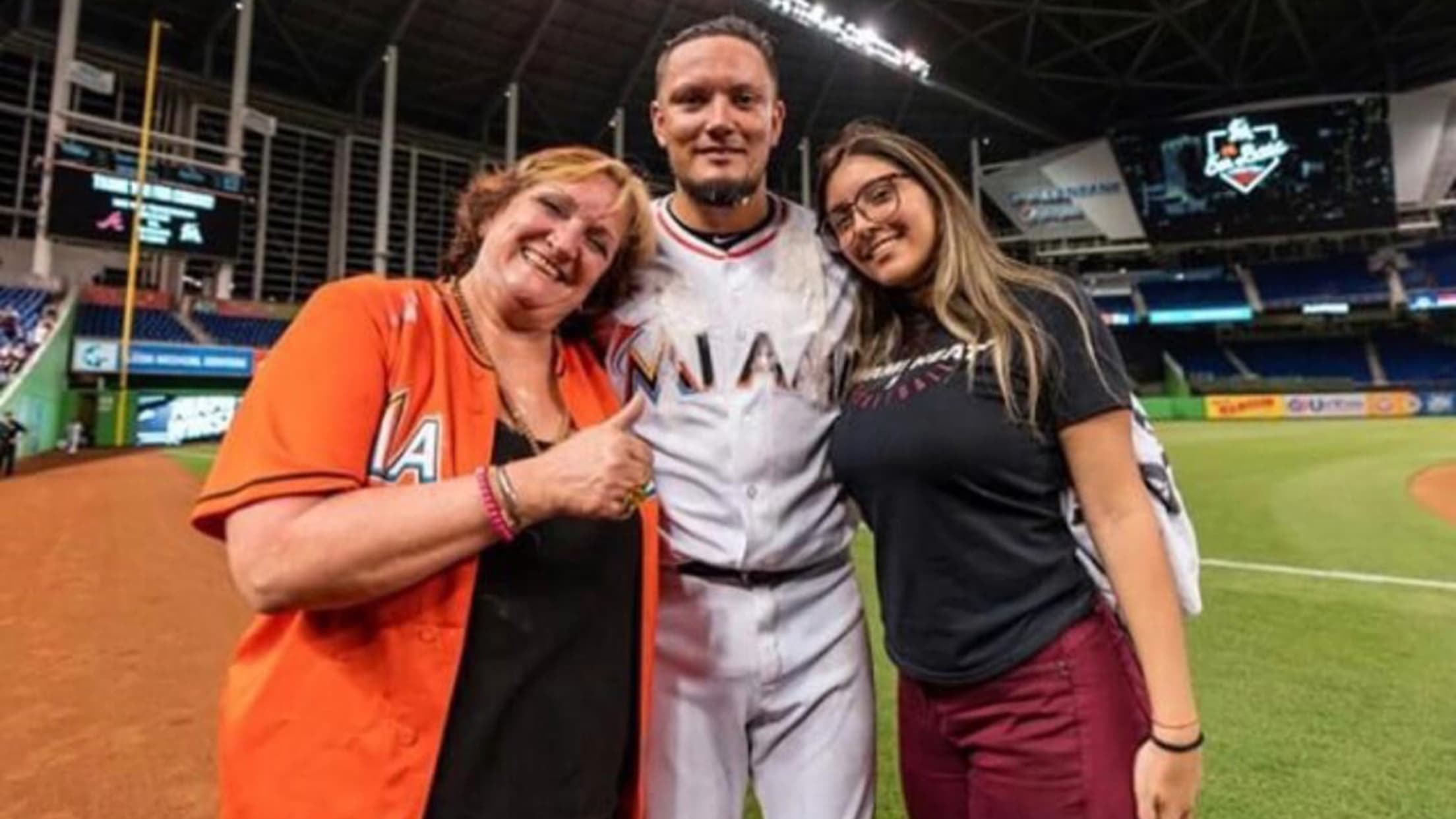 Photo courtesy of Miguel Rojas
Miguel Rojas, Marlins
Having his mother, Norma, who lives in Venezuela, with him this weekend in New York is the biggest Mother's Day gift Rojas could imagine.
A two-time breast cancer survivor, Norma, now cancer free, remains her son's biggest fan. A doctor, Norma, took her son everywhere to put him in position to be a ballplayer. She will see her son on Sunday at Citi Field.
"It means everything," said the Marlins' shortstop. "It's like the gratification of everything she did when I was younger, helping me live this dream. I feel the dream for me, and my whole family, was for me to play in the big leagues. It wasn't just for me to say, 'Oh, what's your goal, what's your dream -- to be in the big leagues?' It was more than that. It was like the whole families dream was for me to play in the big leagues. And, of course, by now she has seen me pitch."
-- Joe Frisaro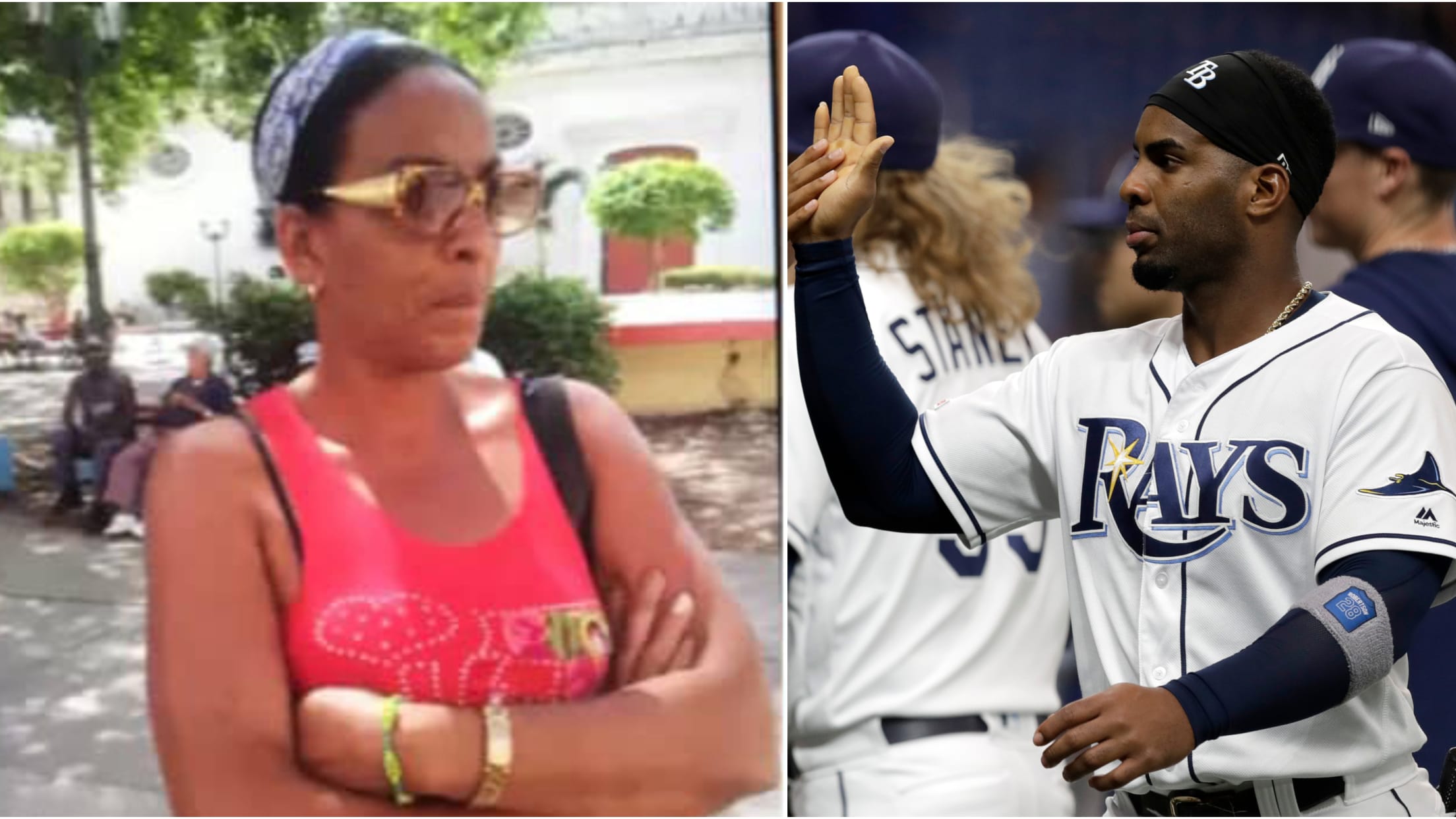 Yandy Diaz hopes to visit is mother in Cuba this year. (Photos courtesy of Diaz and Associated Press)
Yandy Díaz, Rays
When Yandy Diaz decided to defect from Cuba in 2013, he understood that there was a chance that he wouldn't be able to see his mom and his family for a long time, or maybe ever again.
"At first it was really tough, but we both knew that there wasn't a lot of opportunity in Cuba," Diaz said in Spanish. "She understood that if I made that decision, it was to help our quality of life and have some money and just live like other people.
"That decision was tough, but at the same time it was easy because I came here to fight for the two of us."
Diaz says his mother, Elsa Maria Fernandez, worked seven days a week from 5 a.m. to approximately 7 p.m. in order to be able to have food every day for the family.
"She did everything," Diaz said. "At that time, there wasn't a lot of opportunities for us to have a good life. She fought for me and thanks to her I was able to eat meals throughout the day and you know, she's done everything for me."
The two talk every single day through WhatsApp or FaceTime, but Diaz hopes to be able to see his mom soon. In the past, it was impossible for defected players to return to Cuba, but with recent law changes between the United States and Cuba, Diaz is optimistic that he'll be able to return home to see his mother for the first time in six years.
"My mom is the biggest thing that I have in my life," Diaz said. "I'm hoping to go this year. I have all the paperwork and hopefully they let me back into Cuba so I can see her."
-- Juan Toribio
Steven Duggar, Giants
A chief nursing officer at Spartanburg Regional Hospital in South Carolina, Susan Duggar has long doubled as an advocate for her patients and for her two children, Giants outfielder Steven Duggar and his younger sister Lauren, a collegiate softball player at Furman University. Susan raised Steven and Lauren as a single mom after their father died suddenly in 2004, juggling her responsibilities as the family breadwinner while also supporting her kids' budding athletic careers.
"Long weeks of work and she would spend her weekends taking me around the country to baseball tournaments," Duggar said. "It's just a great deal of things, things that she probably didn't want to do at the time, but she did to give me an opportunity to fulfill my dream. I'm just really grateful for her."
-- Maria Guardado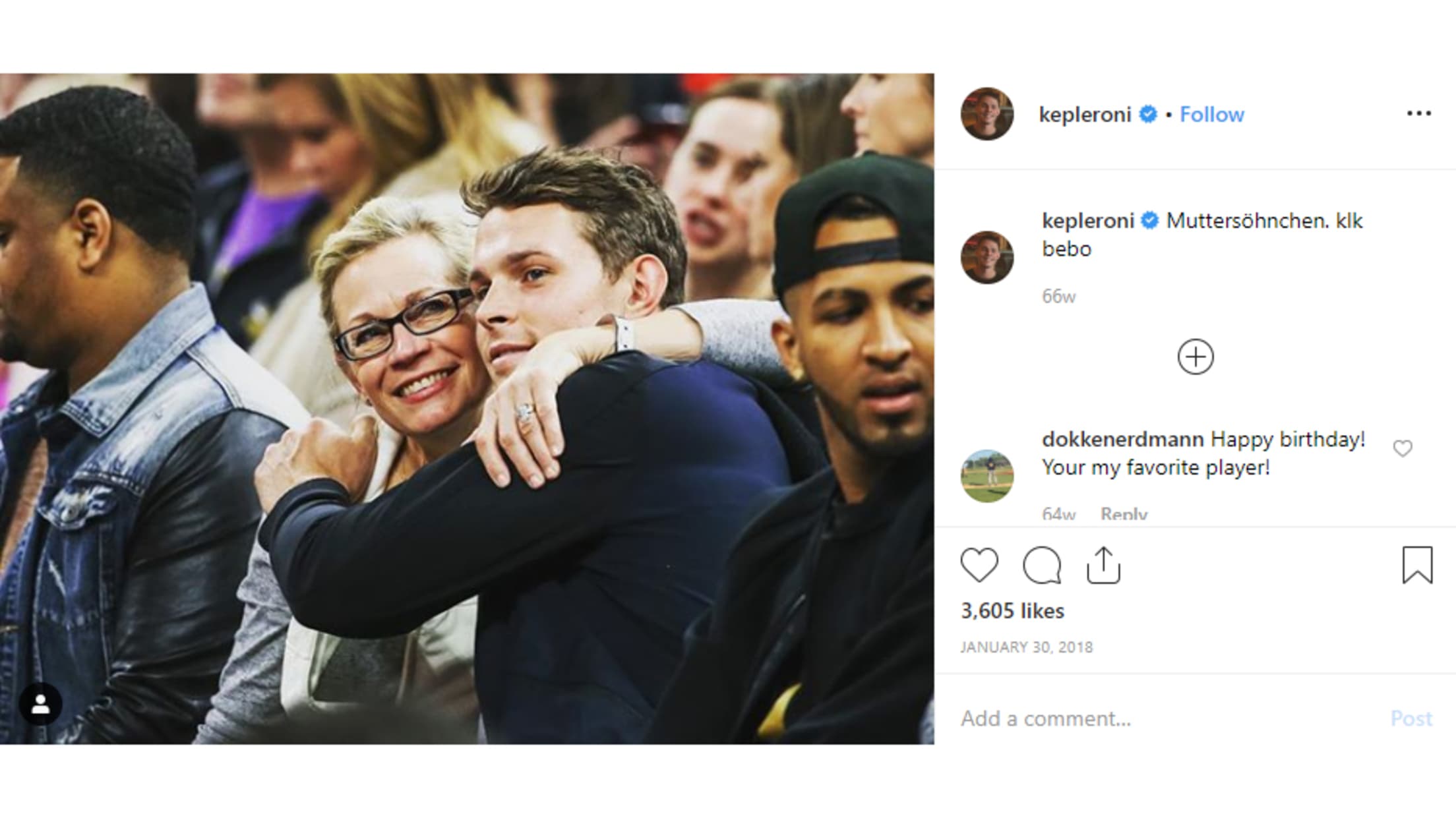 Photo courtesy of Max Kepler's Instagram (@kepleroni)
Max Kepler, Twins
When Kepler was signed by the Twins and moved from Germany to Fort Myers, Fla., at age 17, his mother, Kathy, came across the Atlantic with him and remained in the United States until the young outfielder graduated from South Fort Myers High School. Kathy Kepler, a former ballet dancer, cooked and cleaned for Max and drove him around while he completed his studies and adjusted to life in the United States.
"She sacrificed plenty of time where she could be doing other things to bring me to soccer practice, baseball practice, to go out of her way to make time for her children, which I think every mother should do," Kepler said. "I owe her big-time."
Kathy Kepler lives in Germany again, but tries to fly out to the United States once or twice a year.
"I wish they were closer," Max Kepler said. "I've been out of the house since I was 14, so I'm used to it. But parents are a big necessity in the upbringing of young people."
-- Do-Hyoung Park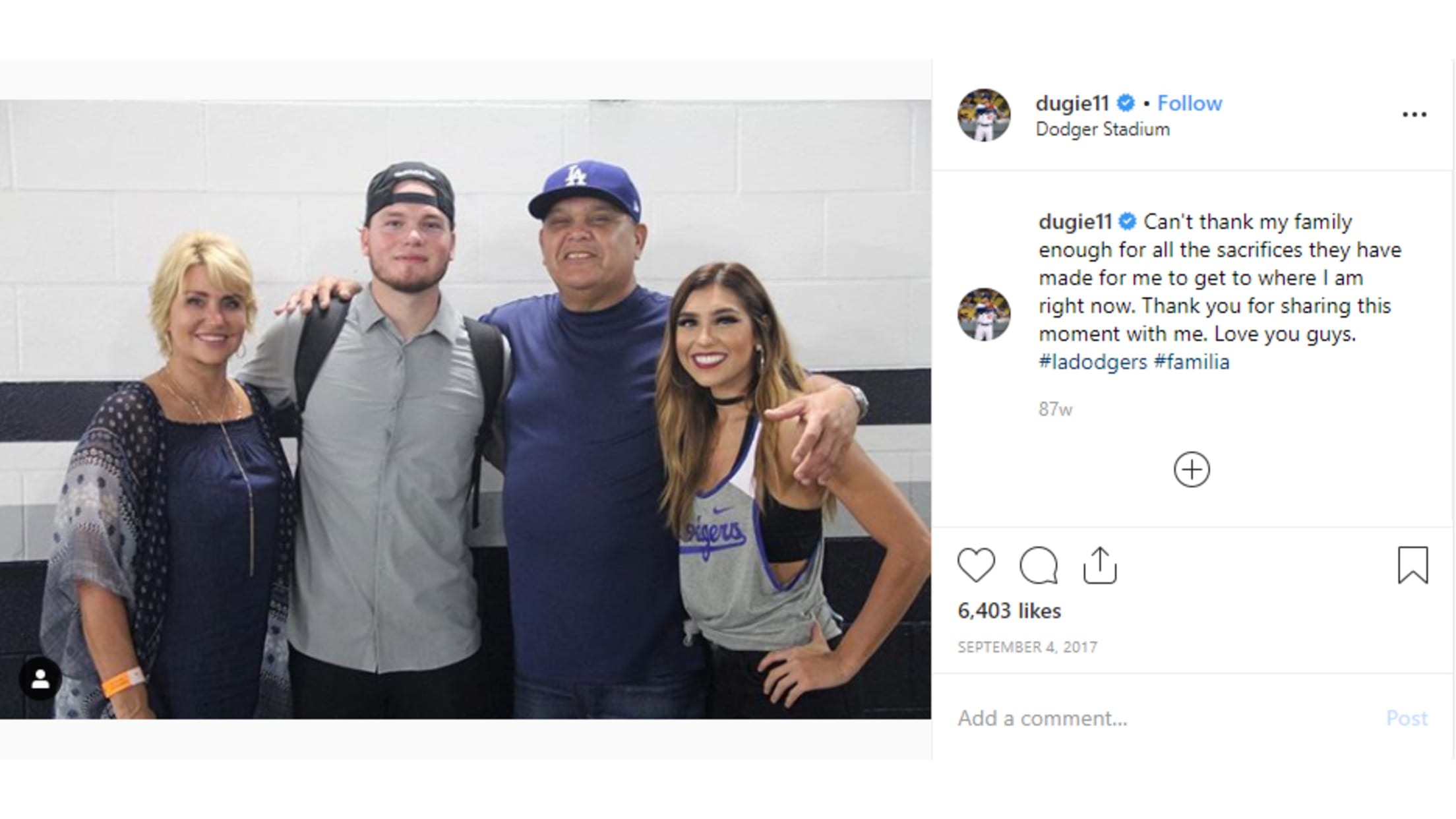 Photo courtesy of Alex Verdugo's Instagram (@dugie11)
Alex Verdugo, Dodgers
Verdugo will be wearing pink spikes on Sunday personalized to pay tribute to his mom. He already has a nice shiny gift wrapped and ready to give her for Mother's Day, with much bigger future plans if his career and salary continue the current uptrend.
Verdugo said that's the least he can do for a mother that also served as the family breadwinner and his career advisor.
"She's the reason why I'm here, taking care of all of us on her salary alone," he said. "She paid for my baseball lessons. Baseball lessons, mental lessons about the mindset and strategies of baseball. She would find me the best instructors. We would drive from Tucson to Phoenix every weekend to play for a travel team based out of Phoenix, waking up at 4:30 in the morning. They made a lot of sacrifice for me and I'm forever grateful. My goal is to look out for my family for everything they've done for me."
-- Ken Gurnick
Jared Hughes, Reds
Hughes' mother loves him so much that she literally can't stand it.
"She would never watch me pitch. She'd be too nervous," Hughes said. "So when I was in college at Long Beach State, if I was pitching that day, she couldn't watch. A lot of times, she would have to walk away because she cared so much about me. She's a wonderful mother and her care for me is something I really cherish."
-- Mark Sheldon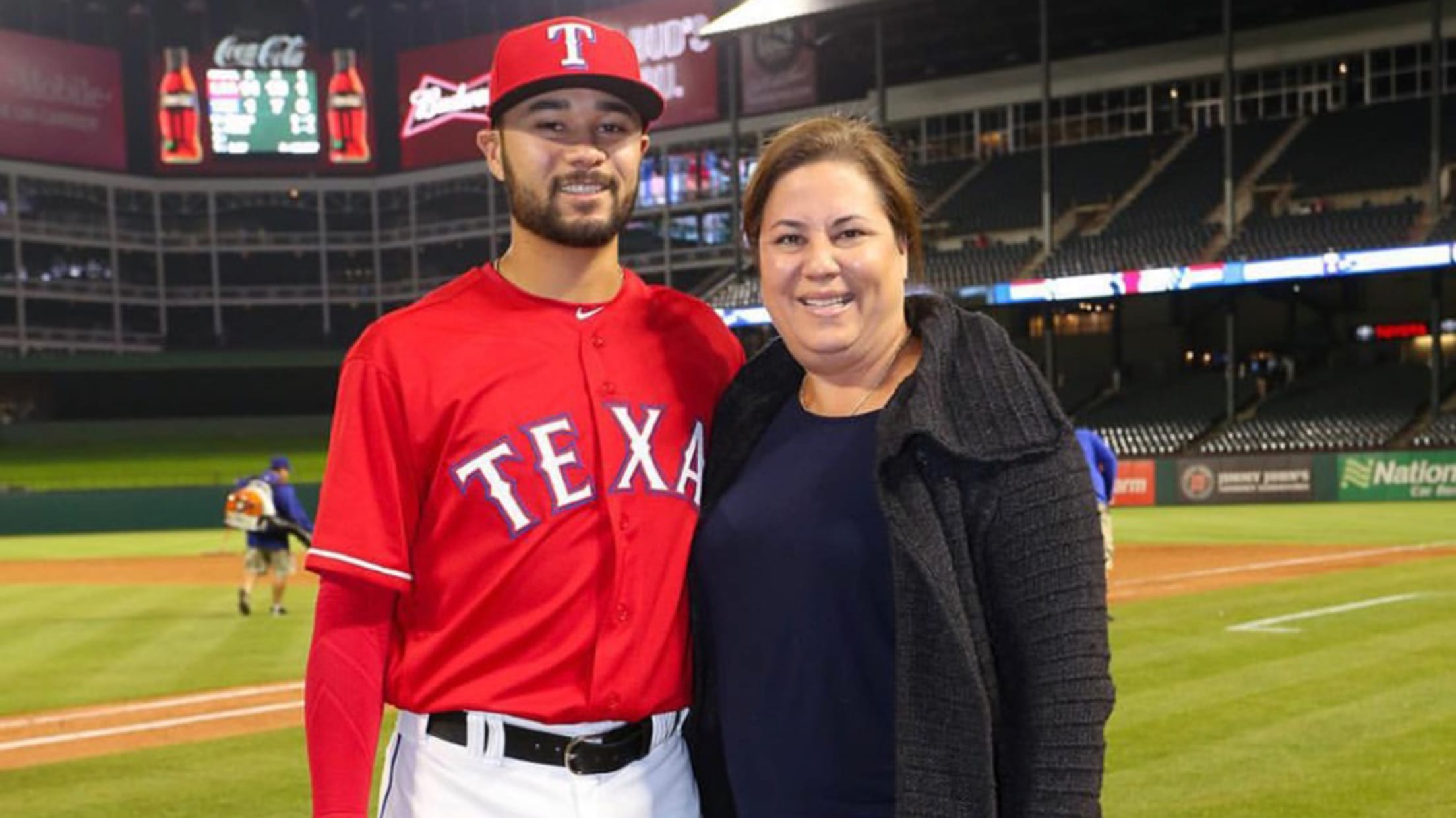 Isiah Kiner-Falefa, Rangers
Kiner-Falefa grew in Honolulu and his mother, Kimberly, once gave him a lesson at Wakiki Beach about facing his fears. He was a sophomore in high school at the time.
"There was one day after school we went to the beach and I was always kind of scared to go deep and she taught me to face my fears," Kiner-Falefa said. "We went swimming about 100 yards out and the water was about 15-20 feet deep. I was kind of scared and I saw a huge turtle. When you see turtles, you know there are sharks around, especially that deep. I started getting scared and when I saw her going and going and going, it showed a lot about her and where we come from and what we wanted to be like.
"It was cool, when we swam back in, I think later that night I was hanging out with one of my friends and he said, 'Did you hear about that tiger shark sighting?' I guess there was a tiger shark out there but the way she attacked and the way she went after it, was what she preached my whole life: face your fears and be disciplined and be respectful and be who you are. From that moment on, I faced my fears, especially when I came to the States. I kept at it. I'm here now today because of what she did."
-- TR Sullivan
Why baseball is so great: Congratulations to @BrandenKline16 - and the entire Kline family - on your @MLB debut. pic.twitter.com/fZabGEH42t

— Orioles on MASN (@masnOrioles) April 21, 2019
Branden Kline, Orioles
When Kline made his Major League debut last month, he completed a long and winding road to the big leagues. His is a story of perseverance, as Kline overcame three arm operations and spent six seasons in the Minors before toeing the rubber that night at Camden Yards.
That's a trait he attributes to his mother, Linda, who took Branden to Orioles games as a kid and worked as a county administrator to raise their family in nearby Frederick, Md.
"From a young age, I saw that from my mother: The determination, the effort to be able to get things accomplished no matter what obstacle got in her way," Kline said. "I tried to implement that in my life. What can I do to get through what's going on, to get the job done?"
Which might explain why Linda reacted the way she did upon seeing her son pitch at Oriole Park. In the stands that night, Linda, overcome with emotion, broke down during a tearful television interview in what stands as one of the most heartfelt moments of the young season.
"He worked so hard to get here," Linda told MASN sideline reporter Sara Pearlman. "It was worth every minute."
For Kline, his mother's reaction spoke to the constant support his family provided to help make his big league dreams a reality.
"I'm one of those people who doesn't celebrate Mother's Day, to be honest with you," he said. "Because every day should be Mother's Day."
-- Joe Trezza