These 30 prospects have something to prove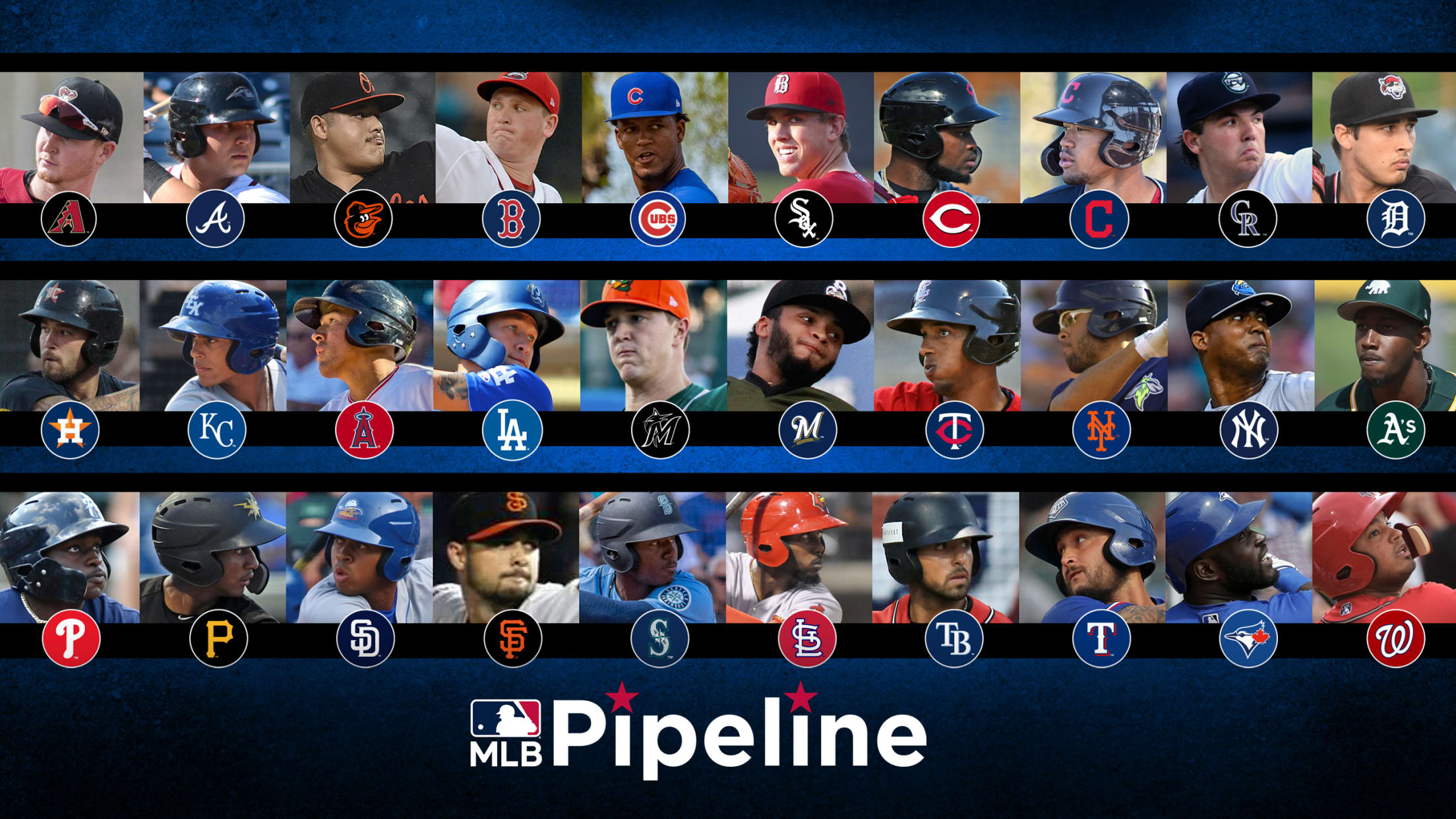 Not every prospect takes a smooth and direct path to the big leagues. For every quick-to-stardom player that becomes a household name, there are those who must deal with injuries, poor performance or some combination of the two. Many of the prospects detailed below have been firmly on the prospect
Not every prospect takes a smooth and direct path to the big leagues. For every quick-to-stardom player that becomes a household name, there are those who must deal with injuries, poor performance or some combination of the two.
Many of the prospects detailed below have been firmly on the prospect radar for a while. Some have shown glimpses of what they could become, while others have struggled to gain traction. They all have something to prove, and the 2019 season provides a big opportunity to start showing they have a chance at reaching their potential.
AL East
Anthony Alford, OF, Blue Jays' No. 11
The former two-sport star made a quick rise through the Minors after shifting his focus to baseball and reached the Majors for the first time in 2017. He got back to the big leagues last season but otherwise spent most of the year in Triple-A, putting up underwhelming numbers when healthy. The 24-year-old outfielder was a standout in Blue Jays camp this spring and still has everyday upside if he can stay healthy and put it all together.
Luis Ortiz, RHP, Orioles' No. 19
Ortiz's prospect stock has waned in the past couple years as he's struggled to stay healthy. He still enjoyed a solid statistical season in 2018, leading to his acquisition by the Orioles last summer in the trade that sent Jonathan Schoop to Milwaukee. He still has solid pitchability and a future in the big leagues, though health and conditioning issues continue to detract from his once-high ceiling.
Garrett Whitley, OF, Rays' No. 27
After a promising campaign in 2017, Whitley entered last season with an up arrow next to his name before requiring season-ending surgery in March 2017 to repair a torn right labrum. The Rays' 2015 first-rounder (No. 13 overall pick) is healthy this year, though, and at age 22, he still has some impressive tools as well as plenty of untapped potential.
Jay Groome, LHP, Red Sox's No. 5
MLB Pipeline's top-rated prospect in the 2016 Draft has pitched just 62 innings and logged a 5.37 ERA since signing for $3.65 million. Groome's stuff looked as good as ever in the spring of 2018, leading to hopes that he was on the verge of breaking out, but he missed the entire season after having Tommy John surgery and will return to the mound this summer.
Domingo Acevedo, RHP, Yankees' No. 23
Acevedo once ranked among the Yankees' best pitching prospects, but he has missed time in four of the past five seasons with injuries and still hasn't been able to develop a reliable breaking ball. He has a mid-90s fastball and flashes a plus changeup, though he now projects more as a reliever than as a mid-rotation possibility.
AL Central
Will Benson, OF, Indians' No. 25
The 14th overall pick in the 2016 Draft, Benson led the low Class A Midwest League with 22 homers last year but his .180 batting average was the second-lowest among Minor League qualifiers and he had a 30 percent strikeout rate. He has plenty of bat speed and strength, yet he misses too many hittable pitches because he has mechanical and timing issues with his left-handed swing.
Michael Gigliotti, OF, Royals' No. 13
A rough junior season at Lipscomb allowed Gigliotti to slide to the fourth round. The Royals thought they had a steal after his huge debut summer, but he missed all but six games of the 2018 season after blowing out his right ACL. He's back with Class A Lexington to get back on track and show his best tool, his speed, is still intact, something he did by stealing three bases in his first five games.
Alex Faedo, RHP, Tigers' No. 10
The 2017 first-rounder showed signs of wearing down at the end of his first full season, as a regression in his stuff led to disappointing results (15 HR in 60 IP, namely) after his promotion to Double-A. Specifically, Faedo's fastball hovered around 89-92 mph and his formerly plus slider played more towards average during his time in the Eastern League. As a University of Florida junior the previous year, he had pitched with a low- to mid-90s and boasted one of, if not the best slider in the Draft.
#Tigers' No. 10 prospect Alex Faedo is making it look easy for @erie_seawolves:

5 IP, 2 H, 0 R, 0 BB, 6 K

Live stats for all @Tigers prospects in action today: https://t.co/TB0jjm3Isi pic.twitter.com/7QEIDpRthJ

— MLB Pipeline (@MLBPipeline) April 6, 2019
Wander Javier, SS, Twins' No. 4
It might be unfair to say a 20-year-old has a lot to prove, but since Javier signed for $4 million in July 2015, he's managed to play in just 50 games due to a litany of injuries. He missed all of the 2018 season and the Twins are eager to get him the reps he needs. If he can stay healthy, he has the tools to give the organization a strong return on its investment, though he was slowed at the start of 2019 by another injury, a minor quad issue.
Alec Hansen, RHP, White Sox's No. 15
Will the real Alec Hansen please stand up? Is he the guy with a mid-90s fastball and a pair of power breaking balls who led the Minors with 191 strikeouts in 2017, or the one who battled forearm soreness and his mechanics while getting torched for a 6.31 ERA last year? Inconsistency plagued him in college at Oklahoma, as well, dropping him from a candidate to go No. 1 overall in the 2016 Draft to the second round.
AL West
Jahmai Jones, Angels' No. 4
One one hand, Jones reached Double-A at age 20 in 2018. On the other, he hit a combined .239/.337/.380. Some of that likely came as he focused on re-learning to play second base. A strong Arizona Fall League has him poised to put last year's offensive struggles behind him and show he belongs among the best second-base prospects in the game. He'll have to dig out of an early hole that saw him begin the season 0-for-21.
J.J. Matijevic, OF, Astros' No. 22
The arrow is pointing up for most of the best prospects in the Astros' deep system, and Matijevic batted .277/.350/.538 with 22 homers between two Class A stops in his first full season. To keep climbing the ladder to Houston, however, he'll need to prove he can handle lefties after hitting .186/.270/.279 against them in 2018 … and improve his defense.
Jorge Mateo, SS, A's No. 8
Mateo has teased with his immense potential -- especially his top of the scale speed -- both with the Yankees and A's in his career, but he's struggled to put it all together. Last season's .230/.353/.633 line was a step back from a strong 2017 showing. He needs to prove he can be a consistent performer before the A's feel he can contribute at the big-league level.
Kyle Lewis, OF, Mariners' No. 7
A gruesome knee injury suffered during his debut summer has kept the 2016 first-round pick from truly showing who he is as a player, as he's played in just 165 games as a pro since being drafted. The good news is he's healthy and if his .423/.464/.923 line in 26 Cactus League at-bats is any indication, he's ready to finally put the injury behind him. Oh, and he homered twice in his first six games.
Yohander Mendez, LHP, Rangers' No. 26
Though Mendez emerged as one of baseball's best lefty pitching prospects while soaring from high Class A to the big leagues in 2016, he has enjoyed little success since and is currently on Texas' 60-day injured list with a sprained ulnar collateral ligament in his elbow. His plus changeup is his lone pitch that grades better than average and he has looked hesitant to challenge hitters in the Majors.
NL East
Alex Jackson, C, Braves' No. 28
Initially drafted by the Mariners as the best high school bat -- perhaps even just hitter -- in the first round of the 2014 Draft, Jackson has made his way to Triple-A and was added to the Braves' 40-man roster this offseason. While his catching has improved, he's never really hit consistently. There were signs of life in 2017, but after a .647 OPS in 2018, he's in danger of sliding out of the Top 30 (even though the Braves called him up to the big leagues for the first time when Brian McCann got hurt).
Trevor Rogers, LHP, Marlins' No. 15
The Marlins spent the 13th overall pick in the 2017 Draft and $3.4 million to sign Rogers out of a New Mexico high school, then delayed his pro debut until May 2018 -- six months after he turned 20. He showed a 92-96 mph fastball, but he also recorded a 5.82 ERA in low Class A while doing little to silence concerns about his lack of feel for spinning a breaking ball.
Desmond Lindsay, OF, Mets' No. 11
Myriad injuries have plagued the now 22-year-old outfielder since the Mets drafted him in the second round in 2015, but he looked as good as ever in last year's Arizona Fall League, leading many to tap him as a 2019 breakout candidate. At the same time, Lindsay still has much to prove in terms of health and performance and is yet to reach the Double-A level.
Raudy Read, C, Nationals' No. 20
The Nationals had high hopes for Read in 2018 after he hit a career-high 17 homers and finished the previous season in the big leagues. But a PED suspension for Boldenone that offseason cost him the first 80 games of last season, and he didn't show the same power when he returned, hitting three home runs in 53 games between Double- and Triple-A.
Cornelius Randolph, OF, Phillies' No. 25
Randolph was the organization's first-round pick in 2015 (No. 10 overall) and he's struggled to find consistency at the plate. He's repeating a level, going back to Double-A Reading (which is typically hitting friendly). Randolph got off to a 4-for-19 start, though that included a four-game hitting streak and his first homer of the season. This is a big year for the outfielder, as he'll be eligible for the Rule 5 Draft in December if he doesn't land a spot on the 40-man roster.
NL Central
Marcos Diplan, RHP, Brewers' No. 17
While the 22-year-old right-hander has long possessed an electric fastball-slider pairing that enables him to miss bats, his control hasn't come along in the past two years. That has meant high walk totals (5.6 BB/9 in '18) and high pitch counts. The Brewers will continue to develop Diplan as a starter, with the hope that he finally unlocks his potential, but a move to the bullpen appears inevitable unless he turns things around.
Randy Arozarena, OF, Cardinals' No. 14
Signed for $1.25 million in July 2016, Arozarena tore up Double-A last year but didn't find the same success at the Triple-A level, hitting .232/.328/.348 over 89 games while also running into too many outs on the basepaths. The 24-year-old outfielder is going to reach the big leagues, likely this season, but he'll need to establish more consistency on both sides of the ball to establish himself as a regular.
Oscar de la Cruz, RHP, Cubs' No. 22
Once mentioned among the Cubs' top pitching prospects, de la Cruz has missed significant time in the last three years with forearm soreness, a pectoral strain and an 80-game suspension for testing positive for a banned diuretic and masking agent. His fastball velocity, curveball effectiveness, control and command all diminished in 2018, so he has many questions to answer once his suspension concludes later this month.
Lolo Sanchez, OF, Pirates' No. 17
Sanchez jumped onto the radar with an outstanding United States debut in 2017 but didn't back it up when moving to full-season ball last season. He's made some adjustments at the plate that could help him attack the offspeed stuff that plagued him 2018 as he repeats the South Atlantic League this season, though he got off to a 4-for-20 start.
Alfredo Rodriguez, SS, Reds' No. 29
The Reds gave Rodriguez $7 million to sign out of Cuba in July 2016 hoping his bat would at least come close to catching up to his outstanding glove. That hasn't happened, with a career .592 OPS to show for it. He missed a lot of time in 2018 with a hamate injury, so the pressure is on for him to start producing in Double-A this year. He has gotten off to a 5-for-12 start, albeit all singles.
NL West
Pavin Smith, 1B, D-backs' No. 17
Smith was regarded by scouts as one of the best hitters available in the 2017 Draft before Arizona made him the No. 7 overall pick. But the combination of left-handed hitting ability and power that he showed at Virginia hasn't been there for him as a pro, and he hit just .255 with 11 homers in the hitter-friendly California League in his first full season before opening '18 in Double-A.
Jeren Kendall, OF, Dodgers' No. 16
The best athlete in the 2017 Draft, Kendall lasted 23 picks because of concerns about his signability and hittability. After turning pro for $2,897,500, he batted .225/.303/.380 with a 30 percent strikeout rate in his first two years, struggling with pitch recognition and requiring a swing overhaul this offseason.
Tyler Beede, RHP, Giants' No. 23
A two-time first-round pick who signed with the Giants for $2,613,200 as the 14th overall choice in 2014, Beede ranked as the organization's best pitching prospect until he compiled a 6.64 ERA with 59 walks in 80 Triple-A innings last year. The good news is that he looked better in Spring Training, streamlining his repertoire and showcasing a mid-90s fastball, improved curveball and plus changeup in short stints.
#SFGiants No. 23 prospect Tyler Beede with a 🔥 first start for @RiverCats:

4 IP, 3 H, 0 R, 2 BB, 8 K@SFGiants prospect stats: https://t.co/KeSUYIsNn0 pic.twitter.com/9cpn8CnN2S

— MLB Pipeline (@MLBPipeline) April 6, 2019
Buddy Reed, OF, Padres' No. 17
After a disappointing first full season in 2017, Reed got back on track in the Australian Baseball League in the offseason. That success carried over into '18, leading to a breakout campaign in which he reached Double-A while hitting .271/.319/.435 with 48 extra-base hits and 51 steals between two levels. He did scuffle in the Texas League, though, hitting .179 with 63 strikeouts in 43 games, and some evaluators question his ability to hit quality upper-level pitching.
Riley Pint, RHP, Rockies' No. 8
It's been a rough go of it for the flame-throwing Pint since he was the No. 4 overall pick in the 2016 Draft, as he really struggled in 2017 and then missed almost all of 2018 with forearm stiffness and then an oblique injury. Stuff-wise, he's still just as electric and was throwing well this spring. He just needs to go out and show the stuff will play in competition.