All-Star celeb game to feature Miami stars
Actors, musicians, Hall of Famers set to participate in July 9 contest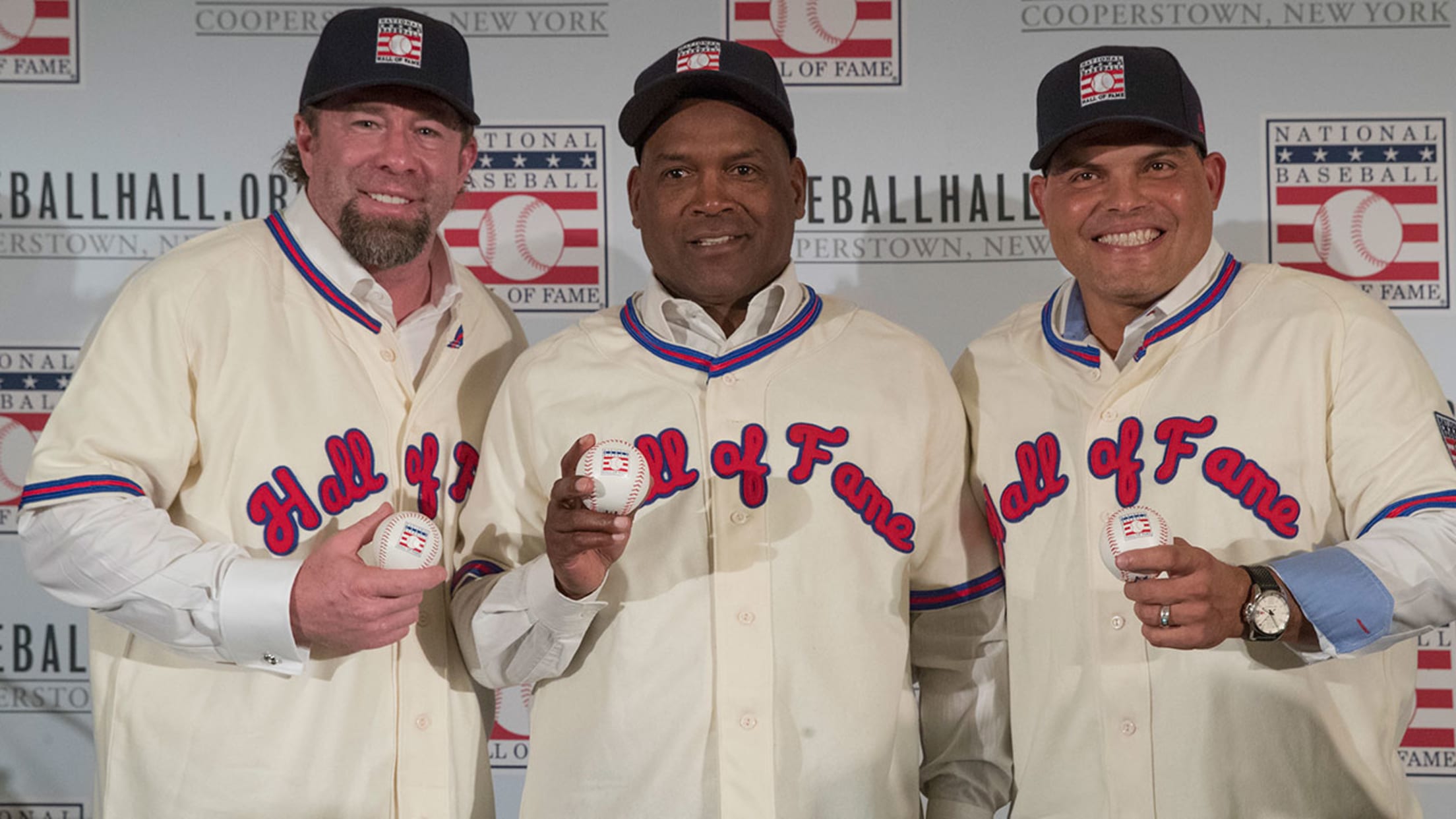 Tim Raines (center) and Ivan Rodriguez (right), who will be inducted into the Hall of Fame this year, are set to participate in the Legends & Celebrity Softball Game during All-Star weekend. (AP)
Major League Baseball has announced the first wave of participants of the All-Star Legends & Celebrity Softball Game on July 9 at Marlins Park, and it will have a Miami flavor, with hometown stars including Dascha Polanco, Jencarlos Canela, William Levy, Ivan Rodríguez, Andre Dawson, Al Leiter and Benito Santiago.Superstar
Major League Baseball has announced the first wave of participants of the All-Star Legends & Celebrity Softball Game on July 9 at Marlins Park, and it will have a Miami flavor, with hometown stars including Dascha Polanco, Jencarlos Canela, William Levy, Ivan Rodríguez, Andre Dawson, Al Leiter and Benito Santiago.
Superstar rapper and Miami native Flo Rida will perform between the SiriusXM All-Star Futures Game and the Legends & Celebrity Softball Game on All-Star Sunday.
Softball participants will come from movies, television, music and sports. Here are scheduled starters so far, with more to come:
• Legends and celebrities scheduled to appear
• All-Star Sunday information
Dascha Polanco: Dominican-born, New York and Miami-raised actor and series regular of the Netflix hit show "Orange is the New Black."
Jencarlos Canela: Miami native, award-winning singer, songwriter and actor.
William Levy: Cuban-born, Miami-raised actor.
Jessica Mendoza: Olympic softball gold medalist and ESPN Sunday Night Baseball analyst.
Jennie Finch: Olympic softball gold medalist and MLB Youth Softball Ambassador.
Christopher Jackson: Actor on the CBS show "Bull" and former star of Broadway's "Hamilton."
Miles Teller: Actor in the Oscar-winning film "Whiplash."
Justin Hartley: Actor on NBC's hit show "This is Us."
Michael Cudlitz: Actor on AMC's "The Walking Dead."
Diesel Brothers' Heavy D: Star of Discovery Channel's popular vehicle-building and stunt-driving show, "Diesel Brothers."
Ivan Rodriguez: A 14-time All-Star who led the Marlins to the 2003 World Series title and is set to be inducted into the Hall of Fame this year.
Tim Raines: Three-time World Series champion (twice as a player, once as a coach), seven-time All-Star and former Marlins outfielder who is also set to be inducted this year.
Andre Dawson: Hall of Famer and eight-time All-Star who is a former Marlins outfielder.
Benito Santiago: Five-time All-Star and a former Marlins catcher.
Al Leiter: Pitcher on the Marlins' 1997 World Series champions, two-time All-Star and MLB Network analyst.
Rickey Henderson: Hall of Famer, 10-time All-Star and a regular at this event.
The Legends & Celebrity Softball Game will be televised by ESPN immediately following the T-Mobile Home Run Derby on July 10.
The All-Star Legends & Celebrity Softball Game is the second game of a doubleheader at Marlins Park on All-Star Sunday. Preceding the softball game will be the SiriusXM All-Star Futures Game featuring the top Minor League prospects competing in a nine-inning contest, live on MLB Network, MLB.com and SiriusXM at 7 p.m. ET.
Tickets for All-Star Sunday are available now for purchase at AllStarGame.com. The purchase of an All-Star Sunday ticket includes a ticket to FanFest good for admission to the Miami Beach Convention Center on Monday or Tuesday, and the first 10,000 fans will receive an Ivan Rodriguez bobblehead.
Fans may cast votes for 2017 Esurance MLB All-Star Game starters at MLB.com and all 30 club sites -- on computers, tablets and smartphones -- exclusively online using the 2017 Esurance MLB All-Star Game Ballot until Thursday, June 29, at 11:59 p.m. ET. On smartphones and tablets, fans can also access the ballot via the MLB.com At Bat and MLB.com Ballpark mobile apps. Vote up to five times in any 24-hour period for a maximum of 35 ballots cast.
Following the announcement of the 2017 All-Star starters, reserves and pitchers, fans should return to MLB.com and cast their 2017 Esurance MLB All-Star Game Final Vote for the final player on each league's All-Star roster. Then on Tuesday, July 11, while watching the 2017 All-Star Game presented by MasterCard live on FOX, fans may visit MLB.com to submit their choices for the Ted Williams Most Valuable Player Award presented by Chevrolet with the 2017 MLB All-Star Game MVP Vote.
The 88th Midsummer Classic, at Marlins Park in Miami, will be televised nationally by FOX Sports; in Canada by Rogers Sportsnet and RDS; and worldwide by partners in more than 160 countries. ESPN Radio and ESPN Radio Deportes will provide exclusive national radio coverage, while MLB Network, MLB.com and SiriusXM will have comprehensive All-Star Week coverage. For more information about MLB All-Star Week and to purchase tickets, please visit AllStarGame.com and follow @AllStarGame on social media.
Mark Newman is enterprise editor of MLB.com and a baseball writer since 1990. Follow him @Marathoner and read and join other baseball fans on his MLB.com/blogs hub.