Rumors: W. Smith, Bumgarner, Castillo, Bundy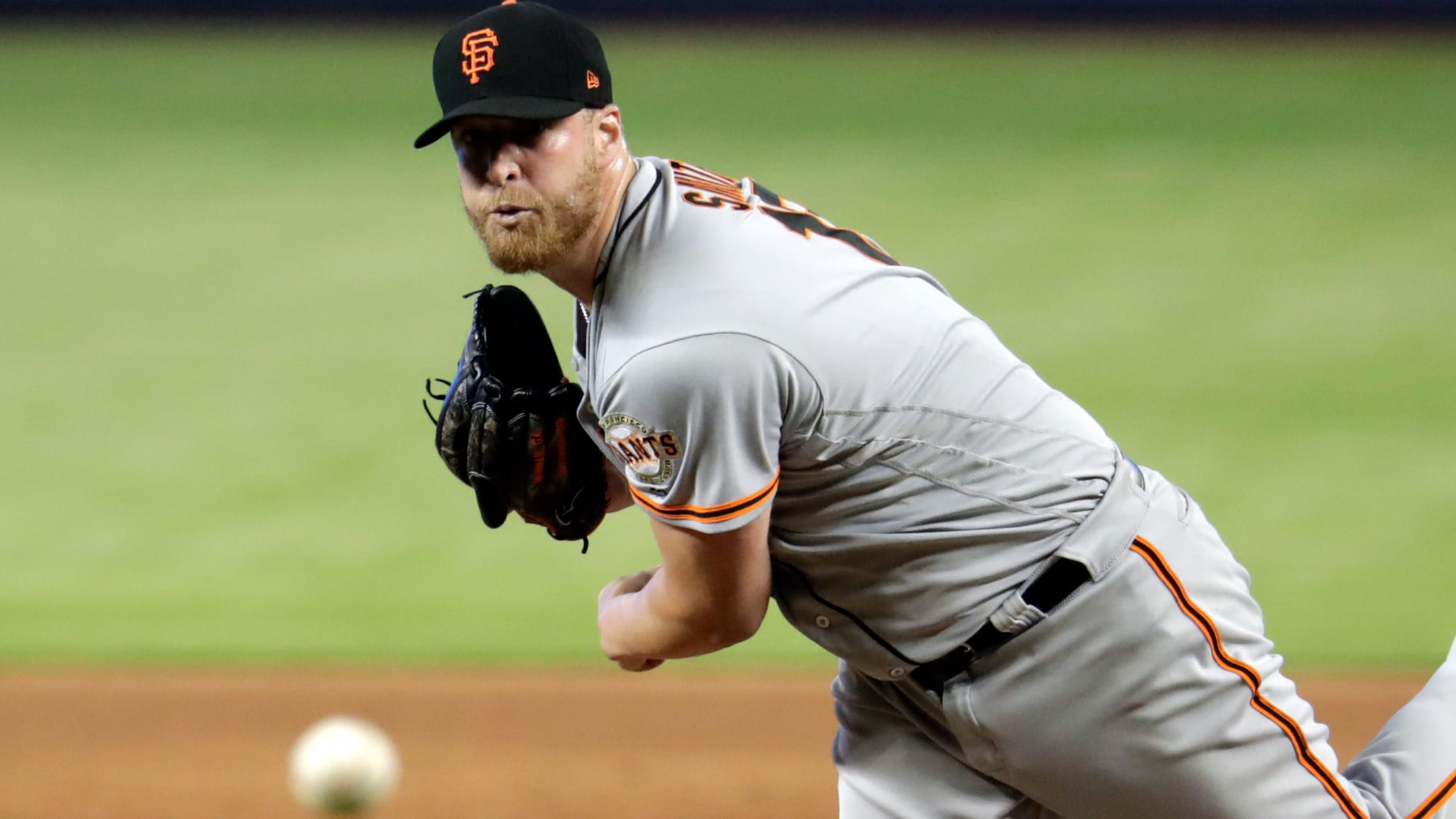 MLB.com is keeping track of all the latest free agent and trade rumors right here.
MLB.com is keeping track of all the latest free agent and trade rumors right here.
Twins may have interest in Bumgarner, Smith
June 26: While Wednesday morning saw conflicting reports about the Twins' current level of interest in the Giants' Madison Bumgarner, an impending free agent, Minnesota at least appears to have discussed the left-hander with San Francisco at some point.
After Bob Nightengale of USA Today tweeted that the Twins are showing "strong interest" in Bumgarner, who does not have Minnesota as one of the teams on his no-trade list, ESPN's Jeff Passan reported via Twitter that the Twins "haven't engaged with them in high-level talks [regarding Bumgarner] in recent weeks," citing a source with knowledge of the discussions.
As of now, it appears the Twins are more interested in Giants closer Will Smith, per Passan.
Certainly the Twins could re-engage with the Giants on Madison Bumgarner. There is need for Minnesota, and the Giants will move when a deal is right. Presently, however, there isn't any traction.

— Jeff Passan (@JeffPassan) June 26, 2019
That makes sense, as Minnesota's bullpen is a greater area of concern than the rotation. While Taylor Rogers, Ryne Harper and Trevor May are having strong seasons, Blake Parker owns a 10.00 ERA over his past 10 appearances. The team recently signed Cody Allen, who was released by the Angels after posting a 6.26 ERA, to a Minor League deal.
Reds ace not expected to be option for Yankees
June 26: The Yankees are weighing their options as they look to bolster their starting rotation before the Trade Deadline, but one pitcher who isn't expected to be available is the Reds' Luis Castillo, Major League sources tell Andy Martino of SNY.
When Martino asked one American League executive in touch with the Reds if Castillo might be traded, there was no misinterpreting the exec's answer via text: "Do u do stand up comedy in ur spare time? That's hilarious!"
While Castillo leads MLB in walks (56), he has otherwise delivered a tremendous campaign, going 7-2 with a 2.56 ERA and 109 strikeouts in 91 1/3 innings. He's also just 26 years old and under team control through 2023, making him an obvious building block for a club that has shown promising flashes this season.
New York is believed to be prioritizing controllable arms, and MLB Network insider Ken Rosenthal recently reported that the club isn't willing to deal its top trade chip, Clint Frazier, for a rental player.
Castillo fits the bill of what the Yanks are looking for, but it seems New York will need to pursue other options.
Orioles unlikely to trade Bundy, Cashner
June 26: The Orioles were a major seller last summer, trading Manny Machado, Zack Britton, Kevin Gausman, Jonathan Schoop and Brad Brach in July. While the rebuilding club still has some veteran pieces that could be of interest for contenders, it does not seem likely that starters Dylan Bundy and Andrew Cashner will be moved.
Executive vice president and general manager Mike Elias acknowledged that it would be difficult to deal Bundy and Cashner because the club lacks Major League-ready arms in the system.
Mike Elias also acknowledged it might be tough to trade a starting pitcher, given the #Orioles lack of depth.

"Were we to lose one of those guys, how we backfill them right now is not very obvious," he said. "We'll do whats right for the organization. But they are carrying us."

— Joe Trezza (@JoeTrezz) June 26, 2019
Another factor the O's must consider is that Bundy and Cashner might not fetch all that much in a trade.
Of the two, Bundy has more value, as he is still just 26 years old and won't be eligible for free agency until the 2021-22 offseason. He is also striking out more than a batter per inning (9.6 K/9) for the second straight season. However, Bundy has been unable to solve his home run problems, allowing 17 in 80 1/3 innings this season (1.9 HR/9), and he owns a lifetime 4.63 ERA and 4.79 FIP. Even if teams see some promise in a pitcher who was once the fourth overall pick in the Draft, the right-hander is unlikely to command a notable trade package.
Cashner, meanwhile, is a 32-year-old who has posted a 4.55 ERA with a 4.87 FIP since the beginning of 2016. If he throws another 104 2/3 innings this season, his $10 million team option for 2020 will become guaranteed.
Stroman in New York: 'I love the spotlight'
June 25: He's not slated to pitch against the Yankees while the Blue Jays are in the Big Apple for three, but Marcus Stroman fielded questions from the New York media for the first time since he and the Yanks have been linked in trade rumors.
Stroman showcased the confidence and exuberance that has been displayed his entire career, telling reporters that he felt like he has pitched well despite the pressure that comes with potentially being a trade chip this year and that he believes he thrives under pressure.
"I love pitching [at Yankee Stadium]. New York is like the mecca of the world. I love excitement, the bright lights, competition, I love pressure. I always loved pitching here. I haven't necessarily pitched well. I always enjoyed it. Yankee lineups are brutal. They are kind of hard to navigate. I love the spotlight. The bigger the moment, that's what I kind of wanted it to be."
Like Madison Bumgarner, Stroman has been viewed as a potential target for the Yankees to shore up their rotation. But unlike Bumgarner, Stroman brings with him a year of team control past this season.
Stroman -- who's in his sixth big league season and has postseason experience -- seemed to make clear he would welcome a trade to New York if it were to happen. The Yankees, for their part, have already made clear they will not trade Clint Frazier for a piece they deem as merely a rental.
Of course, New York isn't the only team that is eyeing Stroman, and MLB Network insider Jon Heyman reports in the latest episode of the Big Time Baseball podcast that the Blue Jays are maintaining a lofty asking price for the right-hander.
"Stroman is going to be traded," Heyman said. "I can't pinpoint the date, but he is certainly out there already. I know the Yankees and other teams have inquired. I have heard from some of the teams that the price is too high at the moment. I don't blame Toronto for asking for a high price."
SNY's Andy Martino had a similar report Tuesday, tweeting that the Yankees and Jays have been apart on Stroman's value. More >
Yankees split on Bumgarner, eyeing other starters
June 25: While Madison Bumgarner is a possible option for the pitching-needy Yankees, MLB Network insider Jon Heyman reports in the latest episode of the Big Time Baseball podcast that the club is split on the left-hander's value.
Per Heyman, New York's decision makers like the idea of Bumgarner pitching for the club in the postseason, given his past success. But the analytics may be steering the Yanks away from the 29-year-old.
Bumgarner's ERA (4.28), FIP (4.22) and xFIP (4.15) are all relatively aligned, and his 42.4 percent hard-hit rate is the 12th highest in MLB among pitchers with at least 200 batted balls allowed.
Bumgarner also has just a 38.2 percent ground-ball rate, below the Major League average of 44 percent, which likely won't play well in homer-happy Yankee Stadium.
Bumgarner is also an impending free agent, and MLB Network insider Ken Rosenthal reported last week that the Yankees are not willing to trade Clint Frazier for a rental player.
For those reasons, Bumgarner does not appear to be the team's top trade target.
"[Max] Scherzer's the guy that the Yankees would love to get, but at this point, I'm going to say, basically, no chance, no way the Nats trade him," Heyman said. "They're back in the race. He had a heroic outing with a broken nose. So I'm just not seeing him being traded, and that would leave [Marcus] Stroman and MadBum, who we mentioned, and [Matthew] Boyd … as three of the main guys."
With Bumgarner's trade value on the decline, the Giants will likely consider all offers for the southpaw, even if it comes from a National League West rival -- provided that team is not the Dodgers, writes MLB Network insider Ken Rosenthal for The Athletic (subscription required).
Bumgarner: 'I'm the same guy I was in 2014'
June 25: Despite his declining stats, Madison Bumgarner remains confident he's still an ace, as he revealed to The Athletic's Andrew Baggarly for a story that was published Monday (subscription required).
"I'm the same guy I was in 2014, contrary to popular belief," Bumgarner said. "I know that gets said a lot, 'Oh, he's not the same guy he used to be.' That's just … wrong. Numbers are what they are right now, but let's just wait to the end of the season. And we'll check. Maybe they won't be there and maybe they will. All I know is, the last two years, the stuff was a little different rushing back from two injuries. Now? How I feel is the same. My stuff is the same."
Baggarly then asked if Bumgarner meant he could still be the dominant presence he was during the 2014 postseason, when he posted a 1.03 ERA over 52 2/3 innings and won both the NLCS and World Series MVP Awards.
"Well, I mean, to be fair, there's nobody that ever really did that," Bumgarner said. "So it's not really fair to compare your regular season to something like that."
Baggarly specified that he meant this postseason, not the regular season.
"Oh," Bumgarner said. "Then yeah."
As Bumgarner alluded, the numbers say otherwise. The 29-year-old has a 4.28 ERA with a 4.22 FIP and a 4.15 xFIP over his first 96 2/3 innings this season. He has allowed 16 home runs already, and his hard-hit rate (42.4 percent) is the 12th highest in the Majors among pitchers with at least 200 batted balls allowed. And while his 17.8 percent K-BB% is up from last year's number (12.0 percent), it's still below where he was in 2014 (20.2 percent), '15 (22.4 percent) and '16 (21.6 percent).
Could Cardinals pursue closer after Hicks diagnosed with torn UCL?
June 25: The Cardinals' bullpen suffered a major blow Monday when closer Jordan Hicks was diagnosed with a torn UCL in his right elbow. The team announced that the right-hander will undergo Tommy John surgery Wednesday.
Hicks' injury could push the Cardinals into the mix of contenders seeking relief help, along with the Twins, Red Sox, Rays, Phillies, Nationals, A's and Dodgers.
Relievers who could be available include the Blue Jays' Ken Giles, the Tigers' Shane Greene, the Indians' Brad Hand, the White Sox Alex Colome and Kelvin Herrera, the D-backs' Greg Holland, the Padres' Kirby Yates and the Giants' Will Smith, Tony Watson, Sam Dyson and Mark Melancon.
According to MLB.com's Jon Paul Morosi, the Cards are expected to assess internal options first before trying to swing a deal. However, they also need to look beyond 2019, as Hicks is likely to miss most or all of '20.
"For that reason, closers under control through next year -- such as Greene -- have particular value to St. Louis," Morosi writes.
One pitcher who doesn't seem likely to be an option anytime soon is the team's top prospect, Alex Reyes, who suffered yet another setback when he exited his start for Triple-A Memphis on Sunday in the second inning with right pectoral discomfort.
Reyes previously underwent Tommy John surgery that cost him the entire 2017 season, and he needed surgery to repair a right lat tendon last season. After opening 2019 in the Cards' bullpen and allowing five runs in his first four appearances, he was optioned to Triple-A to get straightened out but suffered a fractured left pinkie finger in late April when he punched a wall in frustration. Sunday marked his seventh outing since returning from that ailment.
Latest on relievers: Smith, Hand, Vazquez, Doolittle
June 25: As an impending free agent on a rebuilding team, Giants closer Will Smith is expected to be traded between now and July 31. And given Madison Bumgarner's diminishing value, Smith may actually be San Francisco's best trade asset.
According to MLB.com's Jon Paul Morosi, Smith "is becoming more coveted by the day," because teams are uncertain if the Indians' Brad Hand, the Pirates' Felipe Vazquez and the Nationals' Sean Doolittle will be available.
Morosi reports that the Giants and Dodgers aren't ruling out coming together for a Smith deal, even though the National League West rivals haven't paired up on a trade since 2007.
#Dodgers, #SFGiants aren't ruling out the prospect of making a Will Smith trade, source says. The rivals haven't paired up on a deal since @Sweendog9 to L.A. for Travis Denker in 2007. @MLB @MLBNetwork

— Jon Morosi (@jonmorosi) June 25, 2019
Los Angeles also could try to pry Vazquez from Pittsburgh. A source told Morosi that the Dodgers have interest in the left-hander.
"[The Dodgers] are well-situated to acquire him for two reasons: [Their] farm system is deep enough to afford him, and the acquisition of a dynamic left-hander to pair with Kenley Jansen at the end of the game is the most obvious need for an otherwise near-perfect roster." More >
A's could be aggressive at Deadline
June 25: If the A's remain in the postseason mix, MLB Network insider Ken Rosenthal expects the club to be busy before the July 31 Trade Deadline.
"Look for the Athletics to aggressively pursue upgrades the way they always do when in contention, even if only a Wild Card is within reach," Rosenthal writes for The Athletic (subscription required). "The team's goal would be to add impact pitching -- in the rotation, in the bullpen or both."
Oakland's pitching staff recently lost No. 1 starter Frankie Montas to an 80-game suspension and closer Blake Treinen to the injured list with a shoulder strain.
The A's could get a boost from their top two prospects, left-handers Jesus Luzardo and A.J. Puk, later this season, but the team can only expect so much from two rookies, especially with Puk coming off Tommy John surgery.
Rosenthal doesn't think the A's front office will hesitate to trade from its Minor League system to land an impact starter, naming the Tigers' Matthew Boyd as a potential option and noting that Oakland's approach could set it apart "at a time when many teams are increasingly conservative."
That said, general manager David Forst told Susan Slusser of the San Francisco Chronicle on the A's Plus podcast Monday that the club's main focus at this point is improving the relief corps.
"I think the bullpen is probably the first place we look, not because we don't like the group we have here but because it's been less consistent than it was last year -- which was inevitable," Forst said. "We were never going to perform as well as we did in the bullpen last year. Some of the numbers that were thrown out were ridiculous, and they're not going to happen again the next year, but I do believe adding one or two people to that unit could help it going forward."
Who might White Sox trade this summer?
June 24: The White Sox have made some strides this season, playing .480 ball (36-39) after going 129-195 (.398) over the previous two seasons. However, the club is probably still at least a year away from seriously contending, and it isn't likely to be among the top buyers this summer.
That said, Chicago might not be a major seller, either.
While MLB.com's Scott Merkin expects the club to listen to offers for impending free agent Jose Abreu, as well as Alex Colome, James McCann and Leury Garcia, he writes in his latest reporter's inbox that they will likely stay put unless "the return absolutely makes sense and significantly adds to their core."
That jives with what MLB Network insider Ken Rosenthal noted in an article for The Athletic (subscription required) last week.
"GM Rick Hahn has said it's 'very likely' potential free agent Jose Abreu will remain with the club," Rosenthal wrote. "The team also might prefer to keep three players who are free agents after 2020 -- catcher James McCann and relievers Alex Colomé and Kelvin Herrera -- with the goal of taking another step forward next season."
Rays expected to target relievers
June 24: With Diego Castillo going on the injured list Sunday because of shoulder inflammation and Jose Alvarado still on the restricted list after tending to a family matter, the Rays are suddenly short on high-leverage relievers.
Alvarado is expected back soon, but sources tell MLB.com's Juan Toribio that the club is looking to add multiple arms to its bullpen before the Trade Deadline next month.
Potential targets could include San Diego's Kirby Yates, Detroit's Shane Greene and Toronto's Ken Giles, who are all under control through 2020. More >
Will Pirates shop impending free agents?
June 24: Although the Pirates won their fourth straight game Sunday after rallying from three runs down in both the ninth and 11th innings against the Padres, the club is tied with the Reds for fourth place in the competitive National League Central.
While Pittsburgh's 3 1/2-game deficit in the race for the second NL Wild Card spot is manageable, only two Senior Circuit clubs (the Giants and the Marlins) have a lower winning percentage.
If the Pirates fall further out of contention, MLB.com's Adam Berry expects the club to shop anyone who isn't under control beyond 2019, including Corey Dickerson, Melky Cabrera, Jung Ho Kang, Francisco Cervelli, Jordan Lyles and Francisco Liriano.
However, Berry does not think the team will deal Starling Marte, Felipe Vazquez, Chris Archer or Keone Kela, regardless of its standing in July. More >