Could Bryant be the next MVP to be moved?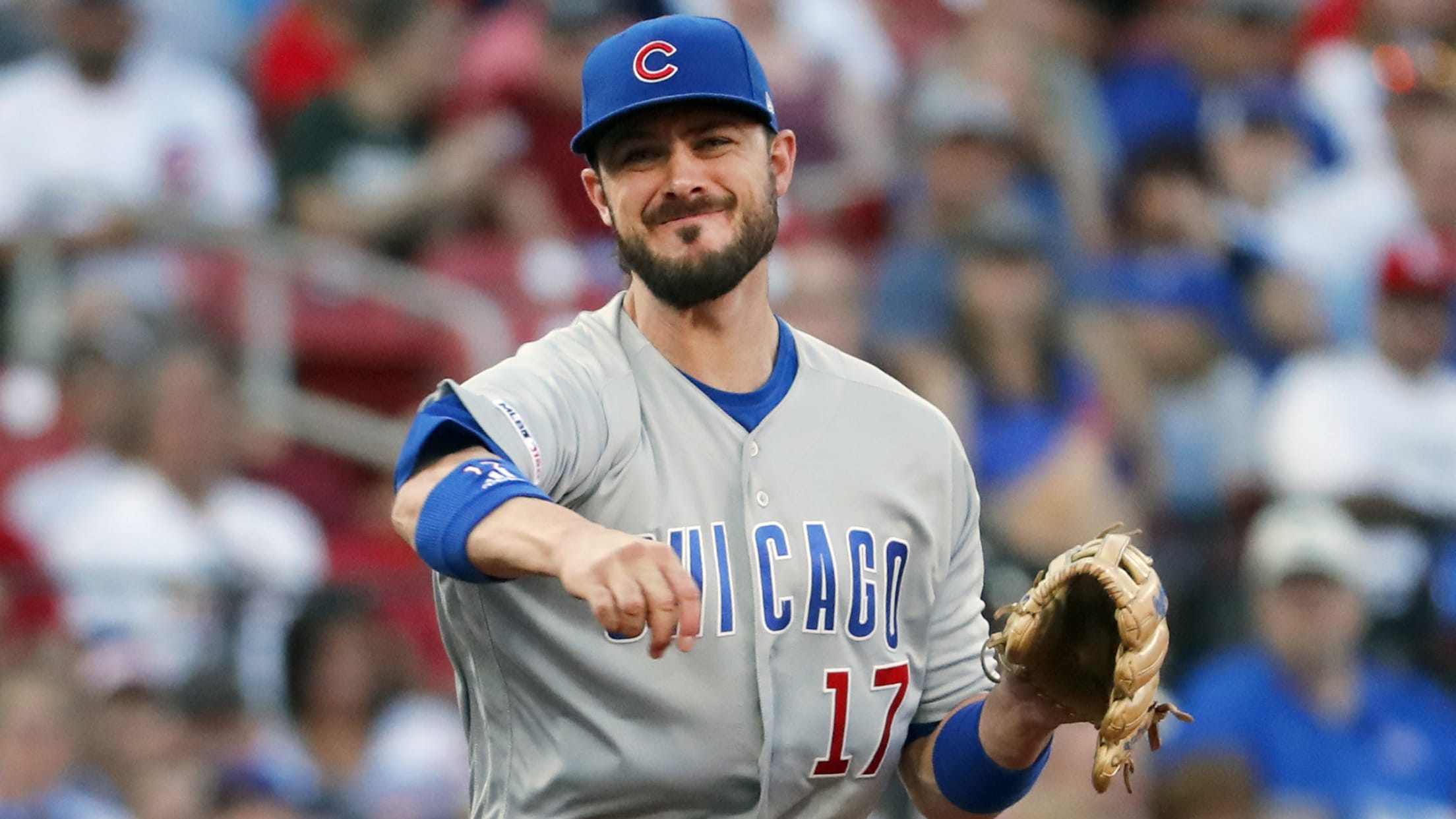 MLB.com is keeping track of all the latest free-agent and trade rumors right here.
MLB.com is keeping track of all the latest free-agent and trade rumors right here.
Report: Multiple NL teams have contacted Cubs about Bryant
Feb. 6: Although the Mookie Betts trade saga is nearing a conclusion, he might not be the last MVP Award winner moved this offseason. Multiple National League teams have contacted the Cubs to make offers for third baseman Kris Bryant, according to David Kaplan of ESPN 1000 in Chicago.
Although the Cubs have been exploring potential deals involving the slugger throughout the offseason, Bryant's service-time grievance against the club made it difficult to move him. But after an arbitration panel ruled in January that Bryant -- the 2016 NL MVP -- will remain under team control for two more seasons, his trade value is now solidified.
Kaplan didn't say which NL clubs reached out to the Cubs, but the Braves, Nationals and Phillies are among those that could be interested, perhaps emboldened to make another move after the Dodgers improved their World Series chances by landing Betts and David Price (per sources) from the Red Sox in a three-team deal that also includes the Twins. The Rockies also cannot be overlooked, as they previously discussed a one-for-one trade involving Bryant and Nolan Arenado, according to a report from ESPN's Jesse Rogers.
In addition to the Braves, Nats, Phillies and Rockies, MLB.com's Mark Feinsand also speculated that the Rangers and Cardinals could be among the teams who could pursue a trade for Bryant.
The 28-year-old has been one of the more productive players in the Majors since his debut in 2015, but the Cubs' lofty payroll has put the team in a tough spot, unable to add any major pieces to a roster that went 84-78 in 2019. Trading Bryant could be the team's best chance to fill some of its other needs, and his impending free agency in two years has made Chicago more open to moving him than it might have been in the past.
With Betts now traded I have confirmed multiple NL teams have contacted Cubs re: Bryant offering packages of prospects/young players. Unsure if a deal gets done before Opening Day. If one doesn't Cubs probably hang on to him until July trade deadline. Tune in NOW on @ESPN1000

— David Kaplan (@thekapman) February 5, 2020
How do Sox address rotation?
Feb. 5: Nobody can replace Mookie Betts, but as part of the three-team blockbuster the Red Sox agreed to Tuesday night with the Dodgers and Twins, Boston did acquire a substitute right fielder in 23-year-old Alex Verdugo.
But the situation is different with David Price, who is also heading to Los Angeles in the deal (per sources). The second player the Red Sox are getting back, Minnesota prospect Brusdar Graterol, is more likely to help the club out of the bullpen this season.
MLB Network insider Ken Rosenthal reported late Wednesday night in an article for The Athletic that the holdup in making the Betts deal official is Graterol's medical review, which indicates he will be better suited as a reliever. With starters being valued higher than relievers on the market, the Red Sox may ask for more compensation as part of the deal in terms of players or cash.
So where does that leave the Red Sox rotation? It currently features Chris Sale, Eduardo Rodriguez, Nathan Eovaldi and free agent acquisition Martín Pérez, who essentially replaces Rick Porcello. It's not clear who would fill the fifth spot, pending completion of the Betts deal.
Without an obvious candidate on the roster, it's worth wondering if Boston could look for a veteran free agent. The pickings are slim with so little time before camps open, but here are a few options lingering on the market:
• Collin McHugh: He's showed versatility, pitching out of both the rotation and bullpen in Houston over the past six seasons, with a 3.63 ERA overall. The 32-year-old excelled more in the latter role the past two years, but that was in large part due to the Astros' depth.
• Andrew Cashner: Boston traded for the right-hander last July but he posted an 8.01 ERA in six starts before moving to the bullpen and faring much better (3.86). That might not inspire the Sox to seek a reunion, but Cashner has averaged 27 starts since 2015.
• Jason Vargas: The soft-tossing lefty has a 4.64 ERA in 81 starts over the past three seasons for the Royals, Mets and Phillies. He just turned 37.
The Red Sox also could try a reunion with Clay Buchholz, take a flier on Matt Harvey or look for another veteran swingman such as Trevor Cahill. However, as MLB.com Red Sox beat writer Ian Browne pointed out, new chief baseball officer Chaim Bloom also could import the opener strategy from Tampa Bay.
Report: Red Sox trade Betts, Price to L.A.
Feb. 4: Mookie Betts and David Price appear to be on their way to Los Angeles.
MLB.com's Jon Paul Morosi reports that the Red Sox and Dodgers have agreed to a blockbuster trade that will send both Betts and Price to the Dodgers. The deal is pending the successful completion of physicals for each player. ESPN's Jeff Passan was first to report the news.
Mookie Betts and David Price are heading to #Dodgers, source confirms @JeffPassan report. @MLB @MLBNetwork

— Jon Morosi (@jonmorosi) February 5, 2020
MLB.com's Mark Feinsand reports that the Dodgers are trading right-hander Kenta Maeda to the Twins in exchange for right-handed pitching prospect Brusdar Graterol (Twins' No. 3 prospect, MLB's No. 83 overall per MLB Pipeline), who will then be traded to Boston as part of the Red Sox's return for Betts. Outfielder Alex Verdugo is also reportedly a centerpiece for Boston's return in the trade.
Kenta Maeda will go to Twins in the three-way trade, while Brusdar Graterol will go to Red Sox in the three-way deal, per source. @Ken_Rosenthal 1st

— Mark Feinsand (@Feinsand) February 5, 2020
Price is owed $96 million over the next three years, and MLB Network insider Jon Heyman reports that the Dodgers are expected to pay about half of that salary.
Passan also reports that the Dodgers are also sending former All-Star outfielder Joc Pederson to the crosstown rival Angels in exchange for infielder Luis Rengifo as part of a separate trade -- possibly to clear room in the Dodgers' outfield for Betts.
Infielder Luis Rengifo is headed to the Los Angeles Dodgers in a deal for outfielder Joc Pederson, sources tell ESPN.

— Jeff Passan (@JeffPassan) February 5, 2020
Could Astros reunite with Pence?
Feb. 4: Despite a bounceback 2019 season with the Rangers in which he hit .297/.358/.552 with 18 homers in 83 games, Hunter Pence remains a free agent. Teams have been showing interest in the veteran outfielder of late, however, including a pair of clubs with which he's already played.
In fact, the Astros -- for whom Pence played his first five big league seasons (2007-11) after Houston picked him in the second round of the 2004 Draft -- have made an offer, according to Mark Berman of FOX 26 Houston.
MLB sources: #Astros have made an offer to free agent outfielder Hunter Pence who played n Houston from 2007-11.He's a 4-time All-Star,including 2019 with the Rangers,hitting .297 with 18 home runs & 59 RBIs.Pence played for the Giants from 2012-18,helping them win 2 World Series

— Mark Berman (@MarkBermanFox26) February 4, 2020
The reunion route appears to be a popular possibility for Pence, as the Giants also have shown interest in Pence, according to MLB Network insider Jon Heyman. Pence, of course, spent parts of seven seasons in San Francisco, winning titles in both 2012 and 2014.
Lindor addresses contract questions
Feb. 1: Superstar shortstop Francisco Lindor had a chance to address his future with the Indians on Saturday at TribeFest, and while he made it clear that he would like to stay in Cleveland long term, he's clearly aware of how much money could await him on the open market, even if his decision isn't entirely influenced by the dollars.
"If they don't think I can stay here because of the money situation, then I won't be here," Lindor said. "But I do want to be in Cleveland. I love the Indians, I love their fans. The city has grown on me a lot. When it is the right time to sign an extension? I don't know when it's the right time. God has a plan for me and my family and I truly believe in it. What's going to happen is going to happen. Do I want $500 million? Of course, anybody wants that. I don't care who you are, you could be a billionaire and you'd still want that. It's just a matter of time, we'll see."
Ultimately, Lindor is driven by winning more than money, the 26-year-old said. But he likely won't have to choose between the two once he hits free agency, as there should be widespread interest in the four-time All-Star, who is under team control for two more years.
The Indians reportedly have explored possible trades involving Lindor this offseason, but the buzz surrounding him has quieted lately, and a move seems unlikely at this point. More >
Could Bryant or Arenado wind up in NL East?
Jan. 31: A trade for Kris Bryant or Nolan Arenado comes with its fair share of complications -- most of all their significant remaining salaries. But MLB Network insider Ken Rosenthal ponders if that financial obligation might be worth it for National League East contenders looking to break free of the pack.
In his Friday column for The Athletic (subscription required), Rosenthal cites an AL club's internal projection that has the Braves, Mets, Nationals and Phillies separated by fewer than five wins in 2020. None of those four teams have a superstar stationed at third base, meaning Bryant or Arenado could significantly change the odds.
Examining each team's payroll in relation to the competitive balance tax (CBT), Rosenthal notes that Bryant's $18.6 million salary this season would put three of those four clubs -- but not the Braves -- over the first threshold, which would therefore incur a 20% tax penalty on the overages. Arenado's $35 million salary would put each team except the Braves over the second threshold, which would incur additional penalties. But Atlanta has both the fewest financial commitments moving forward and the best farm system of the quartet moving forward. So, Rosenthal wonders if the Braves should be motivated to take advantage of their leg-up on the competition by acquiring a true difference-maker at the hot corner.
Report: Rockies, Cubs have discussed 1-for-1 Arenado-Bryant trade
Jan. 30: Many eyes remain on Chicago to see what the Cubs will do with third baseman Kris Bryant, and one report says the North Siders are at least entertaining blockbuster trade ideas.
ESPN's Jesse Rogers reported during an appearance on NBC Sports Chicago's "Kap and Co." radio show that the Rockies and Cubs have discussed a one-for-one trade that would send Bryant to Colorado in exchange for Nolan Arenado. Rogers added that Colorado would pay at least some of Arenado's salary ($234 million remaining over the next seven years) in the proposed scenario.
"This is something I heard very recently -- that, yes, Arenado would love to play for the Cubs," Rogers said. "I'll go one step further. That they've even discussed a one-for-one deal, Kris Bryant for Nolan Arenado, where the Rockies pick up a good portion of Arenado's salary over the length of the contract. I'm talking $7 or $8 million per year.
"That's how much they need to get rid of Arenado," Rogers added, "and he wants out."
Arenado has been uncharacteristically vocal this month about his relationship with the Rockies, telling MLB.com's Thomas Harding that he has felt "disrespected" by the team. He and Bryant -- two of baseball's best third basemen -- have sparked as many trade rumors as any player this offseason, with the Cubs also potentially looking to move Bryant before he reaches free agency after the 2021 season.
Arenado's massive contract would be tricky for the Cubs, who have publicly stated their desire to stay below the competitive balance tax (CBT) threshold.
Rosenthal: Lindor trade remains unlikely for Reds
Jan. 28: In the wake of Nicholas Castellanos' four-year deal with the Reds on Monday, MLB Network insider Jon Heyman reported that the club is considering trading Nick Senzel, who has become expendable given Cincinnati's additions this offseason.
With journeyman Freddy Galvis at shortstop, the most logical move arguably would be for the team to use Senzel as the centerpiece in a package to acquire Francisco Lindor from the Indians. However, MLB Network insider Ken Rosenthal notes that such a deal is unlikely.
Per Rosenthal, the Reds already discussed moving the 24-year-old Senzel in a trade for Lindor, as well as a three-team deal that would have sent Lindor to the Dodgers, Corey Seager to Cincinnati and prospects to Cleveland. All of those talks went nowhere.
The payroll is also a factor for the Reds, whose offseason additions of Mike Moustakas, Wade Miley, Shogo Akiyama and Castellanos have given them a projected mark of roughly $140 million -- which would represent a franchise record -- for the upcoming season, according to Cot's Baseball Contracts. Meanwhile, Lindor is set to earn $17.5 million in 2020.
With Mike Moustakas at second base, Eugenio Suárez at third and a crowded outfield situation, the Reds may eventually trade Senzel. But Rosenthal expects the club to wait for the youngster to rebuild his value following an unremarkable rookie season and surgery to repair a torn right labrum in September.
What will be the next move for the @Reds?@Ken_Rosenthal l #MLBNHotStove pic.twitter.com/MQ7Az00CMq

— MLB Network (@MLBNetwork) January 28, 2020
Cubs, other clubs reportedly have interest in Gennett
Jan. 28: The Cubs have been mostly quiet since the 2019 season ended, but they have added Steven Souza Jr. and Jeremy Jeffress in the past week, and they are reportedly eyeing free-agent second baseman Scooter Gennett as well, according to a report from Bruce Levine of 670 The Score.
MLB Network insider Jon Heyman confirms the Cubs' interest in Gennett and notes that Chicago is one of a half-dozen teams considering the second baseman.
Gennett struggled last season after suffering a groin strain in late March. He didn't return until June and went on to hit .226/.245/.323 with two homers over 139 plate appearances between the Reds and Giants. But Gennett was one of the more productive second basemen in the game over 2017-18, recording a .303/.351/.508 batting line with 50 home runs in that stretch. He could be a solid buy-low option for a team with payroll concerns such as the Cubs, who have an uncertain situation at the keystone.
With Ben Zobrist and Addison Russell heading to free agency, Chicago currently has prospect Nico Hoerner penciled in as its starting second baseman, with David Bote behind him. Ian Happ also has experience at second, but he will likely see more time in center field than anywhere else. The Cubs could still look to trade third baseman Kris Bryant before Opening Day, creating another opening in the infield.
Cubs one of about a half dozen teams considering Scooter Gennett, who's working out for a couple teams this week. Was All-Star in 2018. @MLBBruceLevine 1st linked Cubs/Scooter

— Jon Heyman (@JonHeyman) January 28, 2020