Rumors: Ray, Astros, Mets, Greene, Vazquez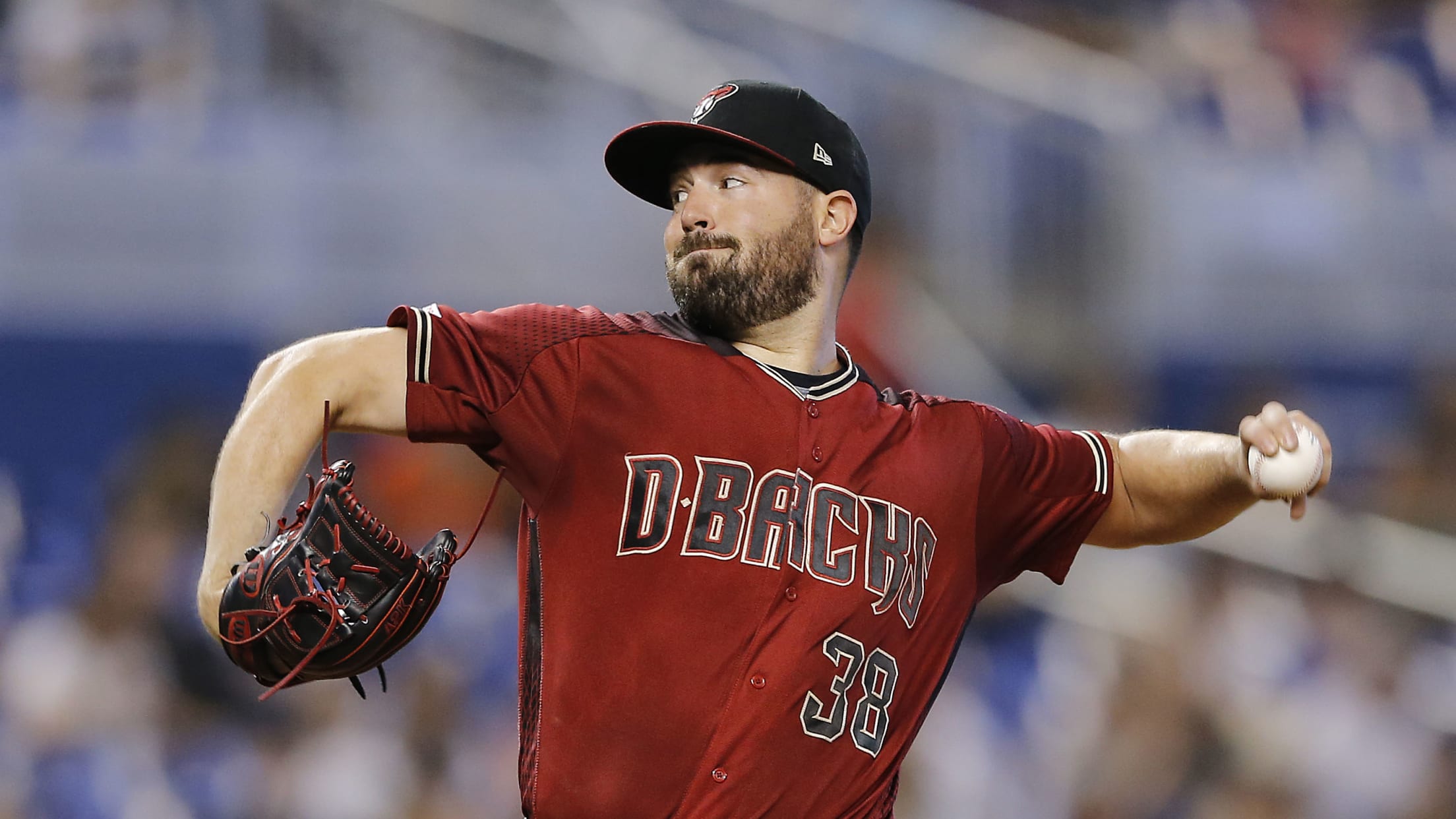 MLB.com is keeping track of all the latest free agent and trade rumors right here. • Watch MLB Network for around-the-clock Trade Deadline coverage
MLB.com is keeping track of all the latest free agent and trade rumors right here.
• Watch MLB Network for around-the-clock Trade Deadline coverage
Astros focusing talks on Ray, Wheeler
July 31: The Astros were connected to a number of starters in the past few days, including Zack Wheeler, Madison Bumgarner, Robbie Ray, Matthew Boyd and Trevor Bauer.
However, Bauer has been dealt to the Reds, and with the Trade Deadline fast approaching, it appears Houston's focus has narrowed.
According to MLB.com's Jon Paul Morosi, the Astros' conversations on Wednesday are mostly with the D-backs about Ray (under control through 2020) and the Mets about Wheeler, an impending free agent.
The Astros might prefer to add a controllable starter with Gerrit Cole, Wade Miley and Collin McHugh set to enter free agency this offseason, but the acquisition cost could play a big role in what they ultimately do before the Deadline.
Source: #Astros' conversations on adding a starter today focused mostly on Zack Wheeler and Robbie Ray. @Ken_Rosenthal reported yesterday that Houston was working to add Wheeler. @MLBNetwork @MLB

— Jon Morosi (@jonmorosi) July 31, 2019
The Astros aren't the only club in the mix for Ray, as MLB Network insider Joel Sherman reports the Yankees are also discussing him. The talks with New York, however, appear to be "dead," according to USA Today's Bob Nightengale.
Told #Yankes and #Astros are inquiring on Robbie Ray #Diamondbacks

— Joel Sherman (@Joelsherman1) July 31, 2019
Team officials say that trade talks between the #Yankees and #Dbacks for starter Robbie Ray are now dead.

— Bob Nightengale (@BNightengale) July 31, 2019
Latest on Thor, Wheeler
July 31: One of the biggest questions leading up to the Trade Deadline has been whether the Mets will move starters Zack Wheeler and Noah Syndergaard.
It appears at least one of them won't be going anywhere, as a source tells MLB.com's Anthony DiComo that Syndergaard won't be traded before the Deadline. Meanwhile, MLB Network insider Joel Sherman reports that the Mets are taking calls from at least nine teams on Wheeler, and the action around the right-hander is getting hot and heavy as the Deadline looms. More >
Latest on Greene's market
July 31: The asking price for Shane Greene was said to be "far more reasonable" than that of other closers on Wednesday morning, and it appears the Tigers right-hander has found a new home. More >
Will this contender pull the trigger on Vazquez?
July 31: Pirates closer Felipe Vazquez understandably is one of the most coveted relievers in baseball. After all, the left-hander is 28 years old, has been dominant again this season, is owed just $12.5 million in total over 2020-21 and has $10 million club options for both '22 and '23.
Up until this week, it has seemed like a long shot that Vazquez would be traded, but one source described his market as "hot" and predicted that the left-hander now has a 50-50 chance of being moved, according to MLB Network insider in an article for The Athletic on Wednesday. One team in particular has showed the most urgency to acquire Vazquez. More >
Report: Giants leaning toward keeping Bumgarner, Smith
July 31: The Giants have gotten back into the postseason picture with a surprising surge, going 20-7 in their past 27 contests to lower their deficit to 2 1/2 games in the race for the second NL Wild Card spot and put free-agent-to-be Madison Bumgarner's availability in question.
Although the club has been keeping its options open by having "sell" conversations, per MLB.com's Jon Paul Morosi, MLB Network insider Jon Heyman reports that San Francisco is now telling other teams that it is leaning toward keeping both Bumgarner and All-Star closer Will Smith. More >
Will Yankees get 'shut out' on trade market?
July 31: The Yankees seemingly have been connected at one point or another to every potentially available starter on the trade market. But after Marcus Stroman and Trevor Bauer were surprisingly dealt to the Mets and Reds, respectively -- lessening the supply but not the demand for pitchers among contending teams -- it's becoming increasingly possible that New York will come out of the Deadline without having added a big-name pitcher. More >
Reds unlikely to flip Bauer
July 31: With the Reds sitting 7 1/2 games back in the National League Central and 6 1/2 out in the NL Wild Card standings, there's been speculation that the club could look to flip Trevor Bauer on Wednesday after acquiring him from the Indians in Tuesday's three-team deal that also involved the Padres.
However, MLB.com's Mark Feinsand has heard that Cincinnati is unlikely to do so from a source with knowledge of the club's plans. More >
Heyman: Boyd 'very likely' staying put
July 30: Tigers lefty Matthew Boyd has been one of the more popular trade candidates in the weeks leading up to the Deadline, but he appears unlikely to be moved. MLB Network insider Jon Heyman reported Tuesday that Boyd is "very likely" staying in Detroit.
With Boyd still under team control through 2022, the Tigers are seeking a large return for the 28-year-old southpaw, who currently leads the AL with a 6.14 K/BB ratio. The Yankees' Gleyber Torres was one of their targets, but Heyman says that's unlikely to happen.
Are Yankees eyeing multiple arms from this potential seller?
July 30: The Yankees' ongoing search for pitching help remains, well, ongoing.
As they continue to cover all bases in their attempt to add arms before Wednesday's Trade Deadline, it seems they currently may be combing the desert -- and possibly looking to land not one, but two pitchers in one fell swoop. More >
Mancini drawing interest from Astros, Rays, Rangers
July 30: The Orioles did most of the heavy lifting last July to get their rebuild underway, trading Manny Machado, Zack Britton, Jonathan Schoop, Kevin Gausman, Brad Brach and Darren O'Day before the 2018 Trade Deadline, and they shipped Andrew Cashner to the Red Sox earlier this month.
While that leaves precious few trade chips on the Major League roster, several O's players could still be attractive to other teams. That includes first baseman/corner outfielder Trey Mancini, who has drawn interest from the Astros, Rays and Rangers, according to MLB.com's Jon Paul Morosi. Mancini does not seem to be a primary target for Houston, however, as Morosi notes that the club is focused on adding a starter.
Tampa Bay has been linked to a number of right-handed bats, including the Tigers' Nicholas Castellanos, the Rangers' Hunter Pence and the Brewers' Jesus Aguilar. Padres sluggers Franmil Reyes and Hunter Renfroe also could be fits, according to Marc Topkin of the Tampa Bay Times.
Texas, meanwhile, has faded since the All-Star break but is looking for controllable bats, according to Morosi. Mancini would make sense for the club as a replacement for Pence and could help balance a Rangers lineup that skews left-handed.
The 27-year-old is under control through 2022, which likely means it will require a notable package to get the Orioles to move him, however. It has been speculated that other teams won't be willing to meet Baltimore's asking price for the slugger, who's in the midst of his best season at the plate but has proven to be a poor defender.
Sources: Trey Mancini trade market includes interest from #Astros, #Rangers and #Rays, although Houston appears focused on adding a starting pitcher. Texas, while not a strong 2019 playoff contender, is looking for controllable bats. @MLB @MLBNetwork

— Jon Morosi (@jonmorosi) July 30, 2019
Pirates could move relievers
July 30: With the Pirates looking to sell at the Deadline, closer Felipe Vázquez and setup man Keone Kela could be on the move.
Vazquez is one of the biggest names to watch at the Deadline, given his elite performance and club-friendly contract. The Pirates would like to keep him, but he's not completely unavailable. MLB Network insider Ken Rosenthal reported on Tuesday that the Bucs were "listening more actively" when clubs asked about the 28-year-old left-hander, although a deal still appears to be "a longshot."
Trading Kela appears to be a more likely option. The Bucs and Brewers have talked about Kela, The Athletic reported on Tuesday, and other teams are interested in the 26-year-old right-hander as well. Given his stuff and additional year of arbitration eligibility, he is an attractive option to clubs in need of bullpen help. More >
Diaz drawing significant interest, though Red Sox likely out
July 30: The Red Sox were connected to Mets closer Edwin Diaz on Monday, but talks between the two clubs apparently didn't gain traction. According to MLB.com's Mark Feinsand, Boston is unlikely to trade for Diaz, the Tigers' Shane Greene or the Reds' Raisel Iglesias.
While the Sox are still looking to improve their bullpen, they are focused on lesser names, per Feinsand.
The market for Diaz remains hot, though, with the Dodgers, Rays, Braves and Padres among the other teams showing interest in him, according to MLB Network insider Ken Rosenthal. More >
Marlins hurlers drawing interest
July 30: While the Marlins have mentioned potentially trading some of their veterans, including Curtis Granderson, Starlin Castro and Martin Prado, they are also receiving interest in their controllable pitchers, specifically Caleb Smith and Nick Anderson. Miami has set high asking prices for both, however, making a deal less likely.
Smith, 28, isn't eligible for arbitration until 2021 and will not qualify for free agency until '24. The lefty starter has a 3.43 ERA, a 1.00 WHIP and an 11.0 K/9 rate in 17 starts this year.
Anderson, 29, could provide long-term bullpen help to a contender. The 29-year-old is eligible for arbitration in 2022, and isn't a free agent until '25. He has a 3.92 ERA and a 14.2 K/9 rate in 43 2/3 innings this year.
Giles dealing with elbow inflammation
July 30: Blue Jays closer Ken Giles has been one of the hottest names on the trade market over the past few weeks, but an injury could cause Toronto to wait until the offseason to move him.
On Tuesday, Giles (right elbow inflammation) visited Dr. Keith Meister in Dallas and received a cortisone shot after his latest MRI revealed no structural damage. It was his second MRI this season, as he also underwent one after diving for a ball in May and landing on his elbow, but the two instances are unrelated. Meister confirmed what the Blue Jays had found, and the injection will keep the hurler sidelined for at least a few more days, diminishing his chances of being moved at the Deadline. More >