Rumors: Marte, Mets, Lindor, Ozuna, Astros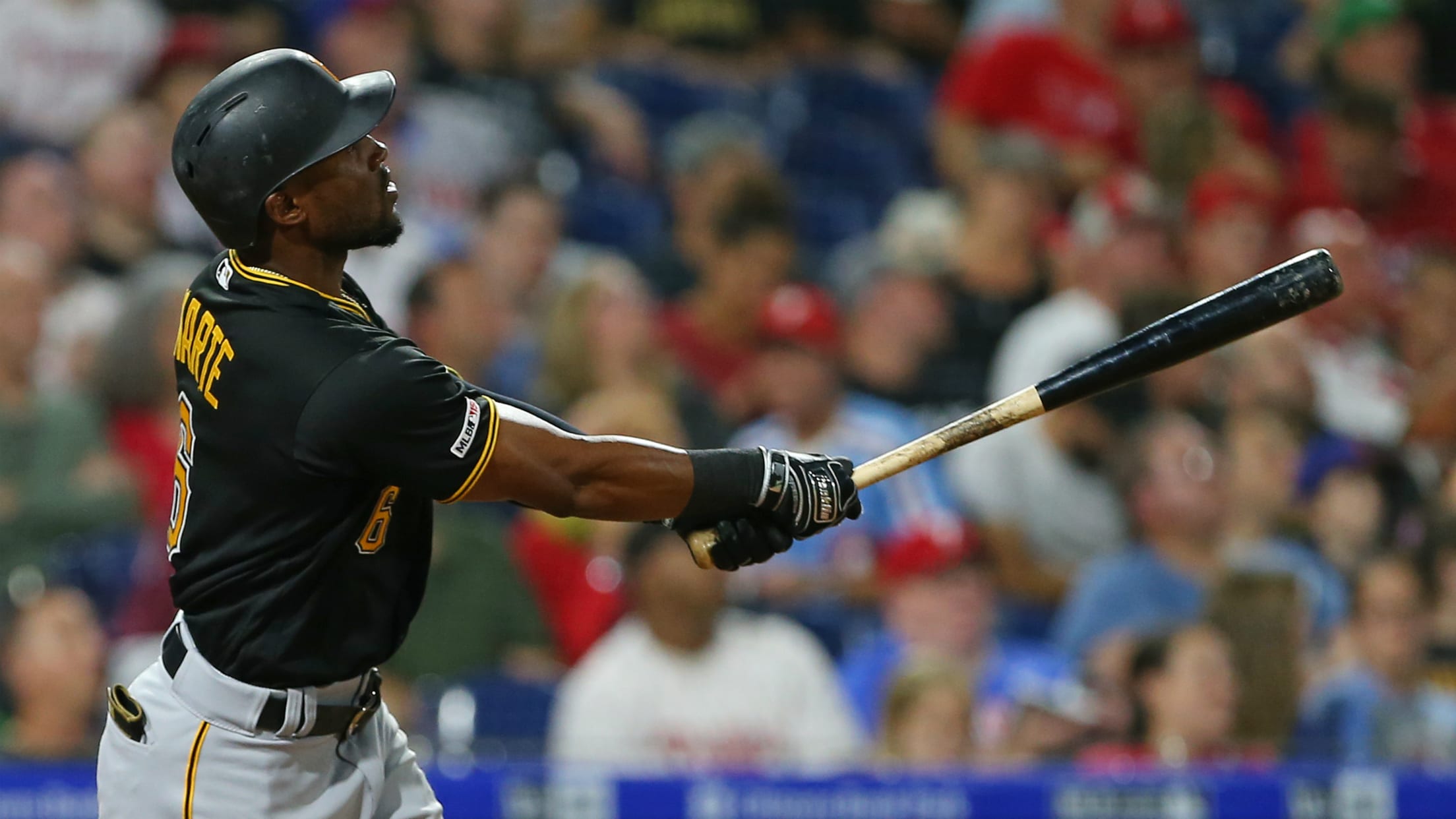 MLB.com is keeping track of all the latest free-agent and trade rumors right here.
MLB.com is keeping track of all the latest free-agent and trade rumors right here.
Mets and Pirates reopen trade talks about Marte
Jan. 18: Pirates center fielder Starling Marte has been on the trade block all offseason, and according to The Athletic's Robert Murray, the Mets have reengaged with Pittsburgh in trade talks for the 31-year-old, who is under team control via club option through the 2021 season.
The Mets recently acquired Jake Marisnick from the Astros, a strong defensive center fielder but not the level of hitter Marte is. Left-handed-hitting Brandon Nimmo is currently slated as the starter there, but could use a right-handed-hitting complement, which Marte would provide. Marte is also a strong defensive player, having won two Gold Glove Awards.
Marte had a strong year in 2019, though his season was limited to 132 games by injury. He hit .295/.342/.503 with 23 home runs and 25 steals. In eight Major League seasons, he owns a .287/.341/.452 batting line with 108 homers and 239 stolen bases.
#Mets and #Pirates recently reopened Starling Marte trade talks, sources said. A deal is not believed to be close at this time. #DBacks were among teams interested earlier this offseason.

— Robert Murray (@ByRobertMurray) January 19, 2020
Francona: Lindor 'not on the trading block'
Jan. 18: Indians manager Terry Francona told MLB Network Radio that the Tribe is no longer actively shopping superstar Francisco Lindor.
The Indians manager is very clear: "Lindor's not on the trading block."#Indians | @Indians pic.twitter.com/4MIvmcHTNe

— MLB Network Radio on SiriusXM (@MLBNetworkRadio) January 18, 2020
"I can guarantee you we're not trying to trade Lindor," said Francona. "We have him for two more years. Keeping him is everybody's goal.
"Also know that keeping him and fielding a competitive team is a challenge in our market," he continued. "There's no getting around that. It's not gonna be easy. I think that's as honest as you can be."
The momentum toward a Lindor trade has been slowing down for a while, but Francona's voice adds some weight to the idea that Cleveland will at least begin the 2020 season with its star shortstop in tow. The Indians still have a competitive roster that can compete in the American League Central, and they can still shop Lindor closer to the July Trade Deadline. The 26-year-old is set to hit free agency after the 2021 season.
Cardinals in no rush to sign Ozuna
Jan. 18: Marcell Ozuna has made it clear he'd welcome a return to St. Louis, and the Cardinals haven't made any major offensive additions to this point, leaving open the possibility of a reunion with the free-agent outfielder.
However, president of baseball operations John Mozeliak indicated Saturday that he's not feeling urgency to add a big piece. More >
Baker to interview with Astros; also on Mets' candidate list
Jan. 18: The Astros will interview longtime manager Dusty Baker on Monday, a source tells MLB.com's Jon Paul Morosi. Meanwhile, Baker's name has "gained steam" with members of the Mets' front office, the New York Post reports.
The Mets, though, had not yet reached out to Baker as of Saturday morning, according to MLB Network insider Jon Heyman. More >
Cubs expect to be active in coming months, GM says
Jan. 17: Although Cubs president of baseball operations Theo Epstein made it clear after the 2019 season ended that the club would be considering a wide range of options to shake up the roster, Chicago has had a quiet offseason to this point. But in an appearance on 670 The Score on Friday, general manager Jed Hoyer indicated that the Cubs expect to be more active in the coming months.
The conclusion of Kris Bryant's service-time grievance could be the spark that gets the ball rolling. If an arbitrator rules in the Cubs' favor, Bryant will remain under team control for two more years, perhaps allaying other teams' concerns and improving his trade value by removing the uncertainty.
"Usually, at this time of year, you're sort of wrapping up your offseason," Hoyer said. "For us, not that we haven't been doing a lot of different things behind the scenes, but as far as the kind of moves that fans notice or get excited about, we've been quiet on that front. I feel like our offseason isn't just ending right now, like it usually would be. It's kind of just beginning.
"We certainly will be active leading up to the season. I think it's fair to say this offseason for us has been pushed back a little bit, and we're just getting things started on some of the things that we want to do."
Hoyer admitted that the club is not going to be able to keep its core of Bryant, Javier Báez, Anthony Rizzo and Kyle Schwarber together for much longer. Like Bryant, the other three are under control for two more years.
"We had this young group that came through the farm system, that came up at the same time," Hoyer said. "We offered all of those guys extensions, we tried hard to really keep this group together for as long as we can. I think there are certain realities where we are not going to be able to keep this group together forever. It may be by them leaving through free agency, it may be by us trading some of them. We might be able to extend some of them.
"In all honesty, we passed the point of being able to extend all of those players. I think we had a moment in time where that might have been possible and we passed that."
Hoyer went on to note that the team is keeping one eye on the present and another on the future when building its roster.
"The reality is, we've kept this group together for a long time by baseball standards," Hoyer said. "We hope to continue to be able to keep it together, but when you look at it, a lot of these guys hit free agency after 2021. We have to think about not only this year's team, but we have to think about how we're going to field a really competitive team beyond that group's free agency after '21."
As for potential additions this offseason, MLB Network insider Jon Heyman reports that the Cubs have discussed free-agent center fielder Jacoby Ellsbury, who has missed the past two seasons due to injuries and was released by the Yankees in November. Ellsbury, who was a teammate of new Cubs manager David Ross on the 2013 Red Sox, could fill the club's need for a center fielder and a leadoff hitter, if healthy. More >
Reds eyeing Holt; bigger addition still possible?
Jan. 17: The Reds might not be done adding this offseason. In fact, president of baseball operations Dick Williams said he is "pretty sure" there will be more changes to the roster before Spring Training. What remains to be seen is just how big of a swing the club takes in the coming weeks.
After the Reds introduced outfielder Shogo Akiyama, general manager Nick Krall said the team would be "opportunistic" on the free-agent market the rest of the offseason, leaving the door open for Cincinnati to potentially sign Nicholas Castellanos or Marcell Ozuna. However, Castellanos and Ozuna could draw increased interest with Josh Donaldson now off the market, possibly taking both outfielders out of the Reds' price range.
As a result, the team could focus on smaller signings. Per the Cincinnati Enquirer's Bobby Nightengale, the Reds have shown interest in utility man Brock Holt, who made an appearance at every position besides pitcher, catcher and center field last season while recording an OPS+ north of 100 for the second straight year.
Latest on potential blockbusters for Arenado and Bryant
Jan. 16: With Josh Donaldson reportedly signing with the Twins, MLB.com's Jon Morosi writes that the teams that came up short in the Donaldson sweepstakes -- namely the Braves and Nationals -- could turn their attention to trying to work out a deal for Nolan Arenado or Kris Bryant.
Though rumors have been swirling around both players for much of the offseason, the chances for an Arenado deal certainly increased with Donaldson choosing to depart Atlanta to join the Twins. As it stands now, the Braves don't have a proven cleanup hitter -- and are poised to enter the season with a combination of Austin Riley and Johan Camargo at third base.
Couple those needs with the fact that the Braves have one of the better farm systems in Major League Baseball, and it wouldn't be at all surprising if Atlanta ramps up trade discussions with the Rockies and/or Cubs in the coming days.
"You can be sure that the Cubs are going to be on the phone with any team that missed out on Donaldson post-haste," MLB.com's Will Leitch speculated in a piece that breaks down the five teams most impacted by Donaldson's decision. "The Braves seem sure to be on that list, and potentially an ideal partner, considering the depth of their farm system."
As for the Nationals, they would seemingly be more likely to pursue a deal for Bryant than Arenado given their current payroll structure, but a number of questions complicate any potential deal involving Bryant. The biggest issue is the fact that an arbitrator has yet to rule on whether Bryant will become a free agent after 2020 or '21 -- obviously a significant factor in determining his value on the trade market.
Aside from the two NL East foes left looking for help at the hot corner, the Cardinals and Rangers have also shown active interest in Arenado over the past several days, though Morosi says neither team was close to trading for him as of Tuesday evening.
In an exercise to gauge potential packages for Arenado from the Braves, Cardinals and Rangers, MLB.com writers Mark Bowman, Anne Rogers and T.R. Sullivan combined to propose offers, with colleague Mike Petriello weighing in on which was most enticing.
With Beltrán out, who could Mets turn to as manager?
Jan. 16: Hired in November, Carlos Beltrán is out as Mets manager before he ever even got to sit in the dugout for a game. The Mets and Beltrán mutually agreed to part ways Thursday in the wake of Beltrán being named and implicated on Monday for his role as a player in the Astros' sign-stealing scandal.
So who might the Mets and GM Brodie Van Wagenen turn to as they search for a new skipper for the second time this offseason? More >
Bloom intends to start Red Sox's skipper search immediately
Jan. 15: The Red Sox parted ways with manager Alex Cora on Tuesday, one day after he was implicated as a key part of the sign-stealing scandal while he was bench coach of the 2017 Astros.
Replacing Cora, who went on to guide the Red Sox to a franchise-record 108 regular-season games and the World Series title in 2018, will not be easy, in part because Boston is still being investigated by Major League Baseball for its own alleged scheme to illegally steal signs in 2018. As such, the Red Sox obviously have to be careful to avoid furthering this controversy by turning to any members of the coaching staff on that year's team who may come under fire.
That said, new chief baseball officer Chaim Bloom said he will begin the managerial search immediately with the hope of completing the process as soon as possible in order to help the club have as normal a Spring Training as possible under the circumstances. More >
Braves and Rangers both in on Castellanos?
Jan. 15: Having watched Josh Donaldson -- their third baseman in 2019 -- take a four-year offer from the Twins, what's next for the Braves? And how can they hope to replace Donaldson's big bat in the lineup?
The two biggest free agents left on the board are Nicholas Castellanos and Marcell Ozuna. While they're both outfielders -- not necessarily an area of need like the hot corner is for Atlanta -- they do provide production that would bolster the offense.
Are the Braves interested? It appears so, as they "do like" Ozuna, and have "at least touched base" with Castellanos, according to MLB Network insider Jon Heyman, who suggested that Ozuna seems like the more likely fit.
Braves do like Marcell Ozuna. It's believed they at least touched base with Castellanos too, but Ozuna seems more likely. They need middle of order bar to replace Donaldson. Might be easier to go the free agent OF route than fashion blockbuster for superstar 3B Arenado or Bryant.

— Jon Heyman (@JonHeyman) January 15, 2020
The Rangers also have been linked to Castellanos of late, and if they choose to add another bat after bringing in third baseman Todd Frazier and catcher Robinson Chirinos, "it seems that Castellanos is their target," according to MLB.com's T.R. Sullivan.
If the Rangers add another big bat.... it seems that Nicholas Castellanos is their target..... Arenado trade seems unlikely....Marcel Ozuna doesn't appear to be high on their list..... Still seems that Castellanos could happen before this is all over....

— TR Sullivan (@Sullivan_Ranger) January 15, 2020
If Atlanta does add either Castellanos or Ozuna, the club suddenly would have a glut of outfielders, as Ender Inciarte currently is in line to start in center field with Ronald Acuña Jr. and Nick Markakis in the corners. More >
Dodgers miss out on Donaldson, too. What now?
Jan. 15: The Dodgers have been linked to or expressed interest in just about every available big name this offseason with regard to both free agents and trade chips. They have brought in exactly zero of them.
Not Gerrit Cole, Anthony Rendon, Stephen Strasburg or Josh Donaldson, the most recent free agent to find a new home, as he agreed to a four-year deal with the Twins on Tuesday, according to MLB.com's Mark Feinsand.
Not Nolan Arenado of the Rockies, Kris Bryant of the Cubs, Francisco Lindor of the Indians or Mookie Betts of the Red Sox, a quartet of massive superstars that remain stalwarts of trade speculation.
"The Dodgers' inability (or lack of desire, take your pick) to bring in a big, outside free agent is becoming one of the more intriguing subplots in the sport," MLB.com's Will Leitch wrote in highlighting the five teams most impacted by Donaldson's decision, "and one that's going to continue to fester until they nail one down or, you know, win the World Series. Does this make them more likely to push for a Mookie Betts trade? Or a Bryant one? Or do they let ride for another season?
So ... what now? More >
Why a Betts trade before the season now appears unlikely
Jan. 15: At various times this offseason, Mookie Betts has been a hot topic as a trade candidate on the rumor mill. It seemed surprising because he's a former MVP, smack in the middle of his prime, one of the best all-around players in the sport and still under control through the 2020 season -- one in which the Red Sox hope to contend.
The main case for Boston potentially considering dangling Betts -- as well as others, like lefty David Price and center fielder Jackie Bradley Jr. -- came down to the club's desire to lower payroll and get a quality return package for Betts before the 27-year-old right fielder hits the open market next offseason.
"The Red Sox checked out the market for Mookie Betts, David Price and Jackie Bradley Jr.," MLB.com's Richard Justice wrote in discussing six league-wide questions that need to be answered before Spring Training, "but they haven't gotten an offer that would compel them to make a move."
What's more, chief baseball officer Chaim Bloom indicated Wednesday -- in the wake of the club's decision to part ways with manager Alex Cora on Tuesday after he was implicated in the Astros' illegal sign-stealing scandal from 2017 -- that it's increasingly likely Betts will remain with the Red Sox, at least through Opening Day: "That's really been my expectation all along." More >
Morosi: Cards have begun exchanging names with Rox in Arenado talks
Jan. 14: Of the big three superstars who have dominated trade rumors this offseason -- Nolan Arenado, Mookie Betts and Francisco Lindor -- Arenado now appears the likeliest to be dealt.
That's what multiple sources told MLB.com's Jon Paul Morosi regarding the Rockies third baseman on Monday. Morosi followed up Tuesday by reporting that the Cardinals, in particular, are bidding for Arenado and at least have begun exchanging names in trade discussions with Colorado, according to a source.
"While it's too early to tell if there is momentum toward a deal," Morosi wrote, "the source said negotiations have advanced beyond a preliminary stage."
A Nolan Arenado trade is more likely now than a Mookie Betts or Francisco Lindor trade, multiple @MLB sources have told me in the last 48 hours. @MLBNetwork

— Jon Morosi (@jonmorosi) January 13, 2020
Source: #STLCards, #Rockies have exchanged names in Nolan Arenado trade negotiations. Story: https://t.co/BBXP3YHtDT @MLBNetwork @MLB

— Jon Morosi (@jonmorosi) January 14, 2020
ESPN's Jeff Passan also weighed in Tuesday, reporting via sources that while the Rockies and Cardinals are talking, the discussions "haven't gone anywhere" and the exchange of names "has not been productive."
Quick Nolan Arenado update in yes-and-no form, per sources:

- Yes, the Rockies and Cardinals are talking.
- No, the talks haven't gone anywhere.
- No, the exchange of names has not been productive.
- Yes, it's still considered a long shot that Arenado is dealt in the short-term.

— Jeff Passan (@JeffPassan) January 14, 2020
The Cardinals have emerged as a viable suitor, especially since their trade last week with the Rays for pitching prospect Matthew Liberatore, who currently checks in as the club's No. 3 prospect and could be a piece in a potential Arenado deal. Indeed, the 20-year-old lefty is one of four prospects the Rockies could be interested in, per Morosi, along with outfielder Dylan Carlson (St. Louis' No. 1 prospect), third baseman Nolan Gorman (No. 2) and catcher Andrew Knizner (No. 4).
The Rockies also would be seeking a controllable Major Leaguer in return, and Morosi mentioned the Rockies have expressed interest in right-hander Dakota Hudson, a 25-year-old who posted a 3.35 ERA over 174 and 2/3 innings -- but also a 1.40 WHIP, because of an elevated 4.4 BB/9 rate.
In exploring the pros and cons of a potential Arenado trade from the Cardinals' perspective, MLB.com's Anne Rogers wrote: "The biggest need for the Cardinals this offseason is offense, and so far, they've traded away three outfielders (Adolis García, José Martínez and Randy Arozarena) without adding any offense for 2020. Stating the obvious, it would be nice to have an everyday third baseman who can hit 40 home runs."
Meanwhile, the Rangers also have been linked to Arenado recently, and their one-year deal with Todd Frazier as a stopgap at the hot corner won't stop them from pursuing Arenado. Frazier also could shift to first base to accommodate Arenado, in theory.
As far as Lindor and Betts go, the Dodgers have been in play for both the Indians shortstop and the Red Sox right fielder, among other teams linked to one or the other. But right now, the focus on a possible blockbuster trade of a superstar has shifted toward Arenado.
"The Cardinals do have the right mix of pieces, I believe, to potentially entice the Rockies to make this deal."@jonmorosi breaks down the latest in the Nolan Arenado sweepstakes on #MLBNHotStove. pic.twitter.com/TJa2hGHuqP

— MLB Network (@MLBNetwork) January 14, 2020
Could Bryant end up in the desert?
Jan. 14: With Kris Bryant trade rumors continuing to surface on occasion as the Cubs seek ways to adjust their roster, here's a new one.
The Diamondbacks have explored the possibility of dealing for Bryant, according to 98.7 FM's John Gambadoro. That move, Gambadoro noted, could allow the team to move incumbent third baseman Eduardo Escobar to second base, where he does have some experience in the Major Leagues, including 33 games in 2019.
That likely would mean Ketel Marte, who enjoyed a breakout campaign, sticks in center field after jockeying primarily between there and second base last season. The D-backs also have Jake Lamb to handle the hot corner, but he was limited to just 78 games in a second straight injury plagued season -- and split his time last year between the two corners, when he was healthy.
Bryant would be a better option for Arizona than Jackie Bradley Jr. of the Red Sox or Starling Marte of the Pirates, as Gambadoro suggested. The D-backs have been linked to both players this offseason as they aim to figure out a plan for center field in the event they shift Marte back to the keystone.
While news of this Bryant-to-the-desert possibility seems preliminary at this point, it's worth noting that the D-backs' farm system is on the upswing and has added a number of pieces via trades (like Zack Greinke to the Astros) and the Draft, including seven of the first 75 picks last year. Put another way: They have the young talent -- in both quality and quantity -- to possibly entice the Cubs.
Who's a better fit for Rangers: Castellanos or Ozuna?
Jan. 14: Marcell Ozuna and Nicholas Castellanos are the most likely candidates to fill the Rangers' need for another right-handed bat, according to MLB.com's T.R. Sullivan.
While both players have a similar profile, Castellanos could be the preferred choice for Texas because he doesn't have any Draft compensation attached to him, as Sullivan wrote.
The Rangers, in fact, are among the favorites for Castellanos, a source told MLB.com's Jon Paul Morosi, who added that the club's pursuit of the outfielder is "active."
#Rangers' pursuit of free agent Nicholas Castellanos remains active as of today, source says. They are among the favorites to land him. @MLBNetwork @MLB

— Jon Morosi (@jonmorosi) January 14, 2020
Ozuna, on the other hand, declined a qualifying offer from the Cardinals, and as a result, other teams need to surrender one or more Draft picks to sign him. Castellanos was ineligible for a QO after being traded during the 2019 campaign. More >
What Frazier's deal with Rangers means for Arenado, Donaldson
Jan. 12: The Rangers are in agreement with veteran slugger Todd Frazier on a one-year, $5 million deal with a club option for 2021, pending a physical, according to MLB.com's Mark Feinsand.
The 34-year-old could fill a big hole at the hot corner for Texas, who missed out on free agent Anthony Rendon, the club's top target at the outset of the offseason. It also could have ramifications on the third-base market, including Rockies star Nolan Arenado and free agent Josh Donaldson.
The Rangers will "continue their efforts" to trade for Arenado, sources told MLB.com's Jon Paul Morosi. The Frazier signing, then, would seem to give Texas -- who is not necessarily viewed as the favorite to land Arenado as of now, per Morosi -- protection in case those discussions fizzle out.
Sources: #Rangers will continue their efforts to acquire 3B Nolan Arenado via trade from #Rockies even after agreeing to a free-agent contract with Todd Frazier. Frazier could play 1B in the event Texas lands Arenado. @MLB @MLBNetwork

— Jon Morosi (@jonmorosi) January 12, 2020
The #Rangers are not viewed as favorites to acquire Nolan Arenado from the #Rockies at this point, sources say. However, Rangers C/1B prospect Sam Huff is one name that could intrigue Colorado in Arenado talks. @MLB @MLBNetwork

— Jon Morosi (@jonmorosi) January 12, 2020
Removing Frazier from the open market also takes away one more alternative for the three frontrunners to sign Donaldson -- the Braves, Nationals and Twins -- and teams hoping to pry Arenado away from the Rockies.
Pablo Sandoval, 33, is now the most prominent free-agent third baseman left after Donaldson, with Frazier off the board. Sunday's news could spur action in both the Donaldson and Arenado sweepstakes.
Cards emerging in Arenado talks
Jan. 12: As trade rumors surrounding Rockies superstar third baseman Nolan Arenado continue to swirl, sources have told MLB.com's Jon Paul Morosi that the Cardinals have emerged as a viable suitor, and that St. Louis and Colorado have had "preliminary" trade talks. Morosi adds that the Cards are looking to add one star-level player prior to Spring Training, and Arenado is an attractive target if they don't re-sign Marcell Ozuna.
There are hurdles to overcome in any Arenado deal, particularly the opt-out clause in his contract that kicks in following the 2021 season. That would likely have to be restructured if St. Louis is willing to part with a handful of top prospects and/or young Major League talent.
One name that may have come up is Dakota Hudson, who had a strong season for the Cardinals last year, though there were some troubling trends, particularly the walk rate (a big red flag if considering him for Coors Field). Prospects that may peak Colorado's interest include highly-regarded pitcher Matthew Liberatore -- whom the Cards recently acquired in a trade with the Rays -- and St. Louis' No. 2 prospect, third baseman Nolan Gorman. More >
Is Betts baseball's best right fielder?
Jan. 11: The biggest question surrounding Mookie Betts all offseason is whether the Red Sox will trade him. But there's another interesting discussion to have around the Red Sox star and 2018 AL MVP: Is the 27-year-old the best at what is a very stacked position in right field?
Betts does, in fact, rank as baseball's top right fielder, according to the list compiled by ESPN's Buster Olney (subscription required). He hit .295/.391/.524 with 29 homers, 80 RBIs, 16 steals and an MLB-best 135 runs to go with his fourth straight Gold Glove -- and that was considered something of a step back from his award-winning effort the previous year.
The other names in the mix? Oh, just some guys you might have heard of. More >
How Cards could play smart hand with Ozuna vs. Castellanos
Jan. 11: Nicholas Castellanos and Marcell Ozuna have been lumped together as comparable free-agent corner outfielders with big bats for much of the offseason. As such, a lot of the same teams have been linked to both players, but there's one club in need of outfield help that could make a savvy decision in its pursuit of these two.
The Cardinals, who would appear to need to add an outfielder in the wake of sending José Martínez and Randy Arozarena to the Rays for pitching prospect Matthew Liberatore earlier in the week.
While there have been reports that the Cards could look to bring back Ozuna, who has indicated that a return to St. Louis is his preference, there's also a strong case for the team to go after Castellanos instead. More >
What arbitration deadline means for Realmuto's future
Jan. 11: All-Star catcher J.T. Realmuto would set the record for highest salary for an arbitration-eligible catcher whether he wins his case ($12.4 million request), loses ($10 million submission by the team) or settles with the Phillies somewhere in between.
For context, Mike Napoli currently holds the top mark, agreeing on $9.4 million with the Rangers in 2012, his fourth go-round in arbitration as a Super Two eligible player.
South Florida radio host Craig Mish tweeted that the 28-year-old isn't just fighting for his own salary, but rather to try to raise the standard for how backstops are paid.
The Phillies & Realmuto will work it out but this isn't just a battle for him. This is also JT fighting for all Catchers in MLB. One of the most important yet underappreciated positions in all of sports. Involved in every single play on the field. New standards need to be set.

— Craig Mish (@CraigMish) January 11, 2020
Realmuto has led all catchers in WAR each of the past two seasons (4.3 in 2018, 4.4 in '19), so he certainly is deserving of raising the standard. Of course, there is one way he won't set it: a potential long-term extension with the Phillies, which has been rumored and would bring a massive payday for one of baseball's stars.
Is an Arenado trade now inevitable? Are Cards making a move?
Jan. 9: There are multiple reasons why a Nolan Arenado trade is complicated. To move their best player, the Rockies need a return that's good enough to appease their fan base. However, other teams may be hesitant to part with top prospects for a player who has the ability to opt out of his deal after the 2021 campaign but will be locked in for $164 million guaranteed from '22-26 if he decides to play out his contract. Arenado also has a full no-trade clause, giving him the power to veto any move.
And yet, an Arenado trade is starting to seem "inevitable," writes MLB Network insider Ken Rosenthal in an article for The Athletic (subscription required). Rosenthal wonders if the relationship between the Rockies and Arenado has become fractured.
Per Rosenthal, the Cardinals are among the teams with interest in the 28-year-old. ESPN's Jeff Passan reported Tuesday that Colorado is intrigued by St. Louis as a trade partner.
The Cards have just three players signed beyond 2021, giving them the financial flexibility to take on most or all of the seven years and $234 million remaining on Arenado's contract. They also have a combination of Major League-ready youngsters and prospects that could interest the Rockies.
That list of prospects has reportedly grown, with St. Louis acquiring Matthew Liberatore, a left-handed pitcher selected 16th overall in the 2018 Draft, in a deal with the Rays in exchange for outfielders Randy Arozarena and José Martínez. That has led to speculation that perhaps the Cards are clearing some room on the Major League roster for a big splash such as Arenado. Colorado would certainly be looking for top pitching prospects as part of a return for its superstar third baseman.
Marcell Ozuna remains a potential option for St. Louis as well. According to a report from Neftalí Ruiz of Dominican news network CDN 37, the free-agent outfielder indicated that two teams -- the Cards and Rangers -- are leading the race to sign him, and if given the choice, Ozuna's first option would be to return to the Cardinals. The Cards' move on Thursday could also open up room to re-sign Ozuna. Incidentally, Texas also has been connected to Arenado.
Market for Bryant, Contreras hasn't been what Cubs had hoped
Jan. 9: When the offseason began, Cubs president of baseball operations Theo Epstein made it clear he was looking to shake up the roster and would consider trade offers for everyone, including core players such as Kris Bryant.
However, the market for Bryant and catcher Willson Contreras hasn't been what the team had hoped, according to Patrick Mooney and Sahadev Sharma of The Athletic (subscription required). As a result, Chicago's personnel hasn't changed much at all from the end of the 2019 season.
NBC Sports' David Kaplan reported earlier this week that some people around baseball think Chicago's asking price for both players has been too steep. Mooney and Sharma have heard similar from their sources.
Perhaps the level of interest in Bryant will increase once his service-time grievance against the Cubs is settled. If an arbitrator rules in his favor, Bryant will be eligible for free agency next offseason instead of in two years. A ruling is expected to come within the next couple of weeks.
The Cubs may also have more suitors for Bryant once free agent Josh Donaldson is off the market. But Chicago's asking price doesn't seem likely to change.
"Epstein and general manager Jed Hoyer have never been so hell-bent on changing the roster that they would settle for anything less than a massive haul for Bryant or Contreras," Mooney and Sharma write.
As a result, it's looking more probable now than it did in November that both Bryant and Contreras will be with the Cubs on Opening Day.
Phillies a potential fit for Pillar?
Jan. 9: Although the Phillies' heavy lifting appears to be done this offseason, the club is still filling out the roster for the 2020 campaign. Among Philadelphia's remaining needs? A right-handed complement to Adam Haseley in center field, according to MLB.com's Jon Paul Morosi.
On the free-agent market, Kevin Pillar stands out as a player who could fill that role. Pillar is a well regarded defender -- though some of his metrics have slipped in recent years -- and he owns a lifetime .281/.313/.453 slash line against lefties. Entering his final year of arbitration eligibility, the 31-year-old was non-tendered by the Giants in November. He earned $5.8 million in 2019.
Juan Lagares is another free agent who could fit what the Phillies are looking for, but he's coming off a career-low 63 OPS+ -- this after playing only 203 games combined from 2016-18.
Sources: #Phillies continue looking for right-handed complement to Adam Haseley in center field. An addition from outside the organization is possible, due to 26-man roster limit and fact that Odubel Herrera does not enter camp with a guaranteed roster spot. @MLBNetwork @MLB

— Jon Morosi (@jonmorosi) January 9, 2020
Antonetti still expects Lindor to be with Tribe on Opening Day
Jan. 8: Rumors have swirled around Indians shortstop Francisco Lindor throughout the offseason, but president of baseball operations Chris Antonetti has said on multiple occasions that he expects the 26-year-old shortstop to be with the team on Opening Day. Antonetti reiterated that stance on Wednesday.
"I have never had a different expectation other than Francisco will be our shortstop Opening Day," Antonetti said. "That was my expectation as the season ended. That's still my expectation as I'm sitting here today."
Lindor has two seasons of team control remaining, so the Tribe can afford to wait on a trade if it doesn't like the offers it is getting. That said, his trade value will drop as he gets closer to free agency.
Since he debuted in 2015, Lindor has been one of the Majors' top players, producing 27.2 FanGraphs Wins Above Replacement. The shortstop is a two-time Gold Glove Award winner and has topped the 30-homer mark in each of the past three seasons.
The Indians traded another one of their long-time stars earlier this offseason, sending right-hander Corey Kluber to the Rangers in a trade that brought back outfielder Delino DeShields and reliever Emmanuel Clase. However, they could remain in contention in 2020, especially if they retain Lindor.
Chris Antonetti: "I have never had a different expectation other than Francisco [Lindor] will be our shortstop Opening Day. That was my expectation as the season ended. That's still my expectation as I'm sitting here today."

— Mandy Bell (@MandyBell02) January 8, 2020
"We can't control the rumors," manager Terry Francona said Wednesday in a segment with MLB Network Radio on SiriusXM. "I would say from this winter, 99.9 percent were false." Francona added that the club's front office has made it clear about the Indians "wanting to keep Frankie as long as we can."
Terry Francona: Don't believe the Francisco Lindor trade buzz. #Indians pic.twitter.com/kwxbWJkNRF

— MLB Network Radio on SiriusXM (@MLBNetworkRadio) January 8, 2020
Ozuna indicates his preferred destination
Jan. 8: After spending the past two seasons with the Cardinals, could Marcell Ozuna wind up staying in St. Louis?
The free-agent outfielder indicated that two teams -- the Cards and Rangers -- are leading the race to sign him. If given the choice, Ozuna just might have a preferred destination, according to a report from Neftalí Ruiz of Dominican news network CDN 37. More >
An extension for Realmuto may have to wait
Jan. 8: The Phillies and J.T. Realmuto have until Friday at noon ET to exchange arbitration figures, but the question looming is whether Philadelphia will sign its star catcher to an extension. As MLB.com's Paul Casella writes, that might have to wait a few months so that the club doesn't exceed the luxury tax threshold for 2020.
"The Phillies could accomplish both of their goals -- staying under the tax and securing Realmuto for the future -- by settling on a one-year deal in the $10 million to $11 million range, then working out a multi-year extension in Spring Training," writes Casella. "Making that scenario all the more plausible is the fact that the Phillies will have nearly $50 million coming off the books after 2020 just with the contracts of Jake Arrieta, David Robertson and Didi Gregorius." More >
D-backs bringing in Rondón for bullpen help
Jan. 8: The D-backs are working to add another arm to their pitching staff in the form of veteran reliever Héctor Rondón. The two sides have agreed to a one-year deal with a club option for 2021, pending a physical, sources told Nick Piecoro of the Arizona Republic. MLB.com's Jesse Sanchez has confirmed the report.
Rondón, who turns 32 next month and has experience as both a closer and a setup reliever in his seven-year career, would provide late-inning help to Arizona's bullpen. Outside of incumbent stopper Archie Bradley, the D-backs' relief corps was an area of need this winter, with the club's other top late-inning options being fellow right-handers Yoan López and Junior Guerra (another free-agent addition this offseason) and lefty Andrew Chafin.
Rondón is coming off a solid 2019 in which he posted a 3.71 ERA and 1.25 WHIP over 60 2/3 innings for the Astros.
What does the future hold for Puig?
Jan. 8: There's been surprisingly little on the rumors front when it comes to Yasiel Puig.
Part of that is the focus to this point has been on other, bigger-name corner outfielders on the open market, like Nicholas Castellanos and Marcell Ozuna. Another part of it, however, is that Puig's performance dipped in 2019, as he slashed .267/.327/.458 for an OPS+ at a league average of 100.
For context, his OPS+ marks in 2017 and 2018 were 119 and 120, respectively, meaning he was about 20 percent better than league average over that stretch.
So is last year's downturn a sign of things to come for Puig, or can the 29-year-old get back on track? More >
Why Reds may be out on Castellanos now
Jan. 8: It's been reported throughout the offseason that the Reds have expressed interest in free agent Nicholas Castellanos, but could that be changing?
To clarify: It's not necessarily that Cincinnati no longer is interested in Castellanos. Rather, it's a matter of whether the 27-year-old could fit into the club's outfield, which now looks rather full at all three spots. More >
Here's how Rangers could land both Arenado and Castellanos
Jan. 8: After addressing their rotation with a number of moves earlier this offseason but falling short on free-agent third baseman Anthony Rendon, the Rangers remain focused on adding at least one right-handed slugger.
MLB.com's Jon Paul Morosi reported Monday that Texas recently met with free agent Nicholas Castellanos and is among the frontrunners to sign him. But landing Castellanos wouldn't necessarily take the club out of the running for Rockies third baseman Nolan Arenado, according to Evan Grant of the Dallas Morning News. Per Grant, a trade for Arenado remains a long shot for the Rangers, but the club isn't withdrawing from its pursuit.
While Texas also has talked to free-agent third baseman Todd Frazier recently, it's possible the team could sign Castellanos and Frazier and still trade for Arenado, Grant writes.
In that case, Frazier would play first base and Castellanos would slot in at one of the corner-outfield spots, making the Rangers more amenable to including Willie Calhoun in a package for Arenado and fulfilling the Rockies' reported desire to get back at least one Major League-ready piece in exchange for the 28-year-old.
But will Colorado part with their best player, one whom it gave a $260 million contract just last offseason? According to MLB.com's Thomas Harding, while there are reasons for and against an Arenado trade, it's likely not going to happen. At least not yet.
"The Rockies have had two recent postseason berths, have a young core of position players and pitchers, and have veterans who have had their struggles but also have successful track records," Harding writes. "It's risky to enter with a largely unchanged roster, but it's a roster that has won. And the Rockies expect to win between now and the end of 2021, when Arenado's opt-out would give him the decision." More >