Rumors: Rendon, Thor, Dodgers, Indians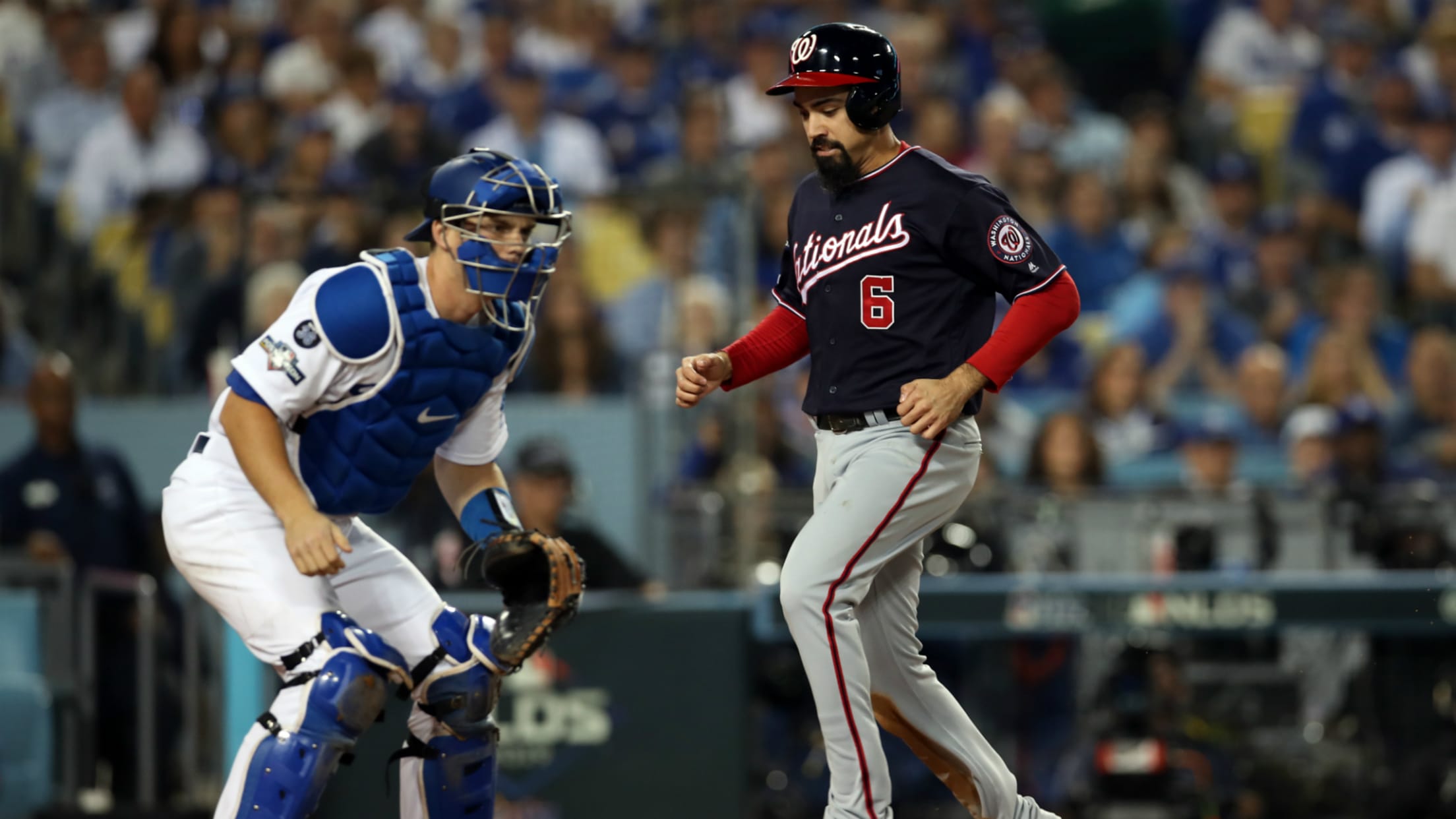 MLB.com is keeping track of all the latest free agent and trade rumors right here.
MLB.com is keeping track of all the latest free agent and trade rumors right here.
Rendon on Dodgers' radar, Turner willing to move off 3B
Nov. 14: The Dodgers, whose streak without a World Series title reached a 31st consecutive year when they were stunned by the Nationals in the National League Division Series, have one of the players who helped beat them in that series on their radar this offseason. According to MLB Network insider Jon Heyman, Los Angeles has interest in free-agent third baseman Anthony Rendon, and current third baseman Justin Turner would be willing to move to another position if necessary.
Rendon, 29, had the best season of his career in 2019, slashing .319/.412/.598 with a league-best 44 doubles and an MLB-best 126 RBIs to go along with a career-high 34 homers. He also hit .276 with three doubles and two homers in the postseason to help Washington win the first World Series title in franchise history.
Dodgers have Anthony Rendon on their radar. Earlier they'd been connected to Josh Donaldson. Justin Turner has generously offered to change positions if necessary.

— Jon Heyman (@JonHeyman) November 14, 2019
Van Wagenen: Syndergaard no longer for sale
Nov. 14: Noah Syndergaard's name has been tied to trade rumors off and on for the better part of the past year, if not longer. As a frontline-caliber starting pitcher with elite velocity, nasty stuff and two more years of club control -- all at the age of 27 -- it's easy to see why other teams have continued to check in with New York about his availability.
Well, Mets GM Brodie Van Wagenen has rebuffed Syndergaard suitors to this point, and he's making it pretty clear that the right-hander is more or less off limits, indicating that Syndergaard is no longer for sale, according to MLB.com's Anthony DiComo. More >
Ranking the top suitors for Cole
Nov. 14: Gerrit Cole would make every team better -- a lot better. Only one club can land the superstar right-hander, though, which is why Will Leitch introduced MLB.com's Gerrit Cole Suitor Power Rankings, breaking down the top five squads leading the chase for the 29-year-old.
At the tippy top? The Dodgers, who "have spent the last few years being smart and prudent and efficient with their spending, bringing in strategically selected free agents, promoting top prospects and re-signing their old players," as Leitch wrote. "They haven't made that massive free-agent splash. But it's one thing to lose two straight World Series. It's another thing to fall out in the National League Division Series."
Find out the exact order of the other four squads chasing Cole -- and a few other teams that could enter the fray -- right here.
Antonetti expects Lindor to be Opening Day SS in 2020
Nov. 14: Francisco Lindor trade speculation has been brewing this offseason, and MLB Network insider Jon Heyman reports that the Indians already are receiving plenty of calls about the superstar shortstop.
However, Cleveland president of baseball operations Chris Antonetti said Tuesday that he expects Lindor to be the team's Opening Day shortstop in 2020.
Lindor is two seasons away from free agency, so there isn't much urgency for the Indians to get a deal done this offseason. But there are a handful of reasons why it makes sense to make the move now, as Anthony Castrovince wrote, and MLB.com colleague Mandy Bell also explored four potential landing spots if Cleveland winds up dealing Lindor.
In other Indians-related chatter, Heyman also reports that there are no "untouchables" when it comes to Cleveland's starting rotation. He tweeted that the Tribe has been getting calls on young starters including Shane Bieber, Zach Plesac and Aaron Civale. He adds that it would take quite a haul to part with such arms, but the Indians are listening nonetheless.
#Indians GM Mike Chernoff on the possibility of a contract extension for Francisco Lindor:

P.S. 🥳 Happy Birthday, Frankie 🥳 pic.twitter.com/8Z9jE46n8M

— MLB Network Radio on SiriusXM (@MLBNetworkRadio) November 14, 2019
If Yankees don't get Cole, they could target ...
Nov. 14: By all accounts, the Yankees are seeking starting pitching this offseason, and it just so happens that Gerrit Cole -- arguably the top starter in the sport and the one who twice got away from GM Brian Cashman -- is a free agent. If the Yankees want to pony up the big bucks for Cole, they could go that route, finally land him and more or less solve their rotation issues in one fell swoop.
But what if that doesn't happen? What if Cashman and Co. really are focused on payroll (and staying under the Competitive Balance Tax), an approach that has become more of a priority for the Yankees in recent years?
MLB Network insider Joel Sherman took a look in a column for the New York Post at some more cost-efficient arms the Yankees might consider. More >
Moose could be answer to Phils' third-base conundrum
Nov. 13: Maikel Franco had another disappointing season in 2019, and prospect Alec Bohm is still developing in the Minors. So what do the Phillies do about third base? Perhaps free-agent slugger Mike Moustakas? According to NBC Sports Philadelphia's Jim Salisbury, Moose is "very much on the Phillies' radar." The 31-year-old had another strong season in '19, slashing .254/.329/.516 with 35 homers for the Brewers.
Indians are receiving a lot of trade calls about superstar SS Francisco Lindor. But Indians baseball president Chris Antonetti said: "My expectation is Frankie will be the shortstop Opening Day next year."

— Jon Heyman (@JonHeyman) November 12, 2019
Indians are receiving inquiries about their young starting pitchers (Bieber, Plesac, Civale, etc.) and have a no-untouchable policy. Will take a lot obvs but interesting.

— Jon Heyman (@JonHeyman) November 13, 2019
Padres planning to work on Tatis extension
Nov. 13: Fernando Tatis Jr. has just 84 MLB games under his belt, but the Padres are already looking to work out a long-term contract with their franchise shortstop, two sources told Kevin Acee of The San Diego Union-Tribune.
Tatis finished third in the National League Rookie of the Year Award voting behind Mets first baseman Pete Alonso and Braves right-hander Mike Soroka despite being shut down with a back injury in mid-August. The 20-year-old hit .317/.379/.590 with 22 homers and 16 stolen bases over 372 plate appearances.
There is recent precedent for this type of early extension, as the Braves signed Ronald Acuña Jr. to an eight-year, $100 million contract after his 2018 rookie year. The deal could be worth up to $124 million if Atlanta exercises Acuna's team options in 2027 and '28.
Are these the most likely trade fits for Betts?
Nov. 13: With Mookie Betts set to test the free-agent market next offseason, the outfielder's future has become a major source of speculation.
Instead of losing Betts for only Draft compensation in a year, the Red Sox could look to trade him now. Moving Betts' salary -- which could climb north of $25 million in his final year of arbitration eligibility -- off the books would also go a long way toward helping the club get below the $208 million Competitive Balance Tax threshold.
The problem for Boston is that there isn't an obvious trade fit for Betts. Although every team could benefit from adding the 2018 American League MVP Award winner, the Red Sox could have trouble finding a trade partner willing to give up top prospects for a player with only one year of team control remaining and a '20 salary over $25 million.
In the opinion of The Athletic's Jim Bowden, there are only three teams that realistically make sense as a suitor for Betts. More >
At least 7 teams interested in Donaldson
Nov. 13: The Rangers are among the teams interested in Josh Donaldson, but a report that Texas is making "an aggressive push" to sign the free-agent third baseman is not accurate, a source told MLB.com's Mark Feinsand.
While sources say this year's market for him already consists of at least seven teams, including the Rangers, Nationals, Braves, Phillies and Dodgers, there's no indication that any of them have separated themselves from the pack to this point. More >
Boras: KB 'open to discussions' on extension with Cubs
Nov. 13: In a wide-ranging press availability at the GM Meetings on Wednesday, agent Scott Boras said Kris Bryant, who is under team control through the 2021 season, is "open to discussions" on an extension with the Cubs. The 27-year-old third baseman has been consistently excellent for the Cubs since debuting in '15, though he was slowed by injury in '18. In five seasons with Chicago, he is hitting .284/.385/.516 with 138 home runs.
Scott Boras said he is open to discussions on an extension for Kris Bryant . " We have always said to them that has always been Kris's philosophy with the team." Boras said Bryant would expect fair market value in any deal agreed to.

— Bruce Levine (@MLBBruceLevine) November 14, 2019
White Sox still talking multiyear deal with Abreu
Nov. 13: The White Sox continue to discuss a multiyear deal to retain star first baseman José Abreu, and Abreu's qualifying offer decision won't affect their desire to have him back.
That's according to a Wednesday report from MLB Network insider Jon Heyman, who thinks a three-year deal would be the most likely.
White Sox continue to talk about a multiyear with Jose Abreu. Undetermined whether he'll takes the $$17.8M qualifying offer. But either way talks for a longer deal could still continue. Best guess would be 3 years.

— Jon Heyman (@JonHeyman) November 13, 2019
There will be some competition for Abreu's services. Heyman reported earlier Wednesday that the Marlins are interested in Abreu, too, and more teams will likely enter the mix if Abreu declines the qualifying offer.
When will Cole sign?
Nov. 13: Agent Scott Boras has never been one to rush the free-agent process for his top clients, and it appears to be business as usual when it comes to Gerrit Cole, according to SNY's Andy Martino.
Industry sources told Martino that Boras has indicated to interested teams that Cole is unlikely to sign before January.
However, Boras said Wednesday at the GM Meetings that the report that Cole won't sign until the new year isn't accurate.
Last offseason, Boras negotiated a 13-year, $330 million contract for Bryce Harper with the Phillies after Spring Training had already begun. Harper's contract also came after the other elite player in last year's free-agent class, Manny Machado, had landed a 10-year, $300 million deal with the Padres.
Boras represents many of this year's big-name free agents, including Cole, Stephen Strasburg, Anthony Rendon, Hyun-Jin Ryu and Dallas Keuchel, which could give him even more influence than usual over the pace of the market. That said, Martino has heard the markets for Strasburg and Rendon could move faster than expected.
Blue Jays reportedly have 'legitimate interest' in Odorizzi
Nov. 13: The Blue Jays' top priority this offseason is addressing the pitching staff, and it appears the team is eyeing one of the top available starters.
According to Shi Davidi of Sportsnet.ca, Toronto met with representatives for Jake Odorizzi on Tuesday and has "legitimate interest" in the right-hander, who made the All-Star team for the first time and posted career bests in ERA+ (131), FIP (3.36) and strikeout rate (27.1 percent) in 2019.
Odorizzi has until Thursday at 5 p.m. ET to accept/reject the Twins' one-year, $17.8 million qualifying offer. If the 29-year-old declines, the Blue Jays would need to forfeit their second-highest selection in the 2020 MLB Draft as well as $500,000 from their international bonus pool to sign him.
Yanks 'definitely' will check in on Bumgarner; Phils already have
Nov. 13: We know the Braves have been linked to Bumgarner early and often this offseason, but what about the Phillies?
MLB Network insider Ken Rosenthal reports in his Wednesday column for the Athletic (subscription required) that Philadelphia has checked in on the free-agent lefty as it casts "a wide net" for starting pitching.
Rosenthal speculates that the Phillies could be motivated to keep Bumgarner from signing with the reigning National League East champion Braves, and adds that Philadelphia could be in the market for multiple veteran starters (for example, a combination of Bumgarner and fellow free-agent lefty Cole Hamels). However, Rosenthal believes that Bumgarner is a "more natural fit" for the Braves than the Phillies.
The Yankees, another team expected to consider a wide range of starting-pitcher options, have interest in Bumgarner as well. According to John Shea of the San Francisco Chronicle, general manager Brian Cashman said he hasn't reached out to Bumgarner's agency yet but "definitely" will.
Could Astros replace Cole with Wheeler?
Nov. 13: A year ago, when Dallas Keuchel became a free agent, the Astros opted to go with one low-cost signing (Wade Miley) and a host of internal candidates behind Justin Verlander and Gerrit Cole in their rotation. But after most of its internal options either struggled, dealt with injuries, or both, Houston ended up swinging a deal for Zack Greinke at the Trade Deadline.
With Cole now a free agent, Astros president of baseball operations and general manager Jeff Luhnow said Tuesday that he would like to add "more than one" veteran starter this offseason, according to Chandler Rome of the Houston Chronicle, though he didn't provide any specifics.
As Rome points out, Luhnow doesn't have a track record for handing out lengthy contracts to free-agent starting pitchers. In fact, the longest free-agent contract given to a starter during Luhnow's tenure was Scott Feldman's three-year pact in 2013. But the team may need to divert from its typical M.O. to effectively replace Cole.
MLB Network insider Jon Heyman reported Monday that the Astros met with Wheeler's agency, perhaps signaling a plan to pursue the free-agent righty. It wouldn't be the first time the team tried to acquire Wheeler, according to SNY's Andy Martino, who notes that Houston nearly traded for Wheeler on July 31.
Replacing Cole with Wheeler would certainly make sense for the Astros. In October, MLB.com's Andrew Simon broke down the reasons why Wheeler has the potential to make the same type of leap Cole did when he joined Houston two years ago.
Mets could consider these players for center field
Nov. 13: According to Mike Puma of the New York Post, the Mets are working with two criteria in their search for a new center fielder. First, the player must provide a notable defensive upgrade over Brandon Nimmo. Secondly, the team would prefer a right-handed hitter to balance out the left-handed bats of Michael Conforto, Nimmo and Dominic Smith.
With that in mind, Puma names the Pirates' Starling Marte, the Giants' Kevin Pillar and the Padres' Manuel Margot as potential options.
The Red Sox's Jackie Bradley Jr. could also be available, but he bats from the left side. The same goes for Shogo Akiyama, who is a free agent after nine seasons in Nippon Professional Baseball. More >
Marlins interested in Abreu, but QO could be a factor
Nov. 13: Although the Marlins are still in the early stages of their rebuild, the team could be a player on the free-agent market this offseason.
MLB Network insider Jon Heyman has heard that Miami likes first baseman José Abreu "very much."
In addition to giving the team the middle-of-the-order bat and veteran clubhouse presence it lacks, Abreu could be a popular player in Miami, which has a large Cuban population.
However, the qualifying offer Abreu received from the White Sox could complicate the situation from the Marlins' perspective, Heyman notes. If Abreu rejects the offer, Miami would need to forfeit its third-highest selection in the 2020 MLB Draft to sign him.
As a result, a free agent who doesn't have a qualifying offer attached to him may be a more likely option for the Marlins. Outfielder Nicholas Castellanos is one such player, as he was ineligible to receive a QO after being traded in July. MLB.com's Joe Frisaro wrote Monday that the Marlins are believed to have interest in the 27-year-old slugger.
The Marlins are said to like Jose Abreu very much. However, the loss of a draft pick that would come with an Abreu signing is a big consideration for a team like the Marlins. Easier to see Abreu winding up back with the White Sox.

— Jon Heyman (@JonHeyman) November 13, 2019
Yankees not expected to pursue Didi 'very aggressively'
Nov. 13: The Yankees opted not to extend a one-year, $17.8 million qualifying offer to Gregorius last week, and it doesn't appear as though re-signing the shortstop is high on the team's list of priorities. Citing talks with industry people, SNY's Andy Martino reports that New York is not expected to pursue Gregorius "very aggressively." More >
Who are the obvious fits for Grandal?
_Nov. 13_: ESPN's Buster Olney joins the chorus of voices identifying Grandal as the top free-agent catcher, and runs through the 10 most obvious fits (subscription required) for the backstop in this year's market.
The Reds, already reported as a club that will take a serious run at Grandal, are at the top of Olney's list. Three American League West clubs follow in the Angels, Astros and Rangers, along with two fierce NL East rivals in the Braves and Mets. New York notably offered Grandal a four-year contract last offseason, but Olney said the Mets' timing "doesn't appear to be right" as the club seeks to bolster its bullpen, rotation and outfield.
Why Strasburg may not fit with hometown Padres
Nov. 12: As soon as Stephen Strasburg opted out of the remaining four years of his contract with the Nationals, many speculated the World Series MVP possibly could find his way back to his hometown of San Diego. But how likely is that to happen?
While the Padres are intent on landing a starting pitcher or two this offseason, they may not have the budget to pony up what it will take to secure Strasburg -- agent Scott Boras is said to be seeking something in the range of $30 million plus for at least six years -- according to Kevin Acee of the San Diego Union-Tribune.
Then again, the Padres have spent big the past two offseasons, handing out $300 million to third baseman Manny Machado last year and $144 million to first baseman Eric Hosmer in February 2018. Could they splurge yet again? More >
Ozuna garnering enough interest to spurn qualifying offer
Nov. 12: It always seemed unlikely -- but perhaps not entirely inconceivable -- that Marcell Ozuna would accept the $17.8 million qualifying offer from the Cardinals. Well, now it's all but guaranteed that he will eschew the offer and seek a multiyear deal on the open market, according to MLB Network insider Jon Heyman.
That doesn't mean a return to St. Louis is off the table, however. More >
Cubs could deal from star core
Nov. 12: The Cubs sound like they're willing to trade from their core of star players this offseason, and that's going to mean some big names in the rumor mill -- including Kris Bryant, Javier Báez, Willson Contreras, Anthony Rizzo and Kyle Schwarber.
On Tuesday at the General Managers Meetings, Cubs GM Jed Hoyer said, "We've had a stable core for five years ... We're going to have change."
Cubs are clear that they will consider trading from their excellent core — Bryant, Contreras, Baez, Schwarber, etc. "We've had a stable core for 5 years ... We're going to have change." — Cubs GM Jed Hoyer

— Jon Heyman (@JonHeyman) November 12, 2019
Trading any of those players would be a blockbuster. But how likely are deals for each one?
MLB.com's Jordan Bastian breaks down the trade odds for various Cubs here. He writes that the most likely trade candidate is Contreras, and that the Cubs would need to be blown away to trade Bryant or Báez. Players like Rizzo and Schwarber might have limited markets.
Bryant in particular has been a recently rumored trade candidate, along with other teams' superstars like Francisco Lindor and Mookie Betts. But maybe it's not so likely that a player like Bryant gets dealt.
One executive told MLB.com's Mark Feinsand at the GM Meetings: "I think it's going to be pretty limited in terms of the number of fits that you get for that level [of] player. Those teams are going to get a boatload if they're going to move them. There are 30 teams that have interest in them, but to pay what they're going to cost, how many realistic fits are there going to be?"
Hamels could go home to SoCal
Nov. 12: Cole Hamels is drawing interest as a short-term starting pitching option on the free-agent market, and the most likely destinations for the veteran left-hander might be his hometown teams.
Hamels' agent, John Boggs, told MLB.com's Jon Paul Morosi on Tuesday that 13 teams have contacted him about Hamels since the offseason began -- and that the 35-year-old Hamels is planning to pitch at least five more seasons in the Majors.
Morosi postulates that the Padres and Angels, who are both aggressively pursuing starting pitching, could be among the best fits for Hamels. Hamels is a San Diego native, and, Boggs told Morosi, he's considered returning to his home town to pitch.
Morosi also thinks that because Hamels won't command a long-term deal like Gerrit Cole or Stephen Strasburg, he might sign by December or sooner.
D-backs could target NPB's Akiyama
Nov 12: With the MLB free-agent market thin on center fielders, the D-backs could look at Japanese outfielder Shogo Akiyama, per a report Tuesday from the Arizona Republic's Nick Piecoro.
The 31-year-old Akiyama played the last nine seasons for Nippon Professional Baseball's Seibu Lions, and he reportedly wants to make the jump to MLB for the 2020 season as an unrestricted free agent who does not have to go through the posting process.
"We think he's a good player," D-backs GM Mike Hazen said Tuesday at the GM Meetings. "We're in the outfield market -- the center-field market, specifically. We're in the entire market."
Scouts and executives think Akiyama can play a capable center field at the Major League level, with more questions about his hitting but a general opinion that he could at least be an average MLB hitter, according to Piecoro's report.
Predicting Bumgarner's landing spot
Nov. 12: With Madison Bumgarner having spent his entire professional career with the Giants -- from being drafted in the first round back in 2007 to 11 big league seasons in San Francisco -- it's hard to think of him in another uniform.
But will it happen?
The Giants, of course, presented the 30-year-old lefty with the $17.8 million qualifying offer, but he's unlikely to accept that when a potential long-term contract is in play. Should Bumgarner decline the QO -- the deadline for players to decide is this Thursday -- he still could return to San Francisco, but the odds might be against it.
In fact, the odds already may be against it. In a poll conducted by MLB Trade Rumors asking readers to predict where 10 of the top free agents would sign, the odds-on favorite was ... More >
Heyman: Crew wants to re-sign Yaz and Moose
Nov. 12: The Brewers got All-Star seasons from both Yasmani Grandal and Mike Moustakas, so it's no surprise the team wants to bring both the backstop and the third baseman back if possible, according to MLB Network insider Jon Heyman, who adds that Milwaukee also will be on the lookout to address its rotation.
Brewers want to re-sign Yasmani Grandal and Mike Moustakas, and will look again at the starting pitching market.

— Jon Heyman (@JonHeyman) November 12, 2019
While both players came up big for the Brewers as the club reached the postseason for a second straight season, Grandal would seem to be especially key, because Manny Piña is the only catcher with any real big league experience on the 40-man roster at the moment.
On the other hand, Travis Shaw has been a productive player at the hot corner in the recent past -- he hit more than 30 homers in each of '17 and '18 -- although he struggled so much in 2019 that he spent a large portion of the season at Triple-A.
As for where Grandal could wind up, the Brewers were edged by only one team -- a division rival, no less -- in a poll conducted by MLB Trade Rumors asking readers to predict where 10 of the top free agents would sign. More >
Red Sox will be creative this offseason, could trade with rare partner
Nov. 12: The Red Sox are expected to exercise creativity this offseason, with players like Mookie Betts potentially on the trade block, MLB.com's Mark Feinsand writes. It seems unlikely that the Red Sox would make a trade with their biggest AL East rival, but new chief baseball officer Chaim Bloom indicated that he wouldn't rule anything out.
"I never like to think that way," Bloom said. "I think it's our job right now to make contact with 29 other clubs and to get the best sense we can of what everybody is trying to do and go from there."
A key to Keuchel's second run at free agency is ...
Nov. 12: Last offseason did not go as Dallas Keuchel planned. After declining the qualifying offer from the Astros, the veteran lefty's first foray into free agency lasted through the fall, beyond the winter and all the way into the spring and the start of the regular season before he wound up signing in early June.
Keuchel ultimately got $13 million from the Braves, who by then did not have to endure the loss of a Draft pick (or the accompanying Draft signing bonus pool money from their allotment) because the 2019 MLB Draft already was underway.
"As more time went on [as his free agency lingered into the 2019 season], it became more just about winning," Keuchel said in an appearance on MLB Network Radio on SiriusXM about why he signed with Atlanta, who went on to capture a second straight NL East title.
The 31-year-old, however, also acknowledged he had another motivation for turning down multiyear offers with non-contending clubs and instead taking a prorated one-year deal with the Braves. More >
Sherman: Porcello, Pineda, Wood could bolster Mets' rotation
_Nov. 12_: The Mets already are brushing up near the first competitive balance tax (CBT) threshold of $208 million as they enter this offseason, and that could inspire them to get "creative" with their roster construction, MLB Network insider Joel Sherman notes.
Writing for the New York Post, Sherman pegs Mets right-hander Seth Lugo as the club's big pitching question in regards to whether he returns to the bullpen or tries his hand at starting once again. If Lugo relieves again, Sherman identifies free agents like Rick Porcello, Michael Pineda and Alex Wood as potentially affordable rotation boosters to support Jacob deGrom, Noah Syndergaard, Marcus Stroman and Steven Matz.
Are Dodgers and Ryu still a match?
Nov. 12: Hyun-Jin Ryu has played for only one team in his MLB career, which began in 2013 when the Dodgers invested $36 million over six years after the lefty spent seven seasons with the KBO's Hanwha Eagles.
Now 32 years old and a free agent yet again -- remember, he hit the open market last year but ultimately re-upped with LA by accepting the qualifying offer -- will Ryu actually head elsewhere this time around? More >
Should Giants trade Belt?
Nov. 12: Brandon Belt may be the player on the Giants' roster who might be the easiest for the team to trade, John Shea writes in The San Francisco Chronicle.
Belt, who turns 32 in April, has been a solid defensive first baseman in his career and brings good plate discipline and some pop in his bat. Injuries had been an issue for Belt for a few years, including concussion issues, but he played in 156 games in 2019, which tied his career high set in '16, his lone All-Star season. Belt's power has diminished in the last few years -- he has a .408 slugging percentage across the last two seasons after posting a .473 mark from 2013-17.
Belt is owed $16 million in each of the final two years of his contract, and he has a limited no-trade clause that allows him to block deals to 10 teams he has chosen.
Angels hoping to add 2 starters, have ability to be aggressive financially
Nov. 11: Without being too specific, Angels general manager Billy Eppler revealed Monday at the GM Meetings that he would like to add two starting pitchers this offseason, according to the Orange County Register.
There are a variety of reasons why the Angels are considered likely to pursue Gerrit Cole. The team desperately needs an ace, Cole is an Orange County, Calif., native, and owner Arte Moreno has never shied away from spending money.
However, it's possible the Angels' need for more than one starter could steer the club away from Cole, who is expected to command an annual salary over $30 million. Los Angeles already has roughly $115 million committed to just five players in 2020, and $88.5 million committed to three players in 2021, after which Albert Pujols' deal will come off the books. More >
Eloy hopes Abreu returns
Nov. 11: José Abreu has a one-year, $17.8 million qualifying offer on the table from the White Sox, and there's still the possibility of negotiating a longer-term deal. Will Abreu find a way to stay in Chicago, where he's played his first six big league seasons? One of the most important young White Sox players thinks -- and hopes -- so.
That's what Eloy Jiménez told MLB.com's Jon Paul Morosi on Monday at the GM Meetings' International Showcase.
#WhiteSox rookie star Eloy Jiménez on free agent José Abreu: "I think he's going to come back . . . I think they need to bring him back." Jiménez said the veteran leader was "amazing with me, every single day" in 2019. Story: https://t.co/trTZxC31PA @MLB @MLBNetwork

— Jon Morosi (@jonmorosi) November 12, 2019
"I think he's going to come back," Jiménez said. "He's a really good player and a really good teammate. I think [the White Sox] need to bring him back ... You can see how good he is. Every time he stands up at home plate, you expect he's going to do something.
"I think they need to bring him back."
Abreu is entering free agency following his third All-Star season. The 32-year-old first baseman hit .284 with 33 home runs and an AL-leading 123 RBIs in 2019.
Jiménez finished fourth in the AL Rookie of the Year voting, which was announced Monday, after making his debut this season as one of the most highly touted prospects in baseball. Abreu has mentored him since he joined the White Sox. Read more >
One of these players likely to be traded this offseason
Nov. 11: There has been trade speculation surrounding a number of players so far this offseason, with three of the biggest names in those rumors being Red Sox outfielder Mookie Betts, Indians shortstop Francisco Lindor and Cubs third baseman Kris Bryant. According to a report from MLB Network Insider Jon Morosi, executives of multiple Major League teams believe that at least one of those players will be traded this offseason.
Of the three, Betts is the closest to free agency. He is due to hit the open market next offseason, while Lindor and Bryant have two years of team control remaining. Betts is also the most expensive, as he's in his final year of arbitration eligibility after earning $20 million last season. Lindor's 2019 salary was $10.85 million, and Bryant earned $12.9 million.
Tigers willing to talk Boyd trade
Nov. 11: The Tigers are open to Matthew Boyd trade talk this offseason, according to a report from MLB Network Insider Jon Morosi. Detroit also listened on the lefty at the Trade Deadline, but ultimately did not make the move. The Tigers will be asking for an impact position player, according to Morosi -- a player at the Major League level or close to it.
Boyd's season began in breakout fashion and he ended the month of May with a 2.85 ERA, after entering 2019 with a 5.07 career ERA. But in 20 starts from June onward, he posted a 5.67 ERA and allowed a .538 opponent slugging percentage.
Will Smith reportedly still undecided on qualifying offer
Nov. 11: Among the 10 players who received a one-year, $17.8 million qualifying offer last week, Will Smith arguably has the greatest chance of accepting it.
Alex Pavlovic of NBC Sports reported Monday that the Giants had not heard from Smith or Madison Bumgarner regarding their QO intentions. Bumgarner is expected to decline the QO. But according to USA Today's Bob Nightengale, Smith is still undecided.
If the left-hander rejects the Giants' offer, other teams would need to forfeit one or more Draft picks to sign him. Clubs could be hesitant to pay that penalty for a 30-year-old reliever, even one as effective as Smith was in 2019 (152 ERA+, 1.03 WHIP, 34 saves). That said, in this year's underwhelming free-agent reliever class, Smith may draw significant interest regardless.
Smith and his agent will likely continue to weigh these factors until Thursday's 5 p.m. ET deadline.
Closer Will Smith still undecided whether he will accept or reject the $17.8 million qualifying offer from the #SFGiants. The deadline is Thursday.

— Bob Nightengale (@BNightengale) November 11, 2019
Orioles could trade Villar sooner rather than later
Nov. 11: In July 2018, the Orioles traded Manny Machado, Zack Britton, Jonathan Schoop, Brad Brach, Kevin Gausman and Darren O'Day, kicking off their rebuilding efforts in earnest. Jonathan Villar is the only one of the 15 players brought back in those deals who has made a notable Major League impact for Baltimore so far, but he may not be with the organization much longer.
In 216 games since he was acquired from the Brewers as part of the return package for Schoop, Villar has recorded 5.2 FanGraphs' Wins Above Replacement. He appeared in every game for the O's in 2019 and hit .274 with 24 homers, 40 steals, 111 runs and a .792 OPS.
However, Villar is heading into his final season before free agency, and after earning $4.825 million in 2019, he's due for another raise in his last year of arbitration eligibility. According to Jon Meoli of the Baltimore Sun, the Orioles don't seem interested in paying Villar close to $10 million this season and will likely look to trade him.
In a radio appearance on 105.7 The Fan in Baltimore last week, Orioles general manager Mike Elias indicated that the team is keeping an open mind when it comes to trade offers, especially for its arbitration-eligible players.
"If somebody calls and expresses interest in your players, some guys are more available than others," Elias said. "But we definitely need to bring in talent from all angles possible, and if there are players on this team -- and there are -- that other teams like and feel like they could help them, and we feel like whatever's coming back is going to elevate the tide of talent in the organization, we're going to have to think about it.
"We have a large arbitration class. There's seven guys, and they're good players, but there is money involved. You've got to take it into consideration, and it may influence the decision whether or not to tender a contract in the first place, but also your threshold for trading those guys if there's interest elsewhere. That's part of running any business, and that's part of reality. Money and budgets are a huge part of our business."
Meoli suggests Elias could use the GM Meetings this week as an opportunity to get ahead of the market and trade Villar before free agents start coming off the board. Villar split his time between second base and shortstop this past season and was more productive than any free-agent middle infielder, in terms of fWAR.
Trey Mancini also could draw trade interest after hitting .291 with 35 homers and an .899 OPS in 2019, but he is less likely than Villar to be moved. The slugger isn't eligible for free agency for another three seasons, and he is arbitration-eligible for the first time this offseason, which means he'll be far less expensive than Villar.
Mets already planning for Wheeler's departure?
Nov. 11: With Jacob deGrom, Noah Syndergaard, Marcus Stroman and Steven Matz under control for 2020, the Mets could seek a less expensive option to round out their rotation if Wheeler rejects the team's one-year, $17.8 million qualifying offer. It's even possible that New York's future No. 5 starter is already on its roster.
General manager Brodie Van Wagenen said last week that Seth Lugo and Robert Gsellman will be considered for starting roles. The problem is that Lugo and Gsellman have been two of the team's most reliable relievers over the past two years. Lugo was especially valuable in 2019, throwing 80 stellar innings (150 ERA+) out of the bullpen and taking over as the team's closer down the stretch in place of the struggling Edwin Díaz.
If the Mets move Lugo or Gsellman to the rotation, it would create a void in the bullpen that would need to be addressed. That's where the free-agent market comes in, and veteran reliever Daniel Hudson, who closed out Game 7 of the World Series for the Nationals, could be a target.
According to SNY's Andy Martino, members of the Mets' front office met with the agency that represents both Wheeler and Hudson on Monday. Sources told Martino that the Mets were interested in Hudson last offseason but were ultimately scared off by health concerns.
After being released by the Angels in March, Hudson went on to post a 186 ERA+ over 73 innings between the Blue Jays and Nats. The 32-year-old also appeared in nine postseason games, recording a 3.72 ERA with four saves in four chances.
Blue Jays may shop Gurriel for pitching help
Nov. 11: Lourdes Gurriel Jr. is part of a growing collection of promising young Blue Jays position players, but Scott Mitchell of TSN has heard some buzz that the club could dangle the 26-year-old in trade talks this offseason, especially if it can get back a starting pitcher.
Over his first 149 career MLB games, Gurriel has hit .279/.320/.499 with 31 homers and 27 doubles in 606 plate appearances. But with Bo Bichette at shortstop, Cavan Biggio at second base and Vladimir Guerrero Jr. at third, Gurriel is no longer needed in the infield.
Looking ahead to 2020, Gurriel is penciled in as Toronto's starting left fielder, which is perhaps the easiest position to fill in baseball. So while Gurriel swings a potent bat and is signed for just $16 million over the next four years, it might make sense for the Jays to trade him if they can improve the pitching staff.
Although right-hander Nate Pearson (MLB Pipeline's No. 10 overall prospect) should make his big league debut at some point in 2020, the team's rotation is currently filled with question marks.
Here's an interesting one: Heard from multiple people lately #BlueJays could be open to moving Lourdes Gurriel Jr. this winter, especially if it brings the right rotation arm back.
Signed through 2023 and heading into his age-26 season, the contract is nice and so is the bat.

— Scott Mitchell (@ScottyMitchTSN) November 11, 2019
Wheeler drawing interest from multiple teams
Nov. 11: Zack Wheeler has until Thursday at 5 p.m. ET to decide on the Mets' one-year, $17.8 million qualifying offer, and he seems likely to reject it based on early indications, according to MLB.com's Jon Paul Morosi, who reports that Wheeler is already drawing interest from the Angels, Padres and White Sox. More >
Why Rendon may have trouble topping Arenado's $260 million contract
Nov. 10: With the GM Meetings happening this week in Scottsdale, Ariz., it's fair to expect that we'll start to hear more about how the market will shape up this winter. Third base is one of the strongest areas in this year's market, MLB.com's Mark Feinsand writes, and Anthony Rendon could be the domino to set the rest of it in motion.
Rendon is considered by many to be the top position player available in this year's free agent class, and he should garner a contract north of $200 million. Feinsand posits that the Nationals, Rangers, Phillies, Braves and Angels could all be in play for Rendon.
That said, Rendon's leverage could be affected by the presence of fellow free agents Josh Donaldson and Mike Moustakas. With those viable alternatives available, Rendon may have trouble matching the seven-year, $260 million deal Nolan Arenado signed with the Rockies last offseason.
Cole reportedly atop Phillies' wish list
Nov. 10: Although the Phillies were among the busiest teams in the Majors when it came to improving their roster last offseason, they did not address their rotation, opting instead to head into 2019 with Aaron Nola, Jake Arrieta, Nick Pivetta, Zach Eflin and Vince Velasquez as their starting five. But Philadelphia's priorities have changed after an 81-81 season in which the team ranked 11th in the National League in rotation ERA (4.64).
According to Matt Breen, Phillies general manager Matt Klentak is heading to the GM Meetings, which begin Monday, with an offseason plan that centers around pitching. While Gerrit Cole is at the top of the Phils' wish list, the team could look to add multiple free-agent starters, Breen writes. More >
Will more Cole candidates emerge this week?
Nov. 10: The GM Meetings are this week in Scottsdale, Ariz., and MLB.com's Mark Feinsand writes that we may learn of other bidders for Gerrit Cole as executives move into high-powered planning mode for 2020 this week.
The Angels, Dodgers and Yankees are the three teams believed to be in the running, and Astros owner Jim Crane said that the team will attempt to re-sign him. But which other teams will we see emerge as these meetings get underway? Feinsand notes that the Phillies are always a possibility as big spenders, and the Rangers are thought to be looking to add payroll as they move to their new stadium for next season. Plus, the Padres have made surprising moves in each of the last two offseasons -- they could always be back for an encore.
Kendrick reportedly drawing interest from Reds in addition to Rays, Marlins
Nov. 10: As far as 36-year-old part-time players go, Howie Kendrick couldn't have entered free agency in a better spot. The veteran has posted a .325/.373/.516 slash line over the past three years, and he delivered two of the biggest hits in Nationals franchise history during the 2019 postseason -- a go-ahead grand slam in the 10th inning of National League Division Series Game 5 against the Dodgers, and a go-ahead two-run homer in the seventh inning during World Series Game 7 against the Astros.
According to MLB Network insider Ken Rosenthal, the Reds are among the teams eyeing Kendrick. Cincinnati is also reportedly looking at shortstop Didi Gregorius is as a replacement for fellow free agent Jose Iglesias, but the club has the option of moving Freddy Galvis to short and pursuing a second baseman. Kendrick could take the role Derek Dietrich filled for the team last season. Dietrich, who was recently outrighted to Triple-A Louisville, started 67 games for Cincinnati in 2019 -- 43 at second base, 13 at first, nine in left field and two at designated hitter.
Add #Reds to list of teams that want Howie Kendrick. #Marlins, #Rays also in, per @Britt_Ghiroli. Nothing close at this point.

— Ken Rosenthal (@Ken_Rosenthal) November 10, 2019
Britt Ghiroli of The Athletic previously reported that Kendrick was "drawing a lot of early interest," with the Rays and Marlins in the mix. Kendrick resides in Phoenix, Ariz., but he was born in Jacksonville, Fla., and attended both high school and college in-state.
Kendrick drew 35 starts at first base, 18 at second and 10 at third last season, as the Nationals limited his playing time to keep him healthy. Joining an American League team could allow him to crack the starting lineup more often, with the ability to be the designated hitter.
Howie Kendrick drawing a lot of early interest, including the Rays. Marlins also interested. He's from Florida, but lives in the Phoenix area now in the offseason. Veteran looking for a short deal.

— Brittany Ghiroli (@Britt_Ghiroli) November 6, 2019
Dodgers could shop Pederson to create extra payroll space
Nov 10: The Dodgers have finished in first place in the National League West in each of the past seven seasons, but the club still hasn't won a World Series title since 1988, and after a disappointing NL Division Series loss to the Nationals in 2019, Los Angeles could be more aggressive in pursuing the top free agents on the market this offseason.
According to Jorge Castillo of the Los Angeles Times, the Dodgers' needs include a frontline starter and a right-handed power bat.
While the team will likely try to remain below the Competitive Balance Tax threshold for the third straight year, there is plenty of space for a major expenditure. With David Freese retiring and Hyun-Jin Ryu, Rich Hill, Jedd Gyorko and Russell Martin heading to free agency, the Dodgers trimmed more than $60 million from their 2020 CBT number.
If the club needs to free up more money to re-sign Ryu and pursue someone such as Gerrit Cole, Stephen Strasburg, Anthony Rendon or Josh Donaldson, Joc Pederson is a candidate to be traded, Castillo writes. Pederson is in his final year of arbitration eligibility after earning $5 million in 2019.
The Dodgers have a deep outfield group, and Alex Verdugo, Chris Taylor, Matt Beaty and Enrique Hernandez would be able to help replace Pederson's production.
Will Betts' trade market begin to take shape this week?
Nov. 10: The GM Meetings are this week in Scottsdale, Ariz., and MLB.com's Mark Feinsand wonders if the Mookie Betts market may open in earnest this week as executives meet face-to-face for the first time this offseason. Whether the team will actually be able to trade Betts, if that decision is made, is a different story entirely, Feinsand writes.
Not many teams are in a position to take on a player making as much money as Betts already is, and even those teams aren't necessarily going to want to trade a large quantity of players or prospects, or both, for a player who will be a free agent after 2020. At the very least, Betts' market will likely begin to take form this week.
Here's what Moose can bring to a team
Nov. 10: Although Moustakas has faced a lukewarm free-agent market in each of the past two offseasons, he has continued to hit, following up a 38-homer season in 2017 with 28 home runs in '18, and socking another 35 big flies in '19.
Moustakas is on the open market again, and while he may be overshadowed by fellow free-agent third basemen Anthony Rendon and Josh Donaldson, the 31-year-old brings a lot to the table, writes MLB.com's David Adler.
Moustakas has proven to be a consistently above-average hitter, recording a 107 OPS+ or better in each of the past five seasons (114 OPS+ overall), and his hard-hit rate and barrel rate are trending up. Moose also has shown adaptability in the field, playing 47 games at second base in 2019 after never appearing at the position previously in his professional career. His defensive metrics were right around league average as both a second baseman and a third baseman.
Reds expected to make 'serious run' at Grandal
Nov. 10: Catcher is a big area of need for the Reds, and "all signs point toward a serious run" at Grandal, writes Bobby Nightengale of the Cincinnati Enquirer.
The Reds haven't signed a Major League free agent for more than $3 million per season since 2013, but president of baseball operations Dick Williams has indicated that this offseason could be different. More >
Who's the top SP prize after Cole and Strasburg?
Nov. 9: When it comes to this year's free-agent starting pitchers, there's Gerrit Cole and Stephen Strasburg, and then everyone else. The top choice from a second tier that includes Wheeler, Madison Bumgarner and Hyun-Jin Ryu might differ from team to team.
In their story for ESPN+ (subscription required) breaking down the starting pitcher market, Buster Olney and Dave Schoenfield both named Wheeler as the pitcher they would most like to have after the Big 2.
"A lot of that depends on price, but I suspect that the teams that lose out on the Cole bidding may turn to Wheeler because of the flashes of excellence and his age (29)," Olney writes. "At last summer's Trade Deadline, the Braves, Yankees, Astros and Rays were all involved in conversations with the Mets about possible Wheeler trades, foreshadowing the interest in him this winter."
Bradford Doolittle, meanwhile, chose Bumgarner over Wheeler in a close race. In Doolittle's view, Wheeler might be the better choice for next season, but Bumgarner is more of a sure thing to provide above-average innings over the life of a multiyear contract.
Fans may be split between Wheeler and Bumgarner as well, if this MLB Trade Rumors poll (which starter would you sign between Wheeler, Bumgarner and Ryu?) is any indication. With more than 10,000 total votes cast as of Saturday afternoon, Wheeler is at 40.36 percent, while Bumgarner has garnered 38.51 percent.
Ryu is third at 21.13 percent, even though he is coming off a Cy Young Award-caliber season and is the only one of the three hurlers who doesn't have a qualifying offer attached to him. The left-hander's age (32), injury history and league-average strikeout rate (22.5 percent) are possible reasons for the disparity between Ryu and the other two.
Can Bloom's wheeling and dealing help Red Sox keep Betts?
Nov. 9: Although the Red Sox have financial advantages few teams can match, Boston's new chief baseball officer, Chaim Bloom, has inherited a difficult situation. Principal owner John Henry wants the club to get under the $208 million Competitive Balance Tax threshold, which has led to speculation that the Sox will need to trade Mookie Betts.
The 2018 American League MVP, who can become a free agent next offseason, is due to receive a raise in his final year of arbitration eligibility after earning $20 million in 2019. Meanwhile, David Price, Chris Sale, J.D. Martinez, Xander Bogaerts, Nathan Eovaldi and Dustin Pedroia will count for nearly $130 million toward the team's CBT figure in 2020, and Jackie Bradley Jr. and Eduardo Rodriguez could add another $20 million or so through their own arbitration raises.
That said, if there's anyone who can navigate Boston's payroll situation and find a way to keep Betts, it might be Bloom. As Jen McCaffrey of The Athletic (subscription required) points out, Bloom had a knack for wheeling and dealing to bring undervalued talent into the Rays organization.
Tampa Bay won 96 games and made the playoffs in 2019 despite having the lowest Opening Day payroll in MLB, as Bloom and general manager Erik Neander traded for Emilio Pagán, Nick Anderson, Yandy Díaz, Travis d'Arnaud, Guillermo Heredia, Mike Zunino and Jesús Aguilar. Tommy Pham, Austin Meadows, Tyler Glasnow and Ji-Man Choi also were added in trades the previous season. With his creativity, Bloom may be able to remake the roster and pare Boston's payroll without moving Betts.
Read more on Betts here.
If Strasburg returns to Washington, could Padres be in on Cole?
Nov. 9: After adding big-name free agents (Eric Hosmer, Manny Machado) in each of the past two offseasons, the pressure is on the Padres to end a postseason drought that reached 13 years in 2019. The club needs an ace above all else, and San Diego native Stephen Strasburg is expected to be a target.
But if Strasburg returns to the Nationals, there's another ace righty on the free-agent market with Southern California ties the Padres could turn to. Will the team surprise again by landing Cole?
Sports Illustrated's Michael Shapiro lists San Diego among his top five contenders for the 29-year-old, writing that "we shouldn't discount the Padres from the Cole sweepstakes," even if Strasburg is getting more buzz as a potential addition. More >
Cubs dreaming of Merrifield in Chicago?
Nov. 9: The Cubs were riding high after ending their 108-year World Series title drought in 2016, but the honeymoon period is over. The club has gone backwards in the past three seasons, losing to the Dodgers in the 2017 National League Championship Series, dropping an extra-innings contest at home against the Rockies in the '18 NL Wild Card Game, and missing the playoffs entirely in '19.
David Ross has replaced Joe Maddon as the team's manager, and with little payroll flexibility, president of baseball operations Theo Epstein has admitted that all options are on the table this offseason, including trading from the team's core of Kris Bryant, Javier Báez, Anthony Rizzo, Kyle Schwarber and Willson Contreras. The first four players in that group all can become free agents in two years, and while Contreras is under team control for three more, ESPN's Jeff Passan reported Friday that multiple teams believe the catcher will be available this offseason (see below).
As for players the Cubs should target, MLB Network Radio on SiriusXM analyst Jeff Joyce points to Royals second baseman/left fielder Whit Merrifield as a perfect fit.
"You got a lot of guys that strike out … and they had the lowest contact rate in baseball as a team," Joyce said. "The Astros and Nationals were No. 1 and No. 2. The Cubs were tied with the Tigers for dead last. Their lineup doesn't flow together right. It needs to change. Something in that lineup needs to change.
"The dream guy is Whit Merrifield. I don't know how they get him. I don't know how they do it. Maybe it's a three-team trade or something. But that guy at the top of the lineup is the guy they need."
Merrifield is a lifetime .296 hitter who struck out in 17.1 percent of his plate appearances last season. He played in all 162 games for the Royals and started in the leadoff spot 152 times. Merrifield finished with a 110 wRC+, while Cubs leadoff hitters recorded the lowest mark in baseball (77).
The problem, as Joyce alluded, is that Merrifield is going to be tough to get. He's under control for just $14.5 million over the next three years and has a $10.5 million club option ($750,000 buyout) for 2023. The Royals set an extraordinarily high asking price for the speedster prior to the 2019 Trade Deadline. And if the team does decide to trade the 30-year-old, it will likely be looking for players under control for longer than most of the Cubs' top trade chips. Chicago's farm system is thin, which means the Cubs will likely need to loop in other teams if they want to pry Merrifield away from Kansas City.
How do the #Cubs improve their lineup? pic.twitter.com/aPKouC3HEc

— MLB Network Radio on SiriusXM (@MLBNetworkRadio) November 9, 2019
Are the Yankees willing to exceed the luxury tax in 2020?
Nov. 9: With the GM Meetings set to begin Monday, SNY's Danny Abriano has some questions he'd like to see Yankees general manager Brian Cashman answer. Three of the questions are closely linked:
1. What's the level of interest in Gerrit Cole and other top free-agent starting pitchers?
2. Is the club willing to exceed the Competitive Balance Tax (aka the "luxury tax") threshold?
3. Will the team look to re-sign Didi Gregorius? More >