Rumors: Strasburg, Ryu, Ozuna, Archer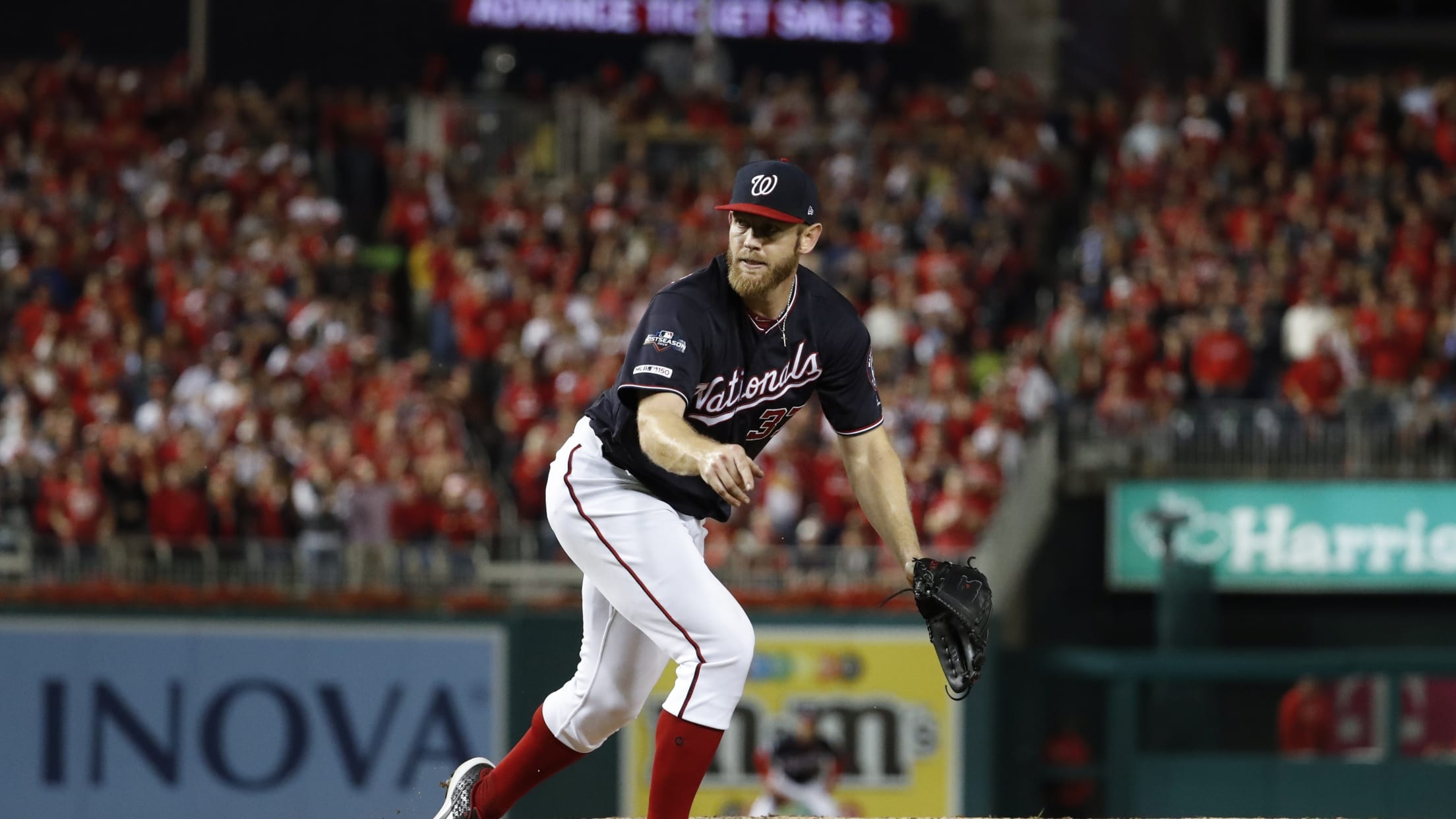 MLB.com is keeping track of all the latest free agent and trade rumors right here.
MLB.com is keeping track of all the latest free agent and trade rumors right here.
If Strasburg opts out, where will he land?
Oct. 15: Speculation continues to increase that Nationals right-hander Stephen Strasburg will opt out of his contract this offseason. The veteran has excelled this postseason after throwing a National League-leading 209 innings with a 3.32 ERA and 251 strikeouts during the regular season.
Strasburg continued his remarkable run in Washington's 8-1 win over the Cardinals in NLCS Game 3, pitching seven innings with just one unearned run allowed and 12 strikeouts.
Stephen Strasburg's 1.10 ERA is the 3rd-lowest in #postseason history (min. 6 starts).

He trails only Sandy Koufax (0.95) and Christy Mathewson (1.06). pic.twitter.com/cZ5uRHqhwB

— MLB Stats (@MLBStats) October 15, 2019
It's not a foregone conclusion that Strasburg will opt out, given that he has four years and $100 million left on his deal, is now 31 years old and has dealt with his share of injuries in the past. But it seems more likely than not, according to MLB Network insider Jon Heyman on Monday's episode of the "Big Time Baseball" podcast. And Strasburg's postseason dominance could certainly help his chances of landing a big deal on the open market.
Granted, that doesn't necessarily mean Strasburg will be departing Washington. Clayton Kershaw used his opt-out power to land a new three-year, $93 million deal with the Dodgers last offseason. Previously, he had two years and $65 million left on his contract.
But if Strasburg doesn't return to the Nationals, Heyman predicts he'll head to Southern California and names the Padres and Dodgers as potential suitors.
Strasburg was born in San Diego and attended San Diego State before being selected first overall in the 2009 MLB Draft. The Padres are expected to seek a top-of-the-rotation hurler to pair with Chris Paddack, and Strasburg fits that bill.
The Dodgers, meanwhile, may need to replace two starting pitchers, with Hyun-Jin Ryu and Rich Hill headed for free agency. And after its disappointing loss to the Nationals in the National League Division Series, the club could have a greater sense of urgency this offseason.
Another SoCal club, the Angels, is also in desperate need of an ace, but it's questionable whether the team will want to pay up for another free agent in his 30s after the signings of Albert Pujols, Josh Hamilton and C.J. Wilson didn't pan out.
What kind of deal will Boras seek for Ryu?
Oct. 15: For the second straight offseason, Hyun-Jin Ryu is headed for free agency. This time, however, his stock is much higher than it was a year ago.
Although he posted a 1.97 ERA in 2018, Ryu made just 15 starts and was a 31-year-old who had thrown only 213 2/3 regular-season innings since the beginning of '15. He also was eligible for the qualifying offer, and he ended up accepting it rather than declining and testing the open market with the hindrance of a Draft-pick forfeiture attached to him.
This year, Ryu is not eligible for the qualifying offer, and he is coming off a season in which he led the Majors in ERA (2.32) while throwing 182 2/3 innings over 29 starts.
Still, given Ryu's age and injury history, it's fair to wonder how long of a contract the southpaw will command. He may be best suited to seek a shorter deal with a higher average annual value. Agent Scott Boras, though, made it clear he's aiming for a sizable salary and a long-term contract for Ryu.
"That's like saying, with a car, do want the engine or the steering wheel?" Boras told South Korea's Yonhap News at Dodger Stadium prior to Game 5 of the National League Division Series, which the Dodgers lost to the Nationals. "You want both.
"He had a Cy Young season. He was the best pitcher in the league," Boras said. "We're really excited about his future and we're just beginning to see the real Ryu."
Boras also sold Ryu's previous injury problems as a blessing in disguise, helping to minimize his workload.
"He is, age-wise, 32, but the truth is, innings-wise, he's probably about 26 or 27, because he doesn't have many innings on his arm," he said. "That makes him very valuable."
Ozuna's bat vs. glove a big question
Oct. 15: Marcell Ozuna's postseason for the Cardinals has been a preview of the factors suitors will have to weigh in free agency: Ozuna's strong bat against his weak glove.
On the one hand, Ozuna is one of the best bats available, which showed when he racked up nine hits and posted a 1.335 OPS in the Cards' NLDS victory over the Braves. On the other, he's somewhat one-dimensional, since he's a poor defensive outfielder -- despite winning a Gold Glove Award with the Marlins in 2017.
In Game 3 of the NLCS on Monday, Ozuna's missed catch in left field help the Nationals break open the game and take a commanding 3-0 lead in the series.
That type of play is more the rule than the exception for Ozuna, who graded out as one of the worse defensive outfielders in the league this year by Statcast's Outs Above Average metric, which credits or debits an outfielder based on the catch probabilities of the plays he makes or misses.
The catch probability on Ozuna's missed play in Game 3 was 75%, based on him needing to cover 67 feet in 4.3 seconds to get to the ball.
Ozuna's defensive limitations could cost him in free agency, where one-dimensional sluggers often don't get the deals they used to. They also might make him a better fit for an American League team that could use him as a designated hitter -- the Rays, for example -- although there aren't a ton of teams with a definite DH opening.
Will these contract options be picked up?
Oct. 15: While some contract options are no-brainers for teams -- such as Nelson Cruz's $12 million club option with the Twins and Anthony Rizzo's $14.5 million club option with the Cubs -- other calls are much more difficult.
MLB.com's Anthony Castrovince broke down all of the options at hand this offseason, and it looks as though the Pirates, Angels and Yankees have three of the tougher decisions to make with Chris Archer, Kole Calhoun and Edwin Encarnacion, respectively.
When Pittsburgh traded Tyler Glasnow, Austin Meadows and a player to be named later (Shane Baz) to the Rays for Archer in July 2018, part of the allure was Archer's affordable club options in 2020 ($9 million) and 2021 ($11 million). But the right-hander has posted a 4.92 ERA since the deal, and he battled shoulder inflammation late in 2019.
Calhoun bounced back for the Angels in 2019, improving his OPS+ from 79 to 108 and recording a career-high 33 homers. However, outfield prospect Jo Adell (MLB Pipeline's No. 5 overall) could be ready soon, and the Angels will likely be looking to spend big on pitching this offseason. As a result, they may decline Calhoun's $14 million option ($1 million buyout).
As for Encarnacion, a $20 million option is steep for a player who is mostly a designated hitter, even one coming off his eighth straight 30-homer season. But if New York parts ways with the veteran slugger, it would come at the cost of a $5 million buyout.
Read more on those players and other option decisions here.
A Yankees-Dodgers battle for Cole?
Oct. 14: After a brilliant regular season, Gerrit Cole has continued to dominate in the postseason, going 2-0 with a 0.57 ERA, a 0.57 WHIP and 25 strikeouts in two starts during the American League Division Series against the Rays.
The 29-year-old couldn't be heading into free agency on a higher note, and MLB Network insider Jon Heyman predicted Monday on the latest episode of the "Big Time Baseball" podcast that Cole will set multiple records this offseason by landing a seven-year, $245 million contract. More >
Arenado's $260M deal could be model for Rendon's next contract
Oct. 14: As the Nationals try to bring home the franchise's first World Series title, a pivotal offseason looms. One year after losing Bryce Harper to the rival Phillies, the club could see another All-Star depart, as Anthony Rendon is headed for free agency.
The Washington Post reported in September that the Nationals made Rendon an offer for seven years and between $210 million and $215 million, but it's likely going to take much more than that to bring Rendon back. The seven-year, $260 million deal Nolan Arenado signed with the Rockies last offseason could be used as a model for Rendon's next contract. More >
Betts projected for record salary
Oct. 10: Red Sox superstar Mookie Betts is projected to make $27.7 million in arbitration this offseason, according to MLB Trade Rumors. That would surpass the arbitration salary record set last year by Nolan Arenado, who earned a $26 million deal before later signing his eight-year, $260 million contract.
Betts has indicated previously that he intends to play out the final year of his deal before hitting free agency next offseason, in lieu of potentially trying to sign an extension with the Red Sox.
That said, Boston principal owner John Henry has stated on the record that he would like to get the team's payroll below the first luxury-tax threshold of $208 million and team president/CEO Sam Kennedy admitted shortly after the regular season ended that it will be "difficult" to keep both Betts and free-agent slugger J.D. Martinez for 2020.
Considering that stance, coupled with Betts' record-setting arbitration projection, it's no surprise that the former MVP's name has come up as an offseason trade target. If the Red Sox aren't confident in signing Betts to a long-term deal either this offseason or next, a potential trade would at least allow the club to recoup some assets instead of losing him in exchange for Draft compensation next offseason.
That could be easier than it sounds. After all, Betts' lack of club control likely rules out non-contenders, while contenders might be hesitant to offer up multiple top prospects for what essentially amounts to a one-year rental. Still, Mark Polishuk of MLB Trade Rumors recently came up with four teams -- the Phillies, Padres, Reds and Mets -- that could be logical landing spots for Betts.
Donaldson, Keuchel set to test market
Oct. 10: With the Braves being eliminated by Wednesday's loss in Game 5 of the NLDS, veterans Josh Donaldson and Dallas Keuchel will now hit free agency for a second straight offseason.
Donaldson signed a one-year, $23 million deal with the Braves last November after an injury-riddled season limited him to just 52 games in 2018. The third baseman, who turns 34 in December, proved he still has plenty in the tank this season, posting a .900 OPS while racking up 37 homers and 94 RBIs over 155 games.
"We'll see," Donaldson said, when asked about his future following Atlanta's season-ending loss. "I enjoyed being here. I enjoyed my time here. I know this organization has a bright future ahead of it."
Braves general manager Alex Anthopoulos also weighed in on Donaldson's future Thursday in an end-of-season press conference, expressing some cautious optimism based on how the star's first season went in Atlanta.
"He fits us in every way we want," said Anthopoulos. "That being said, when we entered into this agreement with him, the hope was he would be in a position to rebuild his value. I believe we positioned ourselves that if all things are equal from a contractual standpoint -- I haven't had this discussion with him or his agent -- but I believe this would be where he wants to be. I know he enjoyed it here. But it's free agency, it's not salary arbitration. So, there's no way to tell. Your value is what that free-agent market will give, what the needs are and supply and demand." More >
As for Keuchel, he's hoping for a smoother free-agent experience this time around. After declining a $17.9 million qualifying offer from the Astros last offseason, Keuchel went unsigned until the Braves swooped in with a one-year, $13 million offer in June.
Keuchel, who will be 32 next season, recorded a 3.75 ERA over 19 starts with Atlanta. He had a 4.83 ERA in his first 10 appearances with the Braves, but posted a 2.55 ERA over his final nine regular-season outings. Keuchel held the Cardinals to one run over 4 2/3 innings in Game 1 of the NLDS, but struggled on short rest in Game 4, allowing three runs -- on three solo homers -- in just 3 1/3 innings.
Ryu shifts focus to free agency; Jansen faces opt-out choice
Oct. 10: Like Donaldson and Keuchel, impending free agent Hyun-Jin Ryu watched his season come to an end Wednesday, with the Dodgers' stunning 7-3 loss to the Nationals in Game 5 of the NLDS.
Ryu led the Majors with a 2.32 ERA this season after accepting a $17.9 million qualifying offer from the Dodgers last winter. That came after he put up a 1.97 ERA while being limited to 15 starts in 2018.
Ryu, who will turn 33 in March, has made it clear in the past that he loves Los Angeles and being a member of the Dodgers -- but will the All-Star left-hander be willing to give the club a discount? Other teams will likely be in a position to offer Ryu a more lucrative contract than Los Angeles, and with the southpaw being represented by agent Scott Boras, it's anyone's guess whether Ryu would settle for less to continue his career in Los Angeles.
Meanwhile, Dodgers closer Kenley Jansen has an opt-out clause that could allow him to forego the final two seasons of his five-year deal. With Jansen coming off the worst season of his 10-year career, however, it's unlikely that he will exercise that opt-out and walk away from $38 million over the next two years.
Castellanos, Puig, more ineligible for qualifying offer
Oct. 11: The qualifying offer for potential free agents will be slightly less than it was last year, MLB.com's Mark Feinsand confirms. This offseason's one-year QO will be for $17.8 million, $100,000 less than in 2019. Players have 10 days to either accept or decline the qualifying offer after a team hands it out; that period begins when teams can begin extending qualifying offers five days after the conclusion of the World Series.
Several star free agents will not be eligible for the qualifying offer. Nicholas Castellanos and Yasiel Puig are not eligible because they were traded to new teams midseason. Yasmani Grandal, Dallas Keuchel, Mike Moustakas and Hyun-Jin Ryu (who accepted the QO last year) are also not eligible because they have all received qualifying offers in the past. Entering the market without those qualifying-offer restrictions could help these free agents, since prospective teams would not have to surrender Draft pick compensation when signing them to new deals. You can learn more about the qualifying offer rules here.
Didi's strong postseason continues with free agency near
Oct 8: Didi Gregorius, who's scheduled to become a free agent this offseason, continues to have a strong postseason for the Yankees.
The shortstop had another big game in New York's American League Division Series-sweeping win over the Twins at Target Field on Monday. He went 2-for-4 with a pair of RBI singles in the seventh and ninth innings that gave the Yankees some breathing room, and he made a great diving catch in the bottom of the ninth to help quash a Twins rally.
That performance came two days after Gregorius belted a grand slam in the Bronx Bombers' 8-2 victory in Saturday's Game 2 at Yankee Stadium.
Gregorius, 29, spent much of this season recovering from Tommy John surgery, but he produced a career-best 4.2 Wins Above Replacement in 2018 (per Baseball Reference) and he's now playing a big postseason role for a Yankees team with World Series aspirations.
Odorizzi turns in one last strong effort for Twins
Oct. 8: Jake Odorizzi's Game 3 ALDS start -- his last start before hitting free agency -- must have left a good impression with any interested teams watching.
Despite the Twins' loss, Odorizzi turned in an admirable effort against a deep Yankees lineup, holding New York to two runs in five innings while recording five strikeouts.
That ended a nice walk year for the 29-year-old right-hander, who went 15-7 with a 3.51 ERA and 178 strikeouts in 159 innings over 30 starts this season. Odorizzi was an All-Star for the first time in his eight-year career.
While Odorizzi isn't an ace like free-agent-to-be Gerrit Cole, he should have value as a free agent as a middle-of-the-rotation option. Odorizzi has made at least 28 starts in six straight seasons and has averaged 165 innings pitched a year, with a 3.88 ERA over that time.
What's going to happen with J.D. Martinez?
Oct. 7: The entire American League will be watching for Martinez's opt-out decision, which must come within five days after the World Series. The star Red Sox slugger has three years and $62.5 million left on his contract after 2019, but he can give that up and become a free agent.
For Boston, Martinez opting out might help them keep Mookie Betts. For the rest of the AL, it would mean one of the top designated hitters in the league is up for grabs.
With the decision looming, the Boston Globe's Pete Abraham breaks down the situation, and predicts the likeliest suitors for a free-agent Martinez. The top four teams, in Abraham's view: the Blue Jays, Mariners, Rangers and White Sox.
Those four, Abraham writes, can afford to give Martinez the deal he'll be looking for if he leaves the Red Sox and have the need for his bat in the DH slot. With the White Sox and Blue Jays in particular, Martinez could also help mentor the teams' young hitters, like Toronto's Vladimir Guerrero Jr. and Bo Bichette and Chicago's Eloy Jimenez and Yoan Moncada. And a hitter of Martinez's caliber could help push any of those four teams back into contention.
Abraham doesn't think many of the other AL teams are a good match, either because they have a DH already (Yankees, Angels, Indians, Twins, A's, Astros) or because they're still too early in the rebuilding stage (Orioles, Royals, Tigers). And he doesn't see Martinez jumping to the NL because he's a poor defensive outfielder and is primarily a DH at this stage of his career.
The possible suitors for Betts
Oct. 6: With Red Sox principal owner John Henry on record as saying he'd like to get the team's payroll below the first luxury-tax threshold of $208 million, team president/CEO Sam Kennedy admitted shortly after the regular season ended that it will be "difficult" to keep both J.D. Martinez and Mookie Betts on the roster in 2020.
Betts has stated numerous times he expects to ride it out until free agency next offseason rather than sign an extension with the Red Sox before then. That type of uncertainty could compel the club to trade their best all-around player rather than lose him in exchange for Draft compensation next offseason. Boston also has to consider Betts' 2020 salary, which will likely climb north of $20 million.
But even if the Red Sox decide to shop Betts, it might be difficult for the team to find a match for a trade. The outfielder's lack of club control could rule out non-contenders, and interested teams may not want to surrender multiple top prospects for him. The rival Yankees can be crossed off the list before the proceedings even start.
Still, it's interesting to wonder which teams could pull off a deal for Betts, and Mark Polishuk of MLB Trade Rumors did just that, settling on four teams that represent logical landing spots for Betts: the Phillies, Padres, Reds and Mets.
The Phillies limped to an 81-81 record after adding Bryce Harper, J.T. Realmuto, Andrew McCutchen, Jean Segura and David Robertson last offseason, and general manager Matt Klentak could be looking for another big splash. Manager Gabe Kapler is on the hot seat already, and Klentak may be next if the club underwhelms again in 2020. However, Philadelphia seemingly has a bigger need on the pitching side of the ball.
In San Diego, the pressure is on general manager A.J. Preller to build a winner as soon as 2020. The Padres signed Manny Machado to a 10-year, $300 million contract last offseason and received strong contributions from rookies Fernando Tatis Jr. and Chris Paddack, but the team still finished in last place at 70-92. Executive chairman Ron Fowler called the 2019 campaign "embarrassing" and said "heads will roll" if the team doesn't take a step forward next season. The Padres certainly have the prospects to tempt the Red Sox, and the two sides have come together for multiple trades in recent years.
Reds president of baseball operations Dick Williams said the team's goal is to make the postseason in 2020, and he made it clear the team plans to increase payroll. Cincinnati is in need of offense after finishing this past season with the sixth lowest wRC+ (87) in baseball.
As for the Mets, adding Betts would be a major coup for a team that has an opening in center field and is constantly trying to grab headlines away from the Yankees in New York. But the club's farm system was diminished by the trades that brought back Robinson Cano, Edwin Díaz and Marcus Stroman.
Will Chapman and/or Jansen opt out?
Oct. 5: Although his average four-seam velocity has dropped a bit in recent seasons from its triple-digit peak, Yankees closer Aroldis Chapman has remained as effective as ever. The left-hander posted a 2.21 ERA with a 2.28 FIP over 57 innings during the 2019 regular season, ranking in the 92nd percentile or better in a host of categories, including strikeout rate, hard-hit rate, expected batting average, expected slugging percentage, expected wOBA, fastball spin rate and fastball velocity.
As he looks to help the Yankees win their 28th World Series title, the 31-year-old has an opt-out decision looming shortly after the Fall Classic ends. Chapman has two years and $30 million remaining on the record five-year, $86 million contract he signed following the 2016 campaign. His deal included a full no-trade clause through 2019, but he holds only limited no-trade protection for 2020 and 2021.
MLB Network insider Ken Rosenthal reported in July that a player close to Chapman said there was a "one million percent" chance that Chapman would opt out, but Chapman quickly debunked that.
Opting out would be a risky move for Chapman, as he would be eligible to receive a qualifying offer from the Yankees if he becomes a free agent. Last offseason, veteran closer Craig Kimbrel rejected a one-year, $17.9 million qualifying offer from the Red Sox, which meant that other teams had to surrender one or more Draft picks to sign him. Kimbrel remained a free agent until after the 2019 MLB Draft, at which point the pick forfeiture was no longer a factor. He ultimately signed with the Cubs for $43 million over three years (plus a $16 million club option for 2022) on June 7. Chapman is 31, a year older than Kimbrel was when he hit the free-agent market last November.
Granted, the relief-pitcher market projects to be weaker this year than it was in 2018, when Kimbrel was joined by Adam Ottavino, Zack Britton, Andrew Miller, David Robertson, Jeurys Familia and Joakim Soria, among others. That could influence Chapman's decision, as well as Dodgers closer Kenley Jansen's. The right-hander also can opt out, with two years and $38 million left on his deal. Chapman seemingly has a better chance of opting out than Jansen, with the latter's performance declining some over the past two years.
Chapman also could use the opt-out clause as leverage to get the Yankees to add additional years to his contract, as CC Sabathia did after the 2011 season. At that point, Sabathia had the ability to opt out of the remaining four years and $92 million on his deal. But before doing so, Sabathia signed an extension that added another year at $25 million to the deal, plus a $25 million vesting option with a $5 million buyout for 2017. Similarly, Clayton Kershaw used his opt-out clause to land a new three-year, $93 million deal from the Dodgers last offseason. Before that, he had two years and $65 million left on his contract.
JBJ a non-tender candidate?
Oct. 5: Aside from 2015 (123 wRC+) and 2016 (118 wRC+), Red Sox center fielder Jackie Bradley Jr. has been a below average offensive player during his career, offsetting much of the value he provides with his dazzling defense.
Heading into his final year of arbitration after earning $8.55 million in 2019, the 29-year-old is a non-tender candidate for a Boston club that is looking to trim payroll, writes MLB.com's Ian Browne. That said, Browne notes that the Red Sox are more likely to trade Bradley than non-tender him if they need to get his salary off the books.
Bradley's future may depend on what happens with J.D. Martinez and Mookie Betts. Red Sox president/CEO Sam Kennedy admitted that it will be "difficult" to keep both Martinez and Betts on the roster in 2020, with owner John Henry on record as saying he'd like to get the team's payroll below the first luxury-tax threshold of $208 million.
Can Braves afford to let Donaldson walk?
Oct. 5: A major reason why the Braves ran away with the National League East in 2019 was that they took a one-year, $23 million gamble on Josh Donaldson and it paid off in a big way. The club will have another difficult decision to make this offseason, as Donaldson is set to hit free agency again as a soon-to-be 34-year-old and figures to command a longer deal after re-establishing his value.
Atlanta can extend a one-year qualifying offer to Donaldson, but the slugger is sure to reject it, as it will be for a lower salary than he made in 2019.
The Braves do have some options if they decide to move on from Donaldson, the primary one being Austin Riley taking over at third base. With Donaldson entrenched at the hot corner, Riley made the majority of his appearances in left field as a rookie. More >
Stearns: 'I'd love to have [Grandal and Moose] back'
Oct. 4: The Brewers' one-year signings of Yasmani Grandal and Mike Moustakas last offseason paid off big-time, as the duo helped lead Milwaukee to the playoffs with excellent seasons. But with the Brewers now out of the postseason after Tuesday's loss in the National League Wild Card Game, Grandal and Moustakas are headed for free agency. So what uniform will the Brew Crew's top two free agents be wearing in 2020?
Well, it could be Milwaukee's for another year -- both players have mutual options attached to the deals they signed with the Brewers. Grandal has a $16 million mutual option for 2020, and Moustakas has an $11 million mutual option.
But if the players and team don't both opt in, Grandal and Moustakas will hit the open market.
Speaking to the media on Friday, general manager David Stearns made it clear the team is interested in keeping both players, provided it makes financial sense.
"I don't think it's particularly controversial to say that I'd like to have both of them back," Stearns said. "They're two very good players who fit with our organization and fit with our team very well. Whether the realities of the free-agent market permit that I think is something that we're going to have to evaluate as we go through the offseason."
David Stearns says it's no secret that he'd like to bring back both Mike Moustakas and Yasmani Grandal. But I s that realistic?: pic.twitter.com/d2gIBXARJO

— Todd Rosiak (@Todd_Rosiak) October 4, 2019
Grandal would be one of the prize free agents available -- he's one of the few star catchers in baseball, and there are few teams that wouldn't get a big boost from having him behind the plate. Grandal's 5.2 Wins Above Replacement this season were second at the position behind only J.T. Realmuto. He gets on base and hits for power (28 home runs, 109 walks, 119 OPS+ this season), and he's one of the game's best pitch framers. Grandal saved his team +13 runs from extra strikes this season according to Statcast's framing metrics, tied for second-best among catchers.
Moustakas has become a very consistent offensive producer over the last few seasons, with 35 home runs and a 114 OPS+ in 2019. He's also shown some versatility by playing second base this season in addition to his normal third base. While Grandal will likely command the most widespread free-agent attention, Moustakas is a valuable piece, too.
Treinen might be non-tendered; A's could let trio of FA starters walk
Oct. 4: One year ago, Blake Treinen was coming off a brilliant season in which he posted a 0.78 ERA with 100 strikeouts and 21 walks in 80 1/3 innings. He used that campaign as leverage to get a substantial raise in arbitration, winning his case against the A's for $6.4 million last February. But after an injury-plagued 2019 campaign, the 31-year-old may be on his way out of Oakland.
According to Susan Slusser of the San Francisco Chronicle, Treinen is a candidate to be non-tendered or traded this offseason. The right-hander recorded a 4.91 ERA with a 5.14 FIP this past season, which ended prematurely due to a stress reaction in his back. He also missed time with a right shoulder strain.
Second baseman Jurickson Profar, who hit 20 home runs but had just a .218/.301/.401 slash line over 518 plate appearances after being acquired from the Rangers in a trade last December, is another candidate to be non-tendered or traded, considering Franklin Barreto and Jorge Mateo are out of options.
Meanwhile, Slusser considers free agents Brett Anderson, Homer Bailey and Tanner Roark unlikely to return, as Oakland is projected to head into 2020 with a rotation of Jesus Luzardo, A.J. Puk, Frankie Montas, Sean Manaea and Mike Fiers.
Van Wagenen: Díaz, Syndergaard staying put
Oct. 4: Well before the start of the Hot Stove season, Mets general manager Brodie Van Wagenen went out of his way to squelch what would have been two of the winter's most frequently discussed topics.
"Edwin Díaz is going to be on our team next year," Van Wagenen said unprompted on Thursday, during a conference call to discuss manager Mickey Callaway's dismissal. "That's our full expectation. And Noah Syndergaard is going to be on our team next year."
So ends any speculation that the Mets, who shopped both players prior to the July 31 Trade Deadline, might do the same this winter.
The Mets have four-fifths of their 2019 starting rotation under control at least through next season, with only soon-to-be free agent Zack Wheeler as the exception.
The expectation is that Wheeler won't be back, SNY's Andy Martino reported Monday. Sources told Martino that contract extension talks between the Mets and Wheeler's agent didn't go anywhere in July. Martino expects the Mets to extend the qualifying offer to Wheeler and predicts the 29-year-old will reject it and sign elsewhere, with Draft compensation coming back to New York.
Will Bumgarner, Smith receive qualifying offers?
Oct. 4: The Giants are a team in transition coming off their third straight season with a sub-.500 record. Longtime manager Bruce Bochy retired, a number of key veterans, including Madison Bumgarner and Will Smith, are headed for free agency, and the Giants will need to decide whether to extend qualifying offers to them.
According to NBC Sports' Alex Pavlovic, the 30-year-old Bumgarner is "a lock" to receive a qualifying offer, and the team is "strongly considering" giving one to the 30-year-old Smith as well. More >
At 'transition point,' Cubs could consider moving Bryant, Báez
Oct. 1: Addressing the media on Monday, a day after the Cubs announced that Joe Maddon would not be returning as manager, president of baseball operations Theo Epstein didn't rule out making major changes to the roster this offseason, even if it means trading Kris Bryant or Javier Báez.
"I think they're both hugely important, and it'd be hard to see them out of a Cubs uniform, but we're at a transition point, and we have to do whatever is best for the Cubs," Epstein said of Bryant and Báez. "I hope it includes both of those guys."
Epstein also expressed a sense of urgency, with Bryant, Báez, Anthony Rizzo, Kyle Schwarber and Addison Russell all are under control for just two more seasons. Given the team's lack of payroll flexibility, trading from its core might be the best way for Chicago to improve some of its weaknesses.
"Next year is a priority. We have to balance it with the future. And probably that's more important now than it was even a year ago, because we're now just two years away from a lot of our best players reaching the end of their period of control with the Cubs.
"I think a lot of players on this year's team are going to be part of the next Cubs championship, so we want to be mindful of that. But it's also really hard to accomplish improvement and change in certain areas unless you're extremely open-minded."
Talk of a Bryant trade would have been more shocking two years ago, with the third baseman coming off his third straight season with at least 6.1 fWAR and the Cubs still basking in the glory of their 2016 World Series title. However, Bryant has averaged 3.6 fWAR over the past two seasons while battling injuries, and Chicago has underwhelmed overall.
Báez, meanwhile, took a step back on offense this past season (114 wRC+) after producing a personal-best 131 wRC+ and finishing second in National League MVP Award voting in 2018.