A future star who got away, 1 from every team
These guys could have worn your club's uni -- but never did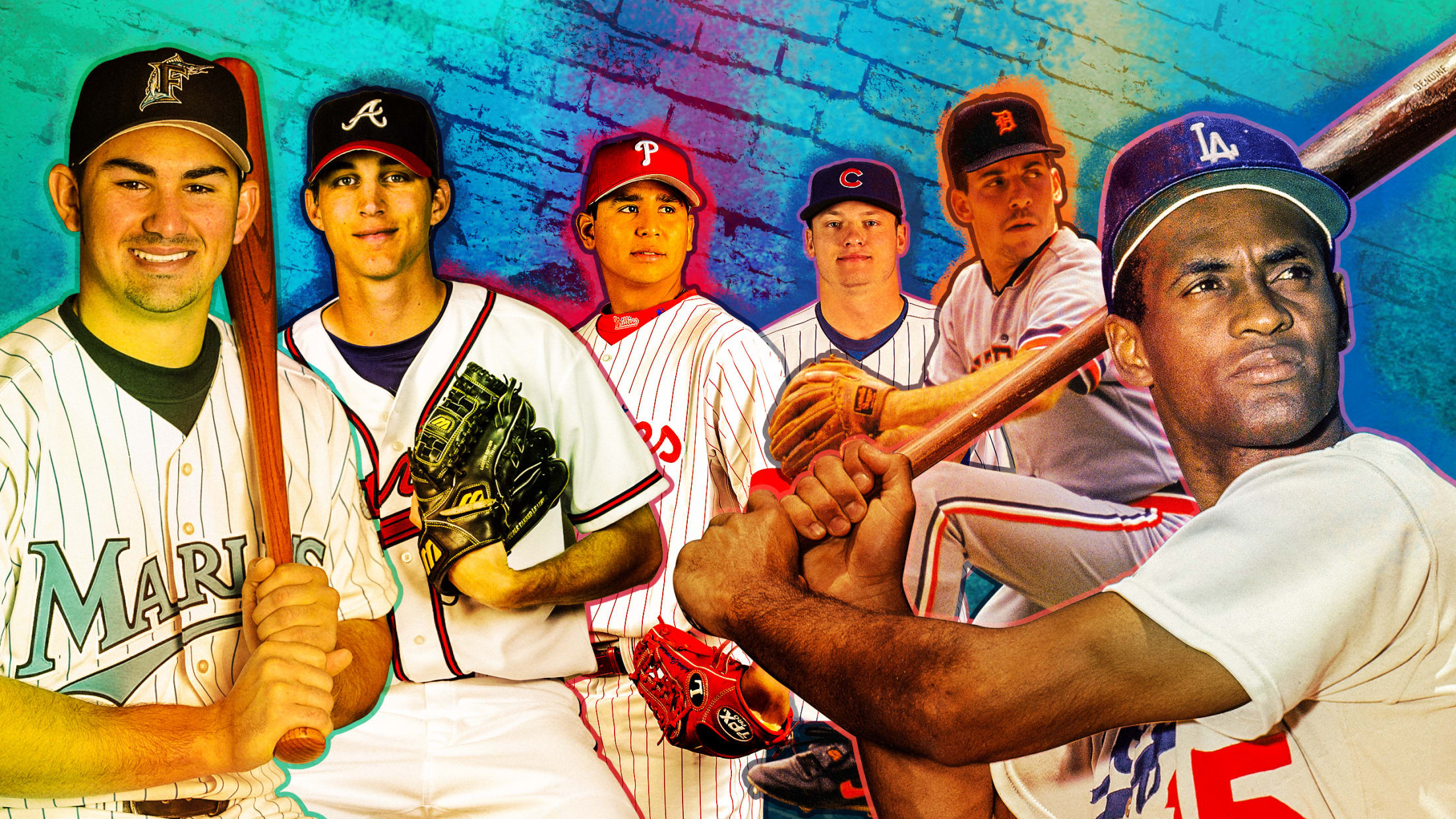 Every team has its what-ifs, its guys who got away. Maybe the club didn't know what it had in a young player and shipped him off without a second thought, only for an unexpected breakout to bring regret. Or perhaps it simply made a prospects-for-veterans trade, with eyes wide open,
Every team has its what-ifs, its guys who got away.
Maybe the club didn't know what it had in a young player and shipped him off without a second thought, only for an unexpected breakout to bring regret. Or perhaps it simply made a prospects-for-veterans trade, with eyes wide open, willing to sacrifice some of its future for a chance at October glory.
Whatever the reason, the result is the same: A player who might have risen to stardom wearing a certain Major League jersey never got the chance.
There are, of course, plenty of great players who had brief cameos with an original club before moving on and reaching their potential elsewhere. Think Ryne Sandberg, who spent 13 games with the Phillies before a trade sent him to the Cubs for the rest of his Hall of Famer career. There also are those who were drafted by a team but didn't sign, such as Max Scherzer with the Cardinals.
They are not included here. Rather, the focus is on players who did officially join an organization but never appeared in the Majors for it, even later in their careers. Here is a notable, cringe-worthy example from each of the 30 teams.
AMERICAN LEAGUE EAST
Blue Jays: Michael Young
Young is the Rangers' all-time leader in games, at-bats, runs, hits, doubles and triples. But the seven-time All-Star could have been racking up 200-hit seasons north of the border instead. In July 2000, however, with the Blue Jays in the AL Wild Card hunt and in need of pitching, the club sent Young (a 1997 fifth-round pick) to Texas in a deal for Esteban Loaiza.
Honorable mention: Noah Syndergaard
Orioles: Jayson Werth
Have you ever seen the photo of a young, clean-shaven, bespectacled Werth in an Orioles cap? No? Go do that. Anyways, long before Werth was a key figure on a championship team in Philly and led a baseball revival in Washington, Baltimore selected him 22nd overall in the 1997 Draft -- as a catcher. Werth actually was behind the plate for his four Minor League seasons with the O's and was a Top 100 prospect, according to Baseball America, before he was dealt to Toronto for reliever John Bale in December 2000.
Honorable mention: Josh Hader
Red Sox: Jeff Bagwell
This one is certainly infamous. Bagwell was born in Boston, grew up in Connecticut as part of a Red Sox-loving family, went to the University of Hartford and was a Sox fourth-round pick in the 1989 Draft. He was all set to be a hometown hero, but late in the '90 season, first-place Boston moved to strengthen its bullpen by acquiring 37-year-old righty Larry Andersen from Houston. Andersen pitched well down the stretch for the AL East champs, but by '91, Bagwell was the NL Rookie of the Year, on his way to Cooperstown.
Honorable mention: Pee Wee Reese
Rays: Bobby Abreu
Unlike most other players mentioned here, Abreu never suited up for the organization at all. That's because, in the 1997 Expansion Draft, Tampa Bay plucked him from Houston but then sent him to Philadelphia in a prearranged deal for shortstop Kevin Stocker. Abreu had been a hyped prospect in the Astros' system, but he didn't produce much in 74 big league games from 1996-97 and was left unprotected. After being flipped to Philly, however, he broke out immediately and went on to reach the 60-WAR mark over 18 seasons.
Honorable mention: Josh Hamilton
Yankees: Fred McGriff
Before he hit 493 home runs in the Majors, McGriff was just a ninth-round Draft pick by the Yankees in 1981. He played only 91 Rookie-ball games in the organization before he was included in a five-player trade with Toronto that netted the Yanks very little. At the time, McGriff got only a passing mention in The New York Times' story about the deal, but it would turn out to be one of the franchise's biggest blunders.
Honorable mention: Willie McGee
AL CENTRAL
Indians: Chris Archer
In three seasons as an Indians farmhand in the low Minors, Archer had a 5.13 ERA and walked nearly six batters per nine innings. Cleveland then sent him to the Cubs in a deal for Mark DeRosa in December 2008, and Archer blossomed. By the time Chicago gave him up two years later in a blockbuster trade with the Rays, the righty was a touted prospect who was closing in on the Majors.
Honorable mention: Pedro Guerrero
Royals: Mark Ellis
When shortstop Ángel Berroa took home 2003 AL Rookie of the Year honors for the Royals, it seemed like it was the A's who might have regrets about a three-team, seven-player deal (also involving Tampa Bay) that sent Johnny Damon to Oakland in January '01. But as it turned out, Berroa's career fizzled, and Ellis' took off. He spent nine seasons with the A's and produced roughly 27 WAR as a defensively gifted second baseman.
Honorable mention: Wil Myers
Tigers: John Smoltz
This is basically the pitching version of the Bagwell story. Smoltz was born in Detroit, grew up in Lansing, Mich., and was taken by the Tigers in the 22nd round in 1985. But then the club used him to acquire veteran starter Doyle Alexander from Atlanta in August '87, prompting the Braves' then-general manager, Bobby Cox, to ask one of his scouts, "Who the heck is Smoltz?" He would soon find out.
Honorable mention: Carl Hubbell
Twins: Reggie Smith
Smith signed with the Twins out of high school in 1963, but after playing 66 Rookie-ball games that year, the Red Sox snatched him away as part of what was then called the First-Year Player Draft (In place from 1959-64, it allowed teams to take first-year pro players from other organizations). Smith eventually blossomed into a seven-time All-Star with the Red Sox, Cardinals and Dodgers, hitting more than 300 homers and racking up more than 60 WAR.
Honorable mention: Jay Bell
White Sox: Fernando Tatis Jr.
Check out the impressive collection of young talent amassing on the South Side of Chicago, and then imagine what it would look like with Tatis. It could have happened. But Tatis was one of two players the club dealt to San Diego for veteran starter James Shields in June 2016. At that point, Tatis was 17 and had yet to make his pro debut after being signed out of the Domincan Republic a year earlier, and as general manager Rick Hahn later said, the Sox were operating with "a short-term mindset."
Honorable mention: Gio González
AL WEST
Angels: Patrick Corbin
By the time the Halos snagged Corbin in the second round of the 2009 Draft, they already had landed Randal Grichuk, Garrett Richards and Tyler Skaggs. Oh, and some high school outfielder from Millville, N.J. Fortunately for the Angels, they didn't trade Mike Trout. But, the following year, they did ship Corbin to Arizona as part of a package for starter Dan Haren. By '13, Corbin was an All-Star.
Honorable mention: Mike Clevinger
Astros: Johan Santana
Houston made a tremendous find when it signed Santana out of Venezuela in 1995, but the organization didn't appreciate what it had and left the 20-year-old left-hander unprotected in the '99 Rule 5 Draft. The Marlins selected him, but in a prearranged deal, flipped him to the Twins for pitcher Jared Camp, who never reached the Majors. It took a couple more years, but Santana emerged as an ace in Minnesota.
Honorable mention: Ben Zobrist
Athletics: Darrell Evans
Drafted five times before signing with the A's in 1967, Evans sustained a serious shoulder injury the next year and became expendable, with Sal Bando the team's third baseman of the future (it wasn't a miscalculation. Bando was a four-time All-Star and helped the A's win three straight World Series from 1972-74). The Braves took Evans in the Rule 5 Draft after the '68 season, and he became a terrific player -- if underrated in his era. Evans hit only .248 in 21 seasons, but he had a .361 career OBP, smacked 414 homers and piled up close to 60 WAR.
Honorable mention: Nelson Cruz
Mariners: David Ortiz
In the Big Papi story, the Twins probably rank as more infamous for letting the 27-year-old slugger go after the 2002 season, only to watch him become a superstar and franchise legend in Boston. But even before Ortiz spent parts of six seasons in Minnesota, he was a Mariners farmhand, who posted a .901 OPS and hit 18 homers at Class A Wisconsin in 1996. With Seattle fighting for a postseason spot down the stretch, it sent a "player to be named later" to Minnesota for third baseman Dave Hollins. That player was Ortiz.
Honorable mention: Derek Lowe and Jason Varitek (traded together)
Rangers: Edwin Encarnación
As a 29-year-old for the Blue Jays in 2012, Encarnación exploded for 42 home runs, the beginning of an extended run as one of the game's top sluggers. A dozen years before, Texas selected him in the ninth round of the Draft. Just one year later, it sent the young third baseman to the Reds for pitcher Rob Bell, who went on to post a 6.73 ERA for the Rangers. It took some tough times in Cincinnati, a trade to Toronto, a waiver claim by Oakland and re-signing with the Blue Jays before Encarnación took off.
Honorable mention: Kyle Hendricks
NATIONAL LEAGUE EAST
Braves: Adam Wainwright
"Adam is our No. 1 pitching prospect and that was tough to do, but under the circumstances we had no choice," John Schuerholz, then the Braves' GM, said after sending Wainwright to St. Louis as part of a deal for J.D. Drew in December 2003. Atlanta needed a right fielder, and in fact, Drew had a career year (8.3 WAR), while the Braves continued their streak of division titles. In the long term, though, Wainwright (like Drew, a Georgia product) closed out the 2006 World Series for the Cardinals before transitioning into a highly successful starter, with four top-three Cy Young Award finishes in St. Louis.
Honorable mention: Elvis Andrus
Marlins: Adrián González
In 2000, the Marlins made González the No. 1 overall pick, and he was Baseball America's No. 31 prospect heading into the '03 season, when he was sent to Texas for closer Ugueth Urbina. It took another trade, this one to San Diego in '06, but González would make good on the hype. The good news for the Marlins: Urbina helped them win a World Series first.
Honorable mention: Santana
Mets: Nelson Cruz
The Mets were not the only team to give up on Cruz before his belated breakout with Texas in his late 20s. And in their case, Cruz was miles away from the Majors when they traded him to Oakland for infielder Jorge Velandia in August 2000. (He had just turned 20 and had not even played at a Minor League affiliate yet). On the other hand, the A's also would go on to trade Cruz before he reached the big leagues, and the Brewers would do the same after he spent just eight games in Milwaukee.
Honorable mention: Scott Kazmir
Nationals/Expos: Cliff Lee, Brandon Phillips and Grady Sizemore
These three all were shipped from Montreal to Cleveland in the same blockbuster deal in 2002 that brought Bartolo Colon to the Expos. Montreal was looking to capitalize on a surprising season, with the future of the franchise in doubt (It would move to Washington after the '04 season). Cleveland's haul was spectacular. Lee would develop into an AL Cy Young Award winner in 2008, Sizemore was on a Hall of Fame-caliber trajectory before injuries interfered, and Phillips would become a three-time All-Star and four-time Gold Glove winner after a subsequent trade to Cincinnati.
Honorable mention: Tony Phillips
Phillies: Carlos Carrasco
Lee leads right to our next player, as Carrasco was one of four prospects the Phillies gave up to land the left-hander (and outfielder Ben Francisco) before the 2009 Trade Deadline. By that point, Lee was a star. Carrasco was a 22-year-old, highly regarded prospect, albeit one who was struggling at Triple-A. The Indians had to exercise patience, but after years of inconsistent performance and injury, Carrasco broke out in 2014. He's been a significant part of the Cleveland rotation ever since.
Honorable mention: Toby Harrah
NL CENTRAL
Brewers: Michael Brantley
This gets filed squarely under the, "No regrets," label, despite the fact that Brantley has become a nearly .300 career hitter. That's because the Brew Crew gave him up to land CC Sabathia, who proceeded to put the club on his back during the latter half of the 2008 season (11-2, 1.65 ERA in 17 starts), carrying Milwaukee to the playoffs for the first time since 1982. What stings more is that while the centerpiece of the return for Sabathia, heralded prospect Matt LaPorta, didn't pan out, Brantley actually went to Cleveland as a player to be named later -- and only because the Brewers reached October.
Honorable mention: Jake Odorizzi
Cardinals: Cecil Cooper
Cooper nearly helped beat the Cardinals in the 1982 World Series, homering and driving in six runs as the Brewers' starting first baseman and No. 3 hitter. But it didn't have to be that way. St. Louis had grabbed Cooper from Boston in the Rule 5 Draft in November 1970, only to return him the following April. The left-handed slugger eventually gained some traction with the Red Sox, was traded to the Brewers after the '76 season, and became a five-time All-Star who led the AL in doubles and RBIs twice apiece.
Honorable mention: David Peralta
Cubs: Josh Donaldson
Drafted out of Auburn as a catcher in 2007, Donaldson found himself with a new organization barely more than a year later, when the contending Cubs moved to upgrade their rotation with Oakland's Rich Harden. While Harden was terrific for a division-winning Chicago club, his injury-plagued career soon took a downward turn. Donaldson didn't play a full big league season until 2013, when he was 27, but two years later, he was the AL MVP.
Honorable mention: Gleyber Torres
Reds: Trevor Hoffman
The Reds drafted Hoffman as a shortstop, but he struggled both at the plate and in the infield for two seasons before Cincinnati moved him to the mound in 1991. The transition took, but the Reds left Hoffman unprotected in the '92 expansion draft, losing him to the Marlins. "You hate to lose any prospect," said Jim Bowden, then the Reds GM. "But as far as the Reds go in 1993, we don't think that pick will have much of an effect." Maybe not, but after debuting with the Marlins in '93, Hoffman was part of a trade to San Diego for Gary Sheffield, and he became one of the greatest closers in MLB history.
Honorable mention: Johnny Mize
Note: Deadball Era legend Christy Mathewson was briefly a member of the Reds in December 1900 before his all-time great pitching career with the Giants. But he also wound up pitching his final game for Cincinnati in 1916, when he took over as the team's manager.
Pirates: Jay Buhner
The team most known for giving up Buhner is the Yankees -- a mistake immortalized by "Seinfeld." That being said, Buhner did get a cup of coffee with New York before he was traded to Seattle for Ken Phelps and went on to hit more than 300 home runs. The Yankees actually got Buhner from the Pirates in the first place, in a December 1984 trade that also involved Dale Berra (son of Yogi). It came after a 19-year-old Buhner posted a .964 OPS in his first season of pro ball.
Honorable mention: Red Faber
NL WEST
D-backs: Carlos González
Car-Go was a top-20 prospect entering the 2007 season, according to Baseball America, and produced that year while reaching Triple-A. But the D-backs, who had reached the NLCS in '07, wanted to bolster their starting rotation, so they swung an eight-player deal with the A's to land Dan Haren. González went to Oakland (along with Brett Anderson), but one year later, after an 85-game MLB debut, he was on the move again. Part of a package sent to Colorado for Matt Holliday, he quickly excelled at Coors Field.
Honorable mention: Dansby Swanson
Dodgers: Roberto Clemente
The Dodgers could have been the franchise that brought both Jackie Robinson and Clemente to the Majors. Imagine that. Brooklyn signed a 19-year-old Clemente out of Puerto Rico in 1954 and sent him to its Triple-A affiliate in Montreal, where he showed flashes of his talent but put up mediocre numbers in 87 games. The Dodgers were aware of his ability, however, and knowing that Clemente was eligible to be taken in the Rule 5 Draft that November, tried to work out a deal with the Pirates, who had the first pick (Pittsburgh's GM at the time? None other than Branch Rickey). The Bucs would select a different Dodger, making Brooklyn ineligible to lose a second player. But the deal fell through, Clemente became a Pirate, and one of the game's legends spent his entire Major League career in the Steel City.
Honorable mention: Carlos Santana
Giants: Luis Castillo
Castillo was part of three different organizations before making his Major League debut with the Reds in 2017 and riding a devastating changeup to the top of the rotation. Before the messy situation in the summer of '16 when Castillo was traded by the Marlins to the Padres and then traded back due to injury questions surrounding another pitcher in the deal, he was originally a Giants farmhand. After pitching exclusively in relief for three seasons, Castillo was dealt to Miami shortly after his 22nd birthday for veteran third baseman Casey McGehee, who was acquired to replace Pablo Sandoval. McGehee was released after 49 unproductive games.
Honorable mention: Francisco Liriano
Padres: Corey Kluber
Kluber was not exactly a prized prospect, although he did show an ability to pile up strikeouts during three seasons in the Padres' system. At the 2010 Trade Deadline, he was the Indians' return as part of a three-team deal in which Cleveland sent starter Jake Westbrook to St. Louis, which shipped outfielder Ryan Ludwick to San Diego. There were more bumps in the road ahead for Kluber, but Klubot Version 2.0 rolled out in 2013, and the righty went on to win two AL Cy Young Awards in the following four seasons.
Honorable mention: Trea Turner
Rockies: Chone Figgins
Figgins became a key player for the Angels, going on a six-year run from 2004-09 in which he posted a .365 OBP and averaged 44 steals and 3.5 WAR while appearing all over the field. But in July 2001, Figgins was a 23-year-old struggling to hit in Double-A when he was traded to the Angels for outfielder Kimera Bartee. Unfortunately for Colorado, Bartee went 0-for-15 as a Rockie and never played in the Majors again, while Figgins succeeded elsewhere. "The lesson I learned in the Figgins trade is to know your players, more than what I had on paper," then-Rockies GM Dan O'Dowd said later.
Honorable mention: Brad Ausmus