Where 9 up-in-the-air teams may land by Deadline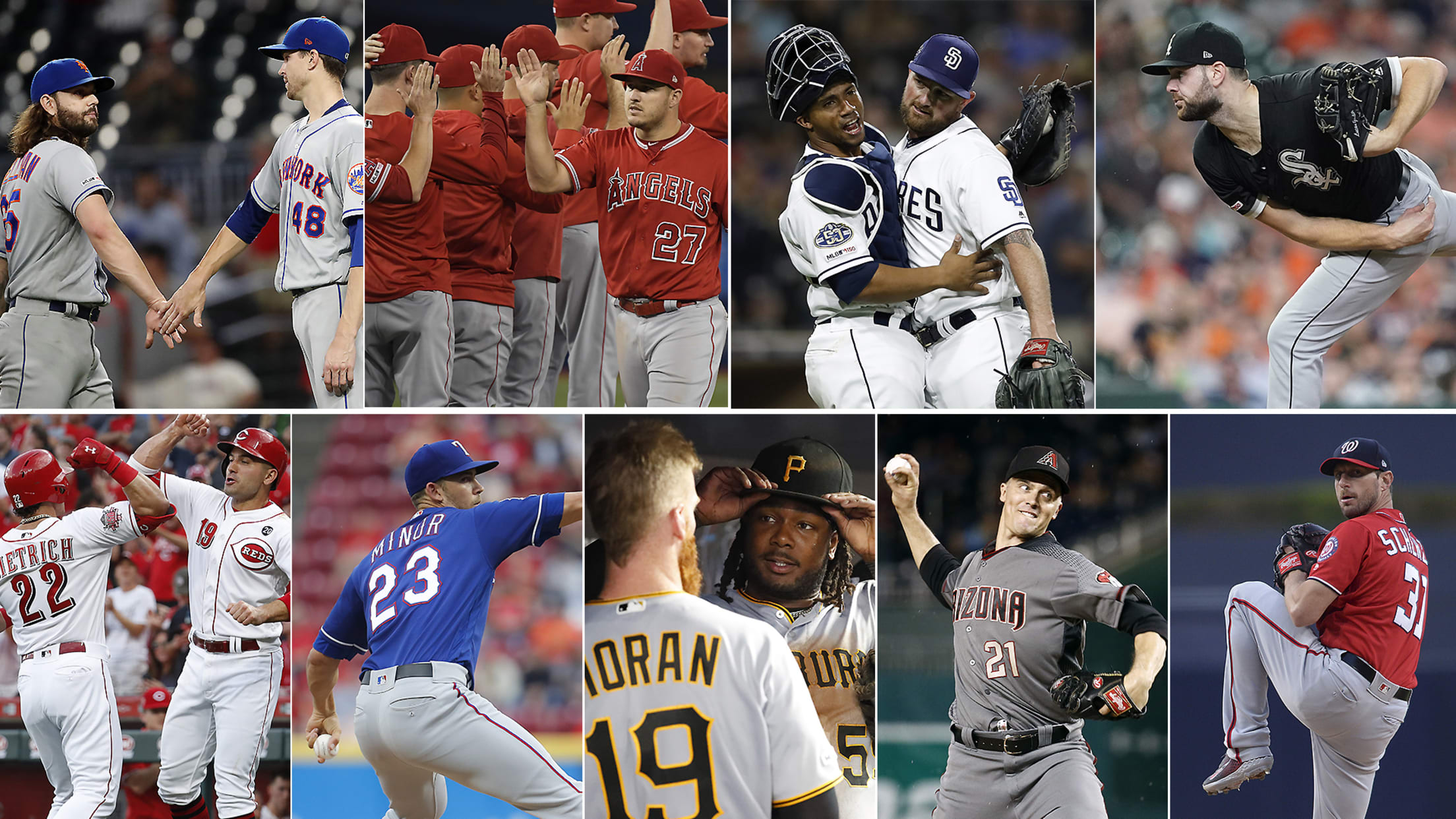 There's a general baseball maxim that you shouldn't start taking the standings all that seriously until Flag Day. This strikes one as overly simplistic -- it's not like last Friday happened and the Orioles looked up and said "All right, now we're out of it" -- but there is some
There's a general baseball maxim that you shouldn't start taking the standings all that seriously until Flag Day. This strikes one as overly simplistic -- it's not like last Friday happened and the Orioles looked up and said "All right, now we're out of it" -- but there is some logic to the idea that you need a good chunk of the season to pass before you can figure out precisely where you stand.
But even Flag Day might be too early. Heck, as chaotic and all-out madness as a baseball season can be, it feels like the truly great teams don't even know who they are until October. By June 19, you should theoretically know whether you're all in for making the playoffs or not. But this season, there are an unusual number of teams whose situations are up in the air.
As we stand, there are six first-place teams and eight teams in striking distance of either first place or a Wild Card spot that, suffice it to say, are deeply invested: They're not going anywhere, and they will rise and fall with what happens the rest of this season. They explicitly planned on competing heading into 2019, and that's what they are doing. They are:
Atlanta
Boston
Chicago Cubs
Cleveland
Colorado
Houston
Los Angeles Dodgers
Milwaukee
Minnesota
New York Yankees
Oakland
Philadelphia
St. Louis
Tampa Bay
There are also seven teams who entered 2019 hoping for the first steps toward long-term success without the inherent expectation of October baseball. They're not playoff contenders right now, and this is a fact that is not a surprise to anyone involved. They are:
Baltimore
Detroit
Kansas City
Miami
San Francisco
Seattle
Toronto
That leaves a whopping nine teams who have some big decisions to make in the next month. Perhaps they've been better than anyone expected; perhaps they've been worse; perhaps they've been stuck in the muddy middle. Are they throwing all their chips in for this season? Are they going to back off and build for the future at some point? Do they try to straddle the border of contention and recession? Here are the teams still trying to figure all this out.
Arizona Diamondbacks (Fangraphs Playoff Odds: 19 percent). The D-backs have been one of the pleasant surprises of the first half, fueled in large part by big leaps forward by players like Eduardo Escobar, Carson Kelly and the newly Ruthian Ketel Marte and a masterful turn-back-the-clock performance by Zack Greinke. They've recovered from a rough May with an excellent June, and they're only two games out of the second NL Wild Card spot. But are the D-backs really built to hang in with Philadelphia or Milwaukee, or even St. Louis? The answer could be yes: They have a better run differential than all three of those teams. But Arizona also spent the whole offseason trying to find a taker for Greinke's contract, and he's never had more value than right now. Whether the D-backs take this run seriously may be one of the key questions at the Trade Deadline.
Chicago White Sox (Fangraphs Playoff Odds: 0.2 percent). I'm being rather kind even including the White Sox on here, considering that meager Playoff Odds number, but they have been just interesting enough to consider for a moment. They have an offense with two potential superstars starting to figure themselves out (Eloy Jimenez and Yoan Moncada), some veteran hitters who put legitimate scares into opponents (James McCann and Jose Abreu) and a 24-year-old former phenom who's one of the five best pitchers in baseball right now (Lucas Giolito). They're missing all sorts of filler elsewhere -- the outfield outside Jimenez is particularly rough, and the rotation outside Giolito is a mess -- but even with just that, they're only one game under .500 and only three games out of the second AL Wild Card spot. Get them hot for a week, and you wonder if they should be more aggressive with some of the young talent still in the system, or even add parts. But if that hot streak doesn't happen, the White Sox can stay the course and look like a team that's a year away from something special.
Cincinnati Reds (Fangraphs Playoff Odds: 6.7 percent). The Reds have had a frustrating season so far, one in which they seem to have finally figured out their pitching at the precise moment much of their offense has disappointed. They're five games under .500 despite having a greater run differential than, say Milwaukee, St. Louis, Philadelphia and Colorado (and the same as Atlanta), and there are seven teams ahead of them in the NL Wild Card standings. The Reds have come around a bit lately, climbing out of last place in the NL Central, but the problem with this team is that it has so many free agents (Yasiel Puig, Tanner Roark, Scooter Gennett, Jose Iglesias and even Derek Dietrich has just one year left) that it is running out of time to make this season work. The Reds need the good fortune to finally turn their way and give them a hot streak, or they're going to have to start shipping people out. The return of Gennett in the next week or so may give them their last best shot.
Los Angeles Angels (Fangraphs Playoff Odds: 4.6 percent). The Angels essentially are required to go all-out to contend every season for the next decade. This is the obligation that comes with having the best player in baseball. One of the reasons Mike Trout said he re-signed with the Angels in the first place was the improving prospect base and the future of the franchise, but that future might be brighter than the present. The offense has been a pleasant surprise around Trout -- Tommy La Stella, Kole Calhoun and Brian Goodwin are helping, Shohei Ohtani is a joy to watch and even Albert Pujols is having an above-average offensive season -- but the starting pitching remains a total mess. (Andrelton Simmons being out doesn't help, either.) The Angels have no real choice but to keep running everybody out there this year and going for it … but it'd be a surprise to see them go all out to bring in outside assistance.
New York Mets (Fangraphs Playoff Odds: 14.4 percent). The Mets really should be better than this. They have plenty of young talent, and while some of the new additions haven't been much help (Robinson Cano is particularly rough), you don't have to squint hard to see the outlines of a good team. Unfortunately, the bullpen has imploded -- Edwin Diaz has gone completely off the rails in the last month -- and the starting pitching isn't giving them enough to make up for it. (The second-best starter has been Jason Vargas.) The Mets aren't likely to spend to bring in bullpen aid, particularly when they're three games under .500, but it's not as if anyone in the NL is running away from anyone else in the NL Wild Card chase. The Mets are a losing streak from falling out completely, but also a heater away from being back in the middle of it all again.
Pittsburgh Pirates (Fangraphs Playoff Odds: 1.2 percent). Has any trade aged worse, more quickly, than the Pirates' Deadline deal for Chris Archer last year? He didn't lead them to the playoffs -- remember, the Pirates were on a roll when they made the trade -- and he's having a nightmare 2019 with a 5.85 ERA. Meanwhile, Austin Meadows is having an MVP-type season when healthy, Jordan Lyles has been fantastic and even prospect Shane Baz has a 1.44 ERA in the Minors. Gulp. The Pirates are in last place and look stuck there, and I only include them here because they had such high hopes coming into the season. (And they're wasting a Josh Bell breakthrough.) Where do they go from here?
San Diego Padres (Fangraphs Playoff Odds: 10.5 percent). The Padres have alternated all year with two steps forward, two steps back -- but you'd expect that from a young team. It has landed San Diego right at .500, which currently places it in the thick of the NL Wild Card chase. The Padres may be mediocre in the standings, but they're anything but on the field, where they're as purely enjoyable to watch as any team in the game. The starting pitching needs some help, and it probably isn't worth it for the Padres to mortgage any of the future to get themselves some, but if there's a team that has a finishing kick come August and September, it might be this young squad.
Texas Rangers (Fangraphs Playoff Odds: 1.9 percent). Fangraphs is decidedly low on the Rangers' chances, putting them just above, say, the Pirates, even though they currently hold the second AL Wild Card with the Red Sox. That may say more about Fangraphs' thoughts about Boston and Houston than Texas, but there are plenty of reasons to still be a little skeptical about the Rangers. Their gambit of just signing old pitchers and seeing who pans out hasn't been a bad one, with both Mike Minor and Lance Lynn putting together All-Star seasons. But the rotation is still rather patchwork, and the offense outside of Joey Gallo and Hunter Pence (both of whom are currently on the injured list) is lackluster. The Rangers will enjoy this period of overachieving while they can, but at the first sign of a serious dip, look for them to be active at the Deadline. Right now, just enjoy the ride.
Washington Nationals (Fangraphs Playoff Odds: 37.7 percent). The most frustrating team in the sport -- for several years running now, it seems -- has the belief of the Fangraphs odds and perhaps few others. Despite being five games under .500, Fangraphs thinks Washington has similar playoff odds to, say, Philadelphia, and when you consider how much talent the Nats have, you can see why. Of course, they've had that talent all year, and look where they are. Washington has looked better in June, but the clock is ticking fast. The ultimate question: How long can this team underachieve until it has to try something different? If it has taken this long to click, will it ever? The next month may answer the question once and for all.