Here's how MLB gave back this Thanksgiving
Thanksgiving looks and feels different in 2020 -- a year that, for many reasons, we won't forget. But even under unfortunate circumstances that altered everyday life, one thing about this time of year doesn't need to change: the holiday spirit that reverberates through communities. People helping people. Reaching out to
Thanksgiving looks and feels different in 2020 -- a year that, for many reasons, we won't forget.
But even under unfortunate circumstances that altered everyday life, one thing about this time of year doesn't need to change: the holiday spirit that reverberates through communities. People helping people. Reaching out to neighbors who need a lift.
Many Major League clubs forged ahead with community-related activities this month, even if they required adjustments here and there, such as adding social-distancing methods that keep everyone safe.
Let's take a look at what teams, players and Major League Baseball's Youth Academies have done this holiday season, coast to coast:
COMPTON and NEW ORLEANS YOUTH ACADEMIES
Compton (Calif.) College, Major League Baseball's Compton Youth Academy and Omega Psi Phi Fraternity sponsored the Annual Turkey Giveaway on Wednesday at Compton College.
Nine hundred free turkeys and 30-pound boxes of groceries were available for curbside pickup.
The Annual Turkey Giveaway is open to all Compton College and MLB Youth Academy students and their families, as well as local community members.
The New Orleans Youth Academy also hosted an event where 200 turkeys were handed out in under an hour. Additionally, the Academy delivered turkeys to senior citizens' homes.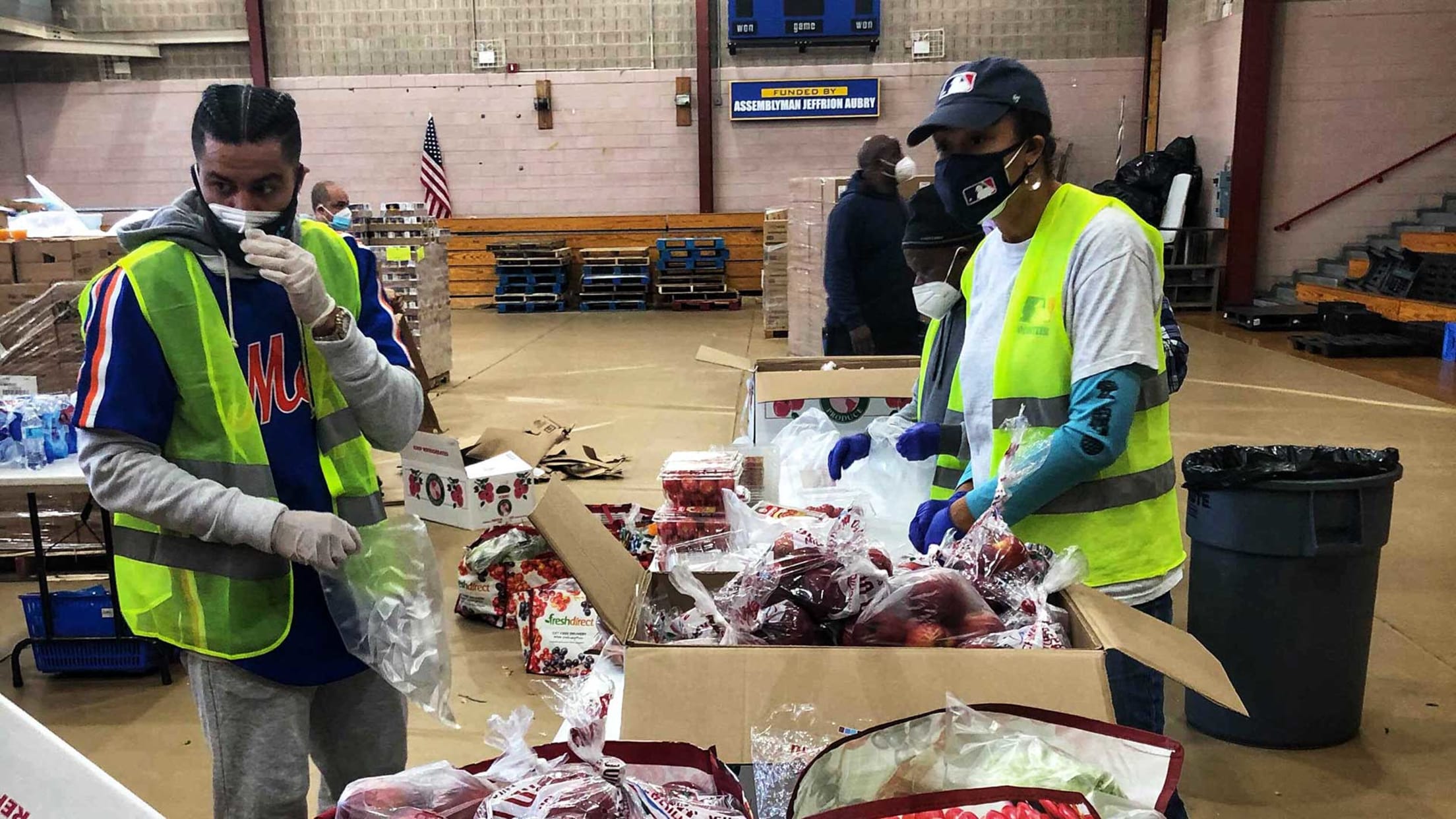 MLB BUSINESS RESOURCE GROUP
MLB's SOMOS Business Resource Group partnered with Elmcor Youth & Adult Activities Inc. to help provide Thanksgiving essentials for Latinx families in the Queens, N.Y., area.
They donated 100 turkeys as part of Elmcor's weekly food pantry distribution, focused on serving families in advance of Thanksgiving. More than 10 members of the SOMOS BRG volunteered to assist with prepping boxes and with distribution.
CARDINALS
The Cardinals kicked off the holiday season early to accommodate online donations for their gift drive this year, and they moved their ninth annual holiday gift drive online, asking fans to donate money in lieu of the typical gift drop-off at Busch Stadium.
Donations will help provide gifts and gift cards to children of military families at the socially distant Breakfast with Santa at Scott Air Force Base, as well as to Angels' Arms, Annie Malone Children and Family Services, Marygrove and Southside Early Childhood Center -- all organizations that help children around the St. Louis area. The Cardinals decided to move up the gift drive from its usual time slot in early December to give the organizations time to buy the toys, supplies and gift cards themselves before the holidays. More >>
CUBS
The ongoing pandemic created planning obstacles for Anthony Rizzo's foundation Walk-Off for Cancer, but it also opened up new avenues for helping families impacted by pediatric cancer.
For Thanksgiving, the foundation raised money to help send warm meals to families and staff at Lurie Children's Hospital in Chicago, as well as delivering meals around Chicagoland and in Rizzo's home state of Florida. Rizzo did not want families already dealing with the stress of their kids' cancer treatment to also worry about preparing a Thanksgiving feast.
"If someone has to be at the hospital for Thanksgiving," Rizzo said, "to be able to deliver meals is something that goes a long way." More >>
Another round of COVID care packages are on their way to our Cancer families who are in desperate need of supplies to keep them and their children safe during these unprecedented times.

Make a $100 donation and sponsor a care package for a family in need.https://t.co/E8WwWHpOou pic.twitter.com/wbMo9hid3I

— A. Rizzo Foundation (@RizzoFoundation) September 15, 2020
GIANTS
Giants infielder/outfielder Mauricio Dubón flew into his hometown of San Pedro Sula the day before Hurricane Eta made landfall on Nov. 3 and witnessed the torrent of rain the Category 4 storm inflicted in Honduras, a Central American country with a population of more than 9 million people that was already facing high levels of poverty and inequality. The damage caused by the natural disasters, coupled with the ongoing COVID-19 pandemic, created a humanitarian crisis, prompting Dubón to step in and help those in need.
Dubón organized a GoFundMe campaign to raise money to help hurricane victims in Honduras and is using the funds to purchase basic supplies like non-perishable food, bottled water, personal hygiene products, clothes and face masks. He and his wife, Nancy, go on supply runs to local supermarkets, and they personally deliver the aid to shelters and neighborhoods that were hit hard by the storms.
Dubón said he is also hoping to buy mattresses, beds and refrigerators for families who lost their homes in the ensuing floods. He has raised more than $19,000 to date, with president of baseball operations Farhan Zaidi, manager Gabe Kapler and other Giants teammates contributing donations. More >>
MARINERS
Mariners Rookie of the Year Kyle Lewis recently forged a friendship with Tycean Martin, a young teen who has already been through more adversity in his 13 years than most people will experience in a lifetime.
Martin has already undergone four open-heart surgeries and 22 medical procedures after being born with hypoplastic left heart syndrome, a rare congenital defect in which the left side of the heart is severely underdeveloped.
The eighth-grader at Glacier Middle School in SeaTac, Wash., is one of the first nine kids from the Seattle area chosen to be part of the Mariners' Hometown Nine program that will help fund and mentor minority youths in their baseball and softball pursuits. He learned of his selection in a video call from Lewis.
The Hometown Nine program was inspired by the 11 Black players on Seattle's 40-man roster last season as they talked of ways to help promote their game in minority communities. Part of the plan involves the Mariners paying for equipment, training and travel from eighth grade through high school for the nine youngsters who'll be selected each year. More >>
MARLINS
Annual traditions have had to be adjusted over the course of the year due to the COVID-19 pandemic, and Monday afternoon was no exception in Miami.
The Marlins handed out 1,000 meal boxes at the 12th annual Home Plate Meals Thanksgiving distribution, and they did it in drive-thru fashion outside Marlins Park.
Marlins owner Bruce Sherman, CEO Derek Jeter, pitchers Pablo López and Daniel Castano and former players Álex González and Gaby Sanchez were among those giving back to the community from a safe distance. More >>
METS
The Mets Foundation donated 4,000 turkeys to local families in need for Thanksgiving this year. The team is delivering those turkeys to local community groups and food pantries across the New York City area.
On Monday, the Mets assembled and delivered 300 complete Thanksgiving meals to one of their community partners in Queens, New Immigrant Community Empowerment. They sent NICE 300 more turkeys on Wednesday.
The Thanksgiving meals were to be distributed to families across Queens. More >>
As has become tradition, the Mets Foundation (now with Alex Cohen in charge) is giving away 4,000 turkeys to local families in need this Thanksgiving. Some images from today's event: pic.twitter.com/yz1i1coEtg

— Anthony DiComo (@AnthonyDiComo) November 16, 2020
NATIONALS
The Nationals began the holiday season with a week of community initiatives to address food insecurity, faced by an estimated half-million residents of the D.C. area.
The week opened with Turkey Palooza -- over 200 turkeys, produce from 4P Foods and canned goods from Wegmans were distributed by the Nationals Youth Baseball Academy to participants of its after-school and youth baseball programs.
The following day, the Nationals Youth Baseball Academy teamed up with Feed the Fridge -- a program created to combat COVID-related food insecurity by Medium Rare restaurant owner Mark Bucher -- for a Thanksgiving meal distribution. Together, they distributed 200 pre-cooked, sealed meals to Fort Dupont Park residents.
The week wraps up with Medium Rare's 12th Annual Free Turkey Fry on Thanksgiving Day at Nationals Park. Event-goers were invited to drop off their birds, park for free in Garage C and pick up their fried turkeys after receiving a text. The frying is done at no charge, and donations will benefit Feed the Fridge. More >>
#NatsAcademy staff distributed turkeys and Thanksgiving meals this week to program participants and neighborhood residents. Read more about our effort to respond to an increased need for food access this season.

🔗https://t.co/bjHQ1E3Xks | #Nats4Good pic.twitter.com/S4kg7Rr6jh

— Nationals Philanthropies (@Nats4Good) November 25, 2020
PADRES
The COVID-19 pandemic couldn't stop the Padres' annual Thanksgiving turkey distribution, though it did change the calculus a bit.
The event -- typically buzzing with families and team employees inside Petco Park's home-plate gate -- instead took place in an adjacent parking lot. The logistics this year?
"Drive through, they stop the car, they pop the trunk, and we put turkey and fixings and everything in there for them for a great Thanksgiving meal," said Padres president of business operations Erik Greupner. "Then we wish them a happy Thanksgiving and they drive off."
When all was said and done, the event -- in partnership with the San Diego Food Bank -- fed more than 600 underserved and military families in the area. More >>
PIRATES
Pirates Charities has joined with players, coaches, staff and fans to raise money for four local non-profit organizations -- Salvation Army of Western Pennsylvania, Urban Impact, the Allegheny County Department of Human Services and Light of Life -- so that they can provide food and housing for underserved families, help at-risk youth, provide clothing and gifts for children, and aid those stricken by poverty or addiction.
Pirates players and coaches, including starter Chad Kuhl and manager Derek Shelton, have taken to social media along with their families to get the word out. Fans can still take part at Pirates.com/Friendsgiving. Pirates Charities has committed to pledge a minimum of $50,000 in total matching donations.
Meanwhile, Bucs right-hander Joe Musgrove has also become a trendsetter of sorts by creating custom-made cleats that he auctioned off in support of a couple of worthy causes. More >>
RANGERS
Rangers catcher Jose Trevino honors the memory of his late father, Bugé, every year when he organizes his family's annual Trevino Toy Drive, a popular Corpus Christi endeavor that began four years ago when Trevino was climbing through the Rangers' farm system.
The first year benefitted the Boys and Girls Clubs of Alice, and now the West Side Helping Hand in Corpus Christi. The first two years involved a toy drive and a baseball camp. A home run derby was added last year, allowing local high school players to compete for Rangers tickets.
Trevino arrived to that event by helicopter, landing on the field and stepping out dressed as Santa Claus to hand out the goodies. More >>
ROCKIES
Rockies relief pitcher Yency Almonte showed that his heart is bigger than his name.
Wanting to make a difference in his hometown of Miami, Almonte, 26, spent the afternoon distributing plates of food that he arranged for families during his first Thanksgiving Giveaway at the Boys & Girls Clubs of Miami-Dade Hank Kline Club.
Almonte's event was designed to spread food and joy while taking COVID-19 precautions. Rather than give out turkeys that families would have to store and cook, the volunteers passed out prepared meals with safety and social distancing in mind. More >>
TIGERS
This Thanksgiving season, Tigers pitcher Matthew Boyd is grateful for many things in his life. That includes the recent groundbreaking on a new home for 40 kids a half a world away in Uganda, a milestone for the Kingdom Home charity that Boyd founded with his wife, Ashley.
What began a few years ago as an effort to help rescue three dozen children from child trafficking and sex slavery has grown to include 156 kids. If all goes well over the next year, they'll have a self-sustaining complex of four homes, a well for water and both hydroponic and traditional farming to help provide food.
It's beyond what the Boyds could've imagined when they felt called by a humanitarian emergency to take the jump into their own charitable foundation.
"They all have a home feel," Matthew Boyd said of the houses, which include kitchens, living spaces and separate sleeping quarters. "They're not orphanages. They're not dormitories. It's a home. And that's the goal, a home for these children." More >>
WHITE SOX
The third annual Homeplate Turkey Drive organized by White Sox shortstop Tim Anderson and his wife, Bria, through their League of Leaders outreach program had a little different feel in 2020 than it did in '19.
Changes were needed due to COVID-19. Instead of festivities for the entire family at Hillcrest High School in Tuscaloosa, Ala., 205 pre-ordered turkeys were gifted to families from the comfort of their vehicles. They were dropped in the trunks of the respective cars by volunteers at Anderson's alma mater. More >>