MLB.TV gives you all access, all season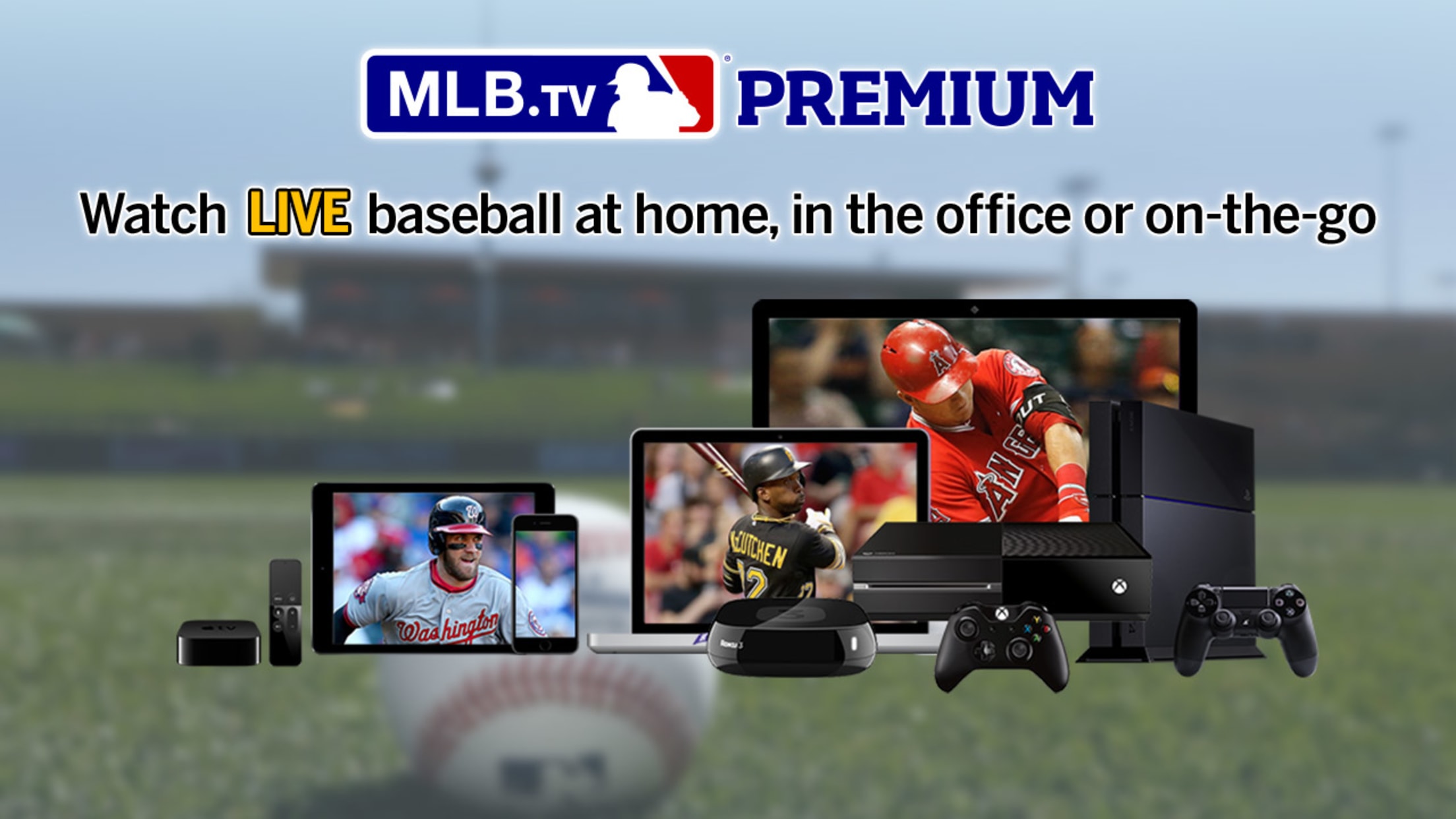 From Opening Day through the All-Star Game in San Diego through the final pitch of the 112th World Series, it's time again for MLB.TV.The first live stream of an official 2016 game broadcast on MLB.TV began in Pittsburgh with Andrew McCutchen saying: "You just have to let it all soak
From Opening Day through the All-Star Game in San Diego through the final pitch of the 112th World Series, it's time again for MLB.TV.
The first live stream of an official 2016 game broadcast on MLB.TV began in Pittsburgh with Andrew McCutchen saying: "You just have to let it all soak in and just cherish it." The best way to do that is by signing up for the most widely distributed and No. 1 sports streaming service, which returns for a 14th season with everything you'd expect.
MLB.TV Premium returns with the same features as last year, but at $109.99, it is a full 20 bucks cheaper than the 2015 cost. This package has the best value and provides access to more than 400 devices and a free subscription to the MLB.com At Bat Premium app (a $19.99 value). It offers the best picture quality ever -- a new 60 frames per second -- for supported devices. Monthly signups for MLB.TV Premium are now underway as well for $24.99.
The new MLB.TV Single Team package is also now available as an $84.99 yearly subscription. You can watch a single team's live out-of-market games in full HD.
"When I'm in the hotel, I have Apple TV, I take it on the road with me," said Astros shortstop and MLB.TV Premium subscriber Carlos Correa. "At home, I use my iPhone and the At Bat app. It's great for fans to watch the games and be able to replay them, and just enjoy baseball."
This annual rite sets the stage for how millions of fans follow the live action all season. It's time to settle into a routine of following live games the way you want to most.
"I'm an iOS developer, and I've watched MLB.TV, via the At Bat app, over the years from a developer's perspective be the very best," said longtime MLB.TV subscriber and Blue Jays fan Shane McCafferty. "I've recommended MLB.TV to clients as someone to watch and emulate in the digital space."
McCafferty met his wife in Toronto and they spent a decade after their marriage living in his native Ireland, while "MLB.TV gave me a seat in the ballpark from continents away." Now they live near Toronto and share the love of baseball with their three daughters at Blue Jays games, keeping MLB.TV as an ally.
For the McCaffertys and so many others, spring is indeed a treasured time of "renewal."
"I'm an early adopter. MLB.TV is an early adopter. Whenever I've jumped. You've been there," McCafferty said. In his email to MLB.com, he added: "Narrowband -> Broadband. Laptop -> Phone. Phone -> Tablet. Apple TV ... Apple Watch ... Always there.
"The reason MLB.TV has been so successful is this: Because you're there, because you're affordable, because you're the best. It seems the MLB.TV team just 'gets,' and has from the beginning 'got,' how big a deal the digital experience is."
MLB.TV Premium subscribers will also get the Mosaic View -- split screen or quad, available on PC or Mac only. That always comes in handy, especially when scoreboard-watching looms. MLB.TV Premium and MLB.TV Single Team subscribers both enjoy HD and both will get real-time highlights and player stats automatically loaded moments after they occur (only for the game you are watching with MLB.TV Single Team, and for all games with MLB.TV Premium).
PGA Tour pro Peter Malnati will be among those relying on MLB.TV again. He used it in 2015 to faithfully follow his Royals, and a week after they clinched their first World Series title in 30 years by beating the Mets, he won his own breakthrough title, taking the Sanderson Farms Championship.
"I have this theory," Malnati said in a recent visit to the MLB.com studios in New York. "I know it's really important in any line of work, especially in what I do with golf, to be well-rested. Sleep is really important. But I have this theory. As long as I'm all ready for bed, teeth brushed and everything, and I'm tucked in bed, everything I do from there still counts almost as sleep.
"So I watch the Royals on my iPad a lot, and if they're playing on the West Coast or even in Central time and I'm on the East Coast, as long as I get in bed then, I've got my iPad and that counts as sort of sleep. ... It's so valuable for me to have MLB.TV and just be able to lay in bed with my iPad, because otherwise I would feel bad staying up so late watching some of the games that I do. That way it is just completely justified."