MLB volunteers work at NYC park for Earth Day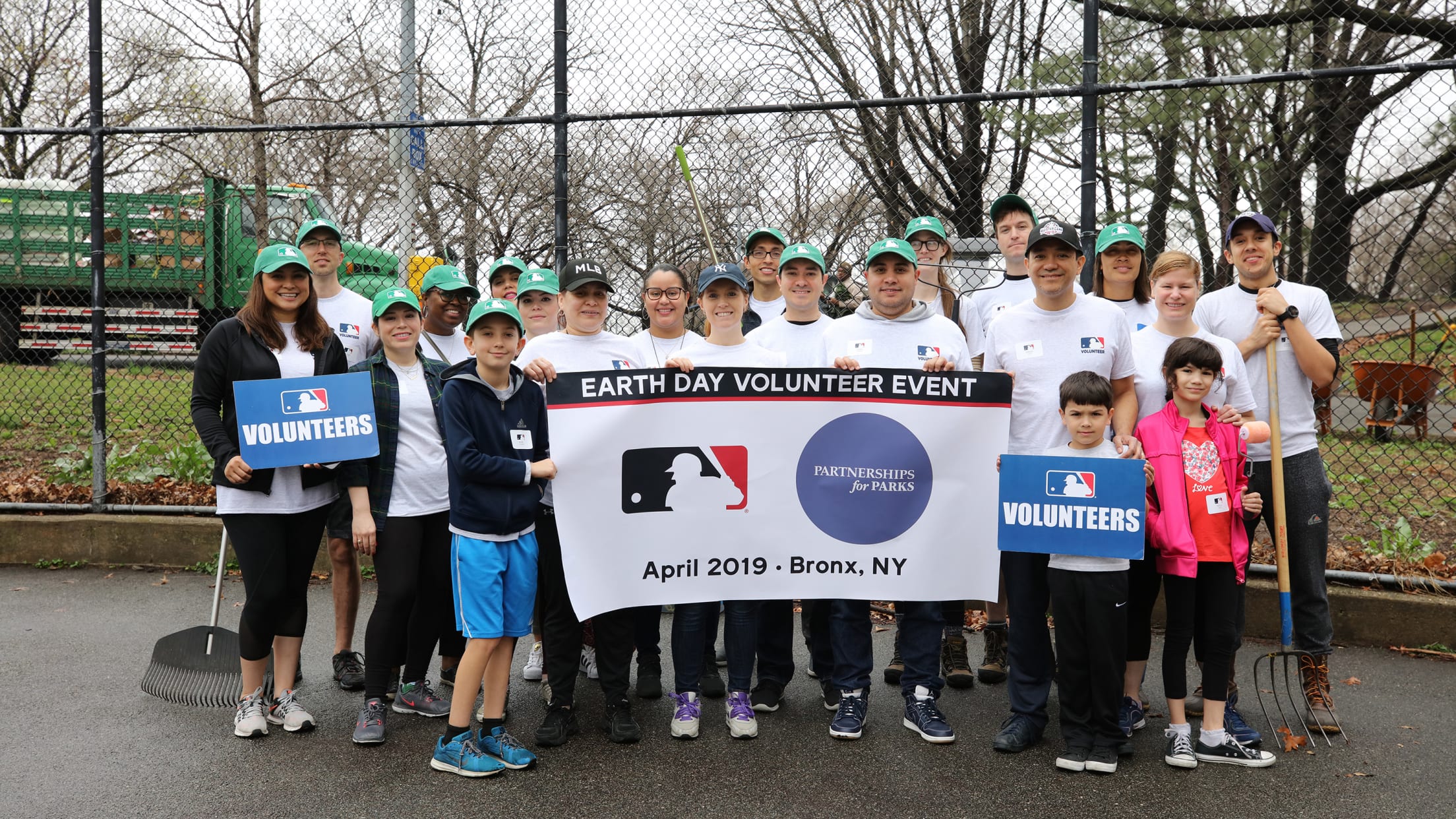 Some of Major League Baseball's New York-based employees volunteered in honor of Earth Day on Saturday, working at Claremont Park in the Bronx in conjunction with Partnership for Parks. Earth Day will be observed on April 22, as it has been each year since 1970. In recent years, Major League
Some of Major League Baseball's New York-based employees volunteered in honor of Earth Day on Saturday, working at Claremont Park in the Bronx in conjunction with Partnership for Parks. Earth Day will be observed on April 22, as it has been each year since 1970. In recent years, Major League Baseball has partnered with parks around New York City in observance of the day.
Around 25 volunteers from Major League Baseball Advanced Media, the Office of the Commissioner and MLB Network and their families got together on Saturday morning to paint a handball court wall and re-seed a lawn. Volunteers of all ages were on hand, including children with their parents.
"Major League Baseball is a great supporter of getting outside. We have our official lawn care company, Scotts, and we partner together on a number of activities with a sustainable nature," said Melanie LeGrande, Major League Baseball's vice president of social responsibility. "Our Earth Day volunteer event brings our employees out on a Saturday with their families to meet with one another and have a great time -- and we're able to come together for good, and do some landscaping and beautification. It's important to people."
Team-building and teamwork go hand in hand with the volunteer efforts, and the phrase "teamwork makes the dream work" was uttered multiple times, as the entire group unloaded a truck with heavy topsoil and helped each other with heavy items and hard-to-reach heights.
LeGrande said seeing the finished projects is one of her favorite parts of these events.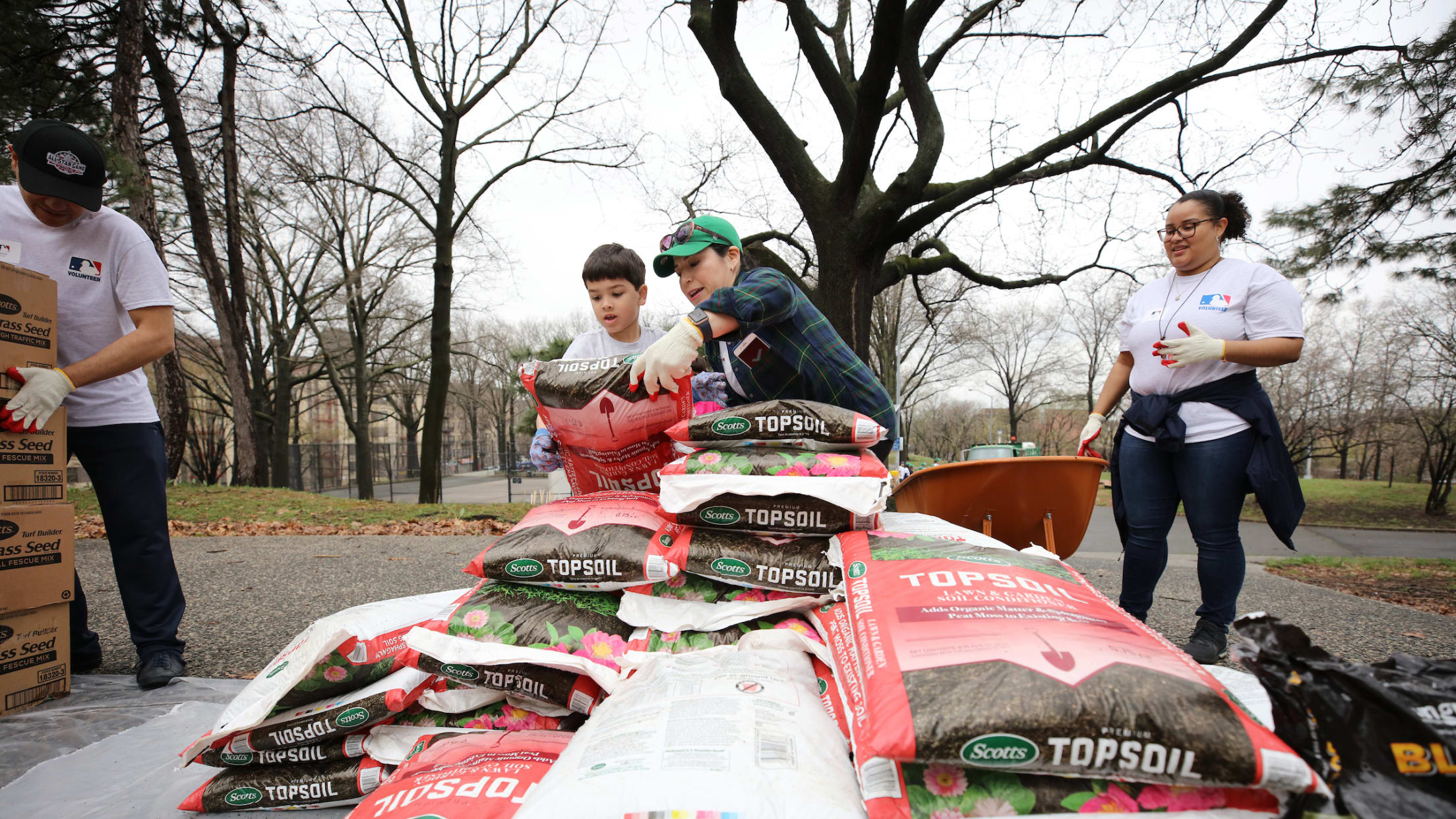 "I think seeing the before and after and knowing you made a difference is really compelling to the people who are participating," she said.
"[It's] not just for the camaraderie," she said, "but because it's something that we need to do for the Earth. It feels good to be one with the Earth and to be a collective out here together."
Park manager Clinton Johnson was grateful to see the bright-eyed volunteers there on a Saturday morning.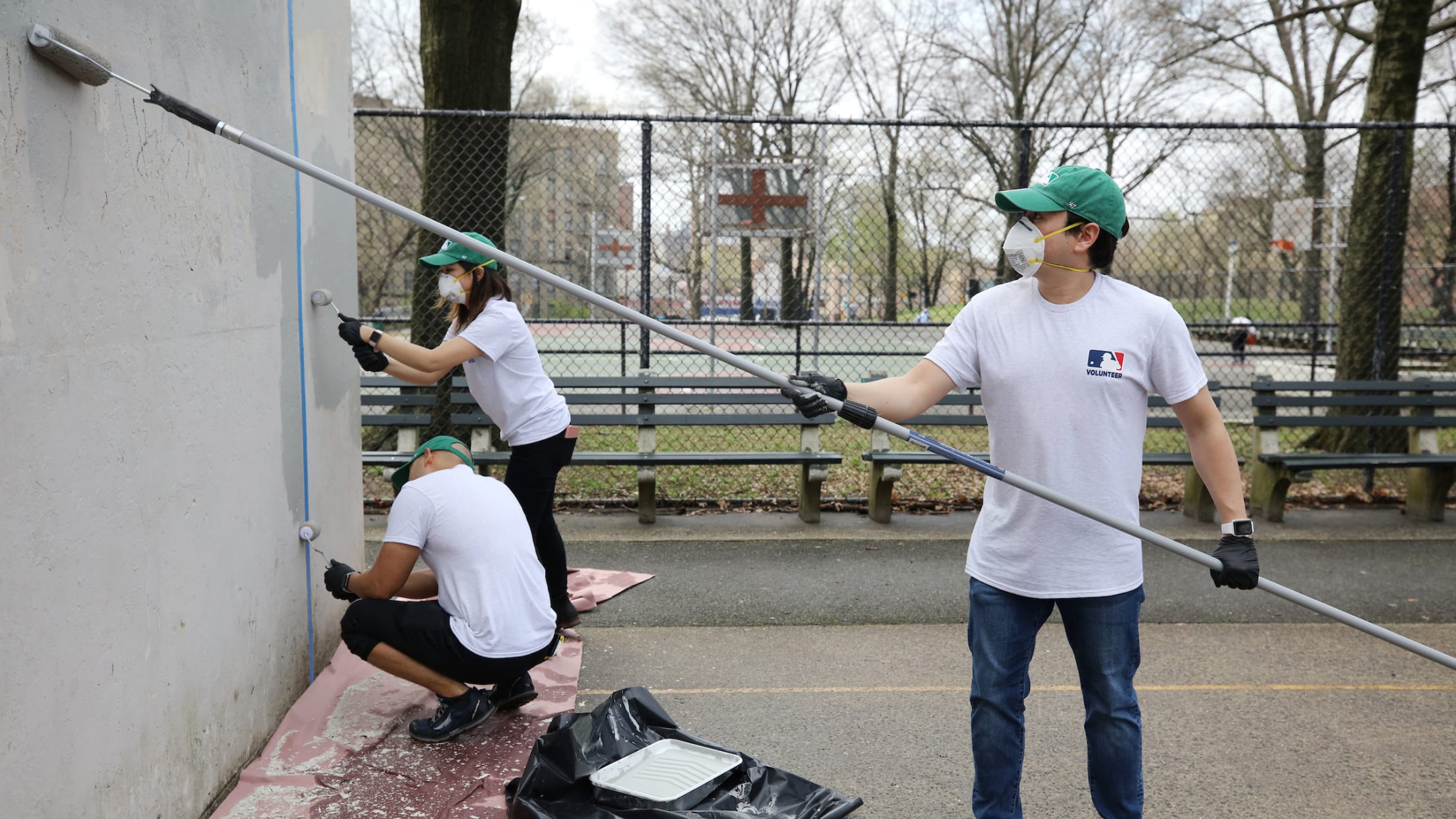 "Any time you guys can come and give your time," said Johnson, "it sends a message to the community that Major League Baseball cares about the park, which makes them get more involved, too.
"[The New York City Department of Parks and Recreation] is all about Earth Day and green spaces -- and improving them. Any time we have an opportunity to do something like this -- restoring an area -- we love that opportunity and we love to share that with people."
Claremont Park is less than two miles from Yankee Stadium, and this isn't the first time baseball-motivated volunteer and beautification efforts have focused on the park. In April 2016, CC Sabathia and his PitCCh in Foundation unveiled a newly reconstructed baseball field at the park.
Yankee Stadium's proximity played a key role in planning the details of the event, which ran until around 12:30 p.m. ET.
"We try to hit all the boroughs because we know our employees live in all the different boroughs and we want to make it accessible to them on a Saturday morning," LeGrande said. "But we timed this appropriately -- there's a 1 p.m. Yankees game -- so we know a lot of folks here are going to take themselves to the game and feel like they did something rewarding this morning and can go reward themselves with a game."