MLBPAA hosts Alumni Day in Arizona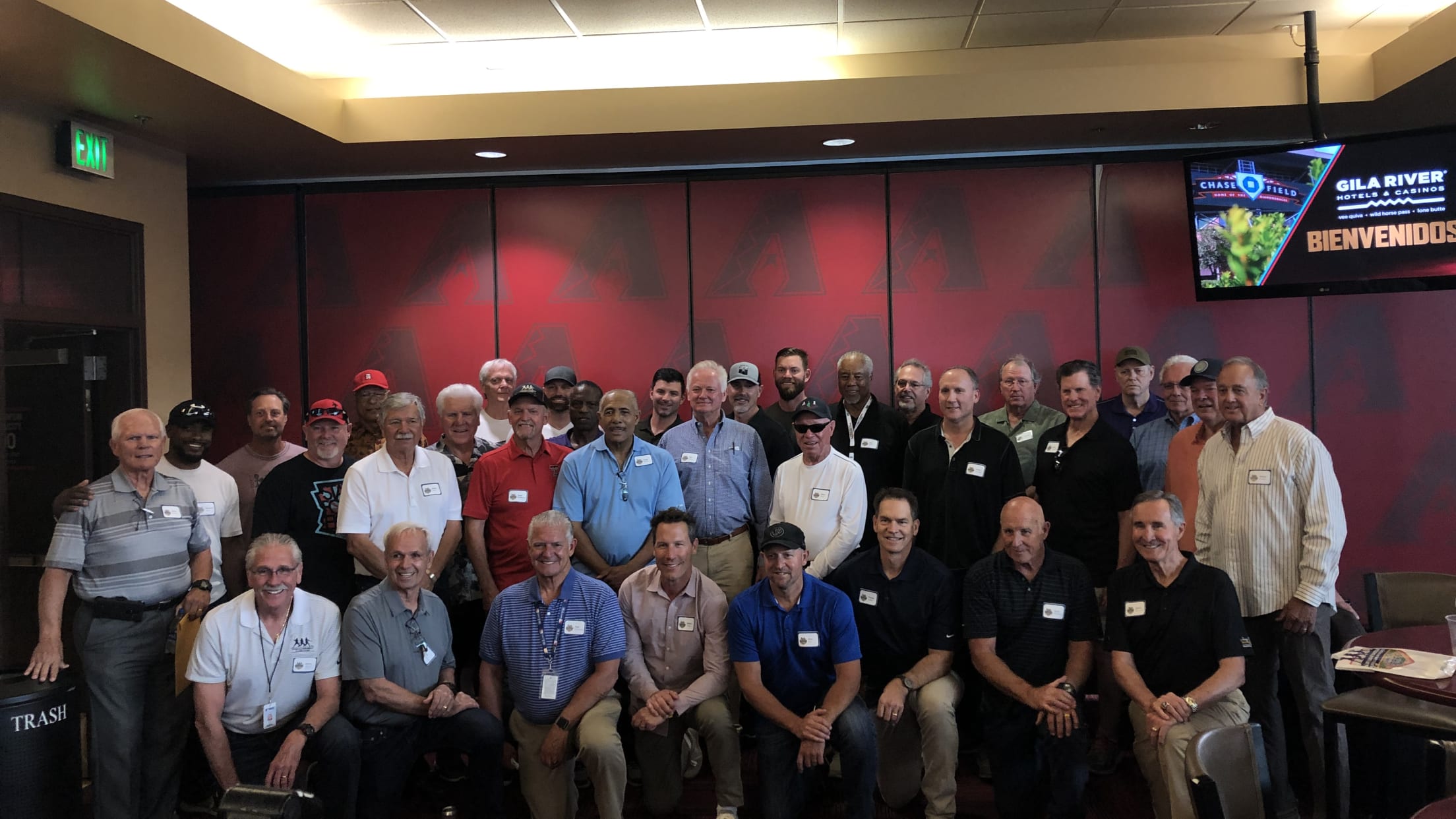 PHOENIX – Major League Baseball Players Alumni Association's Alumni Day in Arizona was a celebration of baseball's past and present. Fifty former big leaguers came together in the appropriately named Legend Suites above right field at Chase Field to catch up on the old days, talk about their future and
PHOENIX – Major League Baseball Players Alumni Association's Alumni Day in Arizona was a celebration of baseball's past and present.
Fifty former big leaguers came together in the appropriately named Legend Suites above right field at Chase Field to catch up on the old days, talk about their future and watch a game between the D-backs and Braves at Chase Field.
"Part of this is fraternal, getting the guys together to have a great time, and part of it is the ability to give the right information about pension, health care and other issues and answer their questions," said Dan Foster, MLB Players Alumni Association CEO. "We have 9,000 members scattered all over the place and we are not going to get them all together, so we get together several times a year at different ballparks to spread the gospel."
In addition to the former players and their families, special guests included Steve Rogers, Special Assistant to MLBPA Director Tony Clark, and Joe Garagiola Jr., Special Advisor to D-backs President and CEO Derrick Hall, and members of MLB Players Alumni Association's board of directors.
"It's such a great organization and nice way for players to stay connected," Garagiola Jr. said. "The Alumni Association with its Alumni Days, youth clinics and the career transition program does such great work with and for the former players. It's an honor for me to be on the board."
The Alumni Day series, which is opened to all former Major League Players, is designed to provide a forum for members to reconnect as well as learn about recent projects and initiatives the Alumni Association has planned for the year.
There have already been Alumni Day celebrations at Citizens Bank Park in Philadelphia, Wrigley Field in Chicago, Yankee Stadium and Kauffman Stadium in Kansas City. Additional Alumni Day events are scheduled for Miami, Oakland, Colorado and Tampa later this month.
Alumni Day events are also scheduled for Milwaukee, Cleveland, Houston, Pittsburgh, St. Louis, Atlanta and San Diego this summer.
Overall, the Major League Baseball Players Alumni Association has hosted more than 100 stadium events for more than 1,700 players through the Alumni Day Series since 2013.
"Once you are done playing, the things you miss the most are the guys in the locker room," Foster said. "It's not the game on the field. Sure, you would like to keep playing, but you know you can't. But you still want to have fun with the guys in the locker room and this is as close as you can get to a locker room."
The former players talked about their home lives, where they are living these days and what keeps them busy. But mostly, they talked about their favorite game as they munched on ballpark fare. Memories were shared. New bonds were made. The setting was extra special to Kelly Stinnett, who spent part of his career with the D-backs and still coaches in greater Phoenix-area.
"It's always great to connect with the guys who have paved the way for us, the guys that have played in the 50s, 60s and 70s," Stinnett said. "It's been a great help for guys who are making the transition from baseball to life after baseball. It can be tough trying to figure out what you are going to do, but this network and being able to be around the guys is awesome."