MLBPAA hosts Legends for Youth Clinic at Petco Park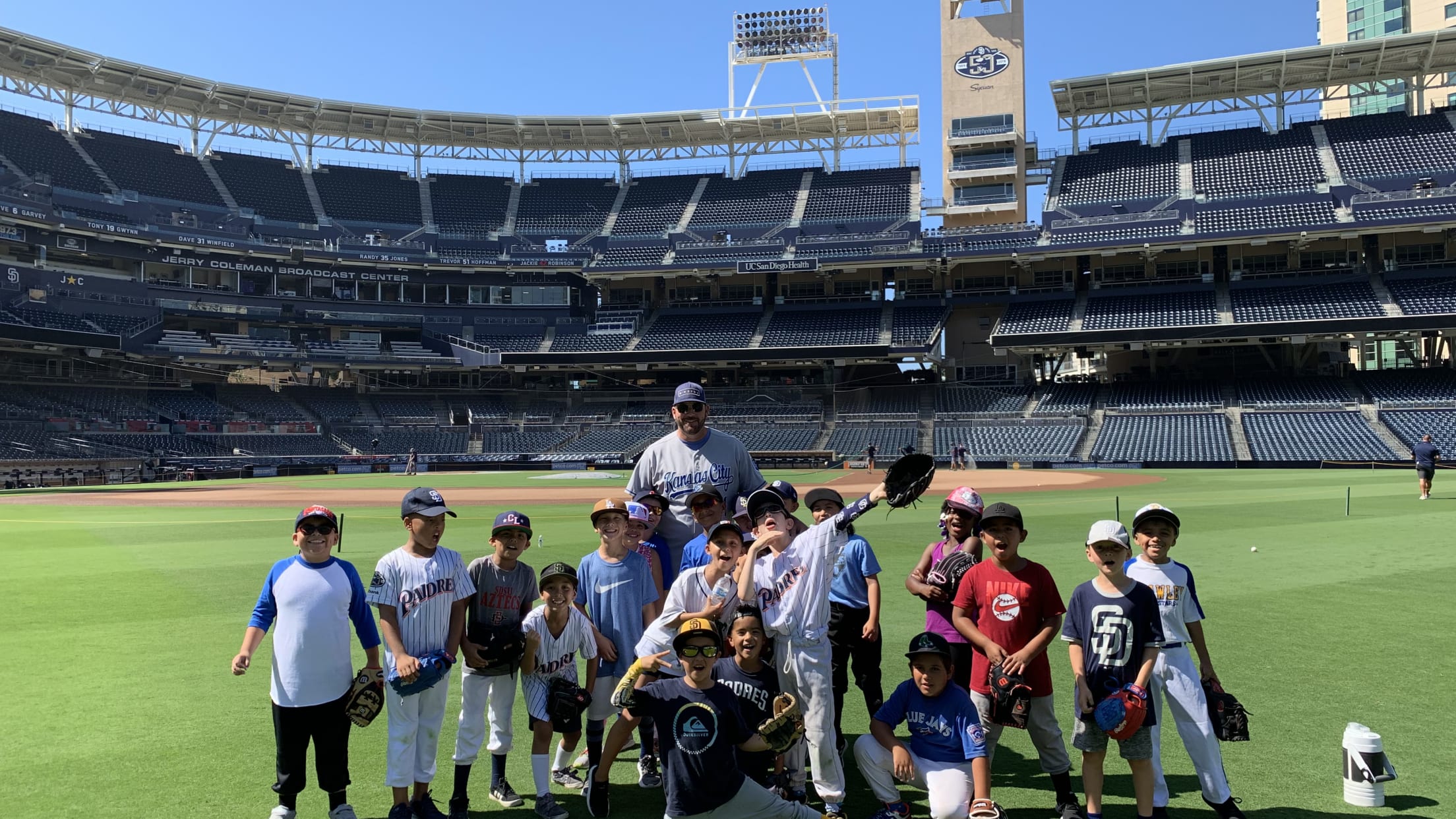 Hours before the San Diego Padres were set to welcome the Colorado Rockies on Saturday night, Petco Park was filled with ballplayers. And an alligator? "Where's that bare hand supposed to be?'' Fernando Vina asked a youngster fielding a grounder. "On top like an alligator's mouth.'' Vina, who played 13
Hours before the San Diego Padres were set to welcome the Colorado Rockies on Saturday night, Petco Park was filled with ballplayers.
And an alligator?
"Where's that bare hand supposed to be?'' Fernando Vina asked a youngster fielding a grounder. "On top like an alligator's mouth.''
Vina, who played 13 seasons in the Majors for five teams, was preaching the gospel at the Legends for Youth Baseball Clinic at the Padres' downtown digs. The ballpark was filled with San Diego sunshine and plenty of smiles from the 138 players, ages 6-16.
In every direction baseball tips were being distributed by those in the know. Former pros were sharing their knowledge, and passion, for the game they hold dear to their heart.
Kurt Bevacqua was talking about base running. Joe Moeller and Mark Redman were chatting about pitching. Archi Cianfrocco was conducting a hitting session by heaving Wiffle balls. Bobby Mitchell had kids taking the correct routes on fly balls. And Merv Rettenmund, the owner of two World Series rings from his time with the 1970 Orioles and 1975 Reds, was working on the batting tee.
"What position do you play?'' Rettenmund asked a youngster, as he set up his favorite punch line.
When the tyke's reply was "shortstop," Rettenmund delivered the kicker.
"Never say a position,'' he said. "Tell them you are a hitter and that way they always find a place for you.''
Petco Park was the place to be and that was proven more by the number outside wanting in than those lucky ones frolicking about its manicured outfield grass.
The registration list exceeded the clinic's capacity by about 300, which meant there are plenty of youngsters hungry for baseball and softball in the San Diego region.
"This is a good time,'' said 10-year-old Arrianna Romero, who plays fastball softball. "It's pretty cool they allowed all us kids to come out here and play.''
Play they did as they raced from one station to another. Once they reached Vina, it was hard to tell who had the wider grin.
"I'm not sure if it's the old man, me, or the kids,'' Vina said. "But it's great to give back.''
That's where the Major League Baseball Players Alumni Association always hits a home run. Founded in 1982, its mission is to promote baseball, raise dough for charities and protect the dignity of the game.
Among the ways it stays true to the game is to connect with the younger generation of players through its instructional clinics. Each year some 19,000 children across America, and internationally, are treated to hands-on lessons from those that, hands down, know their stuff.
"I think it's pretty awesome because I like the coaching,'' said 10-year-old Alex Kreisler. "It's really cool that they do this because they could be at home sitting on the couch.''
Rettenmund wasn't resting. He was coaching two players on the hitting tees at once, making sure their follow through was keen and their self-evaluations were in the affirmative.
"Every time I ask you about your swing, tell me something positive,'' he said. "Now you knocked the tee over on that swing but that was because the tee was too high. That's a good-looking swing you have.''
Kids, of course, mimic the big-leaguers so when a youngster saw a certain someone in the stands, he couldn't resist.
"Hi mom,'' he said proudly.
That pride extended to the instructors, as they reacted with each player's success as if it was their own kid.
"We're teaching them baseball and to let them know that everybody is going to strike out and make an error,'' Vina said. "It's what you do after that.
"So it's baseball but also some life lessons. And, of course, it's about them having fun.''
Chuckles were in an abundance. Bevacqua asked a member of a new group to his base-running station about where they were from.
"Oceanside!'' a youngster quickly said of the San Diego suburb.
Bevacqua meant which clinic station, but he laughed along with the others.
"I hope they're having fun and that they remember these tips they got when they are little,'' said Vina, who won two Gold Glove Awards. "Sometimes when they get older, this stuff gets overlooked.''
How could any kid forget about the alligator story at Petco Park? No croc, it really did happen.