MLBPAA hosts Legends for Youth Clinic in Myrtle Beach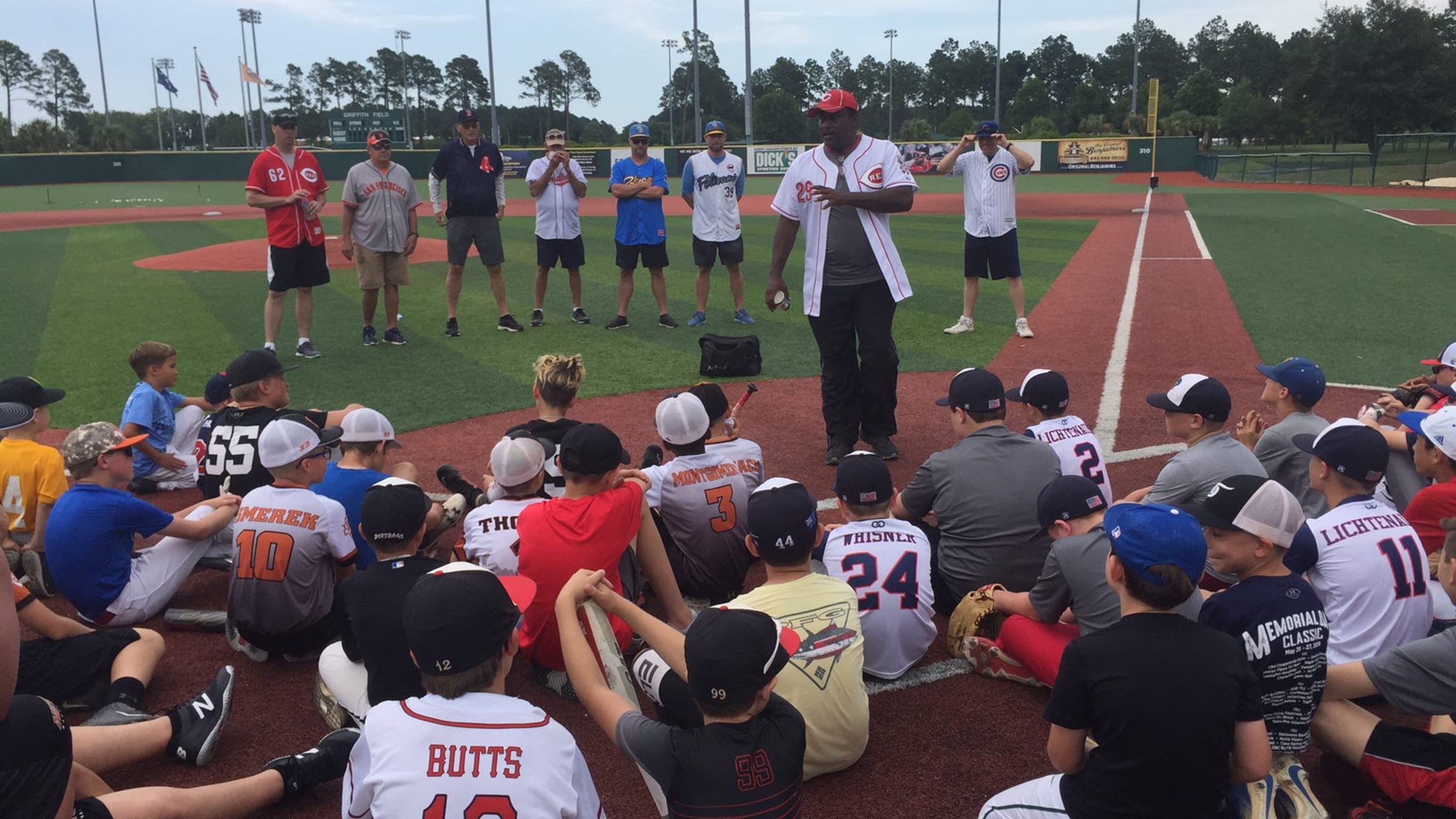 Baseball's past and future came together Saturday at the MLBPAA's Legends for Youth Clinic Series in Myrtle Beach, S.C, bound by a shared love of the game. Although separated in age by decades, eight former big leaguers and more than 60 little leaguers closed the generation gap with the common
Baseball's past and future came together Saturday at the MLBPAA's Legends for Youth Clinic Series in Myrtle Beach, S.C, bound by a shared love of the game.
Although separated in age by decades, eight former big leaguers and more than 60 little leaguers closed the generation gap with the common denominator of baseball.
"Being around these kids keeps me young, and I'm still a big kid myself," joked 58-year-old and nine-year MLB veteran Herm Winningham. "In baseball, you never grow up."
The generational bridge ran both ways, with the children's youthful enthusiasm energizing the legends, and the ex-players' experience and wisdom inspiring the youngsters.
"It's as fun for us as it is for the kids," said former Phillie and current Myrtle Beach Pelicans manager Steve Lerud. "Seeing them smile reminds us of when we fell in love with the game."
The lessons at the free, three-hour clinic spanned well beyond the base paths, covering everything from how to throw a fastball to how to handle life when it throws you a curve.
"I love them because they taught me a lot," said 7-year-old Rutger Moore of Murrells Inlet, S.C. "They told us to play hard like we did today, stay in school and don't do drugs."
Boys and girls between the ages of 6 and 16 split into groups and ran through various pitching, hitting and fielding drills at stations manned by big-league vets at each position.
The hands-on instruction was followed by valuable life lessons, including the importance of hard work, team work, dedication and education to reach their dreams in baseball and beyond.
"Hard work pays off. I don't care if it's baseball or whatever you do, you have to put in the time," Winningham said. "I'm so glad I get the opportunity to pass that on to the next generation."
The message of the strong work ethic was delivered at a fitting venue - The Ripken Experience baseball complex's miniature-sized replica of the old Griffith Stadium in Washington, D.C.
Co-owned by Hall of Famer and MLB's all-time "Ironman" Cal Ripken for his record 2,632 consecutive games-played streak, The Ripken Experience saw an old-school workout.
But above all, the focus was on having a good time. The veterans mixed their coaching sessions with a little humor to put the "fun" in teaching the fundamentals.
"We want the kids to realize that they can go for their dreams, but it's also a game," said MLBPAA special events coordinator Chloe Hoeft. "It's supposed to be fun, so we really stress that."
Following the lessons on and off the field, an autograph session gave the former and future players a chance to chat. The vets hope a signed baseball isn't the only thing the kids took home.
"All of us have been so blessed by everything this game has given us," Lerud said. "To be able to give back to these kids, whether it's helping them get better or just having a good time, it means a lot to all of us."
Other participating legends included Alan Fowlkes (Giants, Angels), Rich Gale, (Giants, Royals, Reds, Red Sox), Billy Harris (Indians, Royals), Brian Lawrence (Padres, Mets), Larry Luebbers (Reds, Cardinals) and Kurt Seibert (Cubs).
The MLBPAA conducts 185 youth and coaching clinics annually, reaching 19,000 children worldwide. Next up is the Fountain Inn Coaches Clinic on Monday, June 24, featuring Landon Powell, Mike Proly, Jeff Schaefer and Kurt Seibert.