30 times fans fell in love with a player
These icons captured their cities' hearts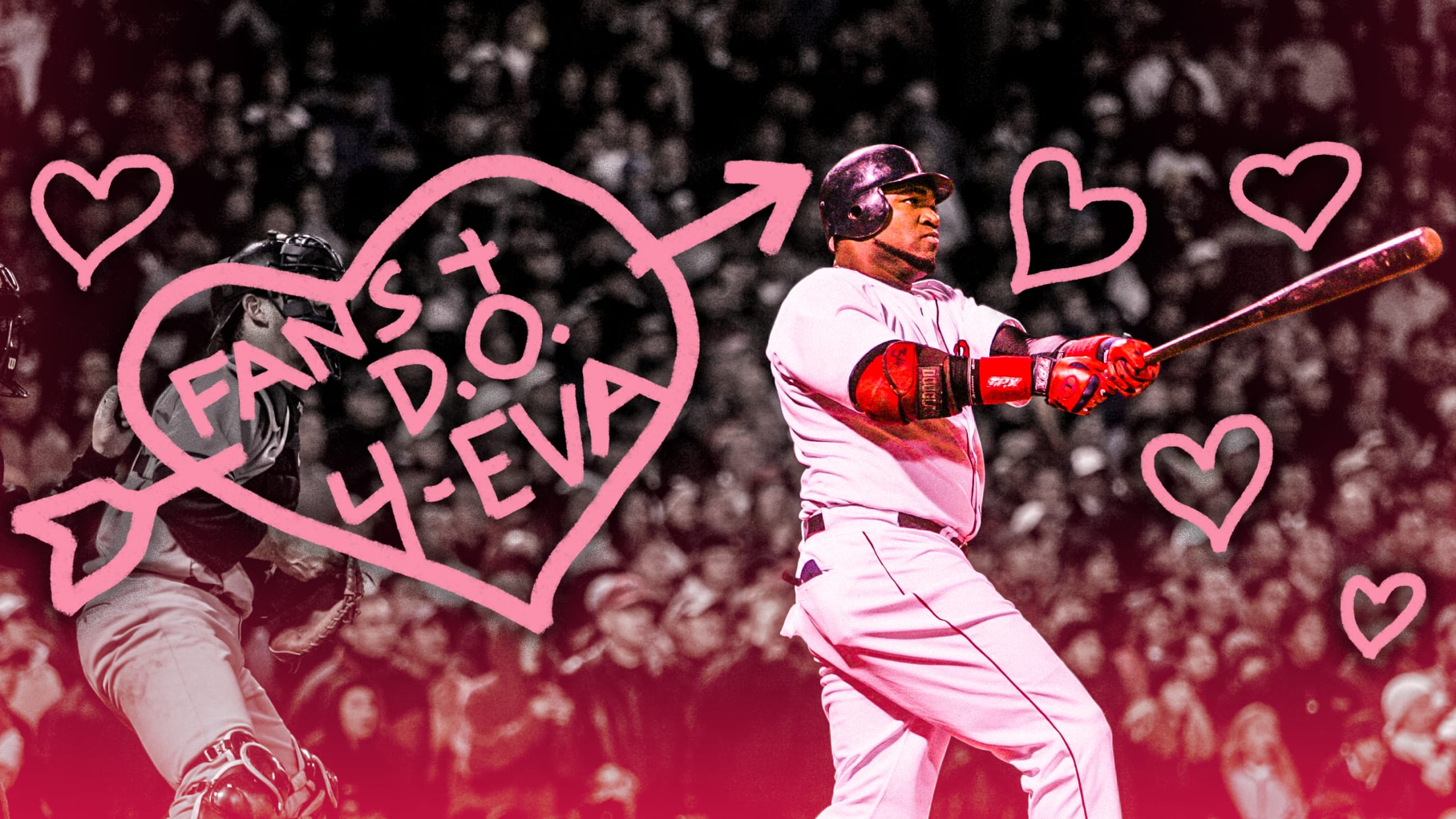 (Tom Forget)
The relationship between a beloved athlete and a fanbase is not quite like any other in human experience. On one side, you have a group of people who are, simply put, crazy and not exactly renowned for tempered and consistent feelings about their favorite team. On the other, you have
The relationship between a beloved athlete and a fanbase is not quite like any other in human experience. On one side, you have a group of people who are, simply put, crazy and not exactly renowned for tempered and consistent feelings about their favorite team. On the other, you have a player who, for the most part, is just trying to help his team win as many games as possible.
Yet, from these fraught beginnings often comes love. Sometimes it happens gradually as an accumulation of hits, strikeouts and endearing celebrations pile up until fans wake up one morning and realize they're in love. Other times, it's easy to pin down a moment when the player did something on the field that was the equivalent of firing Cupid's arrow into the hearts of each and every fan.
On Valentine's Day, we celebrate love in all its forms, whether between romantic partners or between an athlete and a city. In the spirit of the day, let's fondly recall the moment that each fanbase fell in love with a player.
Angels: Mike Trout robs a home run
For every great player, there's a moment when the world first comes to the realization that they're witnessing something special. Trout is the best player in baseball, largely on account of his bat. But it was a superhuman home run robbery he made as a rookie that had Angels fans sold.
Astros: Yordan Alvarez hits the upper deck
Few things capture the hearts of fans like massive home runs, and in 2019, the Astros rookie hit a bunch of them. Alvarez hit a club rookie single-season record with 27 home runs. But, hitting a lot of home runs isn't enough to win over the hearts of fans -- dozens of wall scrapers don't exactly capture the imagination.
Luckily, Alvarez made his mark by hitting no-doubters. In September, he became the first Astros player to hit a homer to the third deck of Minute Maid Park. It's a wonder it didn't put a hole in the roof.
Watch: Alvarez's tape-measure home run
Athletics: Dallas Braden throws a perfect game
A hometown player suiting up for his childhood team is catnip to fans. If that player turns out to be good, you have an automatic club legend. Braden grew up in Stockton, Calif., as an A's fan -- a fact that was not lost on Oakland. So, when the hometown kid threw a perfect game as a member of the A's in 2010, it was instant and eternal love. The heartwarming fact that he threw it on Mother's Day after losing his own mother to cancer as a high schooler only adds to how impactful that performance was.
Watch: Braden throws a perfect game
Blue Jays: Jose Bautista flips his bat
Prior to 2015, the Blue Jays hadn't been to the postseason since Joe Carter's walk-off homer in 1993 made them back-to-back World Series champions. In Game 5 of the 2015 ALDS against the Rangers, the team found itself in a position to return to the ALCS. A bizarre bounce of the ball in the top of the seventh inning put the Toronto crowd on edge and left the Blue Jays down a run. After tying it up, Bautista stepped to the plate with a chance to give his team the lead. He did just that and captured all the energy of Rogers Centre with an unforgettable bat flip.
Braves: Chipper Jones makes his postseason debut
When a team drafts a player first overall, expectations are that he will turn into a very good player, if not a star. In this regard, Jones lived up to even the highest expectations of Braves fans. But fans don't fall in love with a player for simply living up to expectations. You have to do something special to earn that. It didn't take Chipper long to endear himself to Atlanta. In his first postseason game in the 1995 NLDS, he hit two dingers off Rockies pitchers, including a game-winner in the 9th inning.
The Braves went on to win the 1995 World Series and Chipper was the one who got them started.
Watch: Jones homers twice in postseason debut
Brewers: Ryan Braun clinches the division
When the Brewers made the postseason as a Wild Card team in 2008, Braun established himself as a star in just his second year in the league. Nevertheless, he was overshadowed in Milwaukee by the Trade Deadline acquisition of CC Sabathia that propelled the team to the postseason.
In 2011, it was Braun's team and he made the most of it, leading the Brewers to their first NL Central title and capping off an MVP season with a division-clinching home run.
Cardinals: Yadier Molina comes through in the clutch
Molina would eventually develop into a formidable hitter, but as a 23-year-old in 2006, he was very much a defense-first catcher. In 2006, he had an underwhelming .595 OPS as the Cardinals' starting catcher.
That all changed in the postseason as Molina transformed into a force at the plate, hitting .308 in the NLDS and then .348 in the NLCS, including this go-ahead homer in the 9th inning of Game 7 to send the Cards to the World Series. It's not crazy to think that, without this defining moment, Molina's tenure with the team would never have reached the length it has.
Watch: Molina's go-ahead homer
Cubs: Javier Báez steals home
The Cubs broke a 108-year World Series drought in 2016 thanks to the development of young stars like Kris Bryant and Anthony Rizzo paired with a dependable pitching staff fronted by Jake Arrieta and Jon Lester. But none of those players became as beloved as Báez, who took on a role as the team's spark plug.
Nowhere was that energy more apparent than when he stole home in Game 1 of the NLCS against the Dodgers, signaling to Cubs fans that there was something different about this team than the 108 Cubs teams that came before it.
D-backs: Archie Bradley hits a triple
The thing about sports legends is that you can never really predict where they're going to come from. Sure, most of the time it's just going to be the best player coming through in a big moment. But, the true legends are those that come seemingly out of nowhere. A relief pitcher hitting a two-run triple in a winner-take-all Wild Card Game is how those true legends are born.
Watch: Bradley's two-run triple
Dodgers: Clayton Kershaw strikes out the side in his debut
Love at first sight may not be a real thing in human-to-human relationships, but when it comes to fandom, there are definitely times when you just know. When Kershaw struck out the side in his very first inning with the Dodgers, yeah, L.A. knew this was a guy it was going to love for a long time.
Giants: Pablo Sandoval becomes a World Series hero
When the Giants won the World Series in 2010, Sandoval played a marginal role behind postseason hero Juan Uribe on the team's depth chart at third base. He got his chance in the October spotlight two years later when the team returned to the Fall Classic in 2012 and didn't waste any time making his mark.
In Game 1, the Panda made history by homering in each of his first three trips to the plate, including two off Tigers ace Justin Verlander. Sandoval had long been something of a cult hero, but it was his transformation into a World Series hero that made him truly beloved in San Francisco.
Watch: Sandoval hits three homers
Indians: Francisco Lindor hits a postseason grand slam
Lindor had been well-liked in Cleveland prior to the 2017 ALDS: His debut in 2015 helped turn around a disappointing season and he was an instrumental part of the Indians' run to the World Series in 2016. Nevertheless, there were other performances in the 2016 postseason -- those of Andrew Miller and Rajai Davis, in particular -- that overshadowed Lindor's.
He blossomed into a power threat in 2017 and he showed that off in the postseason with a grand slam at home in the ALDS. It was with that swing and trip around the bases that Lindor truly became Cleveland's smiling, exuberant superstar.
Watch: Lindor's postseason grand slam
Mariners: Ichiro introduces his arm
When Ichiro joined the Mariners in 2001 -- before highlight reels were readily available on the internet -- fans weren't quite sure what to expect from the Japanese star. They quickly found out he could hit after he put up 12 in his first seven games. But, it was in his eighth game when fans started to understand how special he was. Probably looking at Ichiro's diminutive frame and concluding he didn't have much of an arm, A's outfielder Terrence Long tried to advance from first to third on a routine single to right field. He -- and all of baseball -- discovered that Ichiro was much more than a speedy slap hitter.
Marlins: Miguel Cabrera walks it off in his debut
One of the most common pieces of job interview advice is to make a good first impression. Despite how often this tip is given, it's not entirely clear how one goes about doing it. Is it by delivering a good handshake? Dressing well? Looking the interviewer in the eye? We'll probably never know.
In baseball, however, there are clearly identifiable ways to make a good first impression. Back in 2003, Cabrera -- then a 20-year-old outfielder -- very much succeeded in making a sterling first impression on Marlins fans by hitting a walk-off home run in his Major League debut. The fact that the Marlins went on to win the 2003 World Series didn't cause them to question their love, either.
Mets: David Wright makes a barehanded catch
Fans rarely fall in love with a player for his defense, mostly because it's not as sexy as hitting a dinger, being aggressive on the bases or tossing a no-hitter. But sometimes defense is incredibly sexy, and when a player makes that sort of defensive play, fans are going to fall in love in a heartbeat. When Wright basically recreated Willie Mays' catch from the 1954 World Series with his bare hand, he might as well have been Cupid shooting an arrow into the hearts of every Mets fan.
Watch: Wright's incredible catch
Nationals: Juan Soto changes the narrative
Before 2019, the Nationals had the unfortunate reputation as a perennially outstanding team in the regular season that was incapable of winning in the postseason. That remained the case for the first 7 1/2 innings of the 2019 NL Wild Card Game, as the Nats mustered only one run on three hits off the Brewers.
Then, Soto stepped to the plate with the bases loaded in the eighth and changed the entire history of the franchise. Just listen to the crowd: That's the sound of love.
Orioles: Adam Jones pies everybody
Even if a player spends his whole career with a single team, he'll never really attain the level of investment that a fan has. A career lasts a decade, maybe two, while fandom is a life-long endeavor. Even so, fans love nothing more than when they see players feeling as passionately as they do. When the Orioles clinched the AL East title in 2014 after a nearly 20-year drought, fans were understandably ecstatic.
Jones was right there with them, literally, as he spent the postgame festivities taking a lap of Camden Yards to celebrate with fans.
Watch: Jones celebrates with fans
Padres: Fernando Tatis Jr. tags up on a popup
Padres fans spent the winter and spring before the 2019 season celebrating the signing of Manny Machado, but little did they know that before the All-Star break, their favorite Padre would be someone else entirely. While Machado was predictably excellent at third base, it was the bundle of energy playing to his left in the infield who would take San Diego by storm. Tatis' daring baserunning was exactly what a fanbase starving for excitement craved.
If you don't fall in love with a guy who tags up on a popup to second base, you don't have a heart.
Watch: Tatis scores on shallow popup
Phillies: Chase Utley becomes 'The Man'
There are two players who have been embraced by the entire city of Philadelphia in the current century. The first was Allen Iverson. The second was Chase Utley. Sure, there was the fact that he tried his darndest to play all 162 games every season and that he sprinted to first after every batted ball. But, really, all it took was the endorsement of legendary broadcaster Harry Kalas, who, after a display of quintessential Utley baserunning, proudly declared, "Chase Utley, you are the man!"
Watch: Kalas calls Utley 'the man'
Pirates: Andrew McCutchen goes Air Jordan
Though he's moved around a bit the last few years, there was a time quite recently that it was impossible to talk about the Pirates without talking about Cutch. When he debuted in 2009, he was a ray of hope for a team that hadn't had a winning season since Barry Bonds and Doug Drabek were around in 1992.
Beyond his obvious talent, McCutchen was just plain exciting. He certainly wasn't the only member of the team capable of hitting a walk-off home run, but he probably was the only one with the flair to do an Air Jordan dunk into home plate. From that moment on, the Pirates were Cutch and Cutch was the Pirates.
Watch: McCutchen's first walk-off
Rangers: Adrián Beltré goes to a knee
When Beltré signed with the Rangers in 2011, he was already 13 years into a potentially Hall of Fame-caliber career. He'd already won Silver Sluggers and Gold Gloves. He made his first All-Star team the previous season with the Red Sox. After that long and successful career, it's hard to come into a new place and grow a reputation bigger than a veteran just passing through town.
Within a year, Beltré was a Rangers legend both for coming through in a big moment and introducing a signature move. In Game 5 of the World Series, he tied the game on a home run off of Cardinals starter Chris Carpenter. It came on a pitch so low that he had to drop down to one knee to reach it.
Rays: Evan Longoria hits two dingers in his postseason debut
In many ways, the history of the Rays as a successful baseball team began the moment Longoria first suited up for the team. As a rookie in 2008, he carried the team to the first postseason appearance in the history of the franchise. But it wasn't enough to just get them there. They arrived, and Longoria was going to prove that both he and the Rays belonged, hitting dingers in each of his first two postseason at-bats.
It marked the start of an unlikely march to the World Series.
Watch: Longoria's postseason debut
Red Sox: David Ortiz breaks the curse
Before 2004, the Curse of the Bambino was the most notorious championship curse in sports. Even three games into the ALCS that year, it seemed to still be in effect with the Red Sox trailing the Yankees in the series, 3-0. But then, Dave Roberts stole second and scored in the 9th inning to send the game to extra innings.
In the 12th inning, Big Papi walked it off to keep hope alive. The Red Sox would not lose again in 2004, winning the next three games against the Yankees -- thanks in part to some more heroics from Ortiz -- and sweeping the Cardinals in the World Series. This home run may not have ended the Babe Ruth curse, but it did give birth to the legend of Ortiz.
Reds: Joey Votto buys a donkey
Sure, Votto had already led the Reds to three postseason berths and won an MVP for himself along the way. He was the best player on a stretch of great Reds teams around the start of the 2010s. But, plate discipline and dingers are only the foundation of a loving relationship.
It's Votto's unique blend of humor and nerdiness that has Cincinnati fans enamored with their first baseman. What makes Votto who he is was most purely on display in 2017 when his teammate Zack Cozart made the All-Star Game. To celebrate the accomplishment, Votto got Cozart a pet donkey. Cozart didn't really seem to know how to react, which, with Votto, is sometimes the only way you can react.
Watch: Votto gives Cozart a donkey
Rockies: Matt Holliday possibly touches home
After the Rockies reached the postseason only once in their first 14 years of existence, fans started to question whether it was even possible to put together a winning team in Denver's high-altitude environment. That all changed in the 13th inning of Game 163 of the 2007 regular season when Holliday aggressively went for home on a sacrifice fly. Despite a collision and more than a little controversy, he was ruled safe, sending the Rockies to the postseason and, eventually, the World Series.
Royals: Alcides Escobar's World Series inside-the-parker
A year after running into the even-year-magic Giants in the 2014 World Series, the Royals fought their way back to the Fall Classic in 2015 as a team known for being exceptional at two things: One was closing out ballgames with three lockdown relievers to turn to for the seventh, eighth and ninth innings. The second was making contact.
Leading off the bottom of the first, Escobar did just that: He made contact with the first pitch from Mets starter Matt Harvey. It didn't matter that the ball didn't clear the fence. Royals magic helped it elude the outfielders just enough for Esky to sprint around the bases for a leadoff inside-the-park home run, capturing not only the spirit of the 2015 Royals, but the hearts of the fans as well.
Watch: Escobar's inside-the-park homer
Tigers: Justin Verlander tosses his first no-hitter
Verlander has obviously gone on to win multiple Cy Young Awards and join the 3,000-strikeout club, but before all that, back in 2007, he was just a 24-year-old with a 100-mph fastball coming off a promising rookie season. Even after reaching the World Series in 2006, the Tigers were only just coming out of over a decade of losing baseball and looking for a savior to keep them relevant.
On June 12, Verlander became that beacon of hope for the franchise, tossing a no-hitter with 12 strikeouts against a talented Brewers offense. It would still be another few years until Detroit became a dominant force in the AL, but from that moment on, it was clear that Verlander was going to be able to lead them.
Watch: Verlander's first no-hitter
Twins: Joe Mauer gets his first hit
There's no storyline fans eat up more than the local kid who grows up to play for his favorite team. It's why LeBron bringing a title to Cleveland was so special and why Phillies fans spent years coming up with increasingly ludicrous Mike Trout trade scenarios.
It's also why Mauer -- a Minnesota native -- and the Twins were a match made in heaven. All it took was a simple little grounder up the middle for fans to fall head over heels for their franchise catcher.
Watch: Mauer collects his first hit
White Sox: Paul Konerko's World Series grand slam
By the time the White Sox made it to the 2005 World Series, Konerko was an established star and face of the team. He'd already appeared in the postseason in a Sox jersey. He'd already represented them in two All-Star Games. He had 200-plus homers in his seven years on the South Side.
But it was in Game 2 of the World Series that Konerko became a true White Sox legend. With the team trailing in the seventh inning, 4-2, he came up with the bases loaded and hit a grand slam. The homer set them up to sweep the Astros and give the White Sox their first ring since 1917.
Watch: Konerko's World Series slam
Yankees: Derek Jeter gets some help from a friend
At times it can feel like half of the all-time greats played for the Yankees. Out of all those legendary players, Jeter holds a special place in the hearts of Yankees fans. Part of that is because he ranks right there among the greatest players to ever wear the pinstripes. The rest of it may be on account of what happened in 1996. Entering that postseason, the Yankees hadn't been to the World Series in 15 years -- an unusually long drought for the sport's most-decorated franchise.
Trailing the Orioles by a run in the 8th inning of Game 1 of the ALCS, the rookie Jeter lofted a fly ball to right field that -- thanks to some help from 12-year-old Jeffrey Maier -- ended up being a game-tying homer. The Yankees would go on to win the game, the series and the World Series to get their first ring in 18 years. And it all started with Jeter.
Eric Chesterton is a writer for MLB.com. He is an appreciator of the stolen base, the bunt against the shift and nearly every unconventional uniform design. He eagerly awaits Jamie Moyer's inevitable comeback.