Four Rays Double-A hurlers fire combined no-no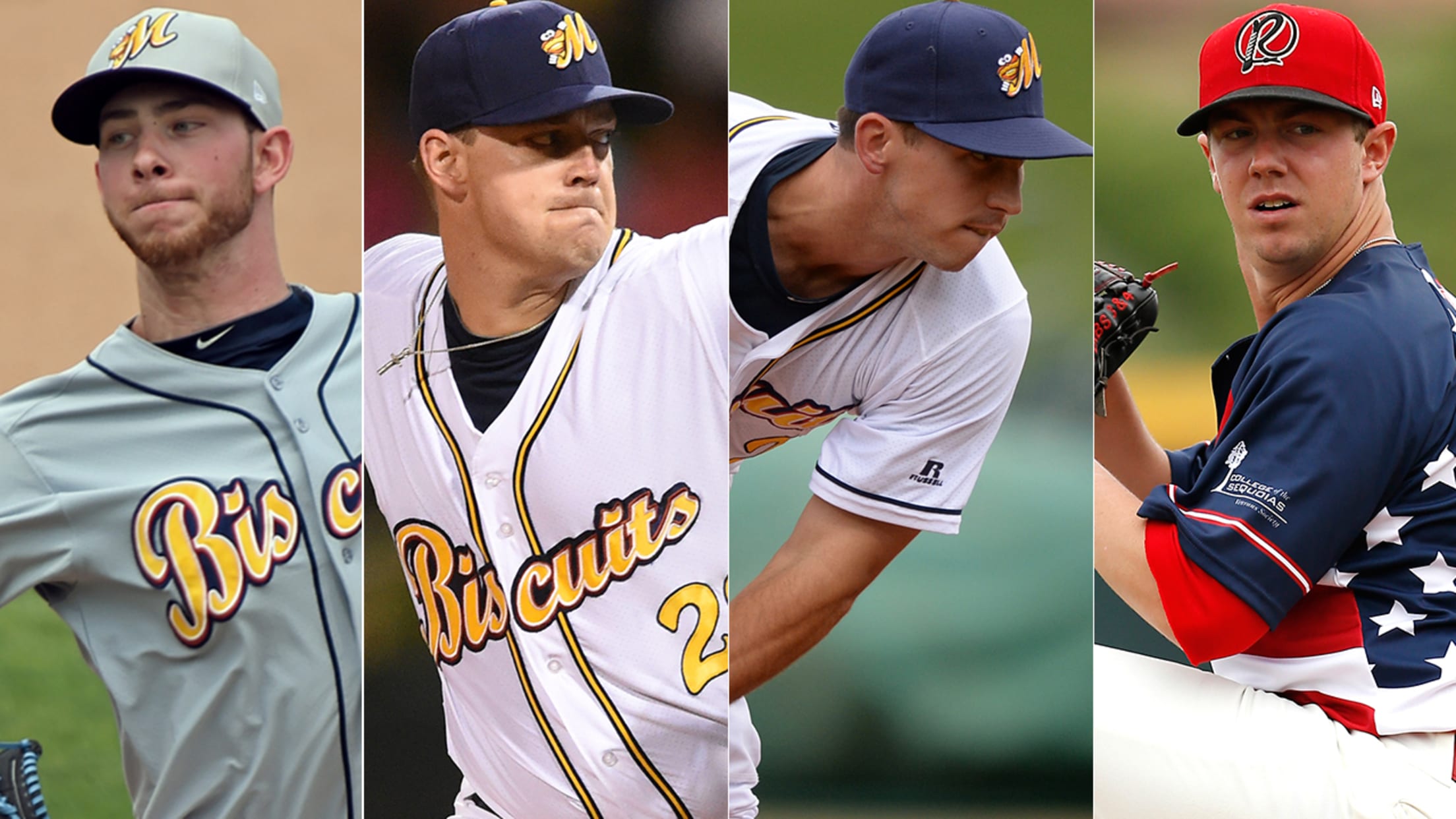 Steve Ascher, Jared Mortensen, Jordan Harrison and Kyle Winkler combined to throw the third no-hitter in Biscuits history. (Brian McLeod/MiLB.com, Kevin Pataky/MiLB.com, Ken Weisenberger/Milb.com) ((Brian McLeod/MiLB.com, Kevin Pataky/MiLB.com, Kevin Pataky/MiLB.com, Ken Weisenberger/Milb.com))
It wasn't pretty, but a quartet of hurlers made history Monday night. The Montgomery Biscuits used four pitchers to toss a combined no-hitter and beat Double-A Jackson, 2-1.Montgomery, the Double-A affiliate of the Rays, gave up one run, walked seven and threw a wild pitch in the game.• Complete Rays
It wasn't pretty, but a quartet of hurlers made history Monday night. The Montgomery Biscuits used four pitchers to toss a combined no-hitter and beat Double-A Jackson, 2-1.
Montgomery, the Double-A affiliate of the Rays, gave up one run, walked seven and threw a wild pitch in the game.
• Complete Rays prospects coverage at MLBPipeline.com/rays
Steve Ascher, Jared Mortensen, Jordan Harrison and Kyle Winkler combined to throw the third no-hitter in the team's history.
MILB Video - Title: Winkler strikes out the game's last batter - Url: http://www.milb.com/r/video?content_id=923052283
Matt Moore threw the Biscuits' first no-no on June 16, 2011, and Victor Mateo threw the second on Aug. 24, 2013.
Monday's game was just seven innings as it was the second game of a doubleheader. Jackson won the first game, 3-2.
Asher, Tampa Bay's 17th-round pick in 2014, was hit hard in his last start, but threw three scoreless frames to starts the game.
Mortensen gave up the lone Jackson run as he threw a wild pitch with the bases loaded in the fifth. However, he still put together his eighth outing without allowing a hit.
Harrison has allowed two hits over his past six outings and continued to keep batters off the basepaths, retiring the only two batters he faced.
Then, with the no-hitter on the line, Winkler came on to try to nail down his sixth save of the year. The right-hander induced a flyout to end the sixth and emphatically sealed the no-hitter by striking out the side in the seventh.