Here are MLB's 9 most exciting players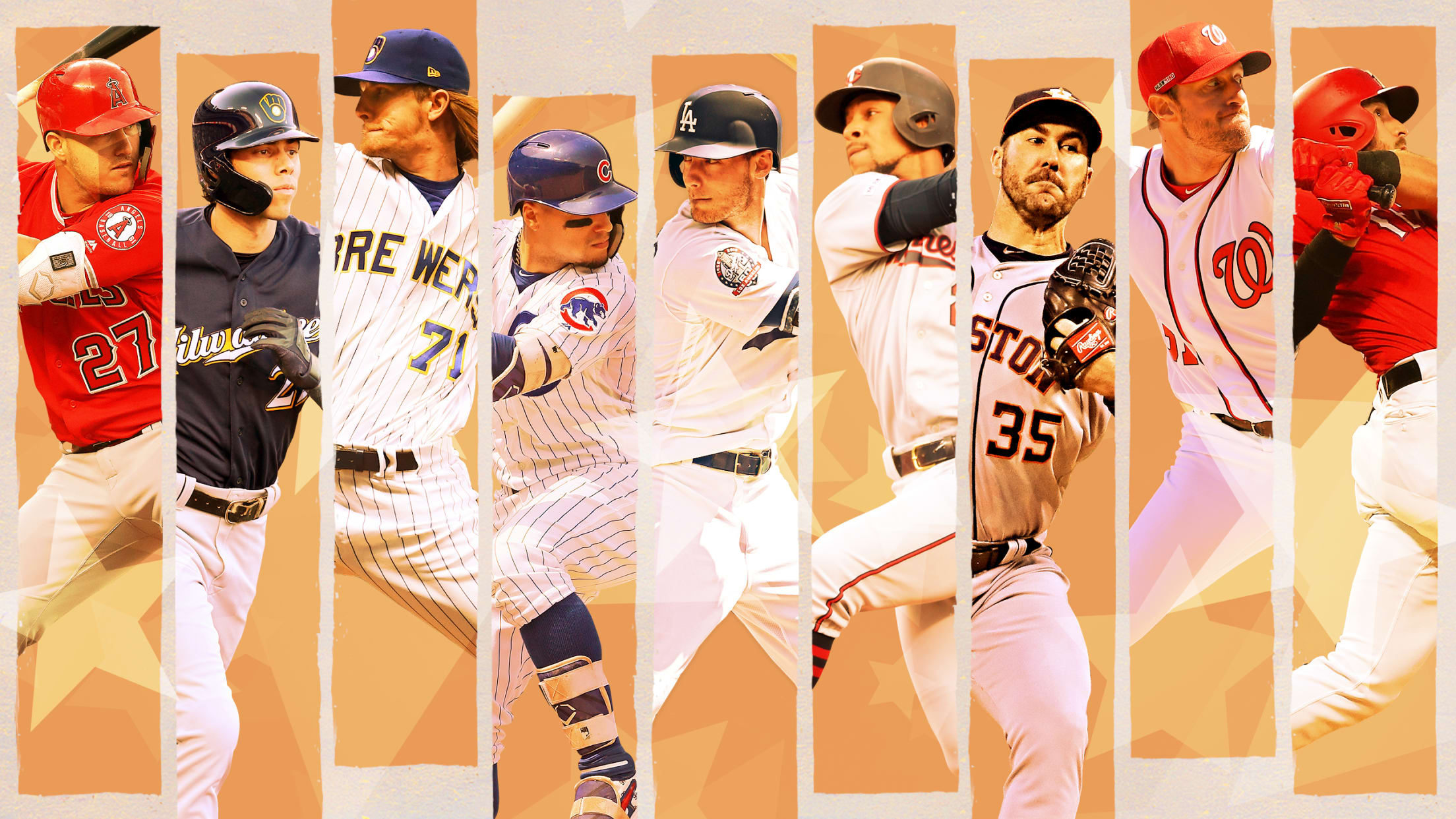 You stop and watch when certain players are on your screen. Max Scherzer and Justin Verlander are like that, and it's not just that they are two of the best ever. It's also their raging competitive fire and the ability to throw the ball hard, to make it dip and
You stop and watch when certain players are on your screen. Max Scherzer and Justin Verlander are like that, and it's not just that they are two of the best ever. It's also their raging competitive fire and the ability to throw the ball hard, to make it dip and dive and to challenge virtually anyone.
You go see Mike Trout because you know he may do something you have never seen before and may never again. He's a reminder to every young player that games can be impacted in lots of ways besides swinging a bat. (By the way, Trout is pretty good at that, too.)
All of us who love this game see these things differently, and that's part of the fun of an exercise like this. It's one thing to be good, another to be compelling. With that subjective word in mind, here's my vote for baseball's nine most exciting players:
1. Mike Trout, CF, Angels
Two seasons ago, I took a friend who is not a baseball fanatic to a game at Minute Maid Park. I told him the best player on earth was on the field that night and to see if he could figure out who it was. Trout did not even get a hit that night, but he made a couple of plays in center field, stole a base, drove in run, etc., etc. And in doing that, you could tell he was the best player on the field. Some players are just different.
2. Christian Yelich, RF, Brewers
Yelich had an insanely good season in 2018 when he was voted the National League Most Valuable Player Award winner. He's been even better in 2019, almost across the board. He began the weekend flirting with a 60-homer, 30-stolen base pace, which has never been done before.
3. Josh Hader, LHP, Brewers
How does Hader do it? He's certainly not physically imposing. There are guys who throw harder and others with more movement on their pitches. His delivery is deceptive, but not overly so. But the combination of all those things -- the velocity and whiplike delivery and long hair -- has made Hader arguably the most unhittable pitcher on the planet. He entered the weekend averaging 17.64 strikeouts per nine innings and striking out 54.4 percent of hitters. Hitters whiff on 43 percent of their swings against the dominant left-hander.
4. Javy Baez, SS, Cubs
He's the heart and soul of this Cubs team with his energy and his voice and all of that stuff. When Yu Darvish apologized for digging the Cubs a hole in one game, Baez smiled and said, "I got you." Then he promptly homered. If he finishes with 50 doubles and 40 home runs, Baez will be right back in the middle of the NL MVP conversation again after finishing second in voting in 2018.
5. Cody Bellinger, RF, Dodgers
Let's say he hits 50 home runs. That he steals 20 bags. Throw in 30 doubles and a flirtation with a .400 batting average. At the moment, that's the kind of season the 23-year-old Bellinger is constructing. Whether he maintains it is beside the point. Let's enjoy the show.
6. Byron Buxton, CF, Twins
Remember when he was the best prospect in the game and made his debut four years ago at 21? Since then, he has won a Gold Glove Award. Then he played so poorly he spent most of last season in the Minors. And just when some of us were ready to write him off, he started stealing hits in center, turning singles into doubles and helping make the Twins baseball's most interesting team.
7. Justin Verlander, RHP, Astros
After he induced 28 swings and misses from the White Sox on Tuesday, Verlander was asked if this is the best he'd ever pitched. "I don't know about that," he said. "That's a pretty big body of work." Yep, an enormous body of work. Let's just say his stats in his 15th Major League season -- 2.24 ERA, 11.1 strikeouts per nine innings -- are as good as this 36-year-old seven-time All-Star has ever posted.
8. Max Scherzer, RHP, Nationals
He belongs on this list despite some numbers that reflect a diminished performance, but those numbers are deceptive. His 2.33 FIP is the NL's best. So is his 12.1 strikeouts per nine innings. Let's put it this way: If you had a chance to watch one pitcher start a game, Scherzer would be on the shortest of shortlists. There is no pitcher who is a bigger threat to throw a no-hitter when he's on the mound.
9. Joey Gallo, CF, Rangers
He has remade his swing and his mental approach to hitting as thoroughly as any player in recent history, and no one hits more awe-inspiring homers than him. Never mind what Gallo was in the past (mostly just home runs, walks and strikeouts). He has no weakness in his game at this point and could make a run at 40 doubles, 50 homers and a 1.000 OPS this season.