Every team's most indispensable player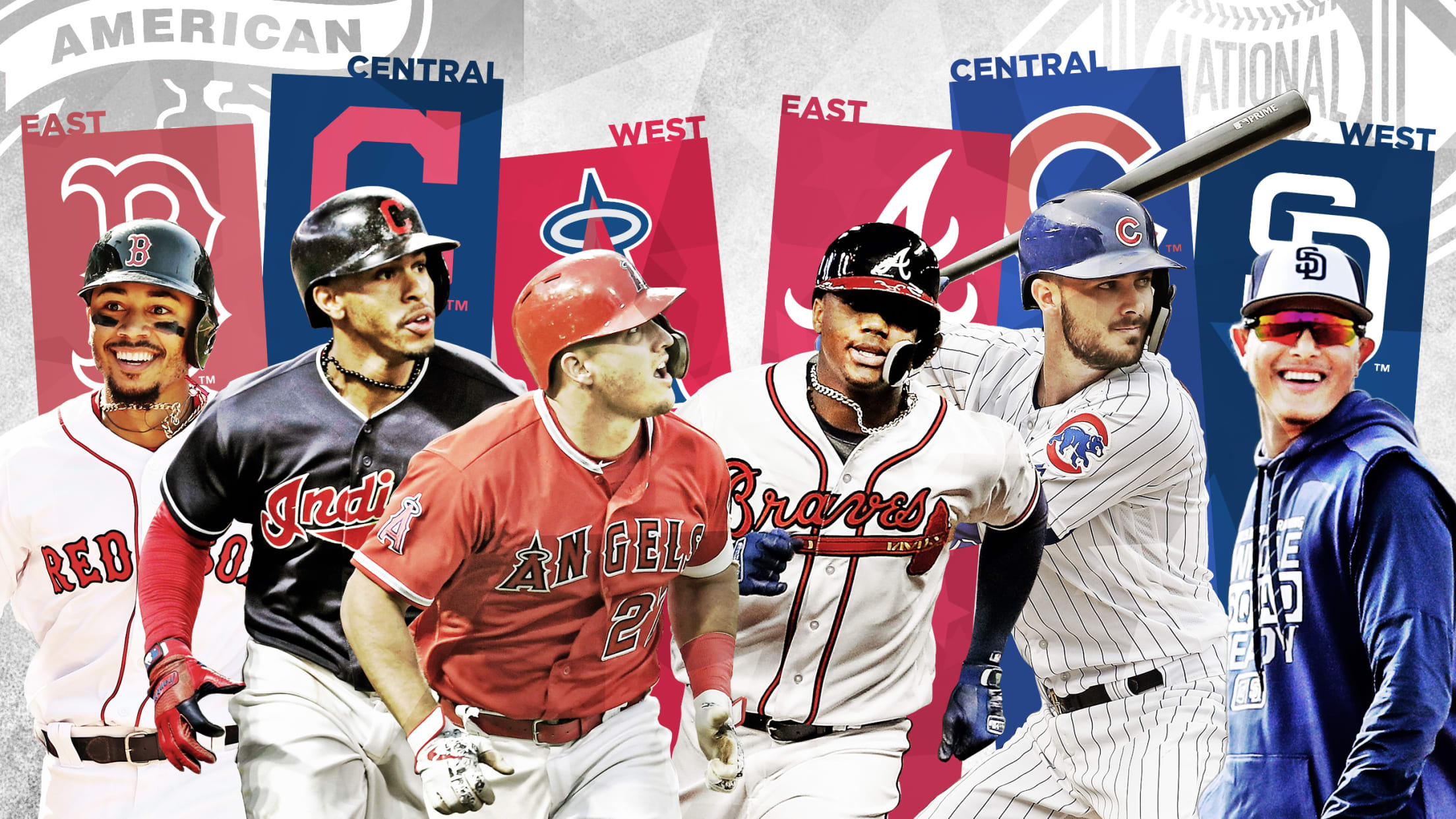 Baseball is not basketball, last we checked. The extended absence of an individual player cannot and does not threaten to submarine a season in MLB quite the way it might in the NBA. That is a matter of math (roster sizes of 25 vs. 12) and a derivative of design
Baseball is not basketball, last we checked. The extended absence of an individual player cannot and does not threaten to submarine a season in MLB quite the way it might in the NBA. That is a matter of math (roster sizes of 25 vs. 12) and a derivative of design (the best player on the field might see only 15 pitches all night).
So we probably overdo it when a prominent player gets hurt and we throw our hands up in the air and say of his team, "Welp, they're done!" Last year, the A's not only exceeded expectations in reaching the postseason but did it with their entire Opening Day rotation eroded by injury. Teams adjust. The good ones, anyway.
But some losses are inherently more difficult to adjust to than others. And with that in mind, we present our annual (and, yes, debatable) list of every team's most indispensable player. These are guys whose absence would have the most potential to change the shape or scope of the season.
AMERICAN LEAGUE EAST
Blue Jays: Vladimir Guerrero Jr., 3B
Too soon? Nah. He probably won't start the season in the big leagues, but Guerrero will quite simply be the No. 1 reason people with absolutely no rooting interest in the Blue Jays still tune into Blue Jays games this season. He is the face of a franchise for whom he has yet to play a single big league game. No pressure.
Orioles: Trey Mancini, OF
Somebody had to fill Adam Jones' vacant locker at the Orioles' Spring Training complex, and the 26-year-old Mancini was the guy. Mancini is a solid player who finished third in the Rookie of the Year voting in 2017. But his status as one of the elder statesman on this roster is, ultimately, an indictment of the roster. That's just where we are with the Orioles right now.
Rays: Blake Snell, LHP
The opener is inventive and contagious, and it worked wonderfully. But the Rays can't survive a full season with at least some small semblance of a traditional rotation, and the reigning AL Cy Young Award winner is at the forefront of that (small) group.
Red Sox: Mookie Betts, OF
The Red Sox are going to have some gut- (and wallet-) wrenching decisions to be made in the next couple years as the likes of Xander Bogaerts, Chris Sale, Rick Porcello, Jackie Bradley Jr. and potentially J.D. Martinez (who has an opt-out after this year) reach free agency. But none of those potential departures would reshape the roster quite as much as Betts (a free agent after 2020) bolting. They can't let it happen.
Yankees: Luis Severino, RHP
Another Aaron Judge injury would be a huge concern, no doubt. We saw the impact his absence had on last year's lineup. But losing Severino for a prolonged period from a rotation that already has some age, innings and past injury questions would arguably be the bigger blow. Severino's current rotator cuff inflammation has a lot of people holding their breath in the Bronx.
AL CENTRAL
Indians: Francisco Lindor, SS
He's an all-world leadoff hitter and shortstop, and, as we'll see if his current calf issues linger in the season ahead (for now, he's progressing well in his recovery), you don't replace that easily. Jose Ramirez has been every bit – if not more – dynamic offensively the last two seasons, but Lindor is the player you can reasonably project to be MVP-caliber year after year.
Royals: Whit Merrifield, 2B
The Royals already lost their most indispensable player. His name is Salvador Perez, and his Tommy John surgery is indeed a devastating blow. With Perez gone, Merrifield moves to the top spot on the indispensability scale. He is, after all, the only guy in the projected Opening Day lineup who has had an above-average wRC+ mark over the last two seasons.
Tigers: Miguel Cabrera, 1B
The competitive condition of the Tigers being what it is, Cabrera's attempt to return to health and relevance to pad his Cooperstown-worthy legacy is the stuff most worth sticking around for. Well, that and Nick Castellanos trying to build up some trade value.
Twins: José Berríos, RHP
He still has a long way to go in terms of consistency, but he's unmatched in this rotation in terms of electricity and upside. He's also the only established member of this rotation who is under contractual wraps beyond 2019.
White Sox: José Abreu, 1B
Yoan Moncada was supposed to seize this standing by now. Eloy Jimenez could seize it soon. But in the five seasons since Abreu arrived from Cuba, the White Sox have had only 12 instances in which a player has qualified for the batting title and provided an above-average wRC+ mark. Abreu is responsible for five of the 12, and the other seven belong to players who are no longer with the team.
AL WEST
A's: Matt Chapman, 3B
The A's welcomed two Matts – Chapman and Olson -- into the infield in 2017, and both went on a second-half tear. If, a year ago, you had to guess which was more likely to sustain that level of offensive success in '18, Olson, a first baseman, seemed the safer bet. Much of Chapman's sustainable value rested in his great glovework at the hot corner. But the .300/.363/.558 slash he put up from July 3 on last year, coming off a thumb injury, opened a lot of eyes to the possibility that this could be an MVP-caliber player.
Angels: Mike Trout, CF
There's a real good argument that Shohei Ohtani actually turned out to be the Angels' most indispensable player last year, because his elbow injury impacted both the lineup and the rotation. But Ohtani won't be pitching this season, and we're not here to get cute. Trout's the easy answer.
Astros: Justin Verlander, RHP
The Astros went more than two months midseason last year without Carlos Correa, Jose Altuve and George Springer in the same lineup but didn't lose their grip on first place in that span. Not that they're itching to tempt fate again, but the lineup is deep enough to withstand bumps and bruises. I'm less certain about the rotation, which, as a function of injury and free-agent departures, has a different look and feel this year. The veteran Verlander sets such an important tone, and if injury or atrophy were to invade his 36-year-old arm this season, it would definitely be a big hurdle in Houston.
Mariners: Mitch Haniger, OF
Robinson Cano, Jean Segura, James Paxton and Edwin Diaz are gone. Felix Hernandez is no longer an ace. This is Haniger's team now. We finally saw what a full, healthy season of Haniger can look like last year, and he was one of the most valuable position players in the American League.
Rangers: Joey Gallo, OF
If you had to sum up the modern game in a single player, it's probably Gallo, he of the Babe Ruthian power and the Bob Ueckerian batting average. Quibble with how he gets to his end results all you want, but he's the best the Rangers have got.
NATIONAL LEAGUE EAST
Braves: Ronald Acuña Jr., OF
Much respect for Freddie Freeman, Josh Donaldson and Nick Markakis. But if you were to remove Acuna from the Atlanta equation, you lose so much of the dynamism and upside that will likely be required in a division that will be more demanding in '19 than it was in '18.
Marlins: Brian Anderson, 3B/OF
His rookie contributions to the Fish were all too easy to overlook given the competitive state of his club and the downright historic years Acuna and Juan Soto put together within the division. But with J.T. Realmuto gone, Anderson is now the Marlins' best everyday player, and he has the potential to add more power to the strong .273/.357/.400 slash he posted last year.
Mets: Jacob deGrom, RHP
The Mets have improved their overall depth, which means the health of their rotation, while of course still important, might not be quite as considerable a key to their contention as it has been in recent seasons. But losing deGrom, who was truly transcendent in 2018, would be a body blow.
Nationals: Max Scherzer, RHP
The Nats have a deep rotation, but the mighty Max is the heartbeat both of that group and the team at large. His Wins Above Replacement marks actually increased in his age-32 and age-33 seasons, which, for a man with his innings total, is no easy feat to pull off.
Phillies: Aaron Nola, RHP
Bryce Harper is a big, big deal. Not just in ticket and jersey sales but in preseason projections. The Phillies' PECOTA-projected NL East standing, for instance, jumped from fourth to a virtual tie for first (with the Nats) when Harper signed. But is Harper going to be any more indispensable than J.T. Realmuto? Hard to say. I'm more bullish on Nola's outsized importance to the rotation. The Steamer system, which has him as the only Phillies starter projected to have a top-50 WAR mark this year, would appear to agree.
NL CENTRAL
Brewers: Josh Hader, LHP
The Brewers overcome the lack of a dominant starting staff by piecing together big innings out of the bullpen with an "any guy, any time" mindset. But the length (and massive strikeout totals) they get from Hader, who delivered 81 1/3 innings, proved to be the most important factor in the formula last year, and that remains the case going into '19.
Cardinals: Paul Goldschmidt, 1B
Like many celebrity marriages, whether this is a relationship that will last more than a year remains to be seen. But the Cards eschewed younger, more long-term options in free agency to make a trade for the six-time All-Star who has received MVP votes in five of the last six seasons. They could use some of that.
Cubs: Kris Bryant, 3B
As Theo Epstein has said, the Cubs' offense broke in the second half last season, and the power sag we saw from a sore-shouldered Bryant was perhaps the biggest issue of all. Bryant has been vocal about his desire to quiet his critics this year, and the projection systems insist he can again put up an MVP-caliber year for a Cubs club that didn't make any major external improvements over the winter.
Pirates: Starling Marte, OF
The Buccos' starting staff is looking stout, but it's an open question whether the run support will be there. Marte's career has been marred by unmet potential and a 2017 PED suspension. But when he gets hot, so, too, do the Pirates. We saw that last July, when he slashed .341/.371/.635 and they almost inexplicably pulled into the playoff race.
Reds: Joey Votto, 1B
Besides being one of the best pure hitters in baseball, Votto has had an influence on the surprise All-Star ascendency of Eugenio Suarez, Scooter Gennett and Zack Cozart in recent seasons.
NL WEST
D-backs: Zack Greinke, RHP
Quite literally, the D-backs probably can't dispense of Greinke even if they try, given the size of his contract (he's due more than $90 million over the next three years). And even at his advanced age of 35, his importance to the Arizona rotation can't be overstated.
Dodgers: Corey Seager, SS
He missed virtually all of '18, and the Dodgers made the World Series, anyway. Such is the depth of a Dodgers club in which even the frequent injury issues endured by Clayton Kershaw in recent seasons haven't stopped the methodical march toward division titles. But you can't make a midseason trade for a Manny Machado-type every year. Seager's return to health and prominence look to be vital for this club in '19.
Giants: Buster Posey, C/1B
When you are physically unable to hit for power, you don't hit for power. We saw that with Posey and his ailing hip last year. It has been corrected surgically. And even though a healthy Posey, who is instrumental not just for the offense but in working with the pitching staff, is far from the only solution to the Giants' overall issues, we saw last year how bad things get when Posey is not healthy, and it wasn't pretty.
Padres: Manny Machado, 3B
The Padres have seen an enormous boost in ticket sales in recent weeks, and I don't think it's attributable to the Aaron Loup signing.
Rockies: Nolan Arenado, 3B
He's first in the NL in WAR over the last four seasons. That, friends, is how you become $260 million richer.