The NL Central's most indispensable players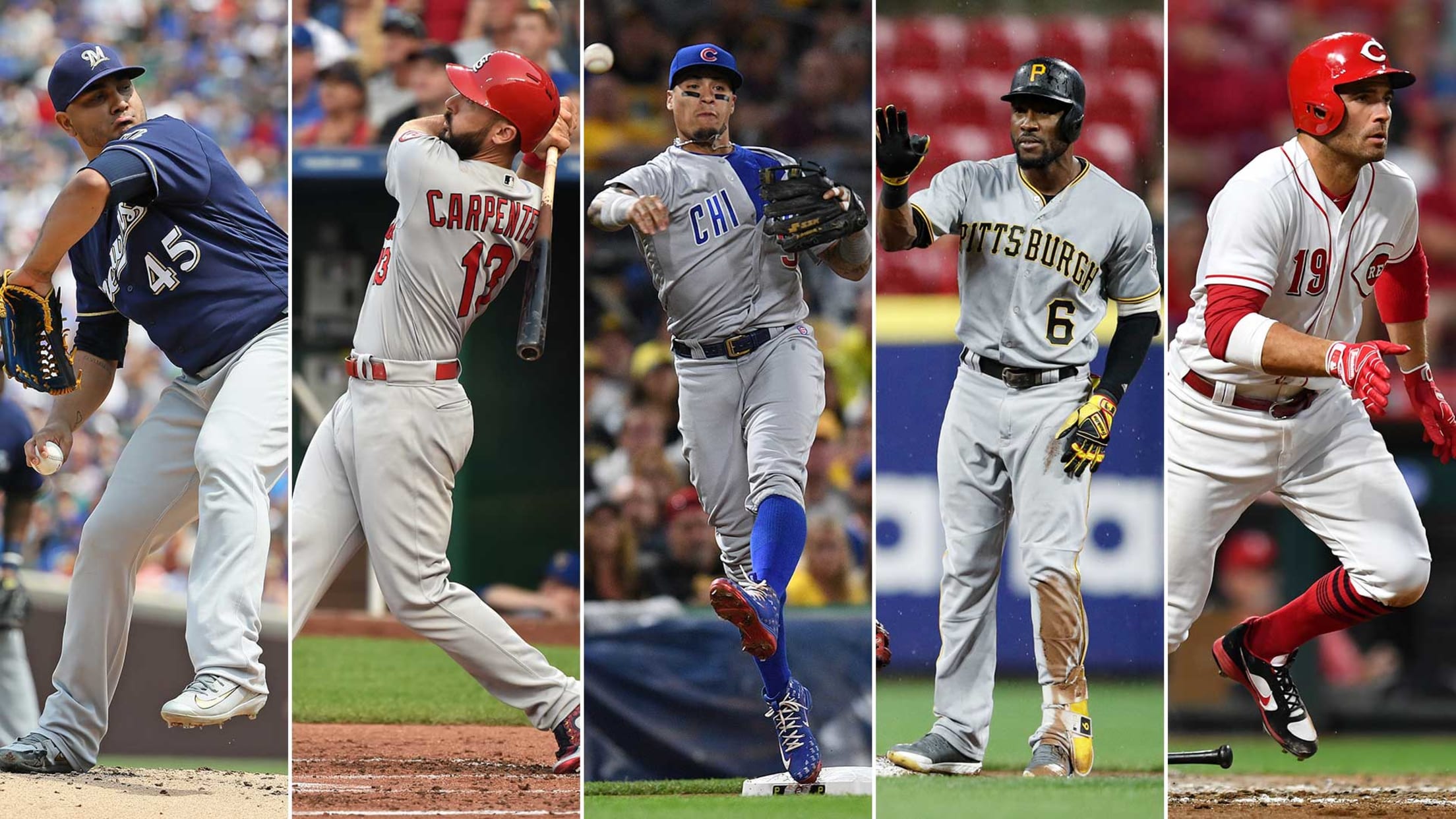 Let's not get too cute here. In most cases, a team's most indispensable player is also its best player. For all the talk about fit and impact and the like, most of the time the guy you can least afford to do without is the guy who has the most
Let's not get too cute here. In most cases, a team's most indispensable player is also its best player. For all the talk about fit and impact and the like, most of the time the guy you can least afford to do without is the guy who has the most ability.
But not always. Sometimes a player's versatility, or uniqueness, or even just the lack of a viable alternative makes a player even harder to do without than might be immediately obvious.
So MLB.com is taking a look this week at each team's most indispensable player. The guy who, if he missed time or even were just compromised, would be missed the most. Sometimes it'll also be the best player. Sometimes it won't.
Brewers: Jhoulys Chacin
Yes, Lorenzo Cain and Christian Yelich will get National League MVP Award votes. Yes, Josh Hader will probably get mentioned on an NL Cy Young Award ballot or two. No, Chacin is not likely to get any such recognition. But for a team built around its offense and its bullpen, a single steady starter is invaluable.
It's much easier to lean on your bullpen the way the Brewers do if, at least sometimes, you have your starter go deep into the game. It's easier on your offense if the starter isn't putting it in a deep hole early. Chacin has been Milwaukee's most reliable starter, nearly always keeping the team in the game.
It's not flashy, but for a team with an unheralded rotation, Chacin's durability and reliability would be sorely missed if they had to do without him.
Cardinals: Matt Carpenter
And sometimes, it's obvious. For many years, the answer to this question would have been Yadier Molina, and the veteran is again having a strong year. But as Carpenter has gone this year, so have the Cardinals.
Carpenter has almost single-handedly made the Cardinals' offense dangerous. He leads the team in on-base percentage, and at .387, he is one of only two players even above .350. Carpenter is slugging .582, and no other regular is even at .500. He leads the team in walks, homers, doubles and runs. Take away Carpenter, and St. Louis' offense almost certainly grinds to a halt.
Oh, and Carpenter is versatile, having made double-digit starts at three of the four infield positions. That provides cover for slumps and injuries at multiple spots.
Cubs: Javier Baez
There's definitely a parallel to Carpenter here. A couple of them. For one, Baez has been the Cubs' best player this year. For another, part of his value is his versatility. Addison Russell is out? Baez can slide over to shortstop. Missing Kristopher Bryant? He can play third.
Virtually the entire Cubs roster has positional flexibility. But there's flexibility, and then there's the ability to play three infield positions well. So much of what the Cubs do would be more difficult over the course of a season if they couldn't plug Baez in.
Oh, and on top of that, Baez is having an MVP Award-caliber season, hitting for power, stealing bases and hitting for average.
Pirates: Starling Marte
How's this: Marte's three best months this year have been April, May and July, with an OPS better than .800 in each. The Pirates are 45-36 in those months. He's struggled mightily in June and August, when the Bucs are a combined 17-29. It's obviously not quite that simple, but it is more than just a complete coincidence.
That's not all, of course. Marte is a solid defender in center field and a speedster on the bases. The Pirates have outfielders, but no obvious alternative in center. Marte can be frustrating when he slumps, and of course he was suspended last year. But Marte at his best is a catalyst and an irreplaceable player for the Bucs.
Reds: Joey Votto
Who else? Eugenio Suarez has been absolutely outstanding this year, and Scooter Gennett has cemented his place as a legitimate star. But even in a down power year, Votto's presence as an on-base machine, combined with his strong defense at first base, make him the most essential Red.
Again, the shape of the season, for player and team, tells a lot.
When the Reds slumped mightily early, Votto had it worse than nearly anyone. On April 19, when manager Bryan Price was let go and Cincinnati was 3-15, Votto was at .258/.315/.273. The team was averaging 3.0 runs per game. Over the next 94 games, through Aug. 4, Votto hit .294/.445/.459, the Reds averaged 4.9 runs per game. On the night of Aug. 4, Votto was hit by a pitch, suffering an injury that later sent him to the DL. Over his ensuing slump and time out of the lineup, Cincinnati has averaged 3.75 runs per game.
Matthew Leach is the National League executive editor for MLB.com.