Mozeliak: Ankiel 'very much committed' to return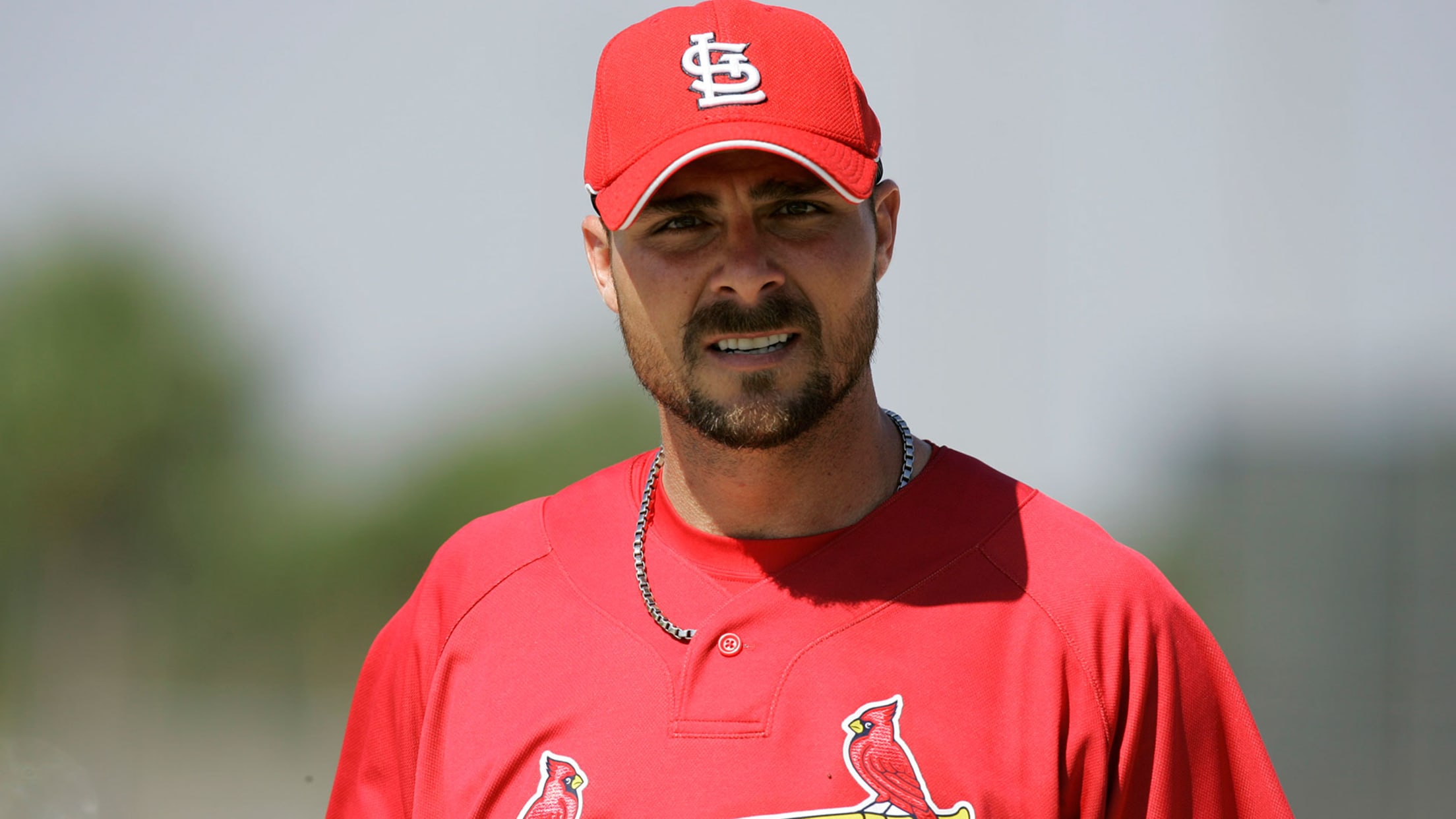 ST. LOUIS -- While the Cardinals practice a policy of not commenting about potential interest in free agents, president of baseball operations John Mozeliak made an exception Tuesday. It had to do with Rick Ankiel.Back in August, after pitching against other former big leaguers in an exhibition game, Ankiel announced
ST. LOUIS -- While the Cardinals practice a policy of not commenting about potential interest in free agents, president of baseball operations John Mozeliak made an exception Tuesday. It had to do with Rick Ankiel.
Back in August, after pitching against other former big leaguers in an exhibition game, Ankiel announced that he planned to pursue one final comeback attempt at the age of 39. It was an unexpected pronouncement from the converted outfielder, who hadn't pitched in the Majors since 2004. He retired in 2013 and currently serves on the Cardinals' broadcast team.
Mozeliak confirmed that he "had a nice discussion" with Ankiel a few weeks ago about the left-hander's future plans. The two plan to touch base again this winter.
"I understand his sincerity and seriousness of this," Mozeliak said. "It is something that he's going to put 100 percent effort in, and I think he's very much committed to trying."
Ankiel famously developed the yips during the postseason in 2000, the same year he finished second in the National League Rookie of the Year voting. He made six appearances the following season and five more in '04 before becoming a position player. Ankiel went on to play seven more seasons in the Majors and remained with the Cardinals through 2009.
Reyes recovery update
Alex Reyes will soon transfer his rehab work from St. Louis to Fort Lauderdale, Fla., where the Cardinals hope a change of scenery can keep the top prospect energized as he works his way back from shoulder surgery.
"He's been so intimately engaged with the Cardinals medical staff that I think we need to give him a break," Mozeliak said. "It's maybe not something that all of you see in a day-in, day-out basis, but I think he's sick of looking at the nurse. You know what I mean? So it's time for a change."
By moving his workouts to south Florida, Reyes will remain close to the Cardinals' complex in Jupiter.
Mozeliak said the organization expects Reyes to begin a throwing program in about six or seven weeks. The Cardinals plan to take a "very patient approach" with Reyes in Spring Training, but anticipate that he'll be healthy for the start of the regular season. He'll prepare as a starting pitcher, even though Reyes has thrown only 73 pitches in the Majors since 2016.
Reyes missed the 2017 season while recovering from Tommy John surgery and then suffered a shoulder injury that sidelined him following his season debut in May.
"Right now, I would say the organization is pretty excited about where he's at and also pretty optimistic about where he's at," Mozeliak added.
Worth noting
• Mozeliak confirmed that no one on the club's 40-man roster underwent any sort of surgical procedure following the conclusion of the regular season. Nor, he added, are any upcoming surgeries expected.
• Left fielder Marcell Ozuna is scheduled for a follow-up visit with orthopedist Dr. Neal ElAttrache later this month. It was during a meeting with ElAttrache in August that Ozuna decided to receive a cortisone injection in his ailing right shoulder. As it is, the Cardinals believe Ozuna can address the shoulder injury through physical therapy this winter.
• Though the Cardinals were among those present at Trevor Rosenthal's recent workout in California, Mozeliak would not speculate about a potential reunion with the club's former closer.
Rosenthal sat out the 2018 season while recovering from Tommy John surgery. He was released by the Cardinals last offseason, and thus, is available as a free agent. Rosenthal, who collected 121 saves over six seasons with the Cardinals, has been rehabbing primarily in St. Louis.
• Former Cardinals reliever Ryan Sherriff announced via Twitter on Tuesday that he has signed a Minor League contract with the Rays. Sherriff was released by the Cardinals in August after undergoing season-ending elbow surgery. He appeared in five games for the Cardinals in 2018.