Doolittle has setback; Goodwin dealt for prospect
MRI reveals stress reaction in All-Star reliever's foot; KC sends pitcher Condra-Bogan to Nats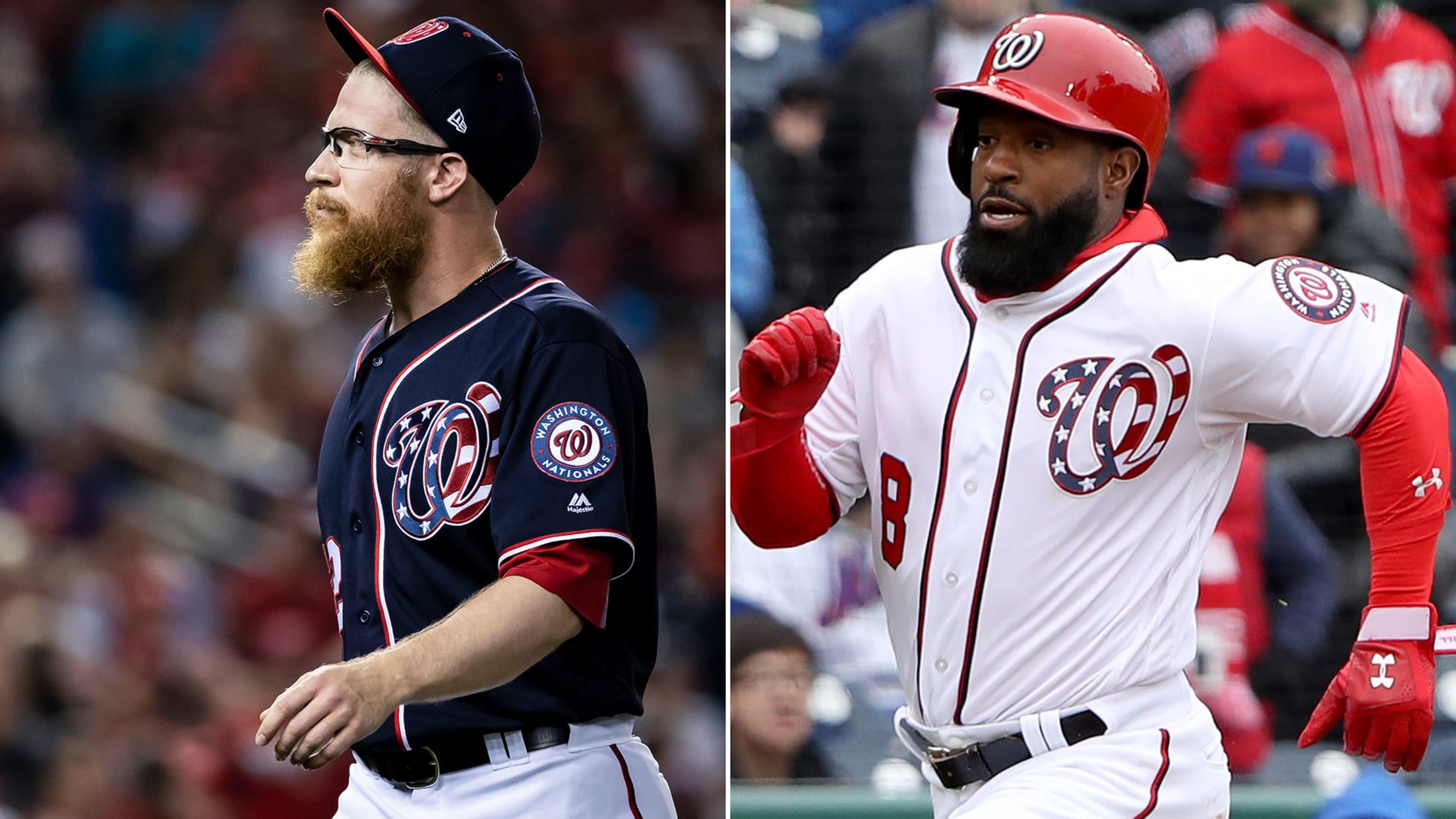 WASHINGTON -- An MRI on Saturday morning revealed a stress reaction, the precursor of a stress fracture, in the bridge of Sean Doolittle's left foot. Doolittle, who wore a walking boot Sunday for the first time in a week and a half, didn't have a timetable for his return, but
WASHINGTON -- An MRI on Saturday morning revealed a stress reaction, the precursor of a stress fracture, in the bridge of Sean Doolittle's left foot. Doolittle, who wore a walking boot Sunday for the first time in a week and a half, didn't have a timetable for his return, but said the injury is measured by weeks, not months.
Two days ago, Nationals manager Dave Martinez said Doolittle was close to returning from left toe inflammation after throwing off a mound. Doolittle didn't recover well from that training, though, so he underwent a second MRI. That MRI revealed Doolittle's stress reaction, which the right-hander compared to a bad bone bruise. Since stress fractures can't be seen on MRIs until about three weeks after the injury, this wound didn't show up in Doolittle's original MRI, which he had July 7.
"At this point in the season, with everything that's going on, to not be able to help, it's a really frustrating feeling," Doolittle said. "I want to be there with my guys. I feel like I'm placing a burden on the bullpen by not being with them. The challenge is going to be harnessing that energy and throwing it into whatever rehab I can do."
Martinez is comfortable relying on Kelvin Herrera, the Nationals' replacement closer, Ryan Madson and Brandon Kintzler with Doolittle sidelined for longer than expected.
Still, while Doolittle has put together perhaps the best season of his career, Herrera, Madson and Kintzler have struggled of late. Doolittle, who was named an All-Star this year, has recorded a 1.45 ERA while recording 22 saves in 23 opportunities over 37 1/3 innings. Herrera has allowed five runs in 10 2/3 innings since the Royals traded him to the Nationals on June 18. Kintzler and Madson have notched 3.72 and 4.98 ERAs, respectively.
The Nationals, who sit 6 1/2 games back of the Phillies in the National League East, recalled Sammy Solis from Triple-A Syracuse on Sunday to add a seventh man to their bullpen. Solis recorded a 4.50 ERA in 40 games with the Nationals before they demoted him June 30. Left-handed batters hit .245 off Solis, but Martinez said the left-hander made adjustments against those hitters with Syracuse.
"[Doolittle's] really bummed out about it, and I am too," Martinez said. "He's going to be missed, but this is the reason we went out and got Herrera. We got qualified guys who can close."
Doolittle injured his left toe avoiding a liner back to the mound during the Nationals' win over the Marlins on July 5 at Nationals Park. Doolittle said he can walk on his foot and strengthen it. The 31-year-old will try to throw on one foot or on his knees to keep his arm fresh.
"We might have to get creative with what I do," Doolittle said. "[Strength and conditioning coach Matt Eiden], he's an evil genius. He'll come up with something."
Goodwin dealt to KC for prospect
The Nationals traded Brian Goodwin to the Royals for Minor League pitcher Jacob Condra-Bogan on Sunday afternoon to relieve their outfield logjam.
Condra-Bogan, 23, has a 2.08 ERA with 39 strikeouts and two walks in 16 games with Class A Lexington this season. The right-hander will join an array of young pitchers in the Nationals' farm system.
The Nationals had a crowded outfield of Bryce Harper, Juan Soto, Adam Eaton and Michael A. Taylor, so Goodwin came off the bench most of this season. A Nationals' first-round selection in the 2011 Draft, Goodwin was hitting .200 in 48 games. Goodwin played a larger role last year, hitting .251 over 74 games.
"Of course anybody would want to play a lot more, but he knew what his role was and he accepted it," Martinez said. "He was sad because this is the first team that he's played for. He knows no better. I said, 'This will open up the doors for you and you'll get a chance to play and you'll kickstart your career.'"
Kyle Melnick is a reporter for MLB.com based in Washington.