9 reasons it will be a September to remember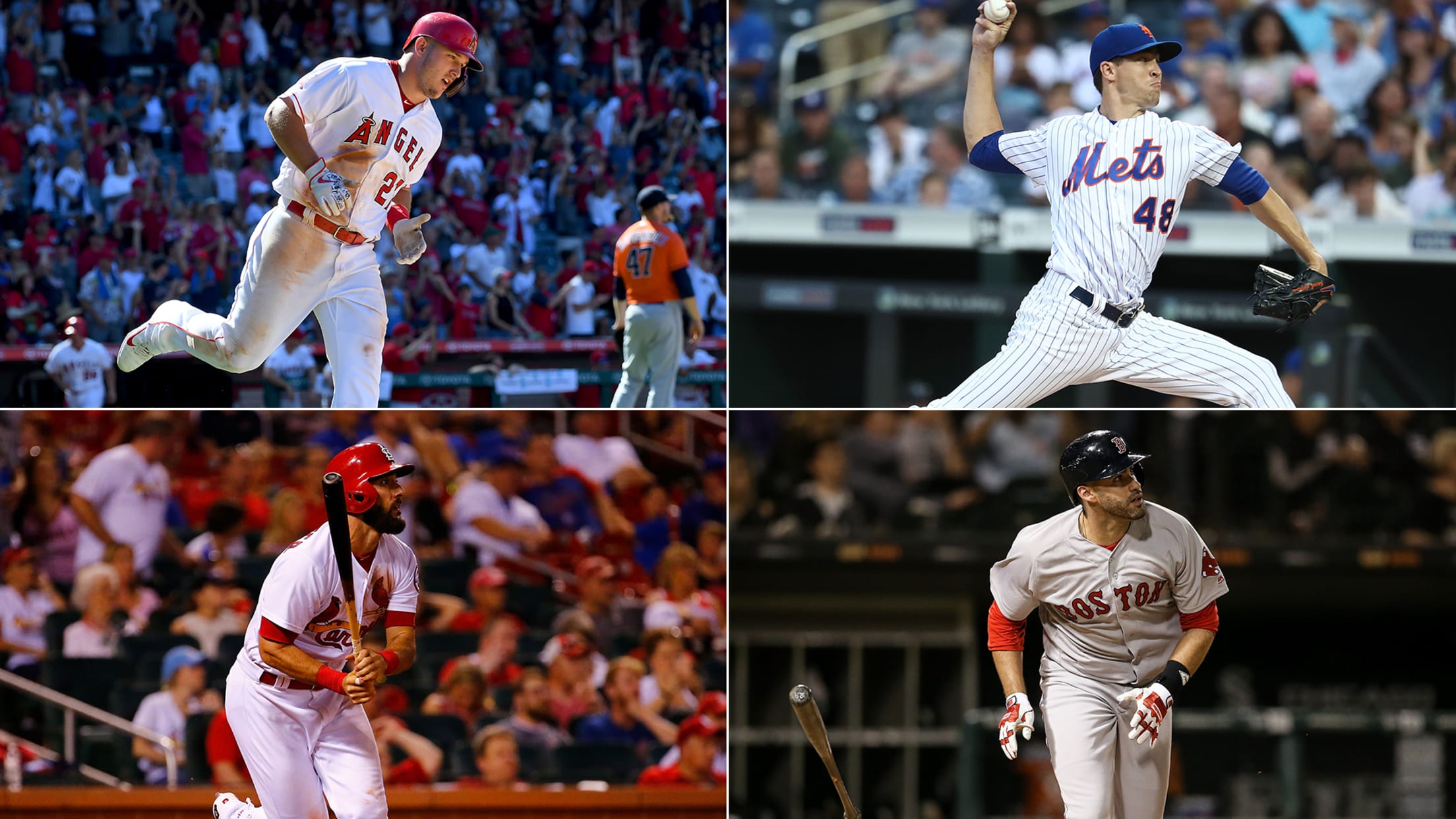 September is the end of something, and the beginning of something. The regular season winds down, but the true urgency of the season, and the excitement and anxiety that permeates the postseason races begins to take on a life all its own.
September is the end of something, and the beginning of something. The regular season winds down, but the true urgency of the season, and the excitement and anxiety that permeates the postseason races begins to take on a life all its own.
It gets a little weird this time of year (40 available roster spots? Really?). It typically begins to get a just a little bit chillier this time of year. But if you're into intrigue and staring at the standings and hearing that one Earth, Wind & Fire song everywhere you go, this might just be the best month of the year.
Well, OK, until October arrives…
Here are nine things that will make this a September to remember. (See, because September is the ninth month. Aren't we clever?)
1. The National League West is bonkers
The D-backs, Rockies and Dodgers are all within 1 1/2 games of each other. It's reminiscent of the American League East in 2016, when the Blue Jays, Red Sox and Orioles were all within three games of each other on this date. That year, the Red Sox rose from second place to the top of the division while the Blue Jays and Orioles wound up opposing each other in the Wild Card Game.
Given the winning-percentage picture across the NL, it seems a lot less likely that all three of these clubs will advance this year, and that makes the head-to-heads all the more meaningful. The D-backs and Dodgers continue their four-game set at Dodger Stadium this weekend and meet again Sept. 24-26 at Chase Field. The D-backs and Rockies face each other Sept. 10-13 (in Colorado) and 21-23 (in Arizona). The Rockies and Dodgers meet Sept. 7-9 (in Colorado) and Sept. 17-19 (in Los Angeles).
Play ball, boys.
2. The AL West ain't so bad, either
It would be fun to see the A's, who entered the season with the lowest payroll in the sport, continue to push the Astros, who you might remember won the World Series last year. The A's have been a great story, benefiting from surprises (Edwin Jackson pitching well in relevant innings in 2018 definitely qualifies), late-inning fortitude on both the offensive side and the pitching side (closer Blake Treinen deserves to be in the Cy Young Award conversation), the continued maturation of third baseman Matt Chapman and a bunch of stuff that really can't be easily explained or measured.
But in the event that the AL West is effectively decided by the head-to-heads (the Astros beat the A's 12 times in 19 meetings, and the two clubs don't face each other again), there's still the possibility that the Mariners, who are trying to end the longest playoff drought in North American professional sports, continue to push the A's for an AL Wild Card spot.
The M's get staff ace James Paxton back in action against the A's on Saturday night, as a matter of fact. Can they summon the magic of their "Refuse to Lose" forbearers of 1995?
3. Either the Braves or the Phillies are going to win the NL East
Hey, that's a pretty good "rebuilding" year.
Whoever winds up popping bubbly by month's end will have earned it by exceeding all reasonable expectation, taking advantage of the Nationals' nightmare season and making the right in-season upgrades to support one of the youngest rosters in the game.
Speaking of which, if it's the Braves who finish in first, please keep the aforementioned bubbly away from their incredible NL Rookie of the Year candidate Ronald Acuna Jr., who won't turn 21 until December.
4. The NL playoff picture is crowded
So much photobombing going on in that picture. Even if we were to assume the Cubs and those Baby Braves nail down their current advantages in the Central and East (and given the way this season has played out, that would be a very bold assumption), the NL Wild Card field presents plenty of possibilities.
FanGraphs is currently giving seven NL teams -- the Cubs, Braves, Cardinals, Brewers, Phillies, Dodgers and D-backs -- at least a 30-percent chance of making the playoffs.
Is this year the year we have a Wild Card conundrum in which not just one, but multiple tiebreaker rounds are needed to decide who advances? Fans of calculator-aided chaos can only hope!
5. The Most Valuable Player Award races are crowded, too
We went into the NL MVP race at length, and I'm standing by my stance that Matt Carpenter is in the lead there. But nothing is nailed down. On the contrary -- and this is intended merely as a quick illustration -- there are currently 12 position players within 1.4 Wins Above Replacement of each other at the top of FanGraphs' leaderboard. And that's before you include any pitchers in the conversation. This falls right in line with the up-in-the-air nature of the NL playoff race.
The AL MVP race is fascinating in a different way; a matter of quality more than just quantity. Mookie Betts, Jose Ramirez and Michael Trout have all already reached eight Wins Above Replacement in FanGraphs' tally, and we've still got a month to go. (In case you don't know much about WAR, those are simply monster years. Aaron Judge was the only guy to reach an 8-WAR mark last season). But what about what Chapman has meant to the A's, and Alex Bregman to the Astros? What about the fact that Ramirez and Betts are teammates with Francisco Lindor and J.D. Martinez, respectively? Does Trout's team standing hurt him? These are tough calls.
6. Martinez could win the Triple Crown
The Red Sox signed Martinez to be their new David Ortiz, but instead he's threatening to be their next Carl Yastrzemski:
AL batting average:
Betts, .341
Martinez, .333
AL home runs:
1 (tie). Martinez, 39
Khris Davis, 39
AL RBIs:
Martinez, 114
Davis, 104
The iffiest battle here is obviously batting average. Martinez was "only" a .300 hitter from his 2014 breakout through 2017, and he's been slipping in the race with teammate Betts in recent days.
Batting average is a flawed stat. And home runs and RBIs are pretty well intertwined. So the Triple Crown doesn't really tell us that much about the depth of a player's impact (in other words, it shouldn't decide an MVP race). But it's still ultra-rare and, therefore, ultra-cool. It's been done just 12 times since RBIs became an official stat in 1920, most recently by Jose Cabrera in 2012.
7. Ramirez could do something even more rare
He's got 37 homers. He's got 29 steals. He is threatening to lead his league in both categories -- something that has happened only three times in the modern era, and only once in the live ball era:
Jimmy Sheckard, 1903: nine homers, 67 steals
Ty Cobb, 1909: nine homers, 76 steals
Chuck Klein, 1932: 38 homers, 20 steals
Even if that doesn't happen, Ramirez is a veritable lock for a 40-homer, 30-steal season, which has only happened 11 times (most recently by Ryan Braun in 2012). And he's doing that 40-30 trick while also walking more than he's struck out -- something only Barry Bonds and Jeff Bagwell have done.
8. Some other cool stat stuff is happening
Let's dig deeper into the records watch, shall we?
• Mariners closer Edwin Diaz has 50 saves. That gives him an outside shot at reaching or exceeding Francicso Rodriguez's record of 62 (set in 2008).
• Carpenter is the NL home run leader … and the Cardinals' leadoff hitter. When was the last time a leadoff hitter led his league in home runs? That would be never. As a matter of fact, according to the Elias Sports Bureau, the most games a league's home run leader has started in the leadoff spot was 22, by Darrell Evans in 1981.
• Jacob deGrom has a 1.68 ERA … and eight wins. Has anybody ever pitched 200 innings with a sub-2.00 ERA and a single-digit win total? No, of course not. But deGrom could.
• Then there's fascinating futility. Yoan Moncada could break Mark Reynolds' single-season strikeout record (223). He's at 186. And the Orioles, who are 52 1/2 games back of the Red Sox, are threatening to break the 1998 Marlins' divisional-era record for games out of first place (52).
• Oh, and don't anybody let Adrian Beltre steal a base this month, lest this awesome stat go to waste:
Adrian Beltre's stolen base total:

2011: 1
2012: 1
2013: 1
2014: 1
2015: 1
2016: 1
2017: 1
2018: 1

Consistency is a skill.

— Anthony Castrovince (@castrovince) August 30, 2018
9. Red Sox-Yankees is still a thing ... kinda
Is it over? Yeah, it's probably over, even with Andrew McCutchen bolstering the Aaron Judge-less Yankees lineup. But, uh, there was that whole 2011 thing that went down in Boston, so let's not get too far ahead of ourselves, OK?
Besides, these two clubs still face each other Sept. 18-20 in the Bronx and Sept. 28-30 at Fenway to close out the regular season, and it would be pretty cool if those games have mathematical meaning.