Jones sure he has 'more left' in right arm
Cooper sets high goals; injury updates; voice of Sox assures he's OK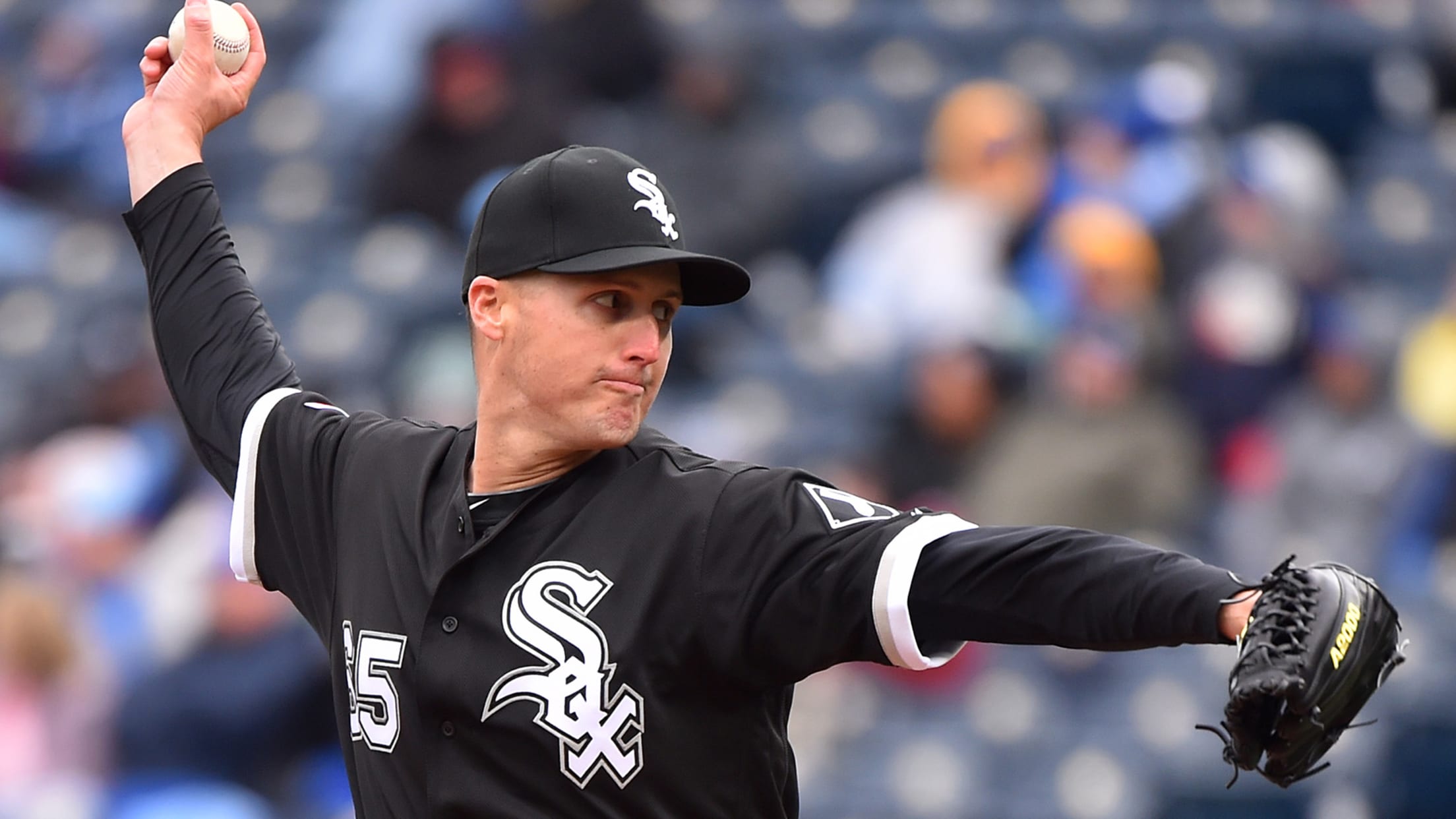 KANSAS CITY -- Nate Jones' fastball has averaged 94.9 mph, according to FanGraphs, in the two games he's pitched during the 2019 season. That number comes from an extremely small sample, with the right-hander throwing just four pitches Saturday before allowing Whit Merrifield's two-run single to right in the bottom
KANSAS CITY -- Nate Jones' fastball has averaged 94.9 mph, according to FanGraphs, in the two games he's pitched during the 2019 season.
That number comes from an extremely small sample, with the right-hander throwing just four pitches Saturday before allowing Whit Merrifield's two-run single to right in the bottom of the sixth and then exiting the game. But even though Jones sat around that velocity number during Spring Training, down from the 97.2 mph he averaged in each of his last two campaigns, the 33-year-old veteran believes he has more in there as his appearances progress.
"I might be up there in age a little bit, and it might take a little bit longer for it to come," Jones said. "There's more left in there, especially once we get a little deeper in the season and [into] warmer weather."
"Hopefully, this is just where he is right now and the velocity he's had in the past will come back to be where it's been," White Sox manager Rick Renteria said. "He's healthy, he's feeling good. He has to continue to execute, for sure."
Both Renteria and Jones stressed the importance of the reliever's health, after Jones appeared in 33 games during the 2018 season due to a pronator strain in his right arm and just 11 games in '17 after having surgery to reposition the ulnar nerve in his right arm. Jones also spoke of tinkering and experimenting with how he was approaching hitters during Spring Training but returned to an old approach when that plan didn't produce desired results.
"Just tried something different," Jones said. "Sometimes it works for people. Sometimes it doesn't. During Spring Training, we weren't getting results with it so the last two outings [of spring] I reverted back to what I've always done, and it turned out well."
"At this point, I really don't have any concern or anything to worry about," Renteria said. "It's a long season, it's just the beginning of the season, and we started working him in the spring still limited. So, we're monitoring his usage and we'll see how it continues to evolve."
Pitching in
With Lucas Giolito pitching Sunday and Ivan Nova Monday, the White Sox will have gone one turn through their 2019 rotation. White Sox pitching coach Don Cooper is eager to see those hurlers develop as they continue moving on through their respective starts.
"Nothing is going to get us off course on what we are challenging each guy to be better at and improve on," Cooper said. "If we are hot and playing good, hey, great. There will be ups and downs in every season.
"Even when we get down, we might add something in, but we aren't taking anything out of what we are doing with each guy. These are the things they will have to do to be top pitchers."
Cooper added the goal certainly is not being mediocre with his staff.
"I'm shooting for the top guys," Cooper said. "First pitch strikes, getting ahead in the count. We've got to be there. We have to take walks out of the equation for [Reynaldo] Lopez, Gio and Carlos [Rodon]. Hits and walks make up runs."
Medical updates
• Outfielder Jon Jay, who started the season on the injured list with a right hip strain he described earlier this week as also affecting his back area, is feeling better per Renteria. But Renteria added Jay would be seen and re-evaluated this week in Chicago.
• Right-handed reliever Ian Hamilton has been throwing in Arizona and also continues to improve. He began the season on the injured list due to inflammation in his right shoulder, an issue acting up after Hamilton and his fiancée were involved in a car accident during Spring Training.
Third to first
• White Sox radio voice Ed Farmer, in his 28th season with the team and 14th handling play-by-play duties, appreciates fans' concern over how he sounded on the air during the Opening Day broadcast. But Farmer said he's fine aside from battling a bad case of the flu.
• Yoan Moncada has for the sixth time in his career managed not to strike out in exactly two straight games per MLB.com's Sarah Langs to start the '19 season (and to top it off, he went 3-for 5 with his first home run of the season). The streak ended on Sunday, however, when he struck out in his first at-bat against the Royals' Jorge Lopez. A strikeout-free day Sunday would have marked just the second time in his career that Moncada went three straight without a strikeout. The other time was July 19-22, 2017.
They said it
"The easiest thing is to become pessimistic, even in short spurts. I'm not that guy. I'm more optimistic than pessimistic. I'm a realist. When we do need to make changes, the organization has always been open to conversations, then we do what's best for the player." -- Renteria on sticking with Giolito in '18 despite his struggles