MRI reveals no damage to Karns' arm
Righty will rest to let forearm tightness subside before rehab assignment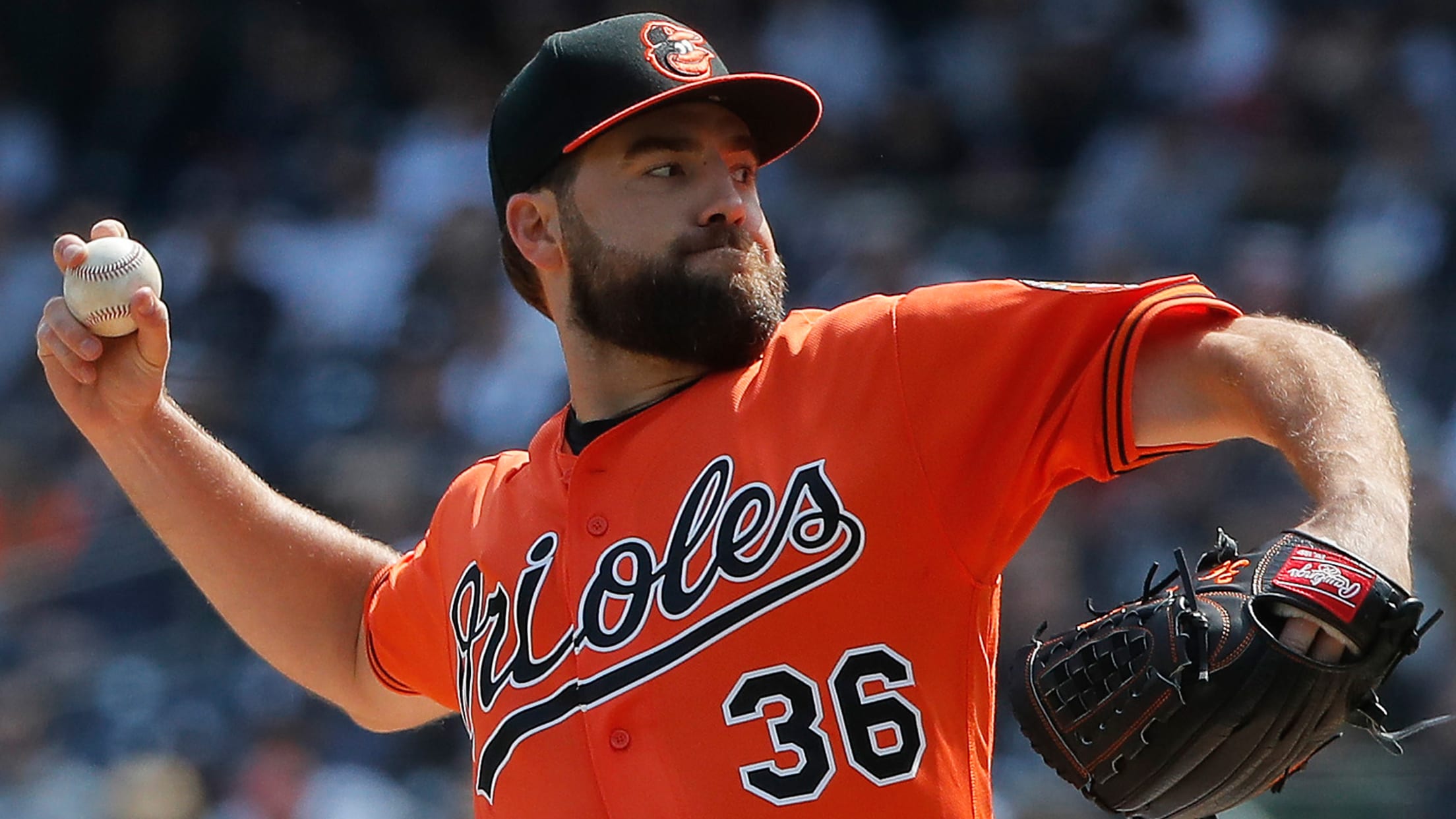 BALTIMORE – Well-versed by now in the bad news medical appointments can bring, Nate Karns learned this week that he has avoided the worst. A day after seeking a second opinion from Dr. James Andrews on his lingering bout of right forearm tightness, Karns on Tuesday said an MRI revealed
BALTIMORE – Well-versed by now in the bad news medical appointments can bring, Nate Karns learned this week that he has avoided the worst. A day after seeking a second opinion from Dr. James Andrews on his lingering bout of right forearm tightness, Karns on Tuesday said an MRI revealed no structural damage.
Karns, who missed much of the past two seasons due to arm trouble, said he received an injection and was prescribed rest. He hopes to begin throwing again in 7-10 days before embarking on a rehab assignment, which will be his third since landing on the injured list on April 9.
"My UCL is good. There was nothing that indicated we needed any surgery or any red flags," said Karns. "It was definitely awesome, really encouraging. When it came back clear, that's positive. But at the same time, still frustrating because this has been slow moving."
The veteran righty is no stranger to such frustration, having missed much of the past two seasons due to arm trouble. Which is why it caused concern when Karns, who experienced shoulder soreness this spring, saw his fastball velocity dip into the mid-80s early last month. Testing revealed little at the time, and Karns characterized the issue as minor fatigue.
But discomfort recurred each time Karns attempted to rehab, prompting his appointment in Pensacola, Fla., with Andrews, the renowned orthopedic surgeon. Karns said his fastball was clocked at 93 mph in his last rehab start for Double-A Bowie, more or less its average before he had surgery for thoracic outlet syndrome in 2017. Karns subsequently missed all of 2018 with elbow inflammation. He called the current issue different from last season's.
All told, Karns has been limited to just 13 Major League appearances over the past three seasons. He is unscored upon across four appearances this year, two in middle relief and two as a starter on bullpen days. Baltimore's lone Major League free agent signing this offseason, Karns is 16-12 with a career 4.30 ERA across six big league seasons with the Nationals, Rays, Mariners, Royals and now Orioles.
Call the fireman
Since taking the job in December, Orioles manager Brandon Hyde has expressed a consistent philosophy toward his late-inning bullpen usage, preferring to deploy his highest-leverage reliever in the biggest spots rather than "manage to the save statistic." Six weeks into 2019, that mindset hasn't changed with regards to Mychal Givens, hands down the club's top reliever.
But recently, philosophy and situation have dovetailed advantageously for Givens, who notched his fourth save in as many outings by closing out Monday's 4-1 win over the Red Sox. Givens recorded the final four outs, putting him atop an exclusive list of American League relievers.
Though his four saves aren't close to AL leader Shane Greene's 13, three of the four saves Givens has registered have consisted of four outs or more. That paces the Junior Circuit and puts Givens just one off Milwaukee's Josh Hader (4) for the MLB lead.
"It worked out where his last four saves have been in big spots, against the meat of their order," Hyde said. "I just want to put our best matchups out there. For our club right now, he's the best matchup out of the bullpen against the best hitters on the opposing team. When it's the biggest spot in the game, we'll live with Givens."
Hyde has asked Givens to throw multiple innings in seven of his 12 appearances this season. That leads all AL relievers with at least two saves.
Honorary Bat Girl
Each Mother's Day, Major League Baseball selects Honorary Bat Girls who will represent each MLB club in support of the annual "Going to Bat Against Breast Cancer" initiative, raising awareness and funds for breast cancer research. This year, the Orioles will honor Melanie Vohs, a Bel Air, Md., native who is currently battling breast cancer.
Vohs was diagnosed when she was 22 weeks pregnant and she will finish her 20th and final chemotherapy treatment Thursday, just three days before celebrating her first Mother's Day and throwing out the ceremonial first pitch prior to Baltimore's 1:05 p.m. ET game against the Angels at Oriole Park.