Red Sox will use Eovaldi as closer after IL stint
Dombrowski says move comes from a place of 'urgency'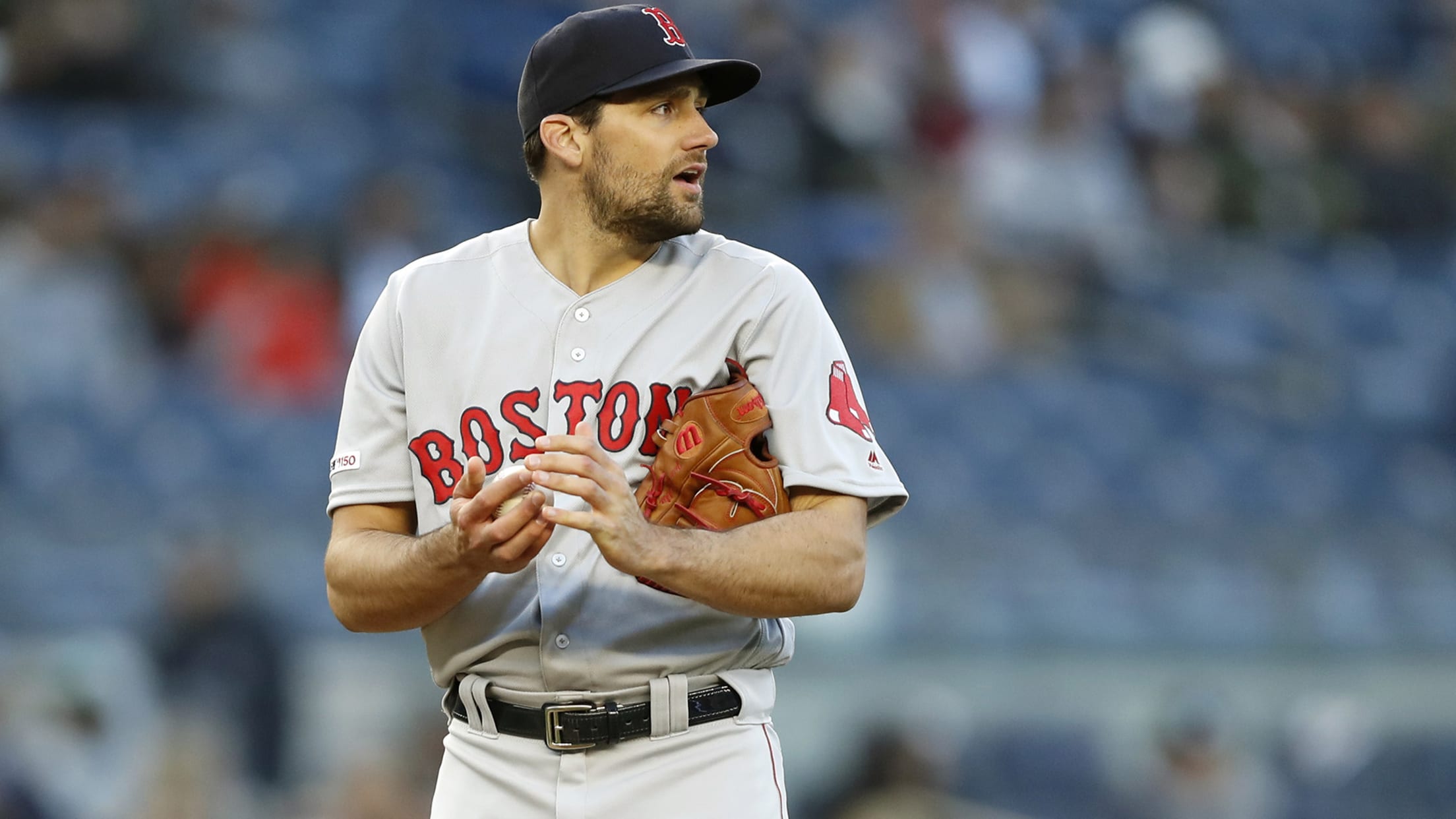 TORONTO -- The Red Sox are planning to use Nathan Eovaldi as their closer when the right-hander returns from the injured list, Boston manager Alex Cora and president of baseball operations Dave Dombrowski announced prior to Tuesday's game. NESN first reported the possibility of the move Monday night. Eovaldi, who
TORONTO -- The Red Sox are planning to use Nathan Eovaldi as their closer when the right-hander returns from the injured list, Boston manager Alex Cora and president of baseball operations Dave Dombrowski announced prior to Tuesday's game. NESN first reported the possibility of the move Monday night.
Eovaldi, who last pitched on April 17, is on the 60-day injured list after undergoing arthroscopic surgery on April 23 to address loose bodies in his right elbow. He's been on a conservative throwing program after a bout with right biceps tendinitis prolonged his recovery from the surgery, but Eovaldi threw off a mound on Monday and is scheduled to do so again Wednesday.
The Red Sox are optimistic that Eovaldi could return soon after the All-Star break, at which point they hope his electric velocity can play up in shorter bursts to help solidify their bullpen.
"Stuff-wise, I think he's one of the best out there in the big leagues," Cora said. "We'll maximize that while he's in the bullpen."
This doesn't close the door on Eovaldi returning to the rotation later this season, Cora added, but a quick return to the bullpen is being emphasized for now.
The veteran righty has made only eight career relief appearances during the regular season, half of which came in his 2011 rookie season with the Dodgers. Eovaldi has not recorded a save in his big league career.
However, he was dominant out of the bullpen during the most recent postseason, allowing just one earned run over 9 1/3 innings in four relief appearances. That lone earned run came on Max Muncy's walk-off homer in the 18th inning of Game 3 of the World Series, which ended a stellar six-inning relief performance in which Eovaldi allowed just three hits and one walk, striking out five.
Though he received interest from other clubs as a reliever during the offseason, Eovaldi elected to return to Boston on a four-year, $68 million deal as a starter. That's temporarily changed, however, given the context of Boston's season and bullpen, a move that Dombrowski says comes from a place of "urgency," not desperation.
"Originally, he stated when he signed over the winter that he didn't want to go into the bullpen, but he's changed that because he really wants to get back as quickly as he can," Dombrowski said.
As it stands, Boston's bullpen could use some shoring up. It recorded eight blown saves in the month of June, second most in the Majors (behind the Mets' 'pen, with nine). Red Sox relievers also combined for a 4.92 ERA in June which ranked 22nd in MLB in that span. The rocky month was capped off by the 'pen giving up 21 runs (20 earned) in just 12 1/3 IP as Boston was swept in a two-game set against the Yankees in London.
In other injury news, Steve Pearce (lower back strain) suffered a setback after falling and injuring his knee in a rehab game last week. Dombrowski expects Pearce to miss an "extended period" that could be about a month, but the club should have more clarity soon. Pearce will not require surgery.
Kelley's promotion helps bullpen, too
Prior to Tuesday's series opener, the Red Sox promoted right-handed reliever Trevor Kelley to the active roster. The former 36th-round Draft pick will be making his MLB debut after an excellent first half with Triple-A Pawtucket.
In 28 appearances with Pawtucket, Kelley posted a 0.96 ERA over 37 2/3 innings with 34 strikeouts and was recently named an International League All-Star. To make room on the 40-man roster, catcher Oscar Hernandez was designated for assignment.