Eovaldi resumes throwing; pitching bolstered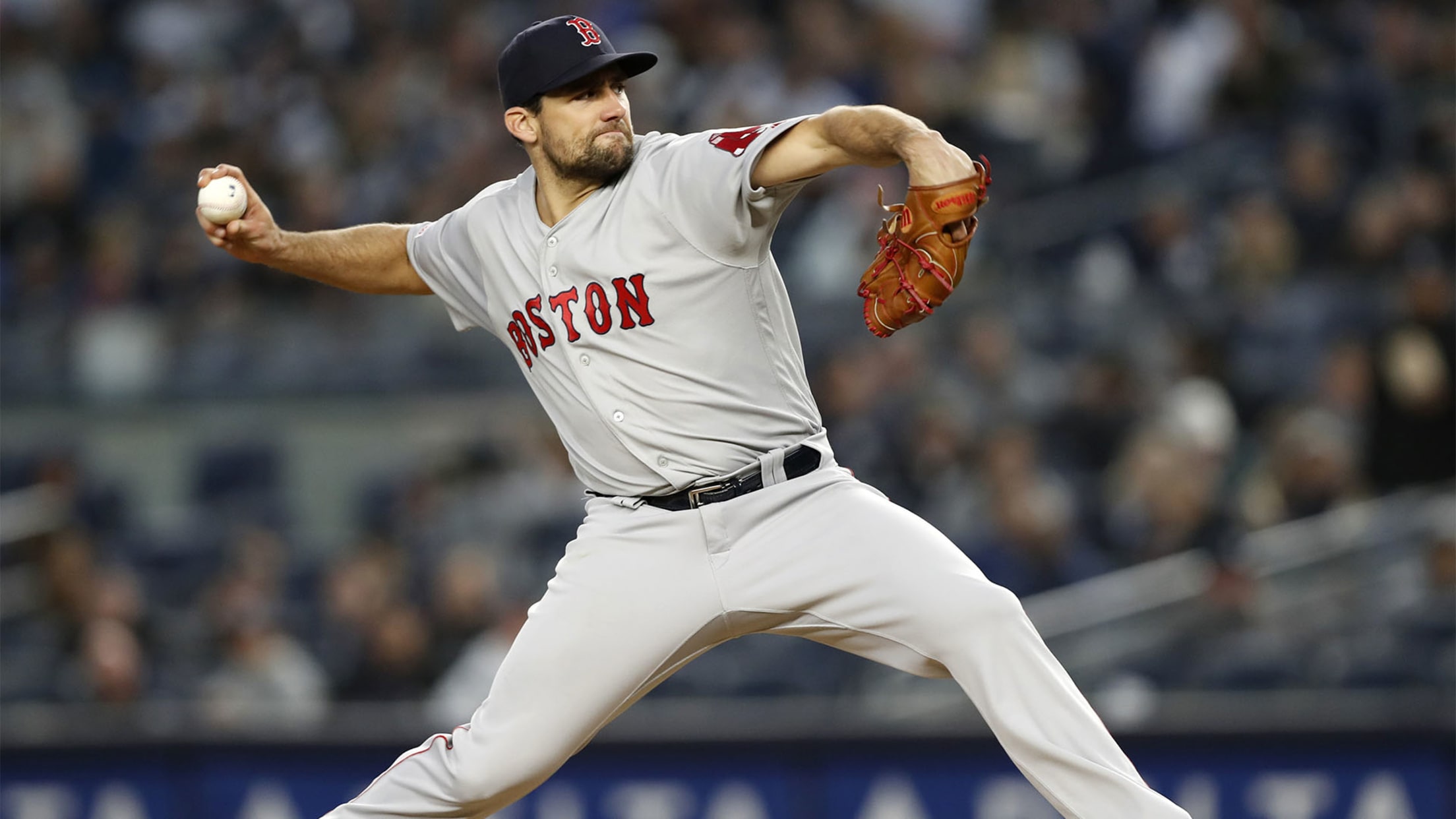 MINNEAPOLIS -- On a day the Red Sox got two reinforcements for the pitching staff Hector Velázquez was activated from the injured list and Ryan Brasier returned from the bereavement/family medical emergency list), the most significant news of the day involved Nathan Eovaldi. The hard-throwing righty has resumed throwing after
MINNEAPOLIS -- On a day the Red Sox got two reinforcements for the pitching staff Hector Velázquez was activated from the injured list and Ryan Brasier returned from the bereavement/family medical emergency list), the most significant news of the day involved Nathan Eovaldi.
The hard-throwing righty has resumed throwing after being shut down for over a week with right biceps tendinitis.
Before the shutdown, Eovaldi was close to going on a Minor League rehab assignment.
The Red Sox will now build him back up gradually. Eovaldi last pitched for Boston on April 17 and had surgery to remove loose bodies from his right elbow shortly after that.
"He played catch today, he felt good, so now we start building up," said Red Sox manager Alex Cora. "There's no timetable right now. Obviously, he needs to start playing catch [and have] some progression from that. At least today he was able to go out there and start that."
Slowly but surely, Boston's pitching staff is getting closer to full health. Lefty Brian Johnson returned over the weekend and started on Sunday in Baltimore. He might hold down the fifth spot in the rotation until Eovaldi comes back.
Velazquez, who had been out since May 30 with a low back strain, is an important depth option. Though Brasier hasn't pitched up to expectations this season, his return after missing the last six days comes at a good time.
Though the Red Sox entered Monday night with five straight wins, the pitching staff has been taxed of late.
"We've got some guys [back]," said Cora. "We'll stay away from [Brandon Workman] today. [Marcus Walden], it has to be a perfect situation. The other guys are available. We had that [short] David [Price] start, and yesterday. We haven't re-set our bullpen."
To make room for Velazquez and Brasier on the roster, the Red Sox optioned righties Travis Lakins and Josh Smith to Triple-A Pawtucket.
Worth noting
• First baseman Steve Pearce (low back strain) took a day off on Monday, but will resume his Minor League rehab assignment with Class-A Lowell on Thursday when he plays in three straight days. Pearce could return this weekend, when the Red Sox host the Blue Jays. Mitch Moreland, who has been out since June 8 with a right quad strain, continues to feel better, but has yet to resume baseball activities.
• A combination of superstition and giving his players proper rest has led Cora not to outdoor batting practice the last several days. The Red Sox have also had late reporting times.
"Well, we didn't hit the first and second game against Texas that we won," said Cora. "We didn't hit at all [in Baltimore] and we won three. Actually, that week at home it didn't feel like we got any rest. The doubleheader and the game at 4 and the long games, it's not easy.
"We'll take groundballs, we'll do our defensive work and hit inside. They take plenty of hacks inside; get your sleep and breakfast, lunch, show up a little bit later. That's good. And we won five games in a row without doing [outdoor batting practice]."