What to watch for: Nationals offseason FAQ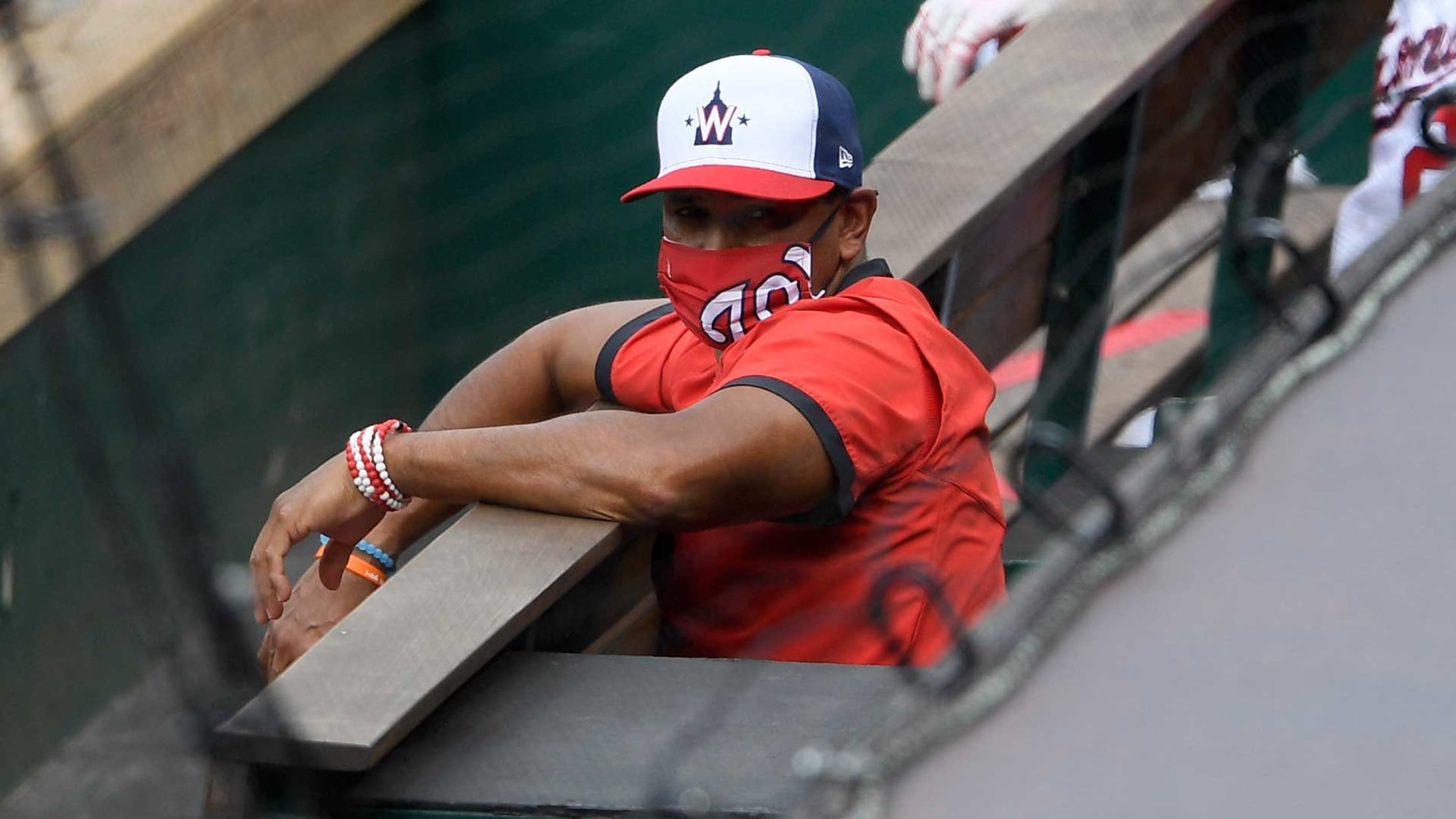 WASHINGTON -- The Nationals enter the offseason looking to improve from a 26-34 record in 2020. They will face decisions on several key veterans in free agency, as well as how to position the team for title contention next season and beyond. "After we do our summary of 2020, we'll
WASHINGTON -- The Nationals enter the offseason looking to improve from a 26-34 record in 2020. They will face decisions on several key veterans in free agency, as well as how to position the team for title contention next season and beyond.
"After we do our summary of 2020, we'll find out what worked, what didn't work, what we have to improve on," general manager Mike Rizzo said at the end of the season. "By Spring Training, we're hoping to have a roster in place that's going to compete for the National League East championship and the World Series championship."
Take a look at important offseason scenarios, dates and which players could be impacted.
Which players are free agents?
Infielders Asdrúbal Cabrera and Ryan Zimmerman, utility man Josh Harrison, catcher Kurt Suzuki and left-handed reliever Sean Doolittle are set to enter free agency. Doolittle, who will become a free agent for the first time in his career, issued a thank you to Nationals fans last week.
Eligible players will become free agents at 9 a.m. ET the first day after the conclusion of the 2020 World Series. Free agents may begin signing with any club at 5 p.m. five days after the World Series ends.
• Biggest questions facing Nats this offseason
Are any of them likely to receive qualifying offers, and what is the deadline for that?
The decision on Zimmerman will be one to watch. Zimmerman, 36, was the Nationals' very first Draft pick in 2005, and he has spent his entire career with the organization. When he elected not to play this season, he noted in June, "To be clear, I am not retiring at this time."
The Nats could go in different directions with the catcher position -- bring back the 37-year-old Suzuki (who platooned with Yan Gomes, 33, again this season), or add a catcher via trade or free agency. Washington has reinstated Tres Barrera, its No. 19 prospect per MLB Pipeline, from the restricted list.
Manager Dave Martinez was impressed by Harrison in his short stint with the Nats this season, saying in late September, "There'll definitely be some conversations about him this winter."
The deadline for former clubs to tender qualifying offers is 5 p.m. ET on the fifth day after the end of the World Series. The last day for players to accept a qualifying offer from their former club is 15 days after the conclusion of the World Series.
Which players have options, what's the dollar figure and impact on payroll, and when does it need to be decided upon?
The Nationals have team options on right fielder Adam Eaton ($10.5 million), starting right-hander Aníbal Sánchez ($18 million) and utility man Brock Holt ($5 million), as well as mutual options with infielder/designated hitters Howie Kendrick ($6.5 million) and Eric Thames ($3 million). The decisions will need to be made shortly after the World Series.
After Eaton sustained a season-ending finger injury in mid-September, the Nats got a look at left fielder Juan Soto playing right field, which could be a possible defensive change for 2021. Kendrick, 37, will weigh if he is going to play a 16th Major League season. He described the consideration as "one of the toughest decisions you're ever going to make." Holt made a mark as a do-it-all veteran option, even pitching in a pinch.
Who might be a non-tender candidate, and when does the club have to make that decision?
Roenis Elías is a candidate to be non-tendered this offseason. The left-handed reliever did not pitch in 2020 because of a left forearm flexor strain. Acquired from the Mariners in July of '19, Elías has been limited to just four games for the Nationals since then. The tender deadline is Dec. 2.
Who needs to be added to the 40-man roster this winter to avoid the Rule 5 Draft, and do they have a crunch for roster spots?
The 2020 Rule 5 Draft is scheduled to take place on Dec. 10 during the Winter Meetings. In this draft, teams without a complete 40-man roster can select specific non-40-man roster players from other teams.
For this year, players drafted out of college in 2017 at age 19 or older, as well as players drafted out of high school/international players signed in '16 at age 18 or younger, need to be protected to avoid the Rule 5 Draft.
This list includes Top 30 Prospects shortstop/third baseman Yasel Antuna (No. 12), catcher Israel Pineda (No. 14), right-handers Joan Adon (No. 16), Sterling Sharp (No. 24) and Steven Fuentes (No. 26), outfielder/second baseman Cole Freeman (No. 28) and outfielder Nick Banks (No. 29), as well as catcher Jakson Reetz.
The Nats' 40-man roster stands at 37 after infielder Adrián Sanchez and righties Aaron Barrett, Paolo Espino and Austen Williams cleared outright waivers and their contracts were assigned to Triple-A Fresno.
What are key dates leading up to the Rule 5 Draft?
The Rule 5 Draft protection deadline is Nov. 20. Dec. 3 is the deadline to request outright waivers to assign a player before the Rule 5 Draft, and the last day to outright a player prior to the Rule 5 Draft is Dec. 7.
What kind of help do they need and will they be active in free agency? Who are noteworthy free agents?
While the Nationals have areas in which they need to improve their roster for 2021, they also have the potential future contracts of Soto and Trea Turner to consider when maintaining salary flexibility. Two areas that stand out are pitching, first base and outfield:
• Pitching: The Nationals' pitching staff had the third-highest ERA in the NL (5.09), and the starting rotation could look different next season. They are expecting Stephen Strasburg -- who underwent season-ending carpal tunnel neuritis surgery in his right hand -- to be healthy for 2021, but they have a team option on No. 4 starter Sánchez, and No. 5 starter Austin Voth struggled in his first year in the role. Noteworthy free-agent starting pitchers include Trevor Bauer, Marcus Stroman, Robbie Ray and Masahiro Tanaka.
• First base: This season, the Nats manned first with a combination of Cabrera, Kendrick and Thames. It remains to be seen if any of the trio return to Washington next year. No. 11 prospect Drew Mendoza, who was added to the 60-man player pool in late August, is not projected to make his Major League debut until 2022. If the Nationals eye multi-positional infielders again, Jake Lamb has experience at first and third, a position where he also could share duties with Carter Kieboom.
• Outfield: Right field is in question for 2021, and the Nats could benefit from a heavy-hitting outfielder. They could exercise their team option on Eaton and keep the trio of him, Soto (left) and Victor Robles (center) intact. The club also could shift Soto to right (where he played six games this season) and look to acquire a left fielder, or it could keep Soto in left and fill the role in right. Noteworthy free-agent outfielders include George Springer and Joc Pederson.