Nats fight food insecurity this Thanksgiving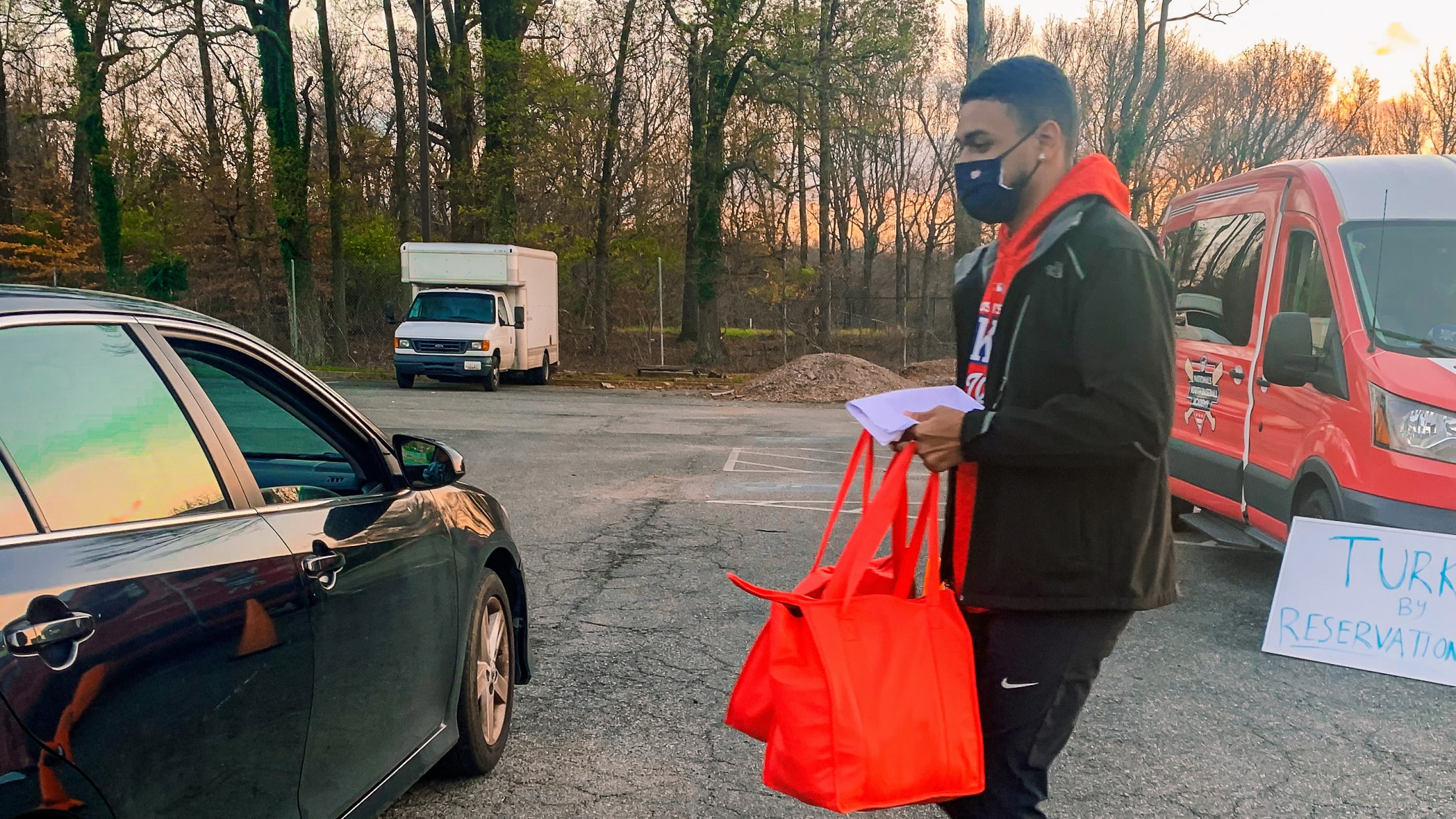 The Nationals began the holiday season with a week of community initiatives to address food insecurity, a problem faced by an estimated half-million residents of the D.C. area. "This year, the needs of residents in our community are exacerbated by the pandemic and the challenges that people are facing as
The Nationals began the holiday season with a week of community initiatives to address food insecurity, a problem faced by an estimated half-million residents of the D.C. area.
"This year, the needs of residents in our community are exacerbated by the pandemic and the challenges that people are facing as a result," said Nationals Philanthropies CEO Tal Alter. "It's important to us that on top of what we would normally be doing to support residents during the holidays, we do as much as we can -- not just as a philanthropy, but as an organization at-large -- to ensure that those who are unsure of what they're going to be doing for Thanksgiving, where their meals are going to be coming from, that we can help solve that."
The week opened with the Third Annual Turkey Giveaway on Monday. More than 200 turkeys, produce from 4P Foods and canned goods from Wegmans were distributed by the Nationals Youth Baseball Academy to participants of its after-school and youth baseball programs. The event was designed to offer food staples for more than 1,000 meals.
#NatsAcademy staff distributed turkeys and Thanksgiving meals this week to program participants and neighborhood residents. Read more about our effort to respond to an increased need for food access this season.

🔗https://t.co/bjHQ1E3Xks | #Nats4Good pic.twitter.com/S4kg7Rr6jh

— Nationals Philanthropies (@Nats4Good) November 25, 2020
The following day, the Nationals Youth Baseball Academy teamed up with Feed the Fridge -- a program created to combat COVID-related food insecurity by Medium Rare restaurant owner Mark Bucher -- for a Thanksgiving meal distribution. Together, they distributed 200 pre-cooked and sealed meals to Fort Dupont Park residents.
This week will wrap up with Medium Rare's 12th Annual Free Turkey Fry on Thanksgiving Day. Nationals Park will serve as the new location for the longstanding event, which is open to the public, in order to allow for social distancing and occupancy guidelines. This year, event-goers can drop off their birds, park for free in Garage C and pick up their fried turkeys after receiving a text. The frying is done at no charge, and donations will benefit Feed the Fridge. Additionally, Medium Rare will fry turkeys for all of the D.C. firehouses that morning.
"Having the Nats partner up with us is a grand slam," said Bucher in a statement. "It allows us to keep this amazing Washington tradition alive. And this year, with the pandemic exacerbating food insecurity, it's all the more important to use our annual Turkey Fry to raise funds to support our local community."
Opportunities to get involved will continue after Thanksgiving through the Giving Tuesday program, benefitting the Nationals Youth Baseball Academy. Those who donate $100 or more will receive a limited edition Youth Baseball Academy face mask.
Giving Tuesday is a week away. Join Joe Ross and show your support of #NatsAcademy with a gift today!

🔗https://t.co/ig27D7KyeZ#GivingTuesday | #Nats4Good pic.twitter.com/dBfDz0RpRU

— Nationals Philanthropies (@Nats4Good) November 24, 2020
"It's so important to us that we have a civic platform as the representative of the national pastime in the nation's capital," Alter said. "We can use that both to execute programs ourselves, but also to make things possible to happen through our convening of partners, the utilization of our facilities and our ability to reach into the community and hear what it is people need and want. We really take pride in playing that role and wanting to be a conduit not only for a great baseball team that people can enjoy, but an organization that makes the community better."