Amid long stretch, Nats call up extra reliever
Needing all the help it can get with Glover out, club adds Gott, options Difo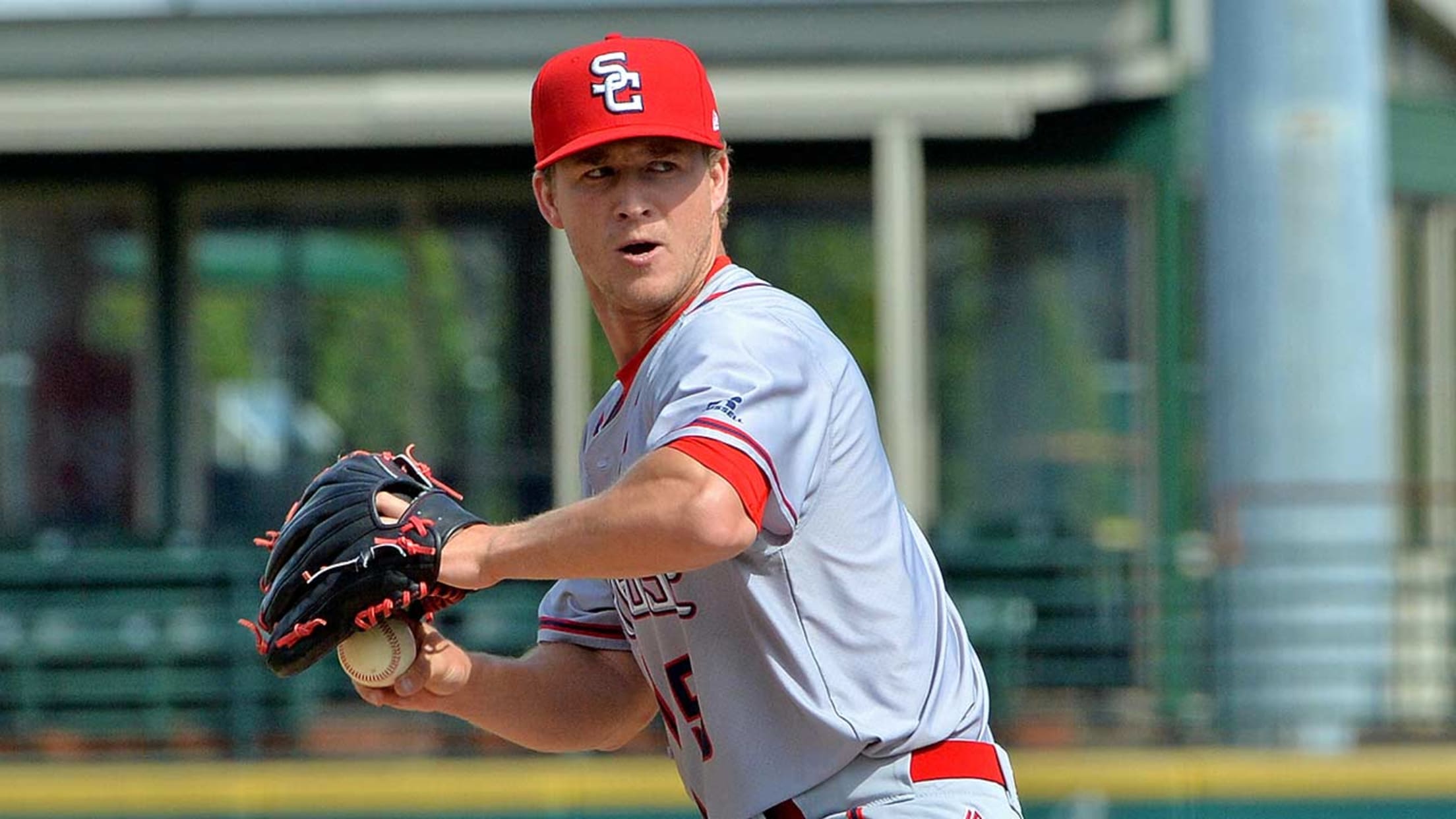 Trevor Gott had a 3.30 ERA and 28 strikeouts in 30 innings at Triple-A. (MiLB.com)
In recognition of the 2017 MLB Draft, which runs through Wednesday, we are including where and when each player was drafted. For complete coverage of the Draft -- which you can watch live in its entirety on MLB.com -- please visit Draft Central.WASHINGTON -- The Nationals have decided to carry
In recognition of the 2017 MLB Draft, which runs through Wednesday, we are including where and when each player was drafted. For complete coverage of the Draft -- which you can watch live in its entirety on MLB.com -- please visit Draft Central.
WASHINGTON -- The Nationals have decided to carry an extra reliever in order to help them get through this stretch of 20 consecutive days without an off-day, as they promoted right-hander Trevor Gott (sixth round, 2013 Draft, University of Kentucky) prior to Monday's game against the Braves.
Wilmer Difo was sent to Triple-A Syracuse in a corresponding move, leaving Washington a man down on the bench in order to carry eight relievers.
"It's pretty self explanatory," manager Dusty Baker said. "We're in a consecutive streak of days. ... What suffers first is probably your bullpen, and then secondly your position players. It was a tough decision and we didn't want to send Difo out, but we needed the arm."
Gott had been pitching well at Syracuse, where he had a 3.30 ERA and 28 strikeouts in 30 innings. He joins a Nationals bullpen that has struggled all season and is particularly in disarray now that Koda Glover (eighth round, 2015 Draft, Oklahoma State University), who had settled in as closer, landed on the disabled list on Sunday.
Baker had resorted to piecing together the final few outs of games before Glover's emergence in the ninth inning the past few weeks, and he plans to do the same in the closer's absence, trying to finish off games on matchups instead of naming one reliever to receive the majority of save opportunities.
"It's been a case-by-case basis every day," Baker said. "It's similar to how it's always been."
Washington owns the fourth-worst bullpen ERA in the Majors and does not have a clear next option to replace Glover, who was the club's third different primary closer this season. Blake Treinen (23rd round, 2006 Draft, South Dakota State University) and Shawn Kelley (13th round, Austin Peavy State University) were the first two pitchers named closers, however they have an ERA of 6.33 and 7.47, respectively.
Veteran right-hander Matt Albers (23rd round, 2001 Draft, William P Clements H.S. in Texas) somewhat famously has little experience closing out games, but he has emerged as one of the steadiest relievers on the team and could receive his share of chances.
"Positive reinforcement works a lot better now than negative motivation, but I can't lie to them either if you're not doing the job," Baker said. "I got to kind of tell them, you might not be doing the job that different way."
Worth noting
• Ryan Zimmerman (No. 4 overall, 2005 Draft, University of Virginia) was out of the lineup with an ailing back for the third consecutive game Monday night, however Baker said he was doing so to exercise caution.
"He's doing a lot better," Baker said. "I just didn't think it was worth ... I just decided to wait til tomorrow. And hopefully he can be in there quite a few games until the next off-day."