Noll homers, leads Rafters' offense in win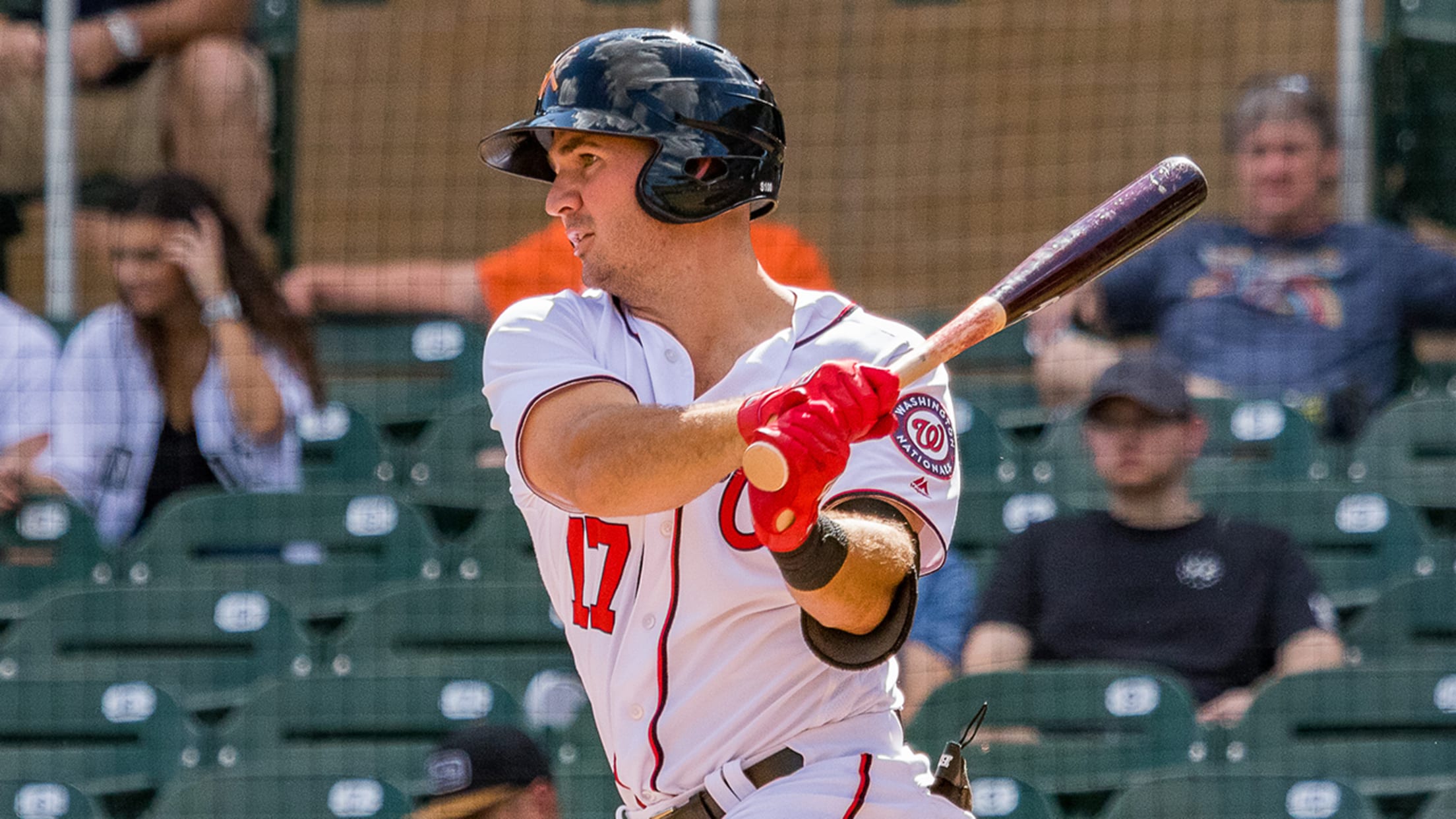 Jake Noll (17) 3B Salt River Rafters WSH 2016 7th round October 20, 2018, Peoria Javelinas Salt River Rafters 10/20/2018 at Salt River Fields in Scottsdale, Arizona. Freek Bouw - European Baseball Magazine (Freek Bouw - Phrake Photography)
Nationals infield prospect Jake Noll struggled to get his timing down at the plate after taking some time off at the end of the Minor League season and seeing inconsistent playing time at the start of the Arizona Fall League. But he's been seeing better results over the last week, and
Nationals infield prospect Jake Noll struggled to get his timing down at the plate after taking some time off at the end of the Minor League season and seeing inconsistent playing time at the start of the Arizona Fall League. But he's been seeing better results over the last week, and continued a recent hot streak with a team-leading four RBIs in Salt River's 12-3 win over Mesa on Monday night.
After hitting 11 homers across two levels during the regular season, Noll smacked his first homer of the fall in the game's opening frame, a three-run shot that capped a five-run rally against Mesa left-hander Manuel Rondon. According to Statcast™, Noll's long ball left his bat at 109.7 mph, the hardest-hit ball of the game, before landing 427 feet away in left-center field.
2018 Arizona Fall League rosters
"I've been looking for my pitch the whole time since I got here, and I've been missing it a lot," Noll said. "It was nice to finally hit one."
Two innings later, he got another fastball over the heart of the plate and took it the other way for an RBI single, bringing home Daz Cameron to extend Salt River's lead to 7-1. Noll even squared up one of his outs, driving a flyout deep to left-center in the fifth that left his bat at 103.5 mph.
"They did keep going to the heater, so I was happy about that," Noll said. "[I was] just trying to put a good swing on it every time and pound some barrels."
Noll's 2-for-4, four-RBI performance gives him eight RBIs over his last three games. He doubled and drove in a pair on Friday against Peoria, a day after going 1-for-4 with two RBIs in Scottsdale.
The 24-year-old was 1-for-16 with a single and five strikeouts to start the AFL season, playing in four of Salt River's first 12 games. He's seeing more consistent playing time now, having started three of the last four contests, and is 4-for-13 with only one strikeout in that span.
"That definitely helps," Noll said. "When I first got here, I wasn't playing a lot, and then I started getting more consistent at-bats, and the timing comes along with that. It helps out a lot."
Noll has made all but one of his AFL starts at third base after the Nationals moved him off second, where he played during his first two professional seasons, to give him experience at the corner infield positions this past season. With the Nationals hoping that he'll gain positional versatility, he expects to start moving even more this fall -- even, potentially, to the outfield.
Right fielder Jaylin Davis (Twins) had four hits and scored three runs, while shortstop Carter Kieboom, the No. 2 prospect in Washington's system, had three hits for the second straight game, including an RBI single.
Salt River plated seven in the first three innings, helping right-hander Jordan Yamamoto earn his third win of the fall -- though the Marlins' No. 17 prospect certainly didn't need the help. He held Mesa to three hits through five innings and struck out five, only yielding one run despite walking four. He lowered his AFL ERA to 1.69 and has yet to allow more than one run and three hits in a start.