Rendon, bats erupt to get Strasburg 100th win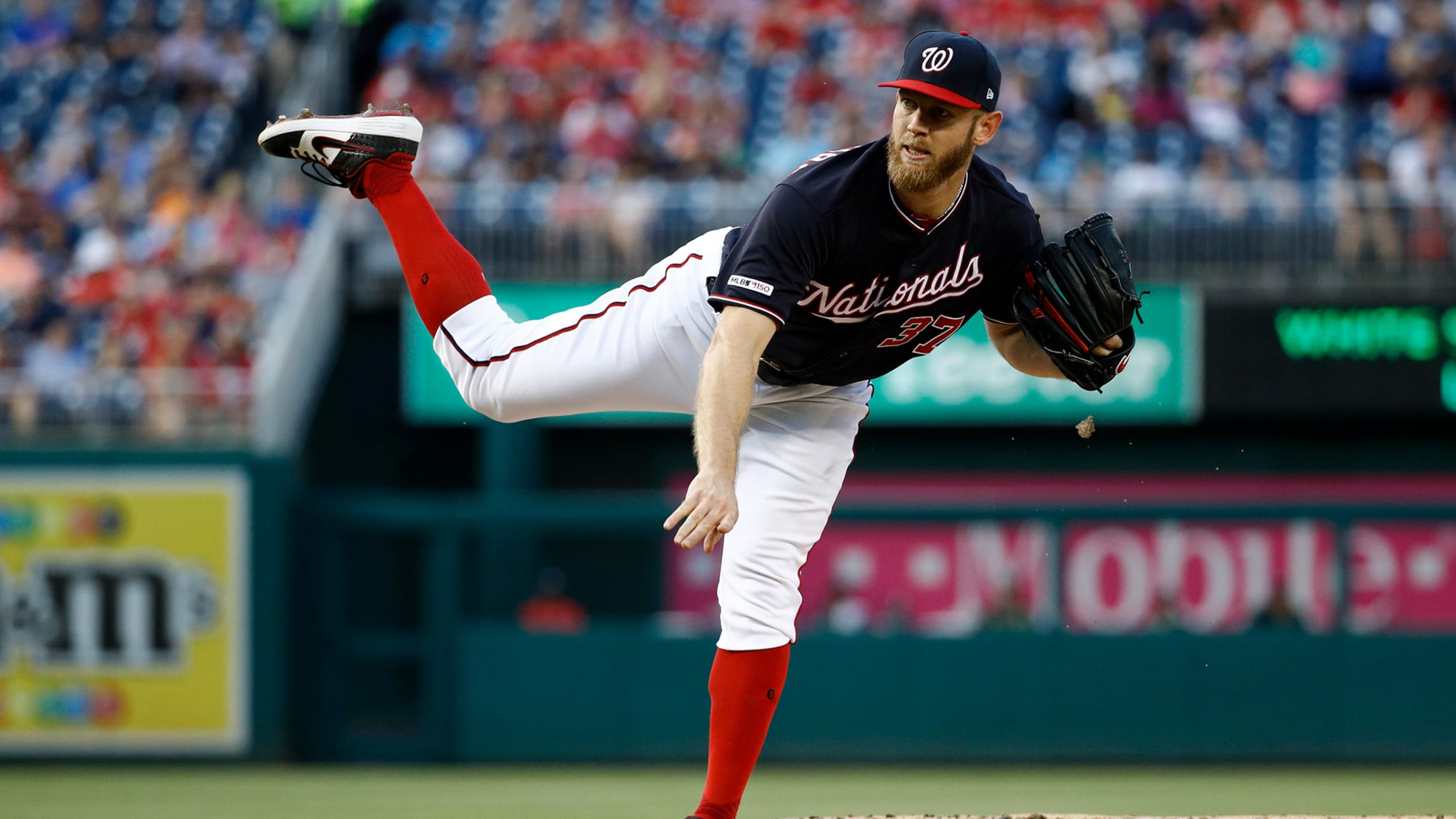 WASHINGTON -- It's been nearly 10 years since Stephen Strasburg heard his name called as the first overall selection of the 2009 MLB Draft, beginning a marriage with Washington that has continued for a decade. Just as the Nationals envisioned when they drafted him -- and with the 2019 MLB
WASHINGTON -- It's been nearly 10 years since Stephen Strasburg heard his name called as the first overall selection of the 2009 MLB Draft, beginning a marriage with Washington that has continued for a decade.
Just as the Nationals envisioned when they drafted him -- and with the 2019 MLB Draft fittingly underway -- there Strasburg was on the mound at Nationals Park on Tuesday, starting a 9-5 victory over the White Sox to notch a milestone no Nationals' pitcher had ever reached. Strasburg recorded his 100th career win, all in a Washington uniform, making him the first pitcher in team history to reach the century mark.
It is a fitting accomplishment for Strasburg, who has spent his entire 10-year career in D.C. and is on track to close his career at or near the top of numerous leaderboards in Nationals history.
"It's something that I think is a great personal accomplishment and I've been very fortunate and blessed to have been able to do that," Strasburg said. "But this whole time, and in the future, wins and losses -- as much as you like having them next to your name -- it's a team thing. And I think it's just great that this was such a good team win. They really picked me up for the 100th."
Indeed, Strasburg was not his sharpest at the start of Tuesday's outing. The White Sox erupted for five runs in the first two innings to put the Nationals and Strasburg into an early hole. But he settled into the game to last five innings without yielding another run, paving the way for the red-hot Nationals offense to pick up the slack with nine unanswered runs -- led by Anthony Rendon's three-run homer and five RBIs -- to lead Strasburg to the victory. It's the kind of game that earlier in his career, perhaps, would have snowballed on Strasburg.
"Stras, all year he's been doing a great job," said veteran second baseman Howie Kendrick, who hit his 10th homer of the season. "And today, it was cool to be able to pick him up, too."
As a statistic, a pitcher's win total has been devalued in recent years as a useful way to measure a pitcher's individual success because it is so team dependent, as evidenced by a night like Tuesday. But it can still be useful to put Strasburg's career into context. It's not easy to rack up that many wins, and especially to do it all for one franchise. Strasburg needed just 219 games to reach a triple-digit win total, which ties him with Clayton Kershaw and CC Sabathia for the fourth fewest games needed to collect 100 wins among active players.
"He's been to postseasons here with this team, he's had some big outings for this club and he continues to get better," manager Dave Martinez said prior to the game. "I don't think we've seen the best of Strasburg yet, I really don't. So what he's done for this club, he elevated this club to be a really good-caliber team."
Strasburg is not one to reflect much on personal accomplishments, especially during the midst of a season. He's too much of a perfectionist -- his mind was fixated on a mistake he made on the mound and he was already thinking about the adjustments he needs to make to win his next start. Although he keeps some mementos from his own career accomplishments, he acknowledged the jerseys of other players he has on display in his home will take precedence over displaying his own.
But when asked to consider after the game the past decade of his life with the Nationals, and just how much had changed since Draft day so long ago, he paused for a moment.
"It was a long time ago, for sure," he said. "I mean, been a fair share of ups and downs and I know they're going to continue. I'm excited to see what the next 10 years has in store."