Torres joins bullpen as Cole exposed to waivers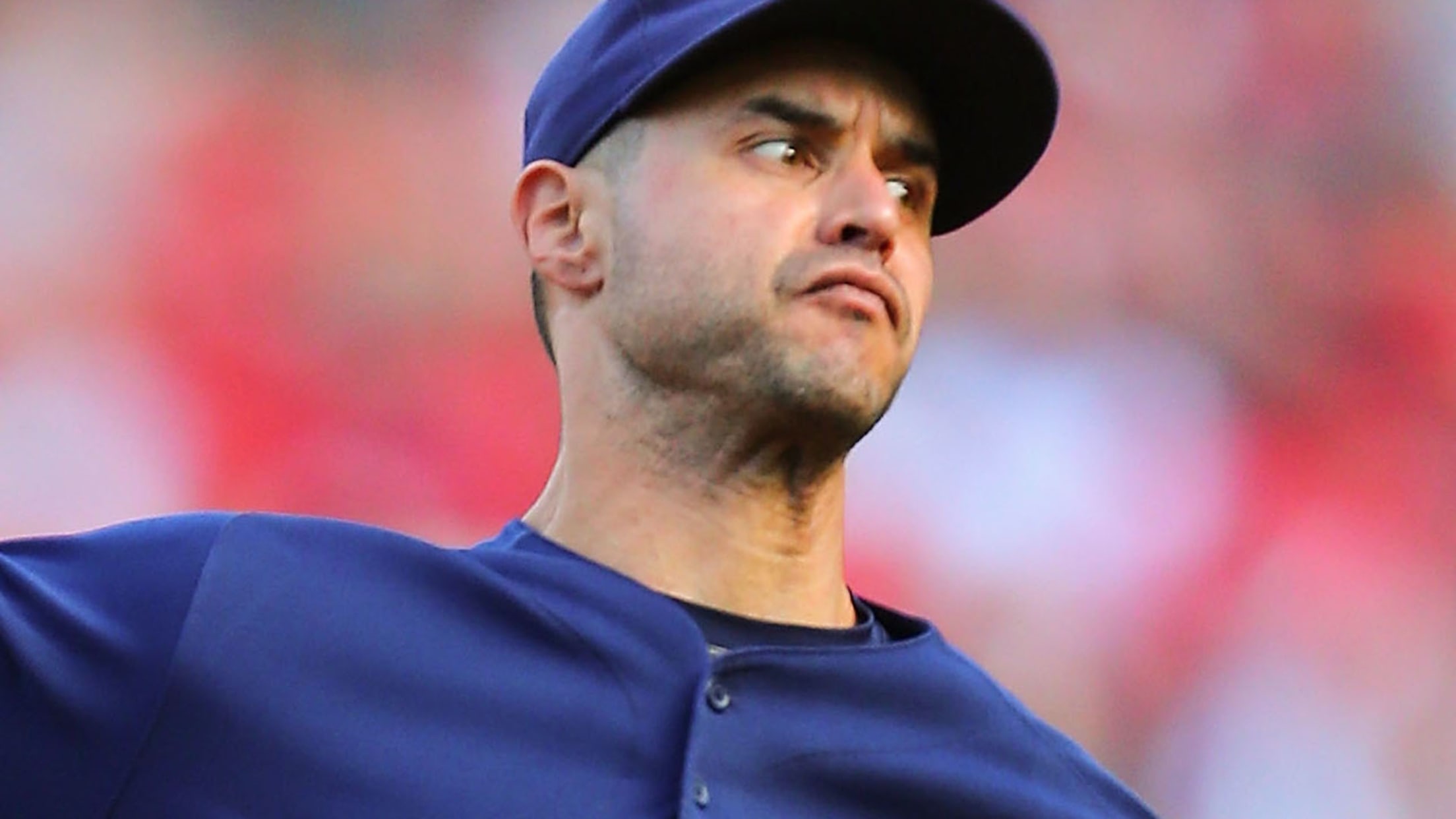 ST. LOUIS, MO - OCTOBER 1: Carlos Torres #59 of the Milwaukee Brewers delivers a pitch against the St. Louis Cardinals in the eighth inning at Busch Stadium on October 1, 2017 in St. Louis, Missouri. (Photo by Dilip Vishwanat/Getty Images) (Dilip Vishwanat/Getty Images)
LOS ANGELES -- Less than a month ago, the Nationals named A.J. Cole their fifth starter entering the season, hopeful he could continue his progress from the end of 2017. Instead, Cole's progress reverted through a rocky first four appearances.The Nationals designed Cole for assignment prior to Friday's game against
LOS ANGELES -- Less than a month ago, the Nationals named A.J. Cole their fifth starter entering the season, hopeful he could continue his progress from the end of 2017. Instead, Cole's progress reverted through a rocky first four appearances.
The Nationals designed Cole for assignment prior to Friday's game against the Dodgers, exposing him to waivers and risking losing him. The move cleared room on the 40-man roster for veteran right-hander Carlos Torres, who was promoted to provide bullpen depth to a taxed relief corps.
"That was a tough conversation today. It really was," manager Dave Martinez said. "We felt, with Torres, the way he was pitching in the Minor Leagues and having veteran experience in the bullpen, it give us length. I mean, he can pitch multiple days, pitch two innings at a time, [that] would fit our needs better right now."
That player was supposed to be Cole after he was removed from the starting rotation with the promotion of right-hander Jeremy Hellickson. The Nats were hopeful a shift to the bullpen would benefit Cole and he could serve as their long reliever to eat up innings. However, in two relief appearances this week, Cole gave up three runs on three hits in 1 1/3 innings and a pair of home runs.
Once a touted prospect, Cole appeared in 26 games for the Nationals in the past four seasons, mixing in as a spot starter or long reliever. He never spent much time on the Major League roster and posted a 5.32 ERA in 110 innings.
Torres, 35, made four scoreless appearances for Triple-A Syracuse, where he did not allow a hit with a walk and three strikeouts. He is an eight-year MLB veteran and spent the past two seasons with the Brewers, posting a 3.43 ERA.
"I feel good. I believe I've always felt good," Torres said. "It's just a matter of executing pitches on a more routine basis … coming up here, do whatever they ask me to do, whatever job, whatever role however many innings, whatever game. So come out here to work."
Rendon out for sixth straight game
It's been one week since Anthony Rendon fouled a ball off his left big toe, and he was out of the starting lineup for the sixth consecutive game Friday night. Martinez said Rendon's toe is feeling better, but Rendon, who was scheduled to take grounders and hit on the field, did not appear when the Nationals took batting practice.
The Nats have not placed Rendon on the disabled list because they are confident his return is imminent. Martinez said prior to the game that Rendon could be a pinch-hitting option and that he was confident he would play at some point this weekend.
"He constantly kept saying it was getting better and better," Martinez said. "He was trying to do things, but he felt that he would probably be ready this weekend."