Thursday's top prospect performers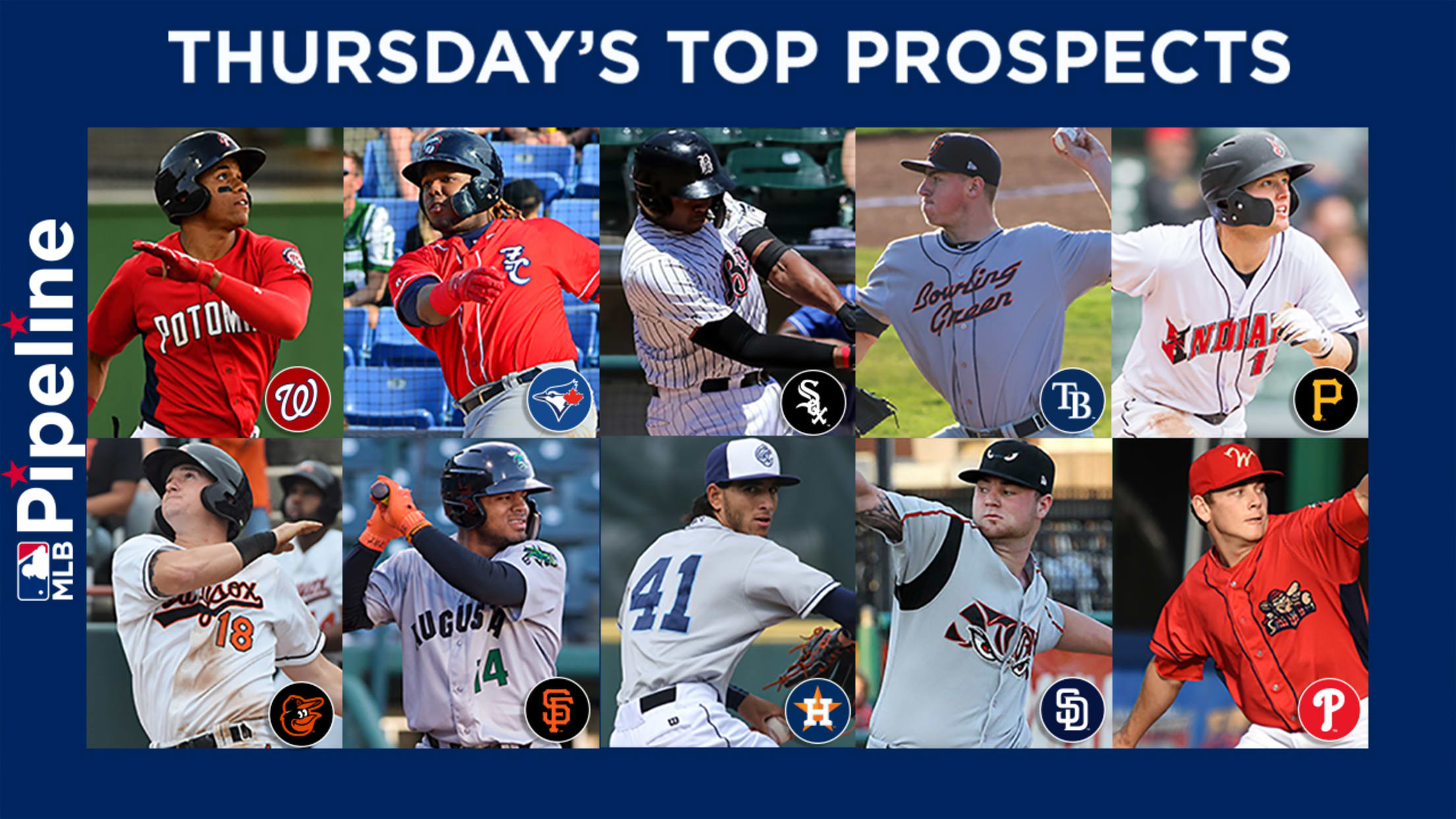 Here's MLB Pipeline's roundup of the top prospect performances in the Minor Leagues on Thursday.Nationals No. 2 prospect Juan Soto, the No. 16 overall prospect in baseball, had a big night at the plate in his Double-A debut, lining a two-run double to right field in his first at-bat, and
Here's MLB Pipeline's roundup of the top prospect performances in the Minor Leagues on Thursday.
Nationals No. 2 prospect Juan Soto, the No. 16 overall prospect in baseball, had a big night at the plate in his Double-A debut, lining a two-run double to right field in his first at-bat, and an inning later, hitting an opposite-field, two-run homer in Harrisburg's 9-8 victory over New Hampshire.
MILB Video - Title: Soto goes yard - Url: http://www.milb.com/r/video?content_id=2029454783
The 19-year-old outfielder has been red-hot all season, slashing .372/.476/.802 with 12 home runs in 31 games between Class A Hagerstown and Class A Advanced Potomac. His 12 homers rank third across all levels of the Minors.
Other top prospect performances on Thursday:
• In the same game, Blue Jays No. 1 prospect (No. 3 overall) Vladimir Guerrero Jr. extended his hitting streak to 15 games by going 3-for-5 with two doubles and an RBI in New Hampshire's 9-8 loss. The 19-year-old third baseman is hitting .396 with five homers and a 1.113 OPS on the season.
• White Sox No. 1 prospect Eloy Jimenez, the No. 4 prospect overall, extended his own hitting streak to 14 games with a double in Double-A Birmingham's 6-2 loss to Pensacola. The 21-year-old outfielder was unable to collect multiple hits for the 10th straight game, but is slashing .341/.370/.694 with seven homers in 21 games this season.
• Brendan McKay, the Rays' No. 3 prospect (No. 25 overall) tossed six scoreless innings while giving up just one hit in Class A Bowling Green's 4-0 win over Cedar Rapids. The 22-year-old left-hander walked none and struck out seven, lowering his season ERA to 1.09 over six starts. The two-way player, also a first baseman, is slashing .262/.483/.344 with two doubles, a homer and 26 walks in 87 plate appearances on the season.
• Pirates No. 2 prospect Austin Meadows, No. 44 prospect overall, went 3-for-5 with a double and two RBIs during Triple-A Indianapolis' 7-1 victory over Louisville. The 23-year-old outfielder snapped out of a recent slump and is slashing .276/.324/.378 for the season.
MILB Video - Title: Meadows' two-run double - Url: http://www.milb.com/r/video?content_id=2028988083
• Orioles No. 1 prospect Austin Hays (No. 37 overall) went 2-for-4 with a two-run homer in Double-A Bowie's 7-6 victory over Hartford. It was the 22-year-old outfielder's sixth homer in 31 games this season. Meanwhile, Baltimore's No. 2 prospect (No. 93 overall) Ryan Mountcastle went 3-for-4 with an RBI in his season debut after returning from a fractured right hand.
MILB Video - Title: Hays homers to left - Url: http://www.milb.com/r/video?content_id=2028833583
• A pair of top Giants prospects starred in Class A Augusta's 15-1 rout of Rome, as No. 1 prospect Heliot Ramos (No. 60 overall) went 1-for-3 with a two-run homer, and No. 11 prospect Jacob Gonzalez turned in a 2-for-3 performance with a homer and four RBIs. Ramos, an 18 year-old center fielder, had been just 2 for his previous 29 entering the game, and Gonzalez, a 19-year-old third baseman, has hit safely in six of his last nine games.
• Nationals No. 3 prospect Carter Kieboom (No. 88 overall) went 3-for-4 with a homer and a tied a career-high with five RBIs in Class A Advanced Potomac's 14-3 victory over Frederick. The 20-year-old shortstop is slashing .243/.360/.412 with six home runs in 33 games this season.
• Cionel Perez, the Astros' No. 6 prospect, threw five scoreless innings, allowed three hits and walked one, while striking out seven in Double-A Corpus Christi's 9-2 win over Midland. That lowered the 22-year-old southpaw's season ERA to 1.85 in six appearances (five starts).
• Royals No. 3 prospect Seuly Matias belted two homers in Class A Lexington's 9-5 loss to Delmarva. It was the 19-year-old right fielder's second multi-homer game this season, and his 10 homers in 2018 are a career-high. Overall, he's slashing .276/.321/.663 in 26 games this season.
MILB Video - Title: Matias' second homer - Url: http://www.milb.com/r/video?content_id=2029971683
• Giants No. 8 prospect Shaun Anderson turned in five solid innings in Double-A Richmond's 3-1 victory over Trenton. The 23-year-old right-hander gave up a run on two hits, walking two and striking out eight. He's got a 2.31 ERA over seven starts this season.
• Left-hander Logan Allen, the Padres' No. 8 prospect, gave up a run on four hits, walking three and fanning nine over 6 2/3 innings for Double-A San Antonio in a 3-1 victory over Frisco. The outing lowered the 20-year-old's ERA to 2.55 over seven starts in 2018.
• Rockies No. 11 prospect Tom Murphy belted two homers as part of a 3-for-5, five-RBI performance in Triple-A Albuquerque's 7-4 win over Reno. The 27-year-old catcher is slashing .298/.368/.615 with eight homers in 27 games this season.
MILB Video - Title: Murphy's second homer - Url: http://www.milb.com/r/video?content_id=2030187183
• Phillies No. 21 prospect Spencer Howard tossed six scoreless frames, surrendering just three hits, walking one and striking out seven in Class A Lakewood's 2-1 victory over Charleston. The 21-year-old right-hander lowered his season ERA to 2.89, and has struck out at least seven in four of his last six outings.