Turner begins throwing; hitting next step
Shortstop hopes to return with 30-40 games left in regular season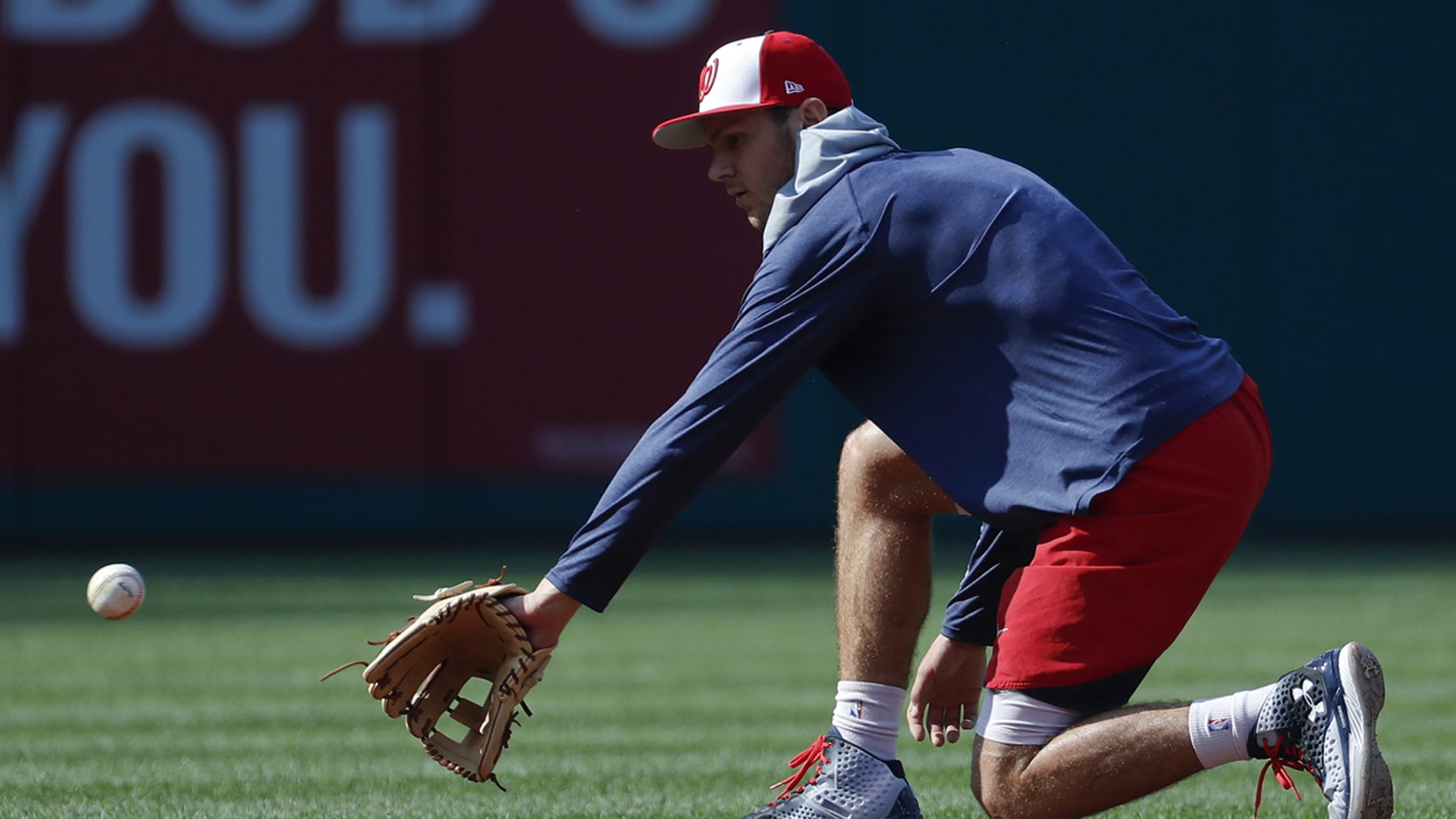 Trea Turner has been fielding grounders during batting practice over the past few weeks. (AP) (Carolyn Kaster/AP)
WASHINGTON -- On a few occasions during the past few weeks, Trea Turner has run out to shortstop while the Nationals take batting practice. He would field grounders and go through the motions. However, he was unable to make a full throw to first base, still hindered by the fractured
WASHINGTON -- On a few occasions during the past few weeks, Trea Turner has run out to shortstop while the Nationals take batting practice. He would field grounders and go through the motions. However, he was unable to make a full throw to first base, still hindered by the fractured right wrist that has sidelined him since June 30.
But on Thursday afternoon at Nationals Park, Turner went on the field without a brace. As he took grounders at shortstop, he fired the ball to first base. He said he would not have been able to perform such activities even a week ago, and now he feels like he can make plays at shortstop.
The final hurdle for Turner before he is ready to return from the disabled list is hitting. He has still not been cleared to swing a bat, but he is getting closer. After his latest X-rays last week, he was cleared to do more rotational exercises in his wrist as the symptoms of the fracture are just about gone.
Turner hoped he could return with at least 30-40 games remaining in the regular season in order to get his timing back completely before the postseason.
"I have no say in that; it's whenever my body lets me," Turner said. "If it's less, I have to get ready faster. But just to be back in enough time to be ready for the games that matter would be huge."
The Nationals have missed their leadoff hitter and shortstop, but they have still maintained a commanding lead in the National League East. That has allowed them to be cautious with Turner and the rest of their players on the DL to ensure they are ready for the stretch run. It could mean a boost for Washington near the end of August or early September with center fielder Michael Taylor (oblique) on Minor League rehab assignment now, Stephen Strasburg preparing for a rehab start soon, Jayson Werth (foot) hoping to join the club within the next two weeks and Turner to follow.
And Turner hopes his rehab stint is brief considering the work he has put in to stay in shape, including taking grounders before he was able to complete the throws.
"It's just a matter, I think, of timing at the plate," Turner said. "I've been running almost every day, so I think playing shape-wise, I think it should be good to go. It's just a matter of being able to swing and hit.
"I think the exercises that I'm doing now are going to help speed that along. I haven't hit yet, so I don't really know, but hopefully it only takes a limited time to get back into games."