D-backs honor Native American youth teams
Recognize 1,178 kids who took part in the 20th annual Inter-Tribal Youth Baseball & Softball Tournament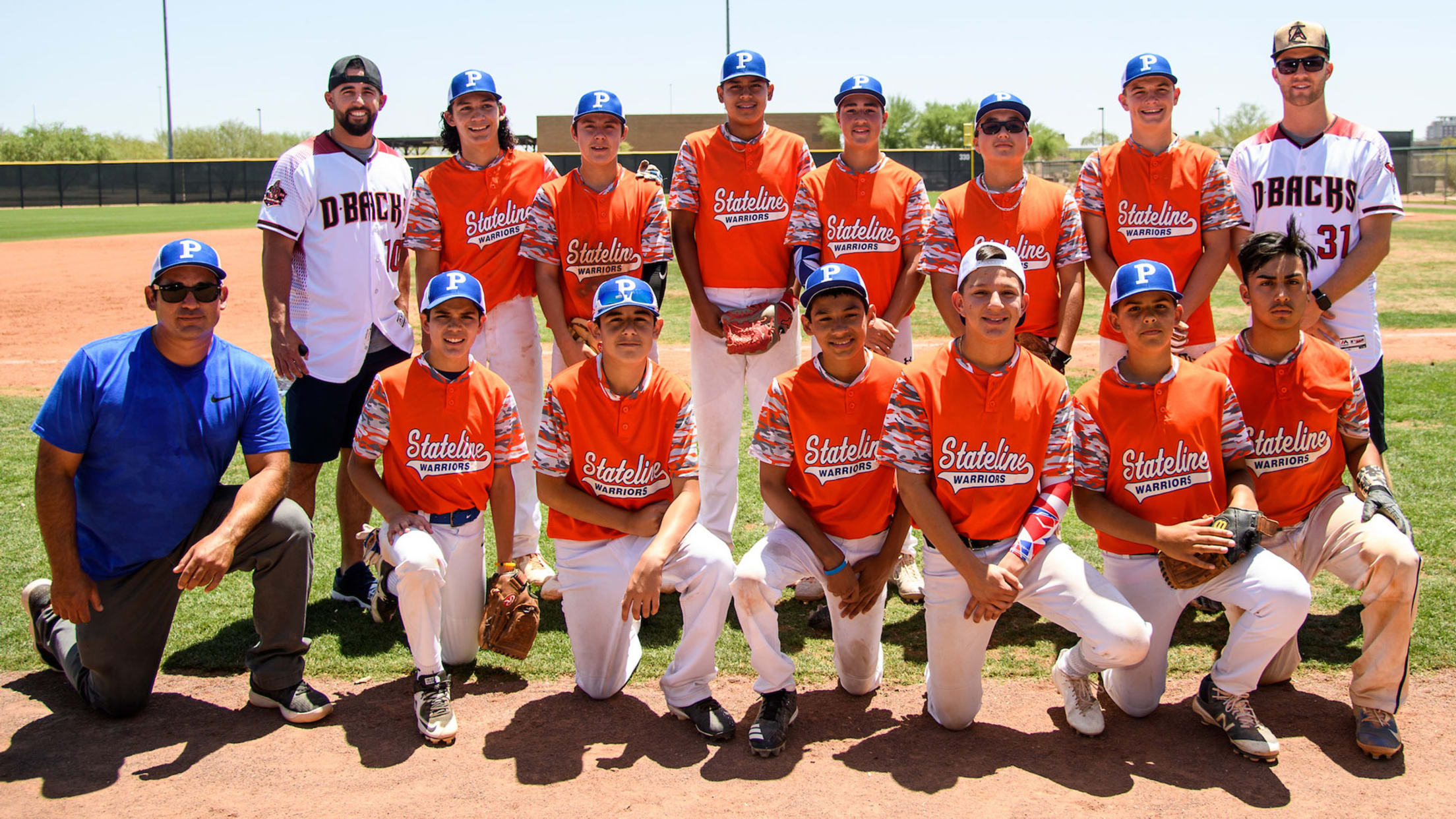 Deven Marrero and Brad Boxberger pose with one of the clubs in the Inter-Tribal Tournament at Salt River Fields. (Kelsey Grant/D-backs)
The Arizona Diamondbacks honored the Native American community on Sunday afternoon -- as they hosted "Native American Recognition Day," presented by Gila River Hotels and Casinos. Some of the honorees were the 1,178 kids who participated in the 20th annual Inter-Tribal Youth Baseball & Softball Tournament, as they had an
The Arizona Diamondbacks honored the Native American community on Sunday afternoon -- as they hosted "Native American Recognition Day," presented by Gila River Hotels and Casinos. Some of the honorees were the 1,178 kids who participated in the 20th annual Inter-Tribal Youth Baseball & Softball Tournament, as they had an opportunity to take part in a parade around the outfield at Chase Field before the game against the Marlins.
"It's a lot of fun going back and thinking of the memories of when ... [Brad Boxberger and I] used to play Little League together," said D-backs infielder Deven Marrero, who also caught the ceremonial first pitch from Gila River Indian Community Lt. Governor Robert Stone.
The ceremony included recognition of the top four teams in each division, as well as the Most Valuable Players in both sports.
Marrero and Boxberger spent a day with the kids during the tournament, which took place from Thursday-Sunday. The event gathered 78 teams from New Mexico, California, Utah, Arizona and Mississippi, an astonishing expansion for an initiative that had started out with just 12 squads in 1999.
"We have to give back to the youth, because I remember being [a kid] and seeing Major League players come and stop by," said Marrero. "It means a lot. It's the same game when you are this young and where [Brad and I] are now.
"These guys are pretty talented. ... One of them could be in the Major Leagues one day."