Yost the player integral to Brewers in 1982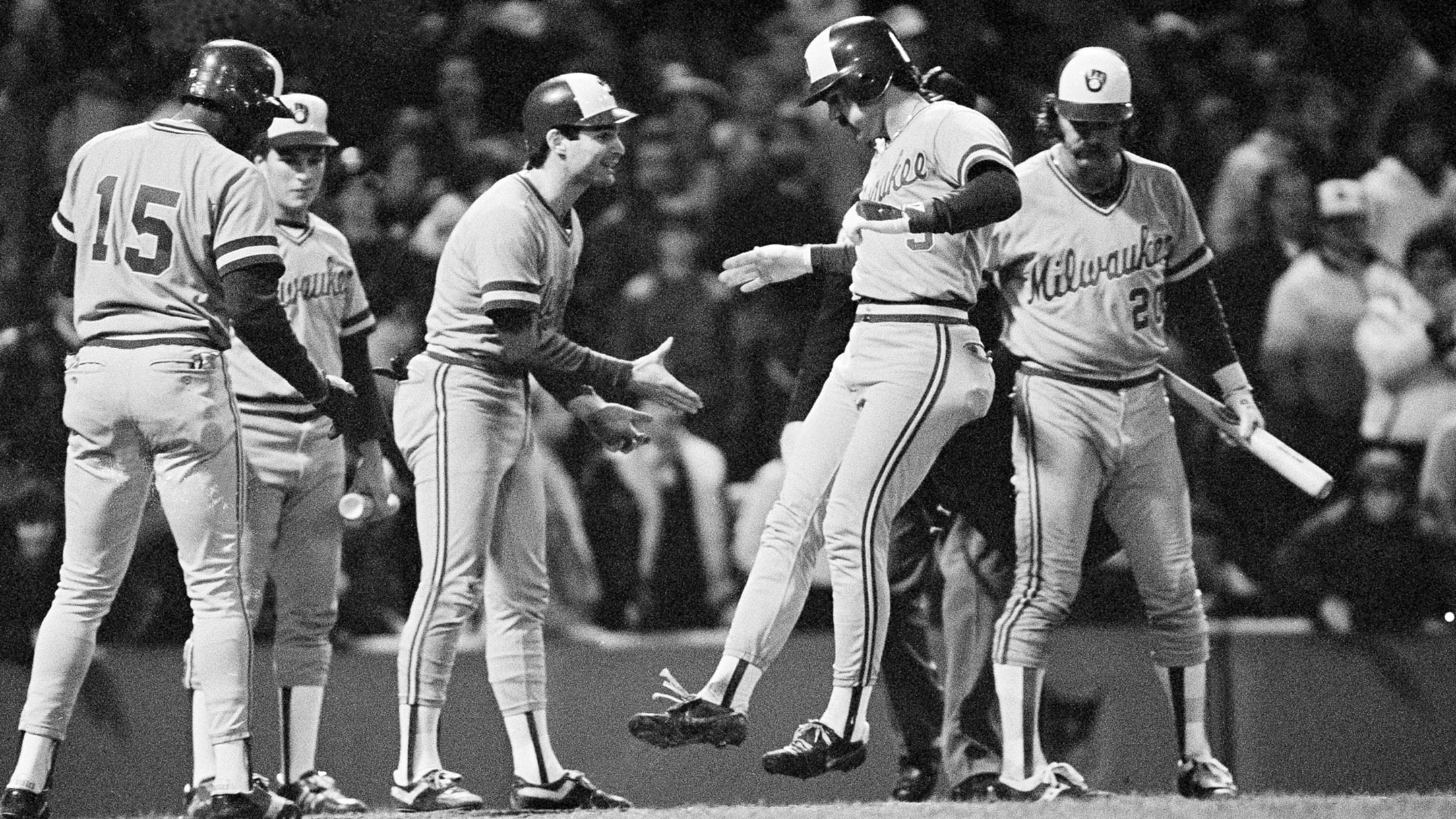 MILWAUKEE -- Most Brewers fans, even the young ones, know about Ned Yost the manager. But it takes a fan of a certain age to remember Ned Yost the player and the moment he etched himself into franchise lore with one of the unlikeliest home runs in club history.Long before
MILWAUKEE -- Most Brewers fans, even the young ones, know about Ned Yost the manager. But it takes a fan of a certain age to remember Ned Yost the player and the moment he etched himself into franchise lore with one of the unlikeliest home runs in club history.
Long before Nyjer Morgan "tickled" a hit up the middle to win Game 5 of the 2011 National League Division Series, another surprise hero, Yost -- Milwaukee's seldom-used backup catcher -- smashed a go-ahead home run over the Green Monster to give the 1982 Brewers a critical victory in their bid to win the American League East. It was Sept. 29, 1982, and Yost's three-run homer in the ninth inning was good for a 6-3 win over the Red Sox that put Milwaukee four games up with five days to play.
In the end, the Brewers would need every one of those days. They lost their next four games before beating the Orioles on the final day of the regular season to win the division crown.
"Ned was capable, but we didn't expect it," said Jim Gantner, Milwaukee's longtime second baseman. "I think he used somebody else's bat. I don't think he even expected to be playing."
• Each team's most unlikely postseason heroes
True story, said Yost.
"Shoot, I'd get six bats for the whole year. I broke those long before that series," he said. "I wasn't expecting to get any at-bats, so I didn't worry about it. I used Charlie Moore's bat. I had 98 at-bats [that season]. I didn't need bats. I'd just grab bats.
"It wasn't like it is now, where guys have 12 dozen bats in a room somewhere. If you were Robin [Yount] or Gorman Thomas, you might get a dozen at a time. Not me."
Yost was a fine ballplayer, but he was never going to be the second coming of Yogi Berra. He went 0-for-36 at the plate during his sophomore year of high school in Northern California, but he built strength working as a pot-scrubber at Kentucky Fried Chicken and improved to the point that the Mets drafted him in 1974.
Yost went to the Brewers in the 1977 Rule 5 Draft before making it up to Milwaukee in '80. He played parts of six big league seasons with the Brewers, but he never got more than 251 plate appearances, serving as a backup to Moore and then Ted Simmons. Yost has found much more success as a manager, first with Milwaukee from 2003 until the final weeks of the '08 season, and now with Kansas City, whom he led to a World Series triumph in 2015.
Simmons started that game at Fenway Park, but he was replaced by a pinch-runner after singling in the eighth inning with the teams tied at 3. After Moore flied out with the bases loaded to end the scoreless threat, Yost took over behind the plate for the bottom of the eighth inning and found himself striding to the plate -- Moore's bat in hand -- in the ninth.
It was Yost's first at-bat in 18 days.
Yost faced Mark Clear, a future Brewer who was an All-Star reliever for Boston in 1982. Clear had just intentionally walked Cecil Cooper to get to Yost, with the dangerous Thomas waiting on deck. Clear hung a curveball.
"As soon as I hit it, Jim Rice turned around toward the wall, and I was just praying he wouldn't catch it. But it ended up going over the Green Monster and into the street," Yost said. "Paul Molitor was there to greet me at the plate. It was a big win for us. Pretty cool."
It was the biggest moment of Yost's playing career.
"He was so excited, he couldn't talk," Gantner said. "He was, like, in shock. That was a big home run. It was unbelievable."
"They were expecting [an out]," Yost said. "But I parked it."