Yost's trauma surgeon throws out first pitch
Dr. Schenker repaired Royals skipper's shattered pelvis after 20-foot fall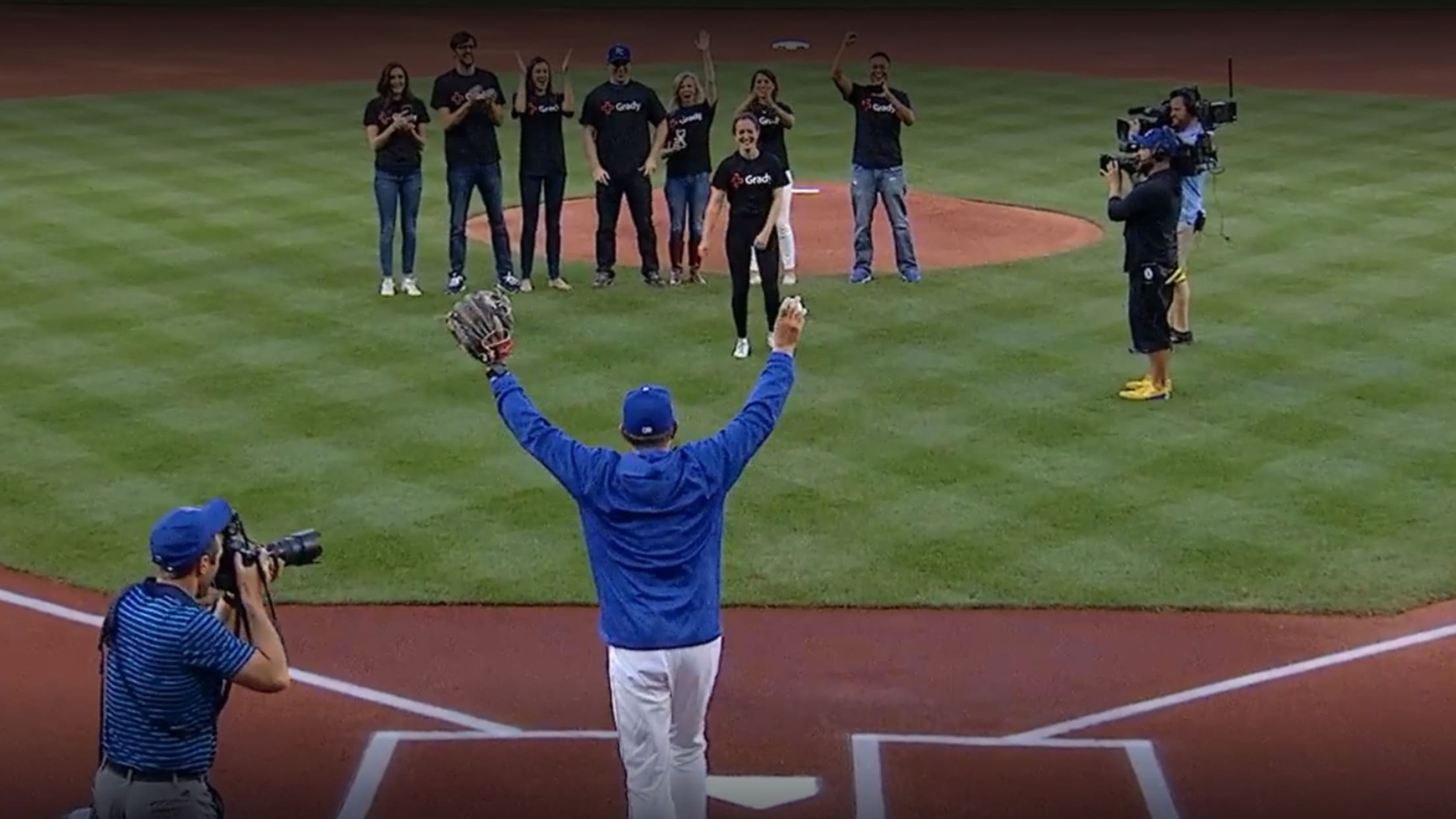 KANSAS CITY -- Dr. Mara Schenker, the surgeon who put Royals manager Ned Yost's shattered pelvis back together again, was on hand for Game 2 of the Royals-White Sox doubleheader Saturday, and even threw out the ceremonial first pitch to Yost.But at the time of surgery after Yost's horrific 20-foot
KANSAS CITY -- Dr. Mara Schenker, the surgeon who put Royals manager Ned Yost's shattered pelvis back together again, was on hand for Game 2 of the Royals-White Sox doubleheader Saturday, and even threw out the ceremonial first pitch to Yost.
But at the time of surgery after Yost's horrific 20-foot fall from a tree stand on his Georgia property last fall, Dr. Schenker had absolutely no idea who Yost was. She didn't even find out until about three days later that he was a famous baseball manager.
Dr. Schenker certainly has an idea now. She and her trauma surgical team from Grady Memorial Hospital in Atlanta were on hand Saturday and cheered loudly when introduced. Dr. Schenker's team consisted of: Dr. Mabry Johnson (radiology), Dr. Matt Hunter (anesthesiology), Dr. Jacob Wilson (resident), Dr. Sandra Hobson (resident) and Lauren Upchurch (physical therapist).
Dr. Schenker answered some questions about her patient before the game:
When did you find out who your patient was?
Dr. Schenker: About three days after the surgery, our resident came in during our morning conference and said, 'Do you know who you operated on the other day? He's the manager of the Kansas City Royals.' I said, 'Wow, OK.' And then I started getting a bunch of phone calls saying, 'Take good care of him.' Well, we took good care of him a couple of days ago. I thought, 'We took good care of him like we do everyone else.'
How has Yost been as a patient?
Dr. Schenker: He's at the top of my list of the patients who listen to me. He listens very well. I told him not to put weight on it and he listened. I see my patients at two weeks and six weeks and three months, and this is the six-month follow-up. And he came in [at six weeks] and sat in the waiting room just like everyone else. No special treatment ... but I knew he would be high demand and very Type-A.
What's it mean to come to Kansas City for a game?
Dr. Schenker: It's phenomenal. It's a unique opportunity for all of us who took care of him. This is almost unprecedented that we all got on a plane this morning and came out here. It's pretty cool.
Did you ever think he would recover so fast considering the severity of his injury?
Dr. Schenker: Definitely not. He asked me about [attending] Fan Fest. I asked him when that was and he said, 'End of January.' I told him, 'You're barely going to be walking then.' But he made it to Fan Fest and I don't think he missed a single day of Spring Training. Amazing. This was a significant injury.