Walker near return; Chen's adjustments working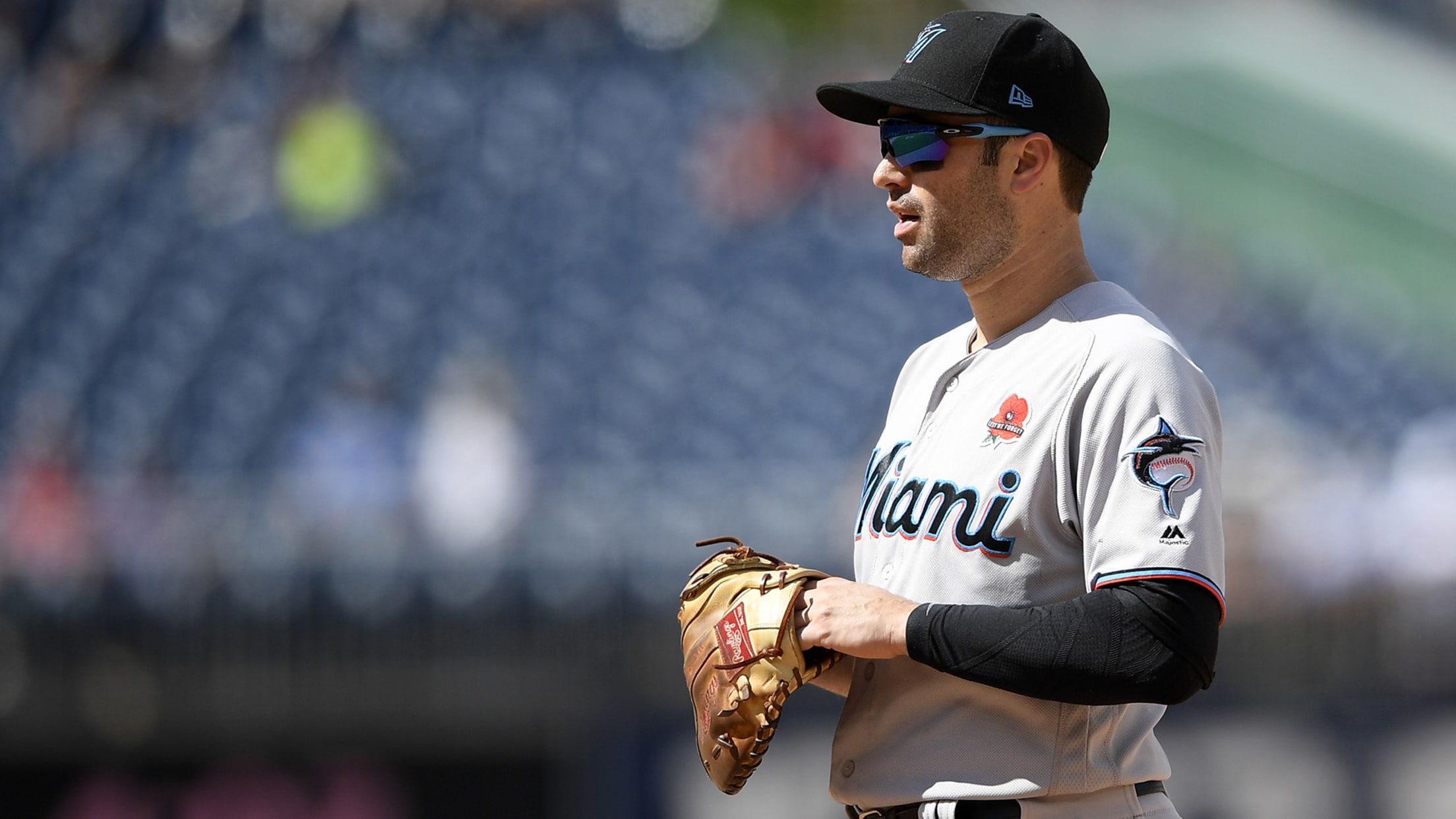 PHILADELPHIA -- First baseman Neil Walker played a rehab game with Class A Advanced Jupiter for a second straight day on Sunday as he nears a return from the injured list. Walker, who sustained a strained right quad on May 30, went 1-for-3 with a double and a walk on
PHILADELPHIA -- First baseman Neil Walker played a rehab game with Class A Advanced Jupiter for a second straight day on Sunday as he nears a return from the injured list.
Walker, who sustained a strained right quad on May 30, went 1-for-3 with a double and a walk on Saturday in the first game of his rehab assignment. He played seven innings at first base before being lifted for a pinch-hitter in the bottom of the seventh. On Sunday, Walker went 0-for-3 with two strikeouts and played another seven innings in the field, this time at third base.
Though he has played exclusively at first base with the Marlins this season, Walker did make 25 appearances at third base for the Yankees in 2018, as well as 32 at second base and 16 in the outfield, to go along with 42 games at first base.
We got a visit from a friend with the @Marlins tonight as Neil Walker played seven innings at first base as part of a MLB Rehab Assignment. #HammerDown pic.twitter.com/iCMAyLxrZo

— Jupiter Hammerheads (@GoHammerheads) June 23, 2019
"I think it went good," Miami manager Don Mattingly said of Saturday's outing before the Marlins' 6-4 win over the Phillies on Sunday. "He's playing again [Sunday], and after that, we'll kind of evaluate. He's a guy who's not going to need a lot of at-bats, so we'll kind of see where he's at after [Sunday] and make a decision."
Walker had been swinging the bat well prior to landing on the injured list. After being slowed by a bone bruise in his left knee in late April, Walker had a .338/.413/.465 hitting line in May. He had seven extra-base hits, nine walks and 10 RBIs in 23 games for the month, reaching base safely in all but three of those contests.
Overall, Walker is hitting .295 with an .818 OPS in his first season with the Marlins. It's been an encouraging bounce-back campaign for the 33-year-old infielder, who put up career lows with a .219 batting average and .664 OPS with the Yankees last season.
Chen finding groove
Wei-Yin Chen held the Phillies in check for 2 1/3 innings in Saturday's 5-3 victory, marking the longest scoreless relief appearance of his career.
Though the lefty still entered Sunday with a 7.04 ERA, that's largely due to two rocky outings. He allowed 10 earned runs in just two innings in a 14-0 loss to the Reds on April 9 and was tagged for four runs in three frames on May 26 against the Nationals.
Those two outings aside, Chen has put up a respectable 3.51 ERA in his other 19 appearances. In fact, since that 10-run effort in April, Chen has racked up 24 strikeouts to just five walks in 26 2/3 innings. He's also allowed only two home runs after serving up four in that April contest alone.
"He's pitching differently," Mattingly said. "They kind of reworked his mix and have given him a little bit of a different look. In a sense we've used analytics, from the standpoint of which pitches are the best pitches for him and trying to leverage those differently. We've added some stuff to the mix, so he's a little bit of a different pitcher now."
Chen has stopped throwing his changeup almost entirely, instead leaning more on the curveball. Just as important as his pitch selection is the order in which he's using those pitches to attack hitters.
It's certainly working of late, as he's held opposing hitters to a .205 batting average in 12 1/3 innings since that second setback against the Nationals last month.
"He's become one of the guys in our 'pen that you feel like you can count on to throw strikes, be on the attack, kind of been able to get righties and lefties," Mattingly said. "It's been good to watch."