Cortes Jr. eager to show he belongs on O's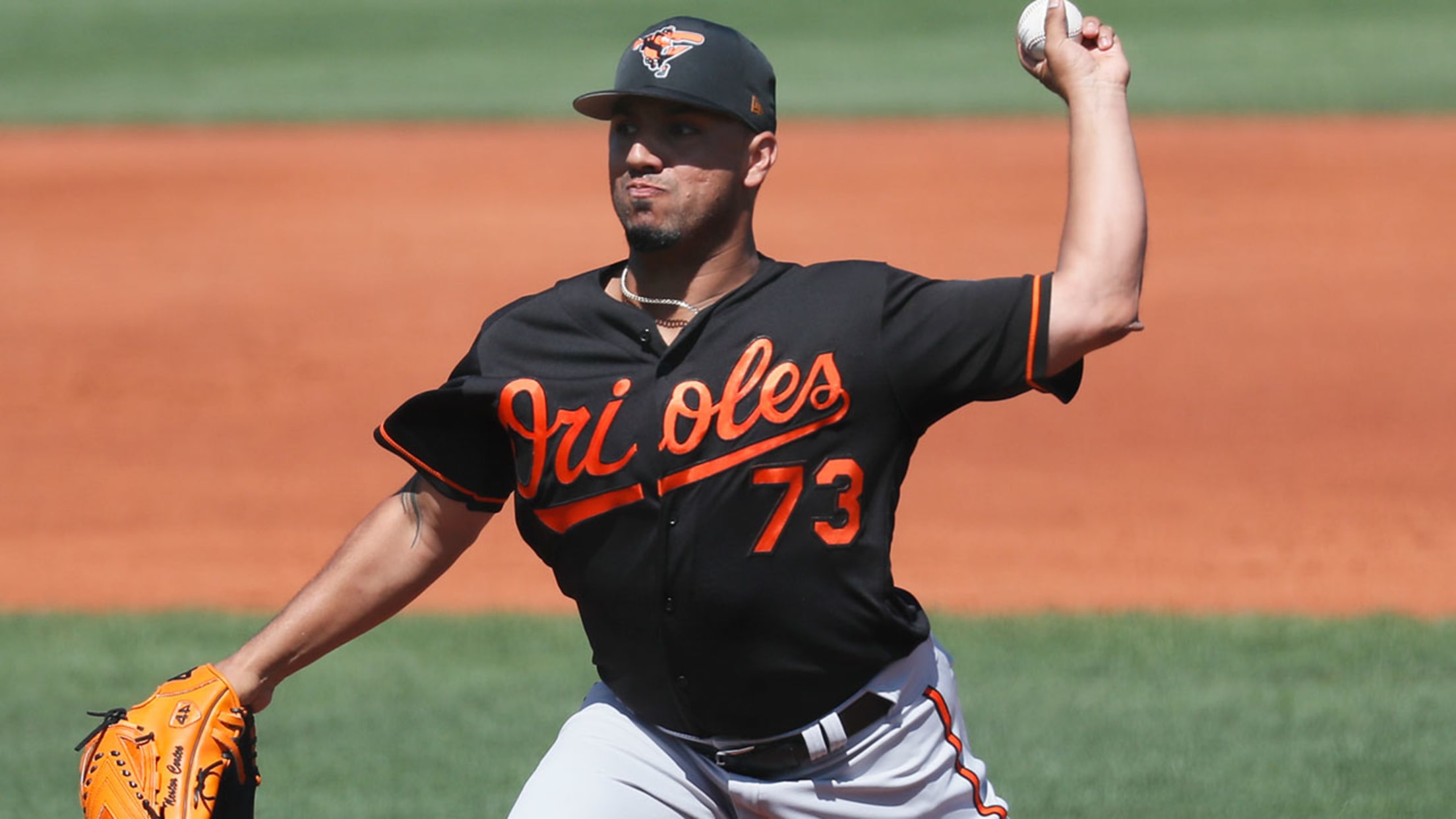 PORT CHARLOTTE, Fla. -- Nestor Cortes Jr. is trying to prove he belongs in the Major Leagues. The left-hander, who the O's selected in December's Rule 5 Draft, doesn't care if he starts or relieves, as long as he makes the team."One-hundred percent. I'm here to help the team," Cortes
PORT CHARLOTTE, Fla. -- Nestor Cortes Jr. is trying to prove he belongs in the Major Leagues. The left-hander, who the O's selected in December's Rule 5 Draft, doesn't care if he starts or relieves, as long as he makes the team.
"One-hundred percent. I'm here to help the team," Cortes said. "I'm here to win games, whether it's starting, whether it's relieving, whatever they want me to do, I'm here for it."
Cortes allowed a run on four hits in two innings against the Rays in his second Grapefruit League start in the Orioles' 5-2 win on Thursday at Charlotte Sports Park.
In his first outing, Cortes gave up one run on one hit in two innings against the Twins on Saturday. He said that there wasn't much difference in the two starts.
"I think I spotted all my pitches," Cortes said. "Once again, just one pitch that hurt me, but other than that, I think it was similar to the other."
Cortes allowed a second-inning home run to Rays catcher Jesus Sucre.
"He was a little better this time out," manager Buck Showalter said. "He can do a lot of things with the baseball. … He's got good command of the fastball, works ahead and can spin the ball. He'll need all his weapons, but that's part of who he is."
Attending his first Major League Spring Training hasn't affected the 23-year-old.
"Honestly, I feel normal. It's nothing I haven't done before," Cortes said. "Obviously, I'm starting Spring Training games, so that means something. As of right now, I'm just concentrating on getting people out and showing my best stuff."
Cortes is one of three Rule 5 Draft choices, all pitchers, trying to make the Orioles. Jose Mesa Jr., the son of the longtime Major Leaguer of the same name, allowed a run on three hits in the sixth inning. Pedro Araujo, who has thrown two scoreless innings this spring, is the third.
Cortes and Mesa were both drafted from the Yankees' organization and Araujo from the Cubs.
Injury updates
• Orioles first baseman Chris Davis, who was switched from first base to designated hitter just before Wednesday's game because of a sore right elbow, won't play in the field on Friday, Showalter said.
"He'll either DH or not play tomorrow," Showalter said. "Probably going to give him one more day [to rest] with his elbow. Talking to him today, it felt a little bit better, but we'll make the decision in the morning."
:: Spring Training coverage presented by Camping World ::
• Kevin Gausman, who left Monday's start after a scary collision at home plate with Detroit infielder Jeimer Candelario, has been cleared, and he is expected to pitch on Saturday at Clearwater, Fla., against the Phillies.
• Outfielder Austin Hays has been shut down for three days after receiving a cortisone shot in his right shoulder. Originally, Hays was going to be allowed to hit.
"Since it is inflamed and since there is some irritation in there and since I'm not going to be throwing, we might as well give it complete rest and not hit for those days, as well," Hays said. "I'm going to be cleared to hit on Saturday, start taking batting practice again, and we have an off-day Monday. And then on Tuesday, I'll come back, and that's when I'll start throwing and see where the arm's at and how the inflammation is going."
Positional battles
• With Hays and Craig Gentry (hamstring) out, Showalter started Jaycob Brugman for the first time in the outfield on Thursday. He went 1-for-4 with a strikeout. Brugman, who was outrighted to Triple-A Norfolk when pitcher Chris Tillman was re-signed, played left.
• Infielder Engelb Vielma also got his first start, and he went 0-for-2 with a walk and a run scored. Vielma didn't arrive in camp last weekend due to visa problems. He is the only reserve infielder on the 40-man roster. The other players competing with Vielma for the utility infielder's spot were also on the trip. Luis Sardinas started at second base and went 0-for-2 with a walk, while Erick Salcedo (0-for-1) and Ruben Tejada (0-for-1) also saw some action.
Up next
Right-hander Dylan Bundy makes his second Grapefruit League start of the spring on Friday when the Orioles host the Pittsburgh Pirates at 1:05 p.m. ET at Ed Smith Stadium in Sarasota, Fla. Bundy allowed five runs on four hits in his first start on Saturday against the Phillies. Follow the game live.
Rich Dubroff is a contributor to MLB.com.